Cell membrane protein functionalization of nanoparticles as a new tumor-targeting strategy
Abstract
Nanoparticles have seen considerable popularity as effective tools for drug delivery. However, non-specific targeting continues to remain a challenge. Recently, biomimetic nanoparticles have emerged as an innovative solution that exploits biologically-derived components to improve therapeutic potential. Specifically, cell membrane proteins extracted from various cells (i.e., leukocytes, erythrocytes, platelets, mesenchymal stem cells, cancer) have shown considerable promise in bestowing nanoparticles with increased circulation and targeting efficacy. Traditional nanoparticles can be detected and removed by the immune system which significantly hinders their clinical success. Biomimicry has been proposed as a promising approach to overcome these limitations. In this review, we highlight the current trends in biomimetic nanoparticles and describe how they are being used to increase their chemotherapeutic effect in cancer treatment.
Keywords
Bioinspired 
Biomimicry 
Drug delivery 
Nanoparticles 
Cancer 
Abbreviations
NPs

nanoparticles

NGs

nanoghosts

RBCs

red blood cells

PEG

polyethylene glycol

DOX

doxorubicin

TRAIL

tumor necrosis factor (TNF)-related apoptosis inducing ligand

CTCs

circulating tumor cells

CSCs

cancer stem cells

MSCs

mesenchymal stem cells

MPS

mononuclear phagocyte system
Background
Cancer is the second leading cause of death in the world with over 8 million deaths worldwide. Current treatment option range from surgery and radiation to chemo and hormone therapy [1]. Although technologies to combat cancer have made significant advances in eradicating the tumor mass and reducing metastasis, chemotherapy continues to remain the mainstay of tumor treatment. Unfortunately, chemotherapeutic administration often results in unwanted side effects and the development of drug resistance that can lead to cancer recurrence and metastatic dissemination. To mitigate the side effects, nanotechnology has been showcased as a versatile tool to increase drug potency and localize treatment [2, 3, 4, 5, 6]. Indeed, nanoparticles (NPs) are endowed with: (i) optimal drug loading properties [7], (ii) increased payload stability [8], prolonged circulation, (iii) enhanced permeability and retention (EPR), and (iv) biocompatibility via tunable chemical compositions [9, 10]. Despite these advantages, NP efficacy is often limited by the presence of biological barriers such as mononuclear phagocyte system (MPS), hemorheological forces [11] and endothelial vessel wall [12]. In an effort to overcome these hurdles, we and others have developed several classes of NPs characterized by different types of functions, responsive triggers, and surface modifications that contribute to increased their efficacy [13].
Initially, our group engineered multi-stage porous silicon NPs to mimic red blood cells and serve as a carrier to shuttle loaded nanoparticulates [14]. Strategically designed using fine-tuned size and shape parameters, these biocompatible [15] and biodegradable [10] multi-stage NPs leverage unique design properties [9] to enhance circulation and margination within vascular endothelia, thereby protecting the payload from various biological hurdles [16]. Nevertheless, targeted and localized delivery still require the use of various moieties (i.e., antibodies [17, 18], photosensitizers [19]) functionalized onto the NP surface, as well as the use of 'smart' materials [20] and lipid NPs [21]. Although substantial increases in targeting and efficacy were observed, MPS sequestration resulted in high accumulation in the liver and spleen, thereby hindering ideal localization at the tumor site. In addition, due to a number of biological barriers found within the body, it is paramount to strategically design a system that has the potential to circumvent these barriers sequentially while still maintaining the payload. For a thorough review in the biological barriers a nanoparticle is exposed to, we direct the reader to the following paper: [22].
In an effort to mitigate immunorecognition and sequestration by filtering organs, our group modified multi-stage NPs with a leukocyte-derived cell membrane shell as a strategy to bypass critical biological barriers [23]. Other groups have developed similar strategies consisting in using surface coatings derived from various cellular sources (i.e., mesenchymal stem cells [24], platelets [25], etc.), which transfer intrinsic cellular properties to a synthetic nanomaterial. Designed to leverage activated endothelia as a targeting method [26], this strategy has been shown to improve tumor targeting, provide prolonged circulation, and reduce immunoreactivity (Fig. 1).
The aim of this review is to highlight the various strategies in which biomimetic NPs are being used in cancer treatment. In addition, this review will cover the various cell sources employed for NP design and the intrinsic effects these cells provide in tumor targeting.
Main text
Source of cells for biomimetic nanoparticles
Conclusions
The tumor microenvironment is composed of tumor cells surrounded by a variety of additional cells (i.e., fibroblast, immune and stromal cells) that participate in the cell-signaling network to create a neoplastic niche while supporting tumor growth and metastasis [
64
,
65
]. As such, disruption of the cross-talk occurring in this microenvironment could potentially minimize tumor cell proliferation, leading to a reduction in aggressiveness that favors increased therapeutic potency [
66
]. Taking inspiration from the natural trafficking that occurs within the body, biomimetic NPs have been developed as a novel tool capable of interacting with the various cellular components within the tumor microenvironment [
12
], with the potential to interfere with cellular cross-talk. Indeed, beyond serving as simple drug carriers, biomimetic NPs are endowed with specific properties inherited from the donor cell source such as the ability to: (i) avoid macrophage phagocytosis; (ii) adhere to activated endothelia and (iii) preferentially accumulate at the tumor site (Fig. 
2
).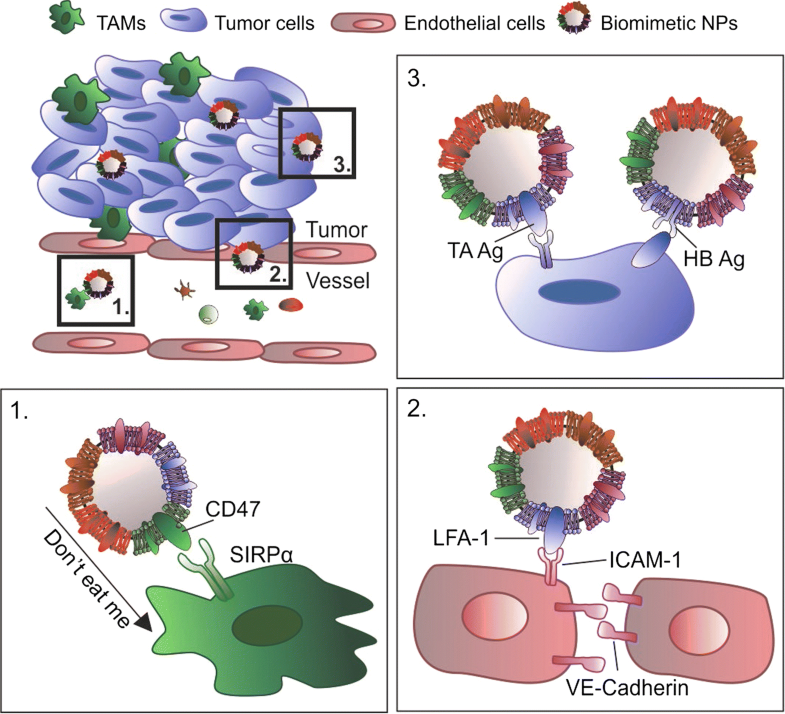 Altogether, the surface modification with membrane proteins provides biomimetic NPs with the ability to decrease opsonization and prolong circulation within the body, thus facilitating NP targeting. More recently, researchers have begun to explore combining proteins extracted from multiple cell sources as a strategy to develop biomimetic NPs with multiple functions and overall greater therapeutic efficacy (Fig. 1). Dehaini et al. pioneered this approach coating NPs with both RBC and platelet membranes. This chimeric formulation presented a higher systemic circulation and enhanced tumor cell targeting [67]. A potential risk that could arise from prolonged circulation time and avoidance of filtering organs (e.g., liver, spleen) is the non-specific targeting of NPs in tissues and organs where they could elicit potential toxicity. In general, we expect biomimetic NPs to be less toxic compared to inorganic and polymeric NPs due to their cell-derived elements. Indeed, the clearance of biomimetic NPs follows the physiological clearance of protein and lipid organic components. To date, our work has demonstrated that biomimetic NPs present decreased liver sequestration as well as decreased lung and spleen accumulation [59] with reduction in systemic toxicity [56].
Another important player in biomimetic NP function is the protein corona (PC): a layer of biomolecules that binds on the surface of NPs when dispersed in biological fluids. Contrarily to uncoated NPs, the presence of proteins on the biomimetic NP's surface could favor the adsorption of specific proteins over others. For example, leukocyte membrane proteins in the liposome bilayer affect the adsorption of blood soluble proteins in the corona. We studied in vivo the evolution of the PC over time and revealed that the integration of leukocyte membrane proteins into the leukosome bilayer influenced the number, amount, orientation and type of plasma proteins adsorbed by the NPs, thus affecting NP biodistribution and interaction with cells [56].
However, despite the significant progress made in the development of biomimetic strategies, some aspects still needed further investigation to translate these NPs into a clinically-viable tool. To minimize immunoreactivity, biomimetic NPs could be ideally fabricated from the cells of the patient to be treated. However, due to the limited number of some cell subpopulations within the body, an ex vivo amplification step would be necessary upon isolation of the right cell types. Consequently, there is the need to create standard protocols to guarantee reproducibility, test batch-to-batch properties and achieve consistent systemic effects in vivo. While more studies need to be performed en route to clinical translation, experimental evidence suggests that biomimetic NPs could provide a solution to overcome major limitations and drawbacks of previous generations of NPs and could represent a promising tool in the treatment of cancer.
Notes
Authors' contributions
AP, FG and ME collected the information and wrote the manuscript. AP designed the figures. AA and ET revised the manuscript. All authors read and approved the final manuscript.
Acknowledgements
Not applicable.
Competing interests
The authors declare that they have no competing interests.
Availability of data and materials
Not applicable.
Consent for publication
Not applicable.
Ethics approval and consent to participate
Not applicable.
Funding
This work was financially supported by: NCI and the Office of Research on Women's Health (1R56CA213859), Cancer Prevention & Research Institute of Texas (RP170466 and RP180394), William Randolph Hearst Foundation, Robert J. Kleberg, Jr. and Helen C. Kleberg Foundation and IOV 5 per mille.
Publisher's Note
Springer Nature remains neutral with regard to jurisdictional claims in published maps and institutional affiliations.
Copyright information
© The Author(s) 2019
Open AccessThis article is distributed under the terms of the Creative Commons Attribution 4.0 International License (http://creativecommons.org/licenses/by/4.0/), which permits unrestricted use, distribution, and reproduction in any medium, provided you give appropriate credit to the original author(s) and the source, provide a link to the Creative Commons license, and indicate if changes were made.