Decision modelling of non-pharmacological interventions for individuals with dementia: a systematic review of methodologies
Abstract
Objectives
The main objective of this study is to conduct a systematic review to identify and discuss methodological issues surrounding decision modelling for economic evaluation of non-pharmacological interventions (NPIs) in dementia.
Methods
A systematic search was conducted for publications using decision modelling to investigate the cost-effectiveness of NPIs for individuals with dementia. Search was limited to studies in English. Studies were excluded if they evaluated interventions aimed only at caregivers of patients with dementia, or if they only included economic evaluation alongside an RCT without additional modelling.
Results
Two primary, five secondary and three tertiary prevention intervention studies were identified and reviewed. Five studies utilised Markov models, with others using discrete event, regression-based simulation, and decision tree approaches. A number of challenging methodological issues were identified, including the use of MMSE-score as the main outcome measure, limited number of strategies compared, restricted time horizons, and limited or dated data on dementia onset, progression and mortality. Only one of the three tertiary prevention studies explicitly considered the effectiveness of pharmacological therapies alongside their intervention.
Conclusions
Economic evaluations of NPIs in dementia should utilise purposefully-developed decision models, and avoid models for evaluation of pharmaceuticals. Broader outcome measures could be a way to capture the wide impact of NPIs for dementia in future decision models. It is also important to account for the effects of pharmacological therapies alongside the NPIs in economic evaluations. Access to more localised and up-to-date data on dementia onset, progression and mortality is a priority for accurate prediction.
Keywords
Dementia 
Economic evaluation 
Decision modelling 
Non-pharmacological interventions 
Background
Dementia is a common syndrome, mostly affecting the elderly and is characterised by progressive loss of memory and cognitive function [1]. Estimates suggest that the prevalence of dementia is between 5.9 and 9.4% amongst people aged 65 and over [2, 3]. Both the number of people with dementia and costs of treatment have been rising rapidly in the past two and a half decades [4]. Given the impending ageing population and limited health care resources, reliable and valid cost-effectiveness analyses of interventions targeted at people with dementia is an important task for both researchers and policy makers [5].
Most of interventions available for people with dementia are of pharmacological nature, aiming to either relieve symptomatic aspects of the condition, or delay the process of cognitive deterioration [6]. Although these have had a positive impact, the scope and effectiveness of these drugs have been questioned [4, 7]. In particular, available pharmaceuticals appear to have little or no effect on behavioural and functional outcomes [8]. The high cost and limited success in developing new pharmaceuticals has led to suggestions that a different, broader approach to dealing with dementia is required [7].
Such an approach can include delaying onset by controlling modifiable lifestyle factors, such as smoking, obesity and exercise (primary prevention), timely identification of the disease (secondary prevention) and post-diagnostic interventions aimed at improving quality of life and delaying progression of dementia (tertiary prevention) [4, 9, 10]. A broader approach to dealing with dementia is given increasing importance and a growing number of studies investigating novel, non-pharmacological approaches to treating, managing and supporting people with dementia and their carers have been emerging [11]. In fact, the number of studies investigating the effectiveness of non-pharmacological interventions (NPIs) has been growing fast in the last 15 years [10]. These interventions target a wide spectrum of dementia symptoms: not only cognitive decline, as most pharmaceuticals, but also psychological, behavioural aspects, as well as functional abilities/activities of daily living, among others [10, 12, 13, 14, 15].
While some evidence for cost-effectiveness of NPIs exists [16], the majority of economic evaluations of dementia interventions focus on pharmacological therapies. Contrasted with the number of NPIs available, a wide gap in economic evaluation of such interventions is evident: in their review of decision analytic models for Alzheimer's disease (AD; the most prevalent type of dementia), Cohen and Neumann [17] found that many of the existing models for economic evaluation of pharmacological AD interventions are not suited for assessment of NPIs. In fact, all economic models aimed at evaluating interventions for dementia identified in a systematic review by Green, Shearer, Ritchie and Zajicek et al. [18] were created for the purpose of evaluating cost-effectiveness of a pharmaceutical.
Further, application of pharmacological models to NPIs is problematic, given the differences in aims, scope and assumptions behind the two types of interventions. While the main concern of pharmacological interventions is slowing the progression of dementia, NPIs often have a much broader scope, thus requiring an outcome measure with a broader scope than just cognition. NPIs also consider the interaction between the patient, their caregiver and their environment, including the medical and support systems in place – something that is often disregarded in pharmacological evaluations [10, 13, 15]. The time horizon of NPIs, and, in particular, those with a preventative or screening focus, is also likely to be different to pharmacological therapies. It is therefore reasonable to expect that methodologies for evaluation of NPIs should be different from those used for evaluating pharmacological interventions.
A recent review has demonstrated that pharmacological treatments are significantly costlier than NPIs, thus posing a significantly higher economic burden on healthcare budgets [4]. However, the authors did not go as far as to compare cost-effectiveness of pharmacological interventions with NPIs, partially due to the short-term nature of trials available, as well as small numbers of people participating in those. A potential solution to this is extrapolation of data and characterising uncertainty through decision modelling.
Given the growing impact of dementia on health outcomes and services, and the continuing development of new NPIs, it is important to foster a strong understanding of methodologies available for economic decision modelling in dementia. A number of existing reviews have investigated decision modelling in dementia [17, 18, 19], but none, to the best of our knowledge, have focussed solely on NPIs.
This paper is aimed at researchers and policy makers working on economic evaluation of NPIs for dementia. In this paper we set out to provide a detailed overview of current methods available for decision modelling of NPIs for people with dementia, identify and discuss methodological issues surrounding decision modelling for economic evaluation of non-pharmacological interventions (NPIs) in dementia, in particular with respect to model structure, outcome measures and data inputs.
Methods
The systematic review followed the methodology proposed by the Cochrane Handbook for Systematic Reviews of Interventions and was reported in accordance with Preferred Reporting Items for Systematic Reviews and Meta-Analyses (PRISMA) [20, 21].
Search sources and strategy
A literature search was conducted on the 7th July 2017 on PubMed, Scopus, Science Direct, Cochrane, NHS EED, Embase, EconLit and Psychinfo databases. Detailed search strategy for each database is presented in Additional file 1. The search was limited to studies published in English. The search did not include studies published prior to 2000, for a number of reasons: there were few NPIs for dementia developed before the year 2000 [10], studies before 2000 were covered by broader reviews and do not reveal many decision models on NPIs [17, 18, 19], and modelling techniques used prior to 2000 are likely to have been significantly improved and perfected [22].
Study eligibility was established on initial screening of title and abstract. Studies passing initial screening were subject to full text review against inclusion and exclusion criteria, outlined in Table 
1
. Studies were included if they modelled the onset and/or progression of dementia, and evaluated the cost-effectiveness of a NPI aimed at people at risk of or with dementia. All study designs were considered for review. Studies were excluded if they evaluated interventions aimed only at caregivers of patients with dementia, or if they only included economic evaluation alongside an RCT without additional modelling.
Table 1
Inclusion and exclusion criteria
Inclusion Criteria

Exclusion Criteria

 - Original decision model

 - Study models onset and/or progression of dementia

 - Published in or after 2000

 - Assesses health-economic impact of intervention through cost-effectiveness, -benefit, -utility or -minimisation analysis

 - Assesses a non-pharmacological intervention targeting dementia

- Pharmacological intervention only

- Intervention targeting solely caregivers of patients with dementia
Review process
The nature of the intervention should, at least in part, dictate the structure of the model, and, therefore the necessary inputs such as transition probabilities, utilities, costs etc. [22]. Therefore, the analysis of studies selected for this review is focused on three categories of NPIs: primary, secondary and tertiary prevention, as defined previously. Primary prevention includes interventions aiming to preventative or delay onset of dementia, secondary prevention interventions include screening and early identification initiatives, whilst interventions in the tertiary prevention category focus on aiding the symptoms and/or slowing the progression of the disease after a diagnosis has been made. Key features of the included studies were summarised, with specific focus on model structure, outcome measures and characterisation of disease onset and progression. These were selected to reflect the most significant aspects of modelling dementia-related interventions [18, 23], with particular relevance to evaluation of NPIs.
Methodological approaches were described with a view to identify common challenges and possible improvements for future model-based economic evaluations of NPIs for dementia. This was done by examining the studies against two widely-used best-practice guidelines for decision modelling in economic evaluation [24, 25]. Data used in reviewed models were assessed for the relevance in terms of date, setting, sample size and method of collection. In cases where studies utilised secondary/published data, we reviewed the data at the cited source.
Results
After duplicates were removed, 1024 studies were identified, of which 998 were excluded after the initial screening (Fig. 
1
). The main reasons for exclusion were: pharmacological nature of the intervention; models not simulating dementia onset or progression, or interventions that solely targeted caregivers of AD or dementia patients. We also excluded systematic reviews and editorials, as well as studies not written in English, and those that were not AD- or dementia-specific in their focus. Studies utilising the same model as an already included study were also excluded from this review.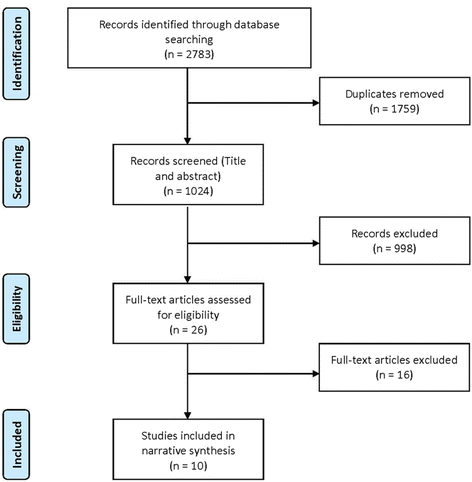 A total of ten studies were included in the review. An overview of the selected studies is presented in Table 
2
and each study is briefly summarised in Additional file
2
.
Table 2
Summary of included studies
 

Model (reference)

Intervention and setting

Main outcome(s)

Modelling approach/ framework, time horizon and cycle

Data sources

Disease onset, progression and mortality data

Intervention effectiveness

Utilities/outcomes measure

Costs

Primary prevention

Zhang, Kivipelto [26]

Hypothetical intervention reducing risk of AD onset in Sweden

QALYs

Purpose-built Markov model with 3 health states. 20-year time horizon, 1 year cycles

CAIDE population based study on risk factors of 1409 individuals [44]

Hypothetical intervention

Swedish National Board of Health and Welfare

Tsiachristas & Smith [32]

Preventative treatment with B-vitamin supplement for people aged 60 and over with elevated levels of tHcy in the UK

Life-Years; QALYs

Stochastic probabilistic decision tree; lifetime horizon.

Disease progression not modelled. Disease onset based on prevalence data; mortality from life tables.

Effectiveness of intervention based on a systematic review in lieu of randomised controlled trials [37]

General population EQ5D survey [36]

Taken from a UK study [58]

Secondary prevention

McMahon [28]

Functional neuroimaging vs. standard work-up of patients for AD diagnosis at specialised AD clinics in the US

QALYs

Markov model based on a previously published study [40]; 6-week cycles, 18-month time horizon.

Progression within AD and AD mortality from CERAD study [40]. Non-AD mortality from CDC.

Screening effectiveness from US-based study [59]

Utility weights obtained from the Neumann et al. [40]

Primary data from hospital databases; existing literature

Silverman, Gambhir [31]

PET vs. standard diagnostic methods in clinical diagnosis of AD in the US

Number of accurate diagnoses

Purpose-built decision-tree, unspecified time horizon

Adapted from a wide range of published data

Results of PET screening reported in the study

Not used - CEA

Defined by Medicare reimbursement rates

Weimer and Sager [30]

Early detection and treatment of AD patients in a US (Wisconsin) setting. Two treatments considered.

MMSE score change

Monte Carlo model. Lifetime horizon, 1 year cycles

Adapted from a range of published data and estimates. Data from CVD risk study on 5000 people was used to estimate hazard ratio for death.

A range of published data and estimates

Adapted from [40]

A range of published data and estimates

Dixon, Ferdinand [35]

One-off screen of 75 year olds in England and Wales

Number of additional diagnoses

Static decision model with lifetime time horizon

Not provided

Results of screening based on MMSE (assumed 89% sensitivity, 95.5% specificity)

Not used – CBA

A range of published data and estimates

Saito, Nakamoto [27]

Community based dementia screening in a US setting

Dementia diagnosis through MMSE

Purpose-built Markov model with 6-state 10-year time horizon, 1 year cycles

Adapted from [46, 48] which investigated 61 and 1145 patients, respectively

Results of screening program reported in study

Not used - CEA

Adapted from a Canadian study [60]

Tertiary prevention

McDonnell, Redekop [33]

A hypothetical intervention which slows cognitive decline in AD patients in the Netherlands

MMSE score change, care setting, mortality

Two regression-based simulation models – one modelling MMSE score, another- care setting and mortality. 10-year time horizon, 6 month cycles

Calculated from a Dutch study [38] with 7528 participants.

Hypothetical intervention

Not used – CEA

From Dutch national data, agencies/ ministries

Martikainen, Valtonen [29]

Cognitive-behavioural family intervention to delay admission to nursing home in Finland

Time to nursing home admission

Markov model. Adapted from [40]. Model has 4 states, 5-year time horizon, 1 year cycles

Adapted from the original US-based model (with minor adjustments) – based on longitudinal study with 1145 patients [40]

Based on a US study of 206 subjects [61]

From the original US-based model

From national datasets; some resource utilisation based on expert panel

Mirsaeedi-Farahani, Halpern [34]

Deep-brain stimulation therapy for slowing memory loss in AD patients compared to standard treatment

QALYs

Purpose-built Markov model with 5 states, 5-year horizon, 1 year cycles

Actual success rate of deep brain stimulation is unknown, so was varied from 0 to 100%

A range of published data

Costs obtained from [62]
Discussion
This paper reviews a range of modelling approaches to economic evaluation of NPIs. Although the studies assessed in this paper provide a valuable overview of methodologies available, each comes with limitations. Previous reviews, focusing mainly on pharmacological models, have discussed the limitations in terms of model structure and characterising disease progression [18, 19]. This paper extends this body of knowledge by reviewing decision modelling studies with a special focus on NPIs for dementia.
The majority of tertiary prevention interventions are not designed to replace pharmacological therapy, but rather to complement it. It is reasonable to assume that a NPI, such as cognitive or behavioural interventions, would be used in conjunction with standard pharmacological treatment. However, only one of the three studies modelling tertiary prevention interventions considered the effect of pharmaceuticals. Given that pharmaceuticals do have an effect on cognition [8], omission of this effect poses significant questions over the conclusions of the reviewed studies. Furthermore, only two of the ten reviewed studies examined more than two comparators. A larger number of alternatives courses of action would prove more informative for decision makers.
Conclusions
In this paper we reviewed ten economic models that evaluated NPIs for patients with dementia. Economic evaluations of NPIs in dementia should utilise purposefully-developed decision models, and avoid models for evaluation of pharmaceuticals. A major methodological shortcoming identified in this review is the limitation of cognition-focused outcome measures, as they only capture one dimension of a broader range of outcomes NPIs offer. Application of HRQoL measures may also introduce biases and may not completely capture the effects of NPIs. A broader outcome measure, such as dependency, could be considered as an alternative for modelling disease progression. It is also important to account for the effects of pharmacological therapies alongside the NPIs in economic evaluations. We also identified a lack of data availability and accuracy on onset, progression and mortality from dementia. There is a considerable need for development of country or region-specific data based on larger longitudinal studies.
Notes
Funding
No funding was received for this study.
Availability of data and materials
All data was obtained from studies identified through literature searches on scientific databases.
Authors' contributions
ES and JS contributed to the design of this study. ES lead the review process, conducted the literature search and summarised the content of the articles. ES and JS selected the studies to be included in the review, drafted the paper, reviewed it for content and approved the final version.
Competing interests
The authors declare that they have no competing interests.
Publisher's Note
Springer Nature remains neutral with regard to jurisdictional claims in published maps and institutional affiliations.
Copyright information
© The Author(s). 2018
Open AccessThis article is distributed under the terms of the Creative Commons Attribution 4.0 International License (http://creativecommons.org/licenses/by/4.0/), which permits unrestricted use, distribution, and reproduction in any medium, provided you give appropriate credit to the original author(s) and the source, provide a link to the Creative Commons license, and indicate if changes were made.