Abstract
The increasing volume of biomedical data in chemistry and life sciences requires development of new methods and approaches for their analysis. Artificial Intelligence and machine learning, especially neural networks, are increasingly used in the chemical industry, in particular with respect to Big Data. This editorial highlights the main results presented during the special session of the International Conference on Neural Networks organized by "Big Data in Chemistry" project and draws perspectives on the future progress of the field.
Graphical Abstract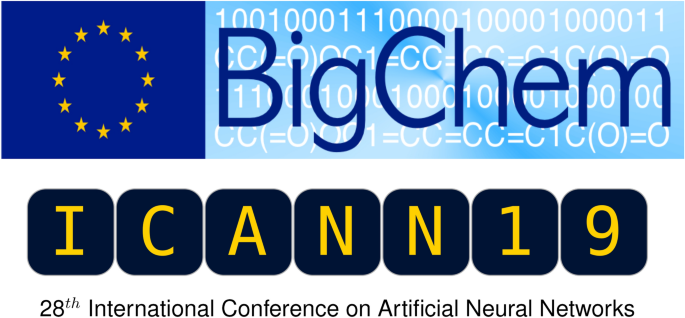 Acknowledgements
This study was partially funded by the European Union's Horizon 2020 research and innovation program under the Marie Skłodowska-Curie Innovative Training Network European Industrial Doctorate grant agreement No. 676434, "Big Data in Chemistry" (http://bigchem.eu). The article reflects only the authors' view and neither the European Commission nor the Research Executive Agency are responsible for any use that may be made of the information it contains. The authors thank BIGCHEM partners for their fruitful collaboration during the project. IVT is CEO and founder of BIGCHEM GmbH, which licenses the On-line Database and Chemical Modelling Environment (http://ochem.eu), that was used in several studies reported in this editorial. OE declares that he has no actual or potential conflicts of interests.
Additional information
Publisher's Note
Springer Nature remains neutral with regard to jurisdictional claims in published maps and institutional affiliations.
Rights and permissions
Open Access This article is licensed under a Creative Commons Attribution 4.0 International License, which permits use, sharing, adaptation, distribution and reproduction in any medium or format, as long as you give appropriate credit to the original author(s) and the source, provide a link to the Creative Commons licence, and indicate if changes were made. The images or other third party material in this article are included in the article's Creative Commons licence, unless indicated otherwise in a credit line to the material. If material is not included in the article's Creative Commons licence and your intended use is not permitted by statutory regulation or exceeds the permitted use, you will need to obtain permission directly from the copyright holder. To view a copy of this licence, visit http://creativecommons.org/licenses/by/4.0/. The Creative Commons Public Domain Dedication waiver (http://creativecommons.org/publicdomain/zero/1.0/) applies to the data made available in this article, unless otherwise stated in a credit line to the data.
About this article
Cite this article
Tetko, I.V., Engkvist, O. From Big Data to Artificial Intelligence: chemoinformatics meets new challenges. J Cheminform 12, 74 (2020). https://doi.org/10.1186/s13321-020-00475-y
Received:

Accepted:

Published: