Epigenome alterations in aortic valve stenosis and its related left ventricular hypertrophy
Part of the following topical collections:
Abstract
Aortic valve stenosis is the most common cardiac valve disease, and with current trends in the population demographics, its prevalence is likely to rise, thus posing a major health and economic burden facing the worldwide societies. Over the past decade, it has become more than clear that our traditional genetic views do not sufficiently explain the well-known link between AS, proatherogenic risk factors, flow-induced mechanical forces, and disease-prone environmental influences. Recent breakthroughs in the field of epigenetics offer us a new perspective on gene regulation, which has broadened our perspective on etiology of aortic stenosis and other aortic valve diseases. Since all known epigenetic marks are potentially reversible this perspective is especially exciting given the potential for development of successful and non-invasive therapeutic intervention and reprogramming of cells at the epigenetic level even in the early stages of disease progression. This review will examine the known relationships between four major epigenetic mechanisms: DNA methylation, posttranslational histone modification, ATP-dependent chromatin remodeling, and non-coding regulatory RNAs, and initiation and progression of AS. Numerous profiling and functional studies indicate that they could contribute to endothelial dysfunctions, disease-prone activation of monocyte-macrophage and circulatory osteoprogenitor cells and activation and osteogenic transdifferentiation of aortic valve interstitial cells, thus leading to valvular inflammation, fibrosis, and calcification, and to pressure overload-induced maladaptive myocardial remodeling and left ventricular hypertrophy. This is especcialy the case for small non-coding microRNAs but was also, although in a smaller scale, convincingly demonstrated for other members of cellular epigenome landscape. Equally important, and clinically most relevant, the reported data indicate that epigenetic marks, particularly certain microRNA signatures, could represent useful non-invasive biomarkers that reflect the disease progression and patients prognosis for recovery after the valve replacement surgery.
Keywords
Aortic stenosis 
DNA methylation 
Histone modification 
Chromatin remodeling 
lncRNA 
miRNA 
Epigenome 
Epigenetics 
Abbreviations
ACTA2/ αSMA

alpha-smooth muscle actin

AFAP1

Actin filament associated protein 1

AFAP1-AS1

AFAP1 Antisense RNA 1

ALOX5/5LO

5-lipoxygenase

ALOXAP/FLAP

5-LO activating protein

ALP

Alkaline phosphatase

ANF

Atrial natriuretic factor

ANGII/AGT

Angiotensin 2

APAF1

Apoptotic peptidase activating factor 1

APOA1

Apolipoprotein A1

APOA5

Apolipoprotein A5

APO-AS1

APOA1-antisense transcript 1

APOB

Apolipoprotein B

APOE

Apolipoprotein E

AS

Aortic valve stenosis

ASc

Aortic valve sclerosis

AVECs

Aortic valve endothelial cells

aVICs

Activated aortic valve interstitial cells

AVICs

Aortic valve interstitial cells

AVR

Aortic valve replacement

BAF

BRG/BRM-associated factor

BAV

Bicuspid aortic valve

BGLAP/OCN

Bone gamma-carboxyglutamate (Gla) protein; osteocalcin

BMP

Bone morphogenetic protein

BMPR2

Bone morphogenic protein receptor type 2

BRG1/SMARCA4

Brahma-related gene 1; SWI/SNF related, matrix associated, actin dependent regulator of chromatin, subfamily a, member 4

BRM/SMARCA2

Brahma; SWI/SNF related, matrix associated, actin dependent regulator of chromatin, subfamily a, member 2

CAD

Coronary artery disease

CARMEN

Cardiac mesoderm enhancer-associated noncoding RNA

CCL

Chemokine (C-C motif) ligand

CH

Cardiac hypertrophy

CHAST

Cardiac hypertrophy-associated lncRNA transcript

CMAI

Cardiomyocyte apoptotic index

COPCs

Circulatory osteoprogenitor cells

CSNK2

Casein kinase 2

CTGF

Connective tissue growth factor

CVD

Cardiovascular diseases

DCM

Dilated cardiomyopathy

DICER1

Dicer 1, Ribonuclease III

DLX5

Distal-less homeobox 5

DNMT

DNA (Cytosine-5-)-methyltransferase

DPF3/BAF45C

Double PHD fingers 3/BRG1-associated factor 45C

DUSP27

Dual-specificity phosphatase 27

ECM

Extracellular matrix

ECs

Endothelial cells

EDN1

Endothelin 1

EGFR

Epidermal growth factor receptor

ENG

Endoglin

ETS1

ETS proto-oncogene 1

EZH

Enhancer of zeste

FABP

Fatty acid-binding protein

FOXO1

Forkhead box O1

GATA4

Growth arrest and DNA damage-inducible protein 45

H3K27ac

Acetylation of histone H3 at lysine 27

H3K27me2/3

Methylation of histone H3 lysine 27

H3K27me3

Trimethylation of histone H3 at lysine 27

H3K4me1

Monomethylation of histone H3 at lysine 4

H3K4me3

Trimethylation of histone H3 at lysine 4

HAT

Histone acetyltransferase

HDAC

Histone deacetylase

HEY1/2

Hes related family BHLH transcription factor with YRPW motif 1/2

HF

Heart failure

hiPSC

Human induced pluripotent stem cell

HNCM

Hypertrophic non-obstructive cardiomyopathy

HOCM

Hypertrophic obstructive cardiomyopathy

HOTAIR

HOX transcript antisense RNA

ICM

Ischemic cardiomyopathy

IGF

Insulin-like growth factor

JARID2

Jumonji and AT-rich interaction domain containing 2

LA

LDLR-/-APOB100/100 mice

LDLR

Low density lipoprotein

lncRNAs

Long non-coding RNAs

LOX

Lysyl oxidase

LTA4H

Leukotriene A4 hydrolase

LTB4

Leukotriene B4

LTC4S

Leukotriene C4 synthase

LV

Left ventricle

LVH

Left ventricular hypertrophy

MALAT1

Metastasis-associated lung adenocarcinoma transcript 1

MAP3K7/TAK1

Mitogen-activated protein kinase kinase kinase 7

MF

Myocardial fibrosis

MGP/MGLAP

Matrix γ-carboxyglutamate (Gla) protein

microRNAs/miRNAs/miRs

Small non-coding RNAs

MMP

Matrix metalloproteinase

MSCs

Mesenchymal stem cells

MSX2

MSH homeobox 2

MYH2

Myosin heavy chain 2

MYL7

Myosin light chain 7

ncRNAs

Non-coding RNAs

NFYC

Nuclear transcription factor gamma subunit c

NOTCH1

Notch/drosophila/homolog 1/translocation-associated

NPPA/ANP

Natriuretic peptide A

NT-proBNP

N-terminal probrain natriuremic peptide

obVICs

Osteoblast-like aortic valve interstitial cells

PARP

Poly (ADP ribose) polymerase

PCSK9

Proprotein convertase and subtilisin/knexin-type 9

PDCD4

Programmed cell death 4 (neoplastic transformation inhibitor)

PF

Pericardial fluid

PO

Pressure overload

POSTN

Periostin

PPARγ

Peroxisome proliferator-activated receptor γ

PRC2

Polycomb repressive complex 2

PRINS

Psoriasis associated non-protein coding RNA induced by stress

PTEN

Phosphatase and tensin homologue

PTENP1

Phosphatase and tensin homolog pseudogene 1

PTENP1-AS

PTENP1-antisense RNA

qVICs

Quiescent aortic valve interstitial cells

RECK

Reversion inducing cysteine rich protein with kazal motifs

RETN

Resistin

ROR

Regulator of reprogramming, also named lncRNA

ROS

Reactive oxygen species

RUNX

Runt-related transcription factor 1

SAHA

Suberoylanilide hydroxamic acid

SIRT

Silent information regulator-two

SM22α

Smooth muscle protein 22-alpha

SMAD

SMAD family member

SMCs

Smooth muscle cells

SOD

Superoxide dismutase

SOST

Sclerostin

SOX2

SRY-Box 2

SOX2-OT

SOX2 overlapping transcript

SP7/OSX

Osterix

SPP1/OPN

Osteopontin, secreted phosphoprotein 1; bone sialoprotein 1

SWI/SNF

SWItch/sucrose non-fermentable)-like ATP-dependent BAF chromatin remodeling complex chromatin remodeling complex

TAC

Transverse aortic constriction

TAV

Tricuspid aortic valve

TAVR

Transcatheter aortic valve replacement

TBX3

T-box 3

TGFBR1

Transforming growth factor beta receptor 1

TGFβ

Transforming growth factor beta

TIMP3

Tissue inhibitor of metalloproteinases

TWIST1

Twist-related protein 1

TXNRD2

Thioredoxin reductase 2

VICs

Aortic valve interstitial cells

VSMCs

Vascular smooth muscle cells

WISP2

WNT1 inducible signaling pathway protein 2

WISPER

WISP2 super-enhancer associated RNA

WT

Wild type
Background
Aortic valve stenosis (AS) is the most frequent heart valve disease among adults in the Western societies with ever increasing prevalence due to the rapidly aging population [1, 2, 3]. According to the recent population-based studies performed in Europe and North America the pooled prevalence of total and symptomatic severe AS cases in the general elderly population (≥ 75 years of age) is estimated to 12.4, and 3.4%, respectively [4]. Moreover, with current trends in the population demographics by the year 2050 there will be an estimated 2.1 million European and 1.4 million North American patients with symptomatic severe AS [4]. Furthermore, the even more pronounced demographic changes in Africa, Asia, and South America will further increase the absolute number of AS patients [2, 4, 5]. Therefore, in a very recent future, AS is likely to become a major health and economic burden facing the worldwide societies [2, 4, 5].
The major cause of AS is thickening, fibrosis, and calcification of a previously normal tricuspid valve (TAV) or a congenital bicuspid valve (BAV), while a historically prevailing rheumatic heart valve disease, and still the most common cause of AS in developing countries accounts for only 10% of diagnosed cases [2, 6, 7].
No matter the cause, development of AS starts with the risk of leaflet changes and progresses over many years from early lesions to subsequent narrowing (stenosis) of the aortic valve orifice [8]. During that time, the genetic predisposition or otherwise induced faulty valve repair system in concordance with continuous blood born mechanical forces and proatherogenic risk factors (i.e., hyperhomocysteinemia, hyperlipidemia, abnormal calcium metabolism, smoking, metabolic syndrome, diabetes, hypertension, chronic renal failure, male gender, age) leads to endothelial dysfunctions followed by disruption of the subendothelial basement membrane, extracellular accumulation of plasma-derived atherogenic lipoproteins and infiltration/activation of monocyte-macrophage cells, mast cells, and T lymphocytes [3, 9, 10, 11, 12, 13, 14]. That leads to intracellular lipid deposition, generation of oxidative stress with accumulation of oxidized lipids and apolipoproteins, foamy cells formation, and upregulation of various pro-fibrotic and pro-inflammatory factors with concomitant inhibition of plasma derived or locally presents anti-calcific proteins. Acting together, these factors promote extensive extracellular matrix remodeling, and activation of signaling pathways that promote neovascularization, inflammation and calcification [3, 9, 10, 11, 12, 13, 14]. Concomitant transformation of normally quiescent valvular interstitial cells (qVICs) to active myofibroblastic (aVICs) phenotype in the valve interstitium and their subsequent differentiation to osteoblast-like cells (obVICs) with activation of pro-osteogenic signaling pathways is thought to be one of the central mechanisms contributing to the initiation and progression of AS [15]. In addition, a subset of aortic valvular endothelial cells (VECs) undergoing endothelial- to-mesenchymal transition (EMT) and/or circulating osteoprogenitor cells (COPCs) may also contribute to valvular calcification/ossification either by redifferentiating to an osteoblast-like phenotype or by promoting VICs activation through paracrine signaling [16, 17, 18].
Based on this timely dependent change of tissue organization, the disease has been divided in two successive functional categories: aortic valve sclerosis (ASc) and aortic valve stenosis. ASc represents the initial, clinically mostly silent stage of disease with calcification and mild fibrous thickening of the aortic leaflets without marked functional obstruction of left ventricular outflow [8, 19]. Contrary, aortic valve stenosis as the more advanced stage of the disease comprise serious impairment of leaflet motion with subsequent obstruction of blood flow resulting in maladaptive left ventricular hypertrophy (LVH), myocardial fibrosis (MF), and a propensity for systolic and diastolic dysfunction and heart failure (HF) [3, 8, 20].
Currently there are no effective pharmacological remedies to prevent or slow the progression of AS and aortic valve replacement (AVR) either surgical or less invasive transcatheter (TAVR) approach is still the only clinical therapy at hand for its successful treatment [21, 22, 23]. Thus, a better understanding of mechanisms involved in the pathogenesis and progression of AS could lead to novel diagnostic, prognostic and therapeutic targets and eventual development of noninvasive therapeutic options.
Recent observations suggest that the full pathological spectrum of AS lesions cannot be entirely accounted for by hereditary predisposition or growing list of differentially expressed genes. Moreover, traditional genetic views do not sufficiently explain the well-known link between AS, proatherogenic risk factors, and disease-prone environmental influences. Thus, it has become clear that other regulatory mechanisms are essential, and a compelling argument for an epigenetic contribution is rapidly emerging [11, 14].
Epigenetics refers to mitotically and meiotically stable (heritable), and functionally relevant DNA and chromatin modifications that are not caused by alterations (mutations) in the primary DNA sequence itself [24]. They can be either inherited or accumulated throughout a lifetime. Furthermore, given that each cell in our organism contains the identical genomic DNA the epigenetic mechanisms are fundamental to proper lineage commitment, cell fate determination, organogenesis, and ultimately, whole body homeostasis. More specifically, by altering the chromatin architecture and the accessibility of DNA coding and regulatory regions they orchestrate the spatiotemporal gene expression in a cell-type and even allele-specific (maternally or paternally imprinted loci) manner [25].
Four major epigenetic mechanisms (Fig. 
1
) have been characterized: DNA methylation and hydroxymethylation, covalent histone modifications and incorporation of histone variants, ATP-dependent chromatin remodeling, and chromatin and gene regulation by non-coding RNAs (ncRNAs) including small micro RNAs (microRNAs/miRs) and long non-coding RNAs (lncRNAs) [
26
,
27
,
28
,
29
,
30
,
31
]. These mutually interdependent epigenetic alterations, collectively named the
epigenome
, have profound effects on cellular repertoire of active genes [
32
,
33
]. Furthermore, the well-known characteristics of epigenetic regulatory mechanisms: stability, adaptability, and reversibility, are all equally important in maintaining and changing cellular phenotype and function in both health and disease.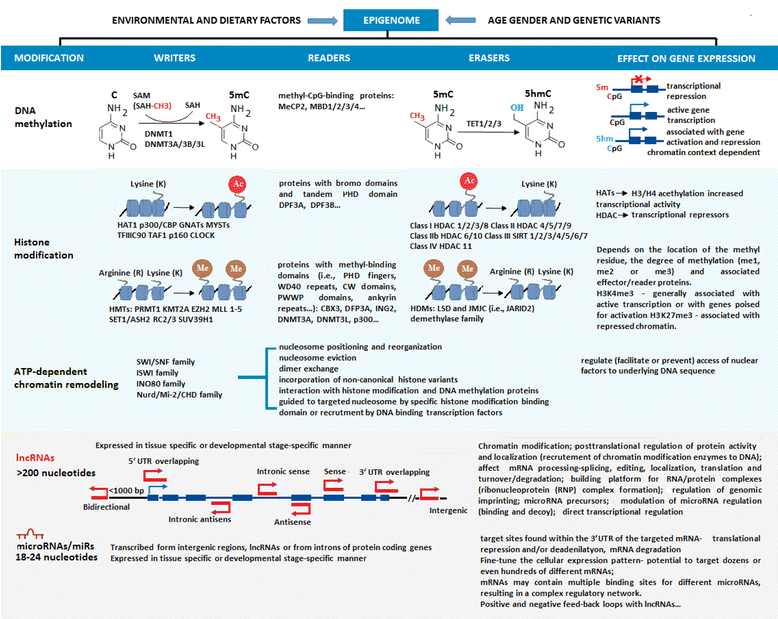 First, through epigenetic modifications genes are switched on and off in a more durable fashion than by any other mechanisms of gene regulation. Secondly, epigenetic alterations undergo dynamic changes during development and in response to the various nutritional, behavioral and environmental stimuli [34]. Notably, early changes of epigenetic regulatory mechanisms caused by fetal environment may influence the adult phenotype, including an individual's susceptibility to cardiovascular diseases (CVD) later in life, and the late onset of CVDs may well be linked to age-related alterations of epigenetic marks [35, 36, 37, 38, 39]. Finally, and clinically most relevant, all known epigenetic marks are reversible, thus opening the possibility for prophylactic or therapeutic intervention and reprogramming of cells even in the early stages of disease progression.
Herein, we provide a comprehensive overview of currently known epigenetic mechanisms involved in the control of gene expression in the native and infiltratory aortic valve cells, and discusses their roles in the pathogenesis and the progression of AS. Myocardial epigenome alterations due to pressure overload (PO) LVH induced by AS will also be covered.
DNA methylation
The data examining the role of DNA methylation changes in etiology of AS are only beginning to emerge.
For instance, Nwachukwu et al. reported dramatically increased levels of DNMT3B [DNA (Cytosine-5-)-methyltransferase 3 beta] expression in human AS compared to control valves, that was associated with an increase in global DNA methylation [40]. Furthermore, through site-specific methylation analysis, they identified more than 6000 differentially methylated sites between normal and stenotic valves [40]. Interestingly AS leaflets also showed four times higher expression of pro-osteogenic marker osterix (SP7/OSX) [40].
Furthermore, Sritharen et al. showed that genetic inactivation of DNMT3B protects against activation of osteogenic pathways and slows the progression of AS [41]. In their experiment, aortic valves from haploinsufficient mice (LDLR−/−/APOB100/100, DNMT3B+/−) showed increased expression of FABP4 (fatty acid binding protein 4; opposes osteogenesis) and SMAD6 (SMAD family member 6; opposes bone morphogenetic protein /BMP/ signaling) gene products while expression of the osteogenic genes MSX2 (MSH homeobox 2) and SPP1/OPN (secreted phosphoprotein 1; bone sialoprotein I, osteopontin) were substantially reduced [41].
Additional proof for the involvement DNA methylation changes in etiology of AS was reported by Radhakrishna et al. [42]. Their comparative DNA methylation analysis of neonatal dried blood spots obtained from newborns with AS disease and gestational-age matched controls revealed 59 significantly altered (hypomethylated or dimethylated) CpG methylation sites in the coding and/or promoter regions of 52 genes [42]. More specifically, they observed a significant methylation changes in APOA5 (apolipoprotein A5), PCSK9 (proprotein convertase and subtilisin/knexin-type 9), DUSP27 (dual-specificity phosphatase 27), RUNX1 (runt-related transcription factor 1), and TXNRD2 (thioredoxin reductase 2) gene thus concluding that their altered expression is likely responsible for congenital AS [42]. Importantly, many of these differentially methylated CpG sites demonstrated good to excellent diagnostic accuracy for the prediction of AS status, thus raising the possibility to be used as molecular screening markers for non-invasive risk estimation and disease detection [42].
Importantly, Gilsbach et al. reported that altered methylation pattern of CpG sites may also contribute to regulation of LVH as a response to chronic PO induced by AS [43]. They identified 1280 differentially methylated CpG sites in myocardial biopsies from AS patients with cardiac hypertrophy (CH) and 1365 CpG sites in patients with HF, with 523 of them significantly altered in both patient groups [43]. In addition, 496 of these differentially methylated CpG sites were concordantly altered both in hypertrophic and in HF tissue samples [43].
The first piece of evidence for the role of gene specific alteration of DNA methylation marks in AS was reported by Nagy and Back [44]. They showed that treatment of human AVICs with the DNA methyltransferase inhibitor 5-Aza-2′-deoxycytidine increases ALOX5/5LO (5-lipoxygenase) transcriptional levels and the production of the proinflammatory mediator LTB4 (leukotriene B4) [44]. These in vitro findings were confirmed in surgically explanted calcified aortic valves exhibiting reduced promoter methylation of ALOX5 accompanied with significantly higher transcriptional levels compared with non-calcified valve tissue [44]. The same group has also previously reported that the local upregulation of 5-lipoxygenase pathway (ALOX5, ALOXAP/FLAP/5-LO activating protein, LTA4H/Leukotriene A4 hydrolase and LTC4S/Leukotriene C4 synthase) in human aortic valves leads to leukotriene-induced effects on aortic VICs (enhanced leukocyte recruitment, inflammation, increased reactive oxygen species /ROS/ production, LTB4-induced matrix metalloproteinase /MMP/ secretion, matrix remodeling, and calcification) and correlates significantly with the expression of osteogenic marker genes (BMP2/6 and runt-related transcription factor/RUNX2) and severity of stenosis [45].
Gene-specific DNA-methylation changes in human AVICs were also reported in promoter region of H19 (imprinted maternally expressed non-protein coding transcript) by Hadji et al. [46]. They showed that promoter region of this lncRNA is heavily methylated in healthy aortic valves resulting with no expression of its transcripts. Contrary, promoter hypomethylation observed in stenotic valves leads to increased H19 expression which, in turn, decreases NOTCH1 transcription (prevents the recruitment of P53 to NOTCH1 promoter), and consequently increases the level of NOTCH1 downstream targets RUNX2, BMP2, and BGLAP/OCN (bone gamma-carboxyglutamate (Gla) protein; osteocalcin) thus promoting osteogenic reprograming of AVICs [46].
Finally, reduced expression of EGFR (epidermal growth factor receptor) associated with hypermethylation and dysregulation of its 5-hydroxymethylation pattern has also been linked with abnormal valve differentiation leading to the calcific AS and LVH in mice [47]. Since EGFR protein normally suppresses BMP pathway, attenuation of EGFR signaling may predispose differentiation of VICs to a calcifying cell phenotype [47].
Data accumulating from other tissues also suggest that DNA methylation may be involved in transcriptional regulation of genes implicated in AS, especially the ones involved in osteoblastic transdifferentiation of VICs.
For example, it is well known that obVICs are characterized by markers of osteoblastic differentiation, such as induction of ALP (alkaline phosphatase) [48]. Interestingly, DNA methylation plays important role in regulation of ALP expression in cells of the osteoblastic lineage, especially in its progressive transcriptional silencing during the osteoblasts to osteocyte transition [49, 50]. Notably, the degree of ALP promoter methylation is inversely associated with the transcriptional levels of ALP positive cells, with osteocytes, which do not express ALP showing high CpG island methylation [49].
Recent studies have also identified SOST (sclerostin; regulates osteoblast activity and serves as a Wnt /wingless-type MMTV integration site family member/pathway antagonist and a potent inhibitor of bone formation) gene expression as a novel marker of valvular calcification [51, 52, 53]. Notably, AS patients have significantly higher serum levels of SOST protein when compared to healthy subjects [51, 54]. Furthermore, tissues close to the calcified regions exhibit positive sclerostin staining, which is not observed in non-calcified control valves. In addition, SOST mRNA is significantly upregulated in calcified valves compared to non-calcified leaflets [51]. This increase in the SOST mRNA and protein levels is accompanied by the expression of prototypic markers (RUNX2 and BGLAP/OCN) of osteogenic transdifferentiation [51].
Importantly, SOST protein is produced by osteocytes and not osteoblasts and is regulated by DNA methylation during the final stage of osteoblast-to-osteocyte transition [55]. In addition, the SOST methylation marks are inversely correlated with its expression in osteoblastic cells but in this case with heavily methylated promoter in osteoblasts, which do not express SOST, while this same region is largely hypomethylated in human osteocytes [55, 56, 57].
Furthermore, the promoter regions of DLX5 and OSX genes that exhibit increase expression in human VICs were also found methylated in non-osteogenic and unmethylated in osteogenic cell lines expressing these genes [58]. In addition, Arnsdorf et al. demonstrated that mechanical stimulation, essential for maintaining bone homeostasis, may reduce DNA methylation at the SPP1/OPN (osteopontin) promoter accompanied with corresponding increase in gene expression [59]. Interestingly, significant upregulation of SPP1 expression was found in human AS valves in relation to preoperative transvalvular pressure gradient as well as in cultured VICs in relation to the mechanical strain applied [60, 61].
However, it should be emphasized that even though obVICs and cells of osteoblastic lineage share similar phenotypic markers, the applicability of the above findings to AS is currently unknown and remains largely to be established. A side by side comparison between VICs and several cell types in different stages of osteoblastic lineage commitment and differentiation performed by Monzack and Masters have shown stark differences in both the level and pattern of gene expression [62]. Whether they also include the noticeable dissimilarity in patterns of epigenetic gene regulation is currently quite unknown.
Major epigenetic markers in human aortic VICs are presented in Fig. 
2
.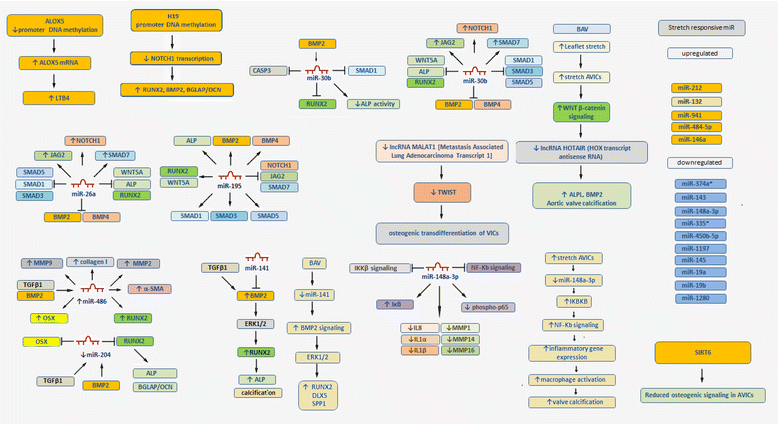 DNA methylation changes may also regulate gene expression pattern in aortic valve endothelial cells. Thus for example, White et al. reported DNMT3B as one of the genes affected by shear stress and decreased NOTCH1 (Notch/drosophila/homolog 1/translocation-associated) signaling in primary human AVECs [63]. It is well known that NOTCH1 regulates calcification related gene networks in human vascular and valvular endothelium [63]. Notably, NOTCH1 signaling is higher on the ventricular side, and it is considered protective for calcification [64, 65]. Furthermore, human NOTCH1 mutations can cause both familial and sporadic AS disease [66].
Possible NOTCH1-dependent transcriptional and epigenetic mechanisms underlying this phenomenon are quite recently revealed by Theodoris et al. [67]. They used hiPSC (human-induced pluripotent stem cell)-derived ECs generated from two patients with nonsense mutations in NOTCH1 and related unaffected individual to investigate how NOTCH1 haploinsufficiency may cause aortic valve calcification [67].
Upon shear stress NOTCH1 (+/−) ECs exhibited dysregulated epigenetic state and aberrant upregulation of pro-osteogenic, pro-oxidative and pro-inflammatory signaling pathways, thus recapitulating observed AVECs phenotype in AS [67]. Contrary, wild-type (WT; NOTCH1+/+) ECs cells under the same conditions suppressed these and activated homeostatic anti-atherogenic gene networks [67]. This was accompanied with corresponding alterations of DNA methylation marks, with so called 'CpG Island shores' (sequences up to 2 kb distant to CpG islands in promoter regions) showing the largest enrichment of methylation changes [67]. Their findings agree with previous reports of CpG shore regions displaying the most methylation differences in the context of specific tissue types regardless of species of origin [68].
Concludingly, all the above data, although some of them mostly inferential (osteoblastic transdifferentiation of VICs) and yet to be experimentally validated, strongly suggests that DNA methylation might be an important regulatory mechanism involved in the initiation and progression of AS.
Conclusion
Herein we presented a growing body of experimental evidences to support the key role of epigenetic alterations in the etiology and progression of AS. Evidently they participate in crucial disease-prone phenotype changes of aortic valve cells, and regulate key processes underlying AS-induced valvular tissue remodeling and maladaptive myocardial hypertrophy, i.e., fibrosis, calcification, LV remodeling, and inflammation. As can be seen, alteration of DNA methylation marks may contribute to production of proinflammatory mediators (ALOX5 induced LTB4 production), and have role in osteogenic transformation of VICs (H19 induced NOTCH1 downregulation and subsequent upregulation of RUNX2, BMP2, and OCN) while some of them demonstrate promising biomarker potentials for the prediction of AS status (analysis of dried blood spots of neonatal AS patients). Proinflammatory and osteogenic role was also demonstrated for histon code marks (mediated by alterations of SIRTs gene expression), and their involvement in AS-induced pathological remodeling of left ventricular myocardium was also clearly established (e.g., reexpression of the fetal gene programs induced by altered expression of JARID2 and DPF3 genes). Apparently most studies were focused on the role of small non-coding miRNAs demonstrating their essential role in some of the key processes responsible for disease progression such as the phenotypic alterations of valvular endothelial and interstitial cells under pathologically altered blood born mechanical forces, induction of proinflammatory pathways, and osteogenic transdifferentiation of VICs (Table 4). Moreover, they seem to be crucial for the disease-prone role of monocyte-macrophage and COPC cells and have established role in regulation of myocardial fibrosis and LVH. Most importantly, specific miRNA signatures (e.g., plasma levels of miR-21, miR-210, and miR-378), in combination with clinical and functional imaging parameters, could represent useful non-invasive biomarkers of disease progression or recovery after aortic valve replacement. Less is known about the ATP-dependent chromatin remodeling processes and long noncoding RNAs and their extent and potential role in subclinical and clinical manifestation of AS have yet to be examined and experimentally validated in both small and large scale human and animal studies. Also, we currently see only the very tip of histone and DNA methylation marks lying under the surface of AS patohistogenesis. Since all epigenetic mechanisam in a given cell and tissue structure are mutually interdependent as clearly represented by Theodoris et al. A better understanding of epigenome landscape in native and infiltrating aortic valve cells and affected myocardium will certainly shed new insights into all aspects of AS pathology and add important incremental diagnostic and prognostic informations useful for risk stratification and patient management. Even more, since all known epigenetic marks are potentially reversible this perspective is especially exciting given the potential for development of successful and non-invasive therapeutic intervention and reprogramming of cells at the epigenetic level even in the early stages of disease progression.
Notes
Acknowledgements
Not applicable.
Funding
This work is supported by the Scientific Center of Excellence for Regenerative and Reproductive Medicine (CERRM) established in 2013 at the School of Medicine, University of Zagreb, by the decision of Ministry of Science, Education and Sport, Republic of Croatia.
Availability of data and materials
All data generated or analyzed during this study are included in this published article.
Authors' contributions
GI, ZD, MZ, and FP were major contributors in writing the manuscript. FP designed the study and extracted the data, conducted the bioinformatic analysis, and drew the tables with the help of GI, NI, GM, BD, LZ, and SI. All authors contributed to the content. All authors read and approved the final manuscript.
Ethics approval and consent to participate
Not applicable.
Consent for publication
Not applicable.
Competing interests
The authors declare that they have no competing interests.
Publisher's Note
Springer Nature remains neutral with regard to jurisdictional claims in published maps and institutional affiliations.
Copyright information
© The Author(s). 2017
Open AccessThis article is distributed under the terms of the Creative Commons Attribution 4.0 International License (http://creativecommons.org/licenses/by/4.0/), which permits unrestricted use, distribution, and reproduction in any medium, provided you give appropriate credit to the original author(s) and the source, provide a link to the Creative Commons license, and indicate if changes were made. The Creative Commons Public Domain Dedication waiver (http://creativecommons.org/publicdomain/zero/1.0/) applies to the data made available in this article, unless otherwise stated.