Advancing theory development: exploring the leadership–climate relationship as a mechanism of the implementation of cultural competence
Abstract
Background
Leadership style and specific organizational climates have emerged as critical mechanisms to implement targeted practices in organizations. Drawing from relevant theories, we propose that climate for implementation of cultural competence reflects how transformational leadership may enhance the organizational implementation of culturally responsive practices in health care organizations.
Methods
Using multilevel data from 427 employees embedded in 112 addiction treatment programs collected in 2013, confirmatory factor analysis showed adequate fit statistics for our measure of climate for implementation of cultural competence (Cronbach's alpha = .88) and three outcomes: knowledge (Cronbach's alpha = .88), services (Cronbach's alpha = .86), and personnel (Cronbach's alpha = .86) practices.
Results
Results from multilevel path analyses indicate a positive relationship between employee perceptions of transformational leadership and climate for implementation of cultural competence (standardized indirect effect = .057, bootstrap p < .001). We also found a positive indirect effect between transformational leadership and each of the culturally competent practices: knowledge (standardized indirect effect = .006, bootstrap p = .004), services (standardized indirect effect = .019, bootstrap p < .001), and personnel (standardized indirect effect = .014, bootstrap p = .005).
Conclusions
Findings contribute to implementation science. They build on leadership theory and offer evidence of the mediating role of climate in the implementation of cultural competence in addiction health service organizations.
Keywords
Transformational leadership 
Organizational climate 
Cultural competence 
Implementation 
Background
Health care organizations require leadership to implement practices that are effective and culturally responsive to the increasing racial and ethnic diversity of the US population. To address the well-established disparities between health outcomes of racial and ethnic minorities compared to Whites, federal and private institutions have supported the implementation of culturally competent practices [1, 2]. Cultural competence refers to the recognition and responsiveness of organizations to the service needs of culturally and linguistically diverse populations and aims to improve health care quality, engage racial and ethnic minority clients in care, and reduce outcome disparities [3, 4, 5, 6]. Some culturally responsive practices, such as language and racial and ethnic provider–client matching, translating materials, and using cultural stories to engage clients in services, have robust associations with health outcomes [3, 4, 5, 6]. Yet culturally responsive practices, which are consistent with Klein and Sorra's [7] theory of innovation implementation, can be considered an innovation because their implementation require active and coordinated use by many organizational members and they are not routinely applied in health care settings. Efforts to systematically examine the drivers of implementation of innovative culturally responsive practices in health care [8] and addiction health services [9, 10] are limited.
Leadership is a key factor associated with implementation of service innovations such as cultural competence, given that organizational leaders are generally responsible for overseeing the implementation process [11]. Theory suggests that leadership affects implementation both directly and indirectly by shaping the organizational context, which then influences employee behaviors [12]. Developing research shows that leaders' communication and prioritization of new norms and expectations (e.g., safety) influence employee adoption of those norms and endorsement of congruent practices (e.g., safer work practices), generally referred to as organizational climate. The organizational climate supports and encourages employees in implementing a new practice [13]. This leader–climate–practice mechanism has been examined in the context of implementation of industrial safety [14], corporate customer services [15], and evidence-based health care practices [16]. However, it is critical to examine the extent to which this mechanism applies to cultural competence. Although commonly endorsed in health care services, cultural competence requires creative thinking to implement key cultural aspects (e.g., familismo, language, context) that may affect client outcomes [1, 2]. Understanding the role of leadership and implementation climate in the uptake of cultural competence in health care is critical to improve clients' response to treatment, particularly in substance use disorder treatment programs whose unique structure as generally small programs with an average of five to six employees allows managing leaders to have direct and daily interactions with employees.
Theoretical framework
One of the most influential leadership styles described in the management literature is transformational leadership [17, 18]. Transformational leadership is a leader's ability to inspire others to follow a particular course of action and perform beyond previous levels [19, 20]. Transformational leaders consider the unique talents of each staff member or employee (these terms are used interchangeably in this paper), give specific feedback to each staff member based on his or her needs, stimulate new ways of solving problems, and create a shared sense of purpose among all staff members [19, 21]. Transformational leadership is thought to be transmitted through a leader's expression of his or her values and goals and selection, modeling, and communication of relevant information, which staff members use when weighing options and making decisions [16, 22, 23].
Transformational leadership has been shown to play a role in the adoption and implementation of innovations in health care [24, 25, 26]. Leadership style influences multiple organizational processes involved in delivery of innovative practices [11]. For instance, leaders initiate adoption decisions, develop strategic goals and activities supporting innovation implementation, secure necessary resources, build organizational capacity for change, scan the internal and external contexts, and provide performance feedback to the staff [9, 27, 28]. One of the most important ways in which leaders affect delivery of innovative practices is by creating an organizational context conducive to implementing new practices. In particular, leaders positively or negatively contribute to the creation, development, and sustainment of an organizational climate that fosters employee attitudes and behaviors that support innovative practice use [25, 29, 30]. A leader in the current study refers to executive or upper level directors who oversee the overall operation of treatment programs and whose transformational style may influence employees, such as middle managers (i.e., supervisors) and counselors.
Organizational climate
Organizational climate can be understood as employees' shared perceptions of procedures, practices, and behaviors that are rewarded and supported by management with a specific purpose [31]. When the purpose involves implementing practices that respond to client's native cultural norms and values, language, and history, the resultant shared perceptions can be defined as climate for implementation of cultural competence.
Many definitions of climates have emerged. These definitions of organizational climates seem to differ based on the language used to capture the level of agreement among employees regarding the implicit and or explicit priorities of the organization. These priorities are generally communicated by managers through organizational policies, procedures, and practices, leading to employees' shared notion of "the way things are done around here" [32, 33]. Hence, measurement of this conceptualization has focused on what is expected, supported, promoted, rewarded, and punished in the work context [34, 35].
Moreover, organizational climate can be conceptualized and measure either as a singular, molar climate (e.g., shared perceptions of organizational policies and procedures) that influences nearly all activities in an organization or as multiple simultaneous focused climates (shared perceptions of a direct manager's priorities through rewards and support of employees' specific behaviors and attitudes) [35]. Recent climate research suggested that a molar climate may lay the groundwork for focused climates, which then serve as more proximal predictors of outcomes [36, 37]. As a result, the latest research on climate has focused on the development of specific climates for desired organizational goals (such as customer service and safety) or processes (such as creativity) [15]. Focused climates consist of the components of the organizational environment that are most influential in orienting employee behavior toward the outcome of interest. The development of these focused climates improves prediction and understanding of targeted outcomes and makes the climate construct more practically relevant to managers seeking to enhance performance in specific areas [15, 37]. Assessment of focused climates using employees' shared perceptions of the consistency among policies, procedures, and practices—basically "leader's words and actions" in prioritizing implementation of a new practice—may improve understanding of climate as a mechanism that influences employees' attitudes and behaviors [35].
Empirical research has supported the association between many specific climates and their targeted outcomes. Safety climate is associated with decreased accidents [38, 39], service climate is associated with greater customer satisfaction [40, 41], climate for creativity is associated with creative performance [42], and climate for innovation is associated with greater innovative behavior [43]. In this study, implementation climate for cultural competence can be defined as employees' shared perceptions of their program supervisors' priority to implement culturally responsive practices through expectations, support, promotions, rewards, and punishments [34, 35]. In a strong implementation climate, employees perceive new practices as a priority rather than a distraction or disruption [7, 44]. Several studies have found a positive association between implementation climate and implementation effectiveness, although empirical studies of implementation climate are limited [45, 46, 47].
Implementation climate can be further tailored to refer to implementation of new knowledge, practices, or processes as promoted, rewarded, and expected by direct supervisors and perceived by employees. For example, in a strong climate for implementation of cultural competence, employees perceive that the adoption, implementation, and use of culturally competent knowledge, services, and practices is expected, rewarded, and supported by management [48].
Organizational climate as a mediator
Leading climate scholars [35, 37, 49] have advised researchers to examine the relationships among leadership, climate, and outcomes in more depth. They recommended exploring how leaders create and maintain climate and how climate mediates the relationship between leadership and outcomes.
Understanding the leader–climate–practice mechanism necessitates a theoretical explanation of how leaders influence focused climates. Leaders may shape organizational climate through a social learning process in which staff members repeatedly interact with and observe their leader to interpret organizational priorities [29, 50]. Leaders convey the importance of various tasks in an organization through implicit and explicit communication of priorities [51, 52]. Through their behavior and interactions with employees, they communicate the value of each task and their evaluation of tasks in comparison with one another. Leaders communicate their priorities in several ways. They develop strategic goals for the organization, disseminate information, monitor and supervise staff activities, model desired behavior, and reward staff behavior in line with the prioritized behavior or outcome [53, 54, 55]. These activities occur more frequently or intensely for prioritized behaviors or outcomes in comparison to those that are not prioritized.
Three main attributes characterize the relationship between leadership behavior patterns and communicated priorities [
56
]. Pattern orientation refers to communicating a particular priority relative to other competing interests, pattern variability refers to the consistency of leader behavior in communicating a particular priority over time and among different staff members, and pattern simplicity is the number of contingencies that influence a priority. Leaders who prioritize implementation of cultural competence may communicate this priority by developing strategic goals and plans supporting culturally competent practices, allocating resources for culturally competent services, and providing supervision and coaching to build culturally competent knowledge. In addition, they may persevere in the face of challenges to implementation and reward employees based on provision of culturally competent services [
27
,
28
,
57
]. By communicating their expectations and priorities in these ways, leaders develop, support, and perpetuate an organizational climate [
56
]. See Fig. 
1
.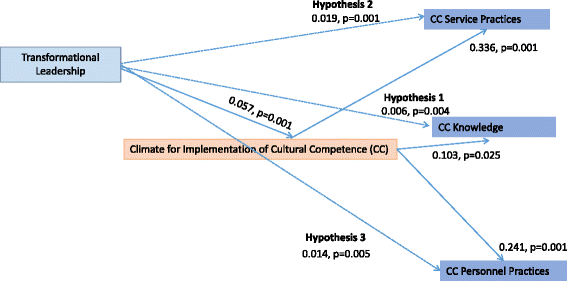 The climate–practice relationship is based on climate's role as a guide and sense-making mechanism that influences employees' attitudes and behaviors [58]. Employees interpret their environment, and climate acts as a critical determinant that influences these interpretations [59, 60].
Overview of the current research
We examined the organizational processes driving implementation of culturally competent knowledge, practices, and services. We focused on the organizational climate for implementation of cultural competence (employees' shared perceptions of middle managers' priorities, expectations and rewards to implement cultural competence) to explore the extent to which it enhances executive leaders' transformational leadership in the implementation of significant culturally competent practices in addiction health services. Executive or program directors are referred to here as executive or upper level leaders, whereas clinical supervisors are referred to as middle managers. Our hypotheses are as follows:
Hypothesis 1
Transformational leadership will be positively and indirectly related to the implementation of culturally competent knowledge through climate for implementation of cultural competence.
Hypothesis 2
Transformational leadership will be positively and indirectly related to the implementation of culturally competent service practices through climate for implementation of cultural competence.
Hypothesis 3
Transformational leadership will be positively and indirectly related to the implementation of culturally competent personnel practices through climate for implementation of cultural competence.
Results
We conducted confirmatory factor analysis to validate our outcome measures of cultural competence and mediator variable of climate for implementation of cultural competence. The 57-item measure of cultural competence [6] resulted in three dimensions of organizational cultural competence—knowledge (six items), service practices (nine items), and personnel practices (nine items)—that are consistent with theoretical and empirical descriptions of this concept [4, 5, 6]. See Table 2.
Discussion
The current study examined three areas: (a) exploration of a focused climate and development of an associated measure, climate for implementation of cultural competence; (b) development of culturally competent practices measures; and (c) examination of the model (relationships between leadership and these new measures). Findings highlight the importance of focused climates in maximizing the influence of transformational leadership on employees' implementation of congruent practices in health care. The measure representing climate for implementation of cultural competence had adequate psychometric properties and was further used to test a conceptual framework of the role of leadership in implementation processes in addiction health services organizations.
The culturally competent practices measures had adequate psychometric properties. The three measures (knowledge, services, and personnel practices) represented main areas of cultural competence in health care [3, 4, 5]. The examination of the relationships between leadership and these new program measures revealed associations among employee perceptions of executive or upper level directors leadership style, perceptions of middle managers' expectations, promotion, and rewards regarding the implementation of cultural competence (climate), and their reported implementation of increased knowledge about racial and ethnic minority communities, culturally tailored service practices, and culturally tailored personnel practices. We found that directors' transformational leadership influenced supervisors' expectations to implement cultural competence and that this cascading influence may affect implementation of congruent culturally responsive practices. These findings extend knowledge regarding the role of leadership and climate in the implementation process in health care.
Theoretical implications
Findings contribute to leadership theory on the embedded mechanisms that explain leadership influence on climate and practice implementation. Findings are consistent with emerging studies supporting the leadership–climate–practice mechanism in different organizational settings [14, 15, 78]. Because few studies have investigated the leadership process of implementation of cultural competence, our primary contribution lies in developing a measure of climate for implementation of cultural competence and identifying its relationship with the implementation of three validated measures of culturally responsive practices.
At the core of the leadership process related to influencing followers' attitudes and behavior is the role of social exchange explained by social learning theory [79, 80]. However, additional embedded mechanisms play a role in influencing followers' attitudes and behaviors. For instance, the social learning model relies on transformational leaders' modeling behavior to emphasize principles (e.g., culture matters) and norms and behaviors (e.g., service providers should understand their clients' culture to serve them effectively). These principles and norms may influence followers including middle managers, who in turn play a critical role in developing and maintaining an organizational climate focused on implementation of cultural competence [14, 15].
By considering additional embedded mechanisms and players in the social exchange dynamics described in social learning theory, this study highlights the importance of considering the hierarchical and role functions of transformational (executive) leaders and middle managers. Transformational leaders promote growth and a common vision [21, 81]. However, middle managers may need to translate this vision into specific priorities, norms, and behaviors that are actionable at the employee level. Executive leaders may value culture, whereas middle managers prioritize employee cross-cultural training and employees build their knowledge of clients' cultural backgrounds and tailored service practices.
Limitations and suggestions for future research
We acknowledge that our data have several limitations that should be considered when interpreting our findings. We did not test causal or temporal relationships because we relied on cross-section data, but informed by a conceptual framework. Second, program measures were provided by an average of three staff members per program, not including more individuals to indicate greater agreement on program climate for implementation of cultural competence can be a limitation. However, these outpatient clinics are generally small, independent, and similar to doctor's offices. As such, these programs represent work environments that influence shared perceptions. We also acknowledge limitations on our measurement approach. We relied on individual respondent data and controlled for their nested structure instead of examining a true cross-level interaction relying only on measures separately aggregated at the counselor, supervisor, and director levels. Also, our measurement of climate for implementation, which relied on employees' perceptions of supervisors' priorities, or what is expected, rewarded, and promoted, needs to be further evaluated in terms of its discriminant validity. Emerging research has highlighted a strong relationship between middle managers' reported commitment to innovation and implementation effectiveness [82, 83]. Distinguishing between middle-managers' self-reported commitment to implementation and employees' perceptions of their manager's expectations, rewards, and priorities is critical to identifying different mechanisms of implementation.
Finally, we consider a limitation measuring implementation based on staff members' reports of their program's delivery or use of culturally responsive practices, rather than directly observing practices being implemented. Nonetheless, we relied on large, multilevel data from employees nested in programs and measures featuring different scales. This last issue reduces common methods bias and improves the rigor of our analysis.
Conclusions
Findings underscore the empirical and theoretical importance of the leadership–climate relationship to implementing culturally competent practices in addiction health services. This is an important goal for these programs, which are located in one of the most ethnically diverse communities in the USA. Therefore, leadership development initiatives in health care can focus on teaching leaders to align incentives and communicate messages consistent with desired practices. Findings are relevant to executive leaders who may use a transformational leadership style (e.g., employee promotion) to influence midlevel supervisors' implementation expectations and priorities. By doing so, program leaders can establish an effective leadership–climate–practice approach in their programs that strategically aligns directors', supervisors', and employees' focus to enhance their organization's capacity to implement culturally competent services for racial and ethnic minority clients.
Notes
Acknowledgements
We appreciate the contributions of participants in the study. We also thank Veronica Serret and Tenie Khachikian for their support in summarizing data and Eric Lindberg for proofreading and editing the final draft.
Funding
Funding for the first author's role in this study was provided by a National Institute on Drug Abuse research grant (R33DA035634) and an implementation fellowship training grant (R25MH080916). This work was also supported by National Institute on Drug Abuse grant (R01DA038466) and National Institute of Mental Health grant (R01MH072961). The content is solely the responsibility of the authors and does not necessarily represent the official views of the National Institutes of Health.
Availability of data and materials
Please contact authors for data requests.
Authors' contributions
EG was the study principal investigator and developed the theoretical background and conceptualization of the study. KF developed the literature review, and YK contributed to the study design, writing, data analysis, and editing. All authors read and approved the final manuscript.
Ethics approval and consent to participate
This research was performed in accordance with the Declaration of Helsinki and approved by the Institutional Review Board at University of Southern California (No. UP-14-00105).
Consent for publication
Not applicable.
Competing interests
The authors declare that they have no competing interests.
Publisher's Note
Springer Nature remains neutral with regard to jurisdictional claims in published maps and institutional affiliations.
Copyright information
© The Author(s). 2017
Open AccessThis article is distributed under the terms of the Creative Commons Attribution 4.0 International License (http://creativecommons.org/licenses/by/4.0/), which permits unrestricted use, distribution, and reproduction in any medium, provided you give appropriate credit to the original author(s) and the source, provide a link to the Creative Commons license, and indicate if changes were made. The Creative Commons Public Domain Dedication waiver (http://creativecommons.org/publicdomain/zero/1.0/) applies to the data made available in this article, unless otherwise stated.