Protein arginine methylation: an emerging regulator of the cell cycle
Abstract
Protein arginine methylation is a common post-translational modification where a methyl group is added onto arginine residues of a protein to alter detection by its binding partners or regulate its activity. It is known to be involved in many biological processes, such as regulation of signal transduction, transcription, facilitation of protein–protein interactions, RNA splicing and transport. The enzymes responsible for arginine methylation, protein arginine methyltransferases (PRMTs), have been shown to methylate or associate with important regulatory proteins of the cell cycle and DNA damage repair pathways, such as cyclin D1, p53, p21 and the retinoblastoma protein. Overexpression of PRMTs resulting in aberrant methylation patterns in cancers often correlates with poor recovery prognosis. This indicates that protein arginine methylation is also an important regulator of the cell cycle, and consequently a target for cancer regulation. The effect of protein arginine methylation on the cell cycle and how this emerging key player of cell cycle regulation may be used in therapeutic strategies for cancer are the focus of this review.
Keywords
Protein arginine methylation 
Cell cycle regulation 
p53 
Cancer 
DNA repair 
Abbreviations
ABC

ATP-binding cassette

ADMA

asymmetric dimethylarginine

AdOx

adenosine dialdehyde oxidised

AKT/PKB

α serine/threonine-protein kinase/protein kinase B

AMI1

arginine methyltransferase inhibitor 1

APC/C

anaphase-promoting complex/cyclosome

APE1

apurinic/apyrimidinic endonuclease

AR

androgen receptor

ATM

ataxia-telangiectasia mutated

ATR

ataxia-telangiectasia and rad3 related

BER

base excision repair

BRCA

tumor suppressor gene

BUB

budding uninhibited by benzimidazole

C

cysteine

CAK

CDK activating kinase

CBP

CREB-binding protein

CCNE1

cyclin E1 gene

CDC

cell division cycle phosphatase

CDK

cyclin-dependent kinase

CDKI

cyclin-dependent kinase inhibitor

Chk

checkpoint kinase

CIP

CDK interacting proteins

DNA

deoxyribonucleic acid

DP

transcription factor family

DSB

double strand break

E2F

transcription factor family

ER

estrogen receptor

ERCC1

DNA repair endonuclease

FEN1

flap endonuclease 1

G0

resting phase of cell cycle

G1 phase

first gap phase of cell cycle

G2 phase

second gap phase of cell cycle

GADD45

growth arrest and DNA damage-inducible 45α

GAR

glycine–arginine rich

GSK3β

glycogen synthase kinase 3 β

H

histidine

hnRNPUL1

heterogenous nuclear ribonucleo protein

INCENP

inner centromere protein

INK4

inhibitors of CDK4

JMY

junction mediating and regulatory protein

K

lysine

KIP

kinase inhibitory proteins

M phase

mitosis phase of cell cycle

MAD

mitotic-arrest deficient

MCC

mitotic checkpoint complex

MDM4

murine double minute 4

MMA

monomethyl arginine

MMS4

DNA repair endonuclease

MRE11

meiotic recombination 11

MRN

MRE11/Rad51/Nbs1 complex

MUS81

DNA repair endonuclease

NBS1

nibrin

NHEJ

non-homologous end joining

p53

tumor suppressor protein p53

p53BP1

p53-binding protein 1

PCNA

proliferating cell nuclear antigen

PGM

proline glycine methionine motif

PI3K

phosphatidyl inositol-3-kinase

PKC

protein kinase C

pRb

retinoblastoma protein

PRMT

protein arginine methyltransferase

PSA

prostate specific antigen

PTEN

phosphatase and tensin homolog

R

arginine

Rad51

DNA recombination protein

RFC

replication factor C

RNA

ribonucleic acid

RPA

DNA repair protein

S phase

DNA synthesis phase of cell cycle

SAC

spindle assembly checkpoint

SDMA

symmetric dimethylarginine

SF

splicing factor

SR

serine–arginine rich

TFIIH

transcription factor IIH

TRF

telomere repeat binding factor

UBAP2L

ubiquitin-associated protein 2-like

XPA

DNA repair protein

XPC

DNA repair gene

XPF

DNA repair endonuclease

XPG

DNA repair endonuclease

XRCC

DNA base excision repair gene
Background
The cell cycle allows cells to divide and is characterised by the replication of DNA and the subsequent division of duplicated chromosomes into two daughter cells [1]. Regulatory proteins including the tumor suppressor protein p53 and the retinoblastoma protein (pRb) monitor the cell cycle and initiate pathways in response to DNA damage [2]. Cancer is considered to be a disease of the cell cycle [3] and as such these cell cycle regulatory proteins are often found to be deregulated in cancer. Protein arginine methylation is a post-translational modification often upregulated in cancer and other diseases [4], contributing to the deregulation of the cell cycle.
This review will discuss the current understanding of the role protein arginine methylation plays in cell cycle regulation and the implications for potential cancer treatment.
Cell division
The controlled regulation of cell division is essential in growth, repair and re-generation of healthy tissues and occurs via the cell cycle. The cell cycle is divided into non-overlapping stages or phases which are referred to as gap 1 (G
1
), synthesis (S), gap 2 (G
2
) and mitosis (M) phase [
5
] (Fig. 
1
). In the G
1
phase, the cell is preparing for DNA replication which then occurs in the S phase, while cells in the G
2
phase are preparing for the M phase, where cell division takes place [
5
]. M phase can be further divided into prophase, metaphase, anaphase, telophase and cytokinesis [
6
]. For a visual review of mitotic regulation see [
7
]. Cells that are not actively dividing are said to be in G
0
, a resting or quiescent phase. Once cells have committed to DNA replication they cannot return to G
0
[
1
]. In order to guarantee successful cell division without errors, the cell cycle is stringently regulated. Deregulation of the cell cycle, resulting in uncontrolled cell proliferation is one of the hallmarks of cancer [
8
].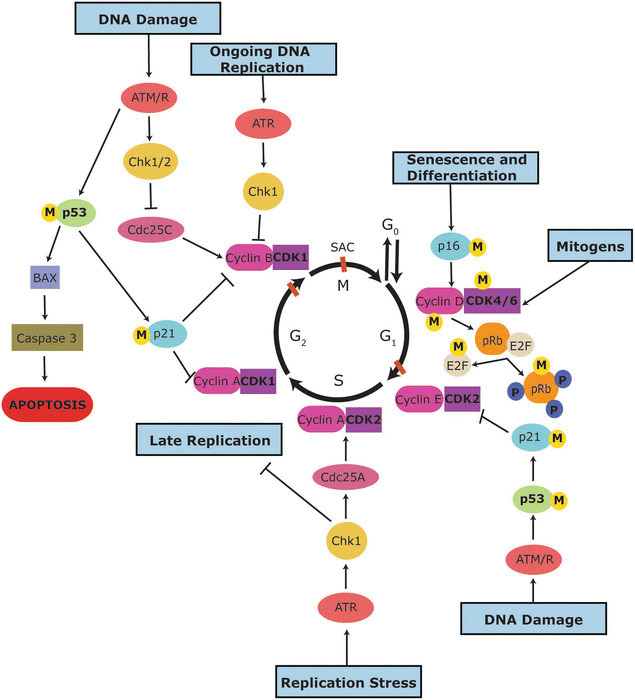 Protein arginine methylation
During protein methylation, a methyl group is added to a specific protein residue to alter detection by its binding partners or to regulate its activity [82]. This can occur on lysine (K), histidine (H) or arginine (R) residues of both histones and non-histone proteins [83]. Protein arginine methyltransferases were discovered almost 50 years ago and while histone and non-histone protein lysine methylation have been extensively studied over the past 60 years, protein arginine methylation has only gained more attention in the past 20–25 years [84].
Protein arginine methylation has many documented regulatory roles including in signal transduction [85], transcription [86, 87], protein–protein interactions such as facilitating the interactions of Tudor domains with glycine arginine rich (GAR) and proline glycine methionine (PGM) motifs in proteins [88], RNA transport [89], and RNA splicing [90, 91]. For a recent review that covers arginine methylation in different organ systems, see [92].
Implications for cancer treatment
PRMT1 [176, 177], PRMT2 [178], PRMT4 [179], PRMT5 [180], PRMT7 [181], and PRMT8 [182] have been reported to have isoforms with differing subcellular locations and are expressed in different cancer types. For a review see [183]. Although Baldwin et al. [183] speculate that the cancer-specific isoforms may have different substrates, this is based on the different localisations of the isoforms which would allow access to different substrates [183]. It is currently unknown if these isoforms behave differently in their substrate-specificity or their activity. These cancer-specific PRMT isoforms could also be targets for future anti-cancer drug development. Drugs could potentially target the aberrant isoforms in cancerous cells without affecting the other isoforms required for normal cell function.
The opportunity may further exist to use PRMT inhibitors in combination with classic chemotherapy drugs. The currently widely used chemotherapy drug Taxol (Paclitaxel) binds to tubulin-β, causing stabilisation of microtubules during mitosis and inhibiting cell division [184]. Recently, protein arginine methylation in the Taxol-binding region of tubulin-β was proposed to affect the binding ability of the drug [185]. This could pave the way for the use of methylation inhibitors as a parallel treatment with Taxol. Inhibiting arginine methylation of tubulin-β would allow Taxol full access to the tubulin-β binding site to inhibit cell division in a cancer- targeted therapy. Alternatively, Taxol derivatives that bind with higher affinity to methylated tubulin may be developed.
PRMT inhibitors could also be used in combination with chemotherapy drugs to combat chemoresistance. There are multiple known pathways of chemoresistance (for review see [186]). Activation of the NF-κB pro-inflammatory pathway can activate the production of anti-apoptotic proteins resulting in tumour growth [187]; polymorphisms in ATP-binding cassette (ABC) multidrug efflux pumps can prevent drugs from crossing the blood–brain barrier and even pump drugs back out of target cells [188]; or DNA repair pathways can be upregulated to repair damage caused by DNA-damaging drugs [189, 190]. As discussed previously, PRMT1 methylates or associates with DNA repair proteins and in many cases, this regulates or enhances the binding of DNA repair proteins to the damage sites [137, 138, 140, 142, 143, 144, 145]. An inhibitor targeting PRMT1 could be used to disrupt the binding of DNA repair proteins to the DNA damage sites, thus preventing cancer cells from evading apoptosis. This treatment would need to be delivered in a tumor-targeting vector as PRMT1 knockdown is known to be embryonically lethal [141] and would also be damaging to non-tumorigenic cells.
Other drugs should be looked at with the possibility of combinatorial cancer therapies. As discussed previously, PRMT5 interacts with CDK4 to regulate pRb/E2F-mediated transcription. Knockdown of PRMT5 made HepG2 cells more sensitive to the CDK4 inhibitor fascaplysin [119]. While this is a promising study, fascaplysin has only been used on cell lines [191, 192, 193, 194], and would require further study in order to be used for cancer therapy. PD0332991 (Palbociclib), was the first CDK4/6 inhibitor to be approved for cancer therapy. It is used in the treatment of pRb positive breast cancer [195], mantle cell lymphoma (MCL) [196], and liposarcoma [197]. This CDK4 inhibitor may also be a potential candidate for combination therapy with PRMTs. An earlier study showed that knockdown of PRMT7 sensitised HeLa cells to the DNA topoisomerase I inhibitor Camptothecin, although the authors did not investigate the mechanism of how this occurs [198]. PRMT7 does not have many known substrates and its PRMT type status has been a controversial topic in the past with some studies claiming it to be a type II PRMT [199], while others proposed it to be a type III PRMT [99]. Further research on the exact mechanism of methylation by PRMT7 is required before it can be considered as a target for combinatorial therapy.
As mentioned previously, PRMTs are often overexpressed in cancers, leading to aberrant methylation patterns. Inhibitors of arginine methylation may be useful to treat tumors by correcting increased levels of protein methylation which may deregulate the cell cycle, DNA damage repair and other important cellular functions. Arginine methyltransferase inhibitor-1 (AMI-1), is able to inhibit the coactivator function of PRMTs [200] while Adenosine dialdehyde (AdOx) inhibits S-adenosyl homocysteine hydrolase preventing methylation from occurring by a negative feedback mechanism [89]. Although AdOx does not inhibit PRMTs directly, several studies have shown that treatment of cell lines with high concentrations of AdOx induces a G2/M phase arrest of the cell cycle [201, 202, 203]. Inhibition of methylation with AdOx also showed a similar decreased growth rate and reduced migration activity when compared to PRMT1 knockdown cells [204]. This may be useful in treating tumors, if the inhibition of methylation by AdOx can be targeted towards tumor cells only. However, AdOx also causes a decrease in DNA, RNA and lysine methylation, thus further studies would be required to determine its suitability for treatment in vivo as well as the actual role of DNA, RNA and lysine methylation in cancer development.
Other non-specific PRMT inhibitors have been identified-MS023 binds to the active site of type I PRMTs [205]; while DS-437 acts on PRMTs 5 and 7 [206]. Inhibitors which are more specific to individual PRMTs would be preferential for combinatorial cancer therapy to minimise potential off-target effects. Promising specific PRMT inhibitors will be discussed below and have recently been reviewed [207].
PRMT1, being the most abundant PRMT [102], has been the target of the majority of PRMT-specific inhibitor development. Cyanine-derivative compounds have been synthesized based on the structure of AMI-1, such as E-84 which preferentially binds to PRMT1 over other PRMTs and has been demonstrated to decrease leukemia cell proliferation [208]. High-throughput screening was utilised to identify compounds to competitively bind to PRMT1 and PRMT8 [209]. Only PRMT1 and PRMT8 contain a hyper-reactive cysteine residue (C101) within the active site that comes into direct contact with S-adenosyl methionine during the methylation reaction [210]. CID5380390 and CID2818500 were found to produce the strongest inhibition with IC50 values of 23 and 11 μM, respectively [209]. CID5380390 was used to characterize PRMT activity in E. grandis roots [211]. However, no further studies have been published on the mechanism of action for either of these inhibitors.
The PRMT5-specific inhibitor, EPZ015666 (GSK3235025), inhibited growth in a panel of five MCL cell lines and inhibited tumor growth in a dose-dependent manner in MCL xenograft models [212]. The inhibitor structure was altered and renamed EPZ015938 and entered phase I clinical dose-escalation trials in 2016 as compound GSK3326595 for the treatment of solid tumors and non-Hodgkin's lymphoma (NCT02783300) [213].
More specific inhibition of individual methylated residues with peptide or small molecule inhibitors will present fewer side effects and will be the most likely successful design of personalised cancer treatment of the future. In line with this, a recent review discussed first-generation inhibitors of arginine methylation currently in pre-clinical or phase I/II clinical trials [214].
Next steps
While it is clear that protein arginine methylation is emerging as a key regulator of the cell cycle and may offer suitable targets for novel cancer drug development in the future, the immediate research effort should focus on a more detailed and complete cataloguing of PRMTs and their substrates at different stages of the cell cycle and in various cancer types. Hand in hand with this rather mammoth effort would need to be the development of more specific PRMT inhibitors to not only identify which substrate is methylated on which residue by what PRMT, but to also facilitate the study of downstream functions of the methylation and molecular mechanisms of arginine methylation including effects on alternative splicing. It should be noted that these arginine methylation modifications or aberrant PRMT expression levels could differ between cell/tissue type, between cancer types and even between individual patients. Further emphasis should be placed on unravelling the complex interplay and cross regulation of phosphorylation and methylation which has been so far reported in a few proteins but may be a more widespread regulatory mechanism of protein function that may offer further targets of intervention.
Conclusions
In the coming age of personalised cancer treatment, targeting the specific mutations and anomalous proteins of each patient's cancer will lead to increased recovery rates. Although our current knowledge of the role of arginine methylation in cell cycle control and cancer development is still in its infancy, it is clear that arginine methylation is an emerging key regulator of the cell cycle that rivals protein phosphorylation in its importance. Further studies are required to determine the exact role that protein arginine methylation plays within the cell cycle, and how this may be used to develop future cancer treatments to target aberrant protein arginine methylation.
Notes
Authors' contributions
AER and SCP contributed to writing the manuscript. Both authors read and approved the final manuscript.
Acknowledgements
The authors would like to acknowledge Dr. Liza Cubeddu for critically reviewing this manuscript.
Competing interests
The authors declare that they have no competing interests.
Availability of data and materials
Not applicable.
Consent for publication
Not applicable.
Ethics approval and consent to participate
Not applicable.
Funding
This work was supported by a Postgraduate Research Award from Western Sydney University (AER).
Publisher's Note
Springer Nature remains neutral with regard to jurisdictional claims in published maps and institutional affiliations.
Copyright information
© The Author(s) 2018
Open AccessThis article is distributed under the terms of the Creative Commons Attribution 4.0 International License (http://creativecommons.org/licenses/by/4.0/), which permits unrestricted use, distribution, and reproduction in any medium, provided you give appropriate credit to the original author(s) and the source, provide a link to the Creative Commons license, and indicate if changes were made. The Creative Commons Public Domain Dedication waiver (http://creativecommons.org/publicdomain/zero/1.0/) applies to the data made available in this article, unless otherwise stated.