Frameworks for embedding a research culture in allied health practice: a rapid review
Abstract
Background
Although allied health clinicians play a key role in the provision of healthcare, embedding a culture of research within public and private health systems remains a challenge. In this rapid review we critically evaluate frameworks for embedding research into routine allied health practice, as the basis for high quality, safe, efficient and consumer-focused care.
Methods
A rapid review (PROSPERO: CRD42017075699) was conducted to evaluate frameworks designed to create and embed research in the health sector. Included were full-text, English-language, peer-reviewed publications or Government reports of frameworks that could inform the implementation of an allied health research framework. Eight electronic databases and four government websites were searched, using search terms such as models, frameworks and research capacity-building. Two independent researchers conducted all review stages and used content and thematic analysis to interpret the results.
Results
Sixteen framework papers were finally included. Content analysis identified 44 system and regulatory level items that informed the research frameworks, 125 healthcare organisation items and 76 items relating to individual clinicians. Thematic analysis identified four major themes. Firstly, sustainable change requires allied health research policies, regulation, governance and organisational structures that support and value evidence-based practice. Secondly, research capability, receptivity, advocacy and literacy of healthcare leaders and managers are key to successful research implementation. Third, organisational factors that facilitate a research culture include dedicated staff research positions, time allocated to research, mentoring, professional education and research infrastructure. When healthcare agencies had strong partnerships with universities and co-located research leaders, research implementation was strengthened. Finally, individual attributes of clinicians, such as their research skills and capabilities, motivation, and participation in research teams, are essential to embedding research into practice.
Conclusion
Theoretical frameworks were identified that informed processes to embed a culture of allied health research into healthcare services. Research-led and evidence-informed allied health practice enables optimisation of workforce capability and high-quality care.
Keywords
research capacity 
allied health 
policy 
systematic review knowledge translation 
implementation science 
leadership 
Abbreviations
CASP

Critical Appraisal Skills Programme

MMAT

Mixed Methods Appraisal Tool

PRISMA

Preferred Reporting Items for Systematic Reviews and Meta-Analyses
Background
Allied health services are a major pillar of health and social care worldwide and allied health professionals constitute approximately one-third of the health workforce [1]. The term 'allied health' refers to a broad range of health disciplines, excluding doctors, nurses and midwives, dentists, and complementary therapists. Allied health can include disciplines such as physiotherapy, speech therapy, occupational therapy, podiatry, psychology, dietetics, pharmacy, prosthetics, orthotics, orthoptics, radiology, medical science, social work and exercise physiology [2], although this varies across the globe.
Allied health clinicians play a key role in promoting health and wellbeing in the public and private healthcare sectors [3]. As well as managing impairments, disabilities and participation restrictions [4], allied health professionals bridge the gap between the medical and nursing professions, advocate for patients and their families, and foster inter-professional teams and multi-disciplinary care [1, 2, 4, 5, 6, 7, 8]. Allied health professionals are encouraged to be research literate [6], and to assist the translation of research evidence into clinical practice to optimise patient outcomes [9]. Some are also research generators [10] and others focus on research implementation [11] to bridge the evidence-practice gap [12].
Evidence-based practice is central to effective, efficient, consumer-focused healthcare. It centres around the principles of (1) best available evidence, (2) clinical expertise and (3) incorporating consumer preferences into practice [13]. Despite clinical expertise and a quality focus, some allied health professionals lack research and evaluation skills [14, 15, 16]. Clinical practice has traditionally been directed towards patient care and resource allocation, with allied health clinicians being 'consumers' of research [6]. This is evolving, and more allied health professionals are now becoming involved in research training, knowledge generation, knowledge translation, evidence implementation, policy setting, research partnerships, co-production and research leadership [1, 2, 7, 10, 17, 18].
Underpinning evidence-based practice is a strong research culture with a framework that enables service planning, decision-making and sustained integration of evidence-based healthcare [19, 20, 21]. Governments have increasingly recognised that resources are optimised and health outcomes are improved when health policy and programme design are informed by evidence from research [22, 23, 24]. A functioning research culture is necessary to enable this research generation [9]. There is a need for research capacity-building in allied health to develop individuals to higher levels of skill, which will enable them to conduct quality research and translate the findings to improve patient outcomes.
There also exists a need to improve the ability of individuals, organisations and systems to conduct, use and promote research through providing training, funding, infrastructure, linkages and career pathways [18, 25, 26, 27]. Some of the main reasons for building research capacity and a research culture are to adopt evidence-based practice, generate new knowledge, achieve research objectives, strengthen workforce research literacy and assist workforce recruitment, retention and job satisfaction [12, 18, 20, 28, 29].
A strategic approach to research capacity-building is needed to accommodate the complex and multi-disciplinary context of allied healthcare [1, 8, 30]. The strategies that have been traditionally used to build research capability and capacity have mainly focused on processes, such as skill development, in evidence-based practice, journal clubs or quality projects [1, 2, 6, 19, 31, 32]. They have also focused on research training, such as grant writing, conference presentations, publication writing, and encouragement to participate in research networks and partnerships [5, 28, 33, 34, 35, 36, 37, 38, 39, 40]. Despite the need, there is no current framework for embedding an allied health research culture across allied health practice in public or private healthcare systems.
As the basis for developing a future policy framework to embed allied health research into routine clinical practice, this review shall critically evaluate the published worldwide literature on theories and frameworks that have been designed and developed to create and embed research capacity in the allied health clinical sector. A framework provides (1) the lens through which research capacity-building strategies are developed and evaluated; (2) the potential determinants and domains of research implementation (including individual, organisational and policy factors); (3) research engagement actions; and (4) mechanisms for research to inform policy and practice [22, 26].
Of particular interest in this review were frameworks to build research capability, capacity and implementation. We also searched for frameworks that incorporated a broader systems level and policy viewpoint so that research implementation did not solely rest in the hands of individual clinicians. We propose that allied health clinical practice can be enhanced by embedding a research culture into routine service provision within the clinical environment. The implementation of policies, systems, environments and leadership models empowering clinicians to incorporate research as a routine part of their role were also foci of this rapid review.
Research question
What allied health research frameworks and models have robust evidence to enable a research culture to be embedded into routine allied health clinical practice?
Aims
This review shall inform the future design of an allied health framework to foster a culture of research in allied health practice. As a first step, the primary aims of this rapid review are to (1) identify existing research capacity-building and capability-building and research culture frameworks/models, as well as to (2) synthesise existing evidence to identify the essential elements for embedding a culture of research within allied health practice. The secondary aim is to summarise the strengths and limitations of existing frameworks and models.
Methods
This rapid review was commissioned by the Department of Health and Human Services, Victoria, Australia, and was registered with the international prospective register of systematic reviews (PROSPERO: CRD42017075699). The rapid review was conducted and informed by Cochrane guidelines [41] and rapid review methods [42, 43], and reported according to the Preferred Reporting Items for Systematic Reviews and Meta-Analyses (PRISMA) Statement [44] and the Enhancing Transparency in Reporting the synthesis of Qualitative research [45]. The a priori inclusion and exclusion criteria were established before conducting searches of the electronic databases and were applied to the final search yield. All review stages were conducted by two independent reviewers, who collaborated when necessary to reach consensus.
Eligibility criteria
Eligibility criteria were established before searching electronic databases. Papers were included if they were full text English-language, published in peer-reviewed journals or on organisation/Government websites, reported frameworks, models for building research capacity and culture in healthcare, and provided items for review and/or evaluation. Broad healthcare models could be included for later evaluation of applicability to allied health. Editorials and opinion pieces were excluded.
Identification of included papers
Electronic databases were searched without date limits up until October 15, 2017, using explosions and combinations of key search terms such as allied healthcare, allied health clinicians, allied health, framework, model, theory, research capacity, capacity-building, research capacity-building, research culture, clinical research, research culture, organisational role, motivation theory, health researcher, framework, theory, model, policy, allied health, translation, implementation, leadership, and governance. A sample MEDLINE search strategy is included in Appendix 1.
The following eight databases were searched: CINAHL, Embase, MEDLINE, PubMed, PsychInfo, Health and Psychological Instruments, Global Health and Google Scholar. Websites included the Government of Canada Publications, United Kingdom Department of Health, Victorian Government Library Services catalogue, the Primary Health Care Research and Information Service, and Australian Government health websites. Reference lists of relevant reports were searched, and other relevant work sought through citation tracking, the grey literature, consultation with the Research and Liaison Librarian at the Victorian Government Library Service and contact with content and research experts. All of the searches were downloaded to a reference database for deletion of duplicates and initial screening of titles by the primary author, who deleted those that were clearly irrelevant.
Two reviewers independently reviewed the search results, deleted duplicates, and screened titles and abstracts for exclusion of reports that did not meet the eligibility criteria. Full text copies were obtained for all potentially relevant reports, independently screened against the eligibility criteria and read in full before final inclusion/exclusion.
Method quality appraisal
Method quality appraisal was conducted when there was a validated instrument for the appropriate empirical study design such as the preliminary Mixed Methods Appraisal Tool (MMAT) [48] for mixed methods studies or the Critical Appraisal Skills Programme (CASP) Checklist [49] for qualitative empirical studies. In the absence of a validated instrument we described the reported psychometric properties or provided a narrative summary of elements that may have contributed to the risk of bias. We used guidance from the National Collaborating Centre for Methods and Tools [50].
Data extraction
Data extraction guidelines were developed so that the same information was extracted from each included paper and systematically extracted into spreadsheets under the pre-specified headings of first author, title, year, journal or organisation or publisher, domain, theory, model, items, and the conceptual framework. Items were extracted independently by two researchers from each framework or from the text of the report. The research capacity-building titles were identified and their items were assembled into groups that addressed common targets. Common targets included headings that incorporated words such as individual, organisation, system or policy. Under these headings we included items such as enablers, barriers, skills, self-efficacy, policies and procedures, management, legislation, regulation, etc. The completed data extraction forms were examined for consistency. Following discussion, these were merged for the data synthesis phase.
Data synthesis
Two independent reviewers (SS, MM) conducted thematic and content analysis and consulted during the process using the constant comparison method, which (1) summarising and synthesising the item content with data reduction of items into 'like' categories and (2) the formation of themes through overarching similarities and connections. No prior theory was used to assist in identification of items and frameworks, but rather iterative rounds of open data-driven inductive coding were used [51, 52, 53]. The content analysis aimed to identify the key items that were important for embedding a research culture. The thematic analysis aimed to build an understanding of the broader framework of research capacity-building.
Results
The total search yield of 1255 articles was sorted by title and 1158 clearly unsuitable titles were excluded. Five papers were added from reference lists and the remaining 97 titles were examined by title and abstract. Sixty-eight papers were excluded after applying the eligibility criteria to the information contained in the abstract. Of the remaining 34 papers, two reviewers independently, and by consensus, excluded 23 papers after reading them in detail and applying the eligibility criteria.
Figure
1
shows a flowchart of progress into the review, indicating the papers/documents that met the criteria and were included for data extraction, as well as the final exclusions. The final 16 included papers and organisation/government reports contained 16 discrete research capacity-building frameworks and models that included domains and items for data extraction and synthesis (Table
1
) [
19
,
22
,
23
,
24
,
25
,
26
,
27
,
28
,
30
,
54
,
55
,
56
,
57
,
58
,
59
,
60
]. Twenty-three papers were excluded in the final round; 18 did not report a framework or model, one was a conference abstract, and four were qualitative or investigative studies (
Appendix 2
). Frameworks for research capacity-building in healthcare had been developed and implemented in Australia, Canada, United Kingdom and United States of America and date from 2001 to 2017. The extracted frameworks are summarised in Table
1
.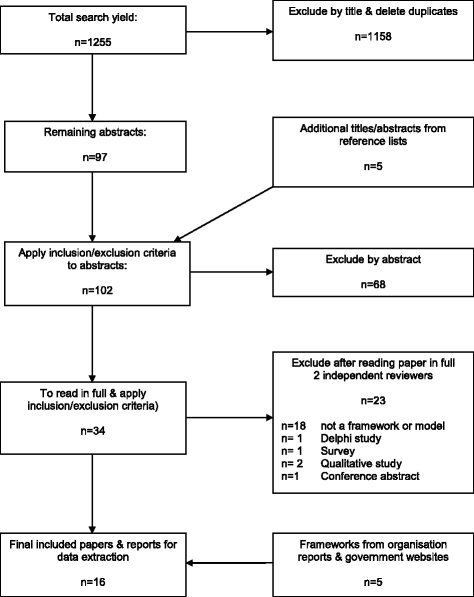 Author,Year

Title

Framework or Model

Study location/Healthcare domain

Participants

Framework development/Study type

Brennan, 2017 [54]

Development and validation of SEER (Seeking, Engaging with and Evaluating Research): a measure of policymakers' capacity to engage with and use research

SEER Framework

Australia, Health policy-makers

Investigator team (researchers, policy-makers) 150/272 respondents, 57/105 respondents, 9 policy agencies

Item generation and refinement, Literature review and expert consensus survey, Validity and internal consistency survey, Test-retest reliability

Cooke, 2005 [26]

A framework to evaluate research capacity building in health care

Cooke Framework

United Kingdom, Primary care

Not reported

Literature review and expert opinion

Farmer, 2002 [19]

A conceptual model for capacity building in Australian primary health care research

'Whole system' Framework

Australia, General practitioners

Not reported

Expert opinion

Fleisher, 2007 [55]

The NCI's Cancer Information Service's Research Continuum Framework: integrating research into cancer education practice

CIS Research Continuum Framework

United States, National Cancer Information Service

Not reported

Not reported

Golenko, 2012 [25]

A thematic analysis of the role of the organisation in building allied health research capacity: a senior managers' perspective

Research Capacity-Building Model

Australia, Allied health managers

Nine semi-structured interviews

Qualitative study with thematic analysis

Gullick, 2016 [56]

Building research capacity and productivity among advanced practice nurses: an evaluation of the Community of Practice model

Wenger's Community of Practice Model

Australia, Nursing

Six focus groups (25 participants: 2 nurse practitioners; 23 clinical nurse consultants)

Qualitative study with thematic analysis

Holden, 2012 [27]

Validation of the research capacity and culture (RCC) tool: measuring RCC at individual, team and organisation levels

Research Capacity and Culture Tool

Australia, Primary care

Allied health assistants = 3; Dieticians = 10; Occupational therapists = 24; Physiotherapists = 29; Speech pathologists = 10; Social workers = 20; Psychologists = 6; Doctors, nurses = 14

Quantitative methods with factor analysis, test-retest reliability, intra-class correlation

Hulcombe, 2014 [28]

An approach to building research capacity for health practitioners in a public health environment: an organisational perspective

Research Capacity and Culture Building Framework

Australia, Allied health clinicians

Medical laboratory assistants; Nutrition and dietetics; Occupational therapy; Oral health therapists; Physiotherapy; Podiatry; Psychology; Public health practitioners; Radiation therapy

Literature review, stakeholder consultations, expert opinion; Development of health practitioners (Queensland Health) certified agreement (No. 2) (HPEB2) – CA/2011/106

McCance, 2006 [57]

Developing a best practice framework to benchmark research and development activity in nursing and midwifery

Research and Development Best Practice Framework

United Kingdom, Nursing

Not reported

Literature review that included 52 papers and generated six best practice statements

Makkar, 2016 [58]

The development of ORACLe: a measure of an organisation's capacity to engage in evidence-informed health policy

ORACLe Framework

Australia, Health policy-makers

Nine semi-structured interviews – item content; Six semi-structured interviews – item wording

Literature review to generate items; Qualitative methods with content analysis for key domains; Quantitative methods to develop a scoring system and psychometric testing (n = 24)

Makkar, 2016 [59]

The development of SAGE: A tool to evaluate how policymakers' engage with and use research in health policymaking

SAGE Framework

Australia, Health policy-makers

65 interviews with policy-makers

Literature review and expert consultation to develop item content and wording; Qualitative methods but not reported; Quantitative methods to develop a scoring system and psychometric testing

Redman, 2015 [22]

The SPIRIT Action Framework: A structured approach to selecting and testing strategies to increase the use of research in policy

SPIRIT Action Framework

Australia, Health policy-makers

Nine semi-structured interviews with policy-makers – item content

Literature review including 106 papers from which items were generated; Qualitative methods with content analysis and a review of framework domains; Expert opinion

Ried, 2006 [60]

Setting directions for capacity building in primary health care: a survey of a research network

SARNet Framework

Australia, Primary healthcare

Allied health = 26General practitioners = 19Health services = 11Nurses = 9Academics = 9Hospital doctors = 7

Qualitative and quantitative methods with unreported design and methods

Whitworth, 2012 [30]

Enhancing research capacity across healthcare and higher education sectors: development and evaluation of an integrated model

Partnership Model

United Kingdom, Speech therapists

Speech and language therapists

Expert opinion from senior managers;

Research ideas were solicited from practitioners; Qualitative methods to explore experiences of the research collaboration

NSW Health, 2001 [23]

A Framework for Building Capacity to Improve Health

RCB Framework

Australia, Primary healthcare

Not reported

Expert opinion

Hotte, 2015 [24]

Building Research Capacity within the British Columbia Health Authorities: health services and policy research support network

Health Authority Capacity-Building Program

Canada, Public health

Not reported

Literature review and identification of six themes
Discussion
This rapid review identified 16 research capacity-building frameworks that could inform the policies, principles and design of systems for the embedding of a research culture into allied health clinical practice (Table 1). The data have been synthesised to identify essential elements for embedding a culture of research within allied health clinical practice. There were two key allied health-specific models – Golenko's Thematic Model for Research Capacity Building [25] and Hulcombe's Health Practitioner Research Capacity and Culture Building Framework [28]. There was another that was specific to speech pathology [30] and two that were primary care and included allied health, medicine and nursing [56, 60]. The frameworks highlighted the importance of high-level systems, organisational governance and regulations that support and value allied health research. They also noted the importance of hospital leaders, and allied health managers in particular, being research literate and advocates of allied health research [25, 29].
Of value were explicit local systems and procedures for research conduct and regulation, including policies and procedures on research ethics, methods, consumer involvement, research documentation, data storage, and the dissemination of research findings to end users. Hulcombe et al. [29] stressed the importance of ensuring physical resources and time to support a research-informed workforce. The establishment of allied health research networks and formal partnerships with tertiary institutions, research institutes and industry partners also helped to embed a research culture within allied health [12, 20, 21, 22, 54, 55, 56, 57, 58, 59, 60].
Overall, the key systems factors found in this review to support allied health research were the existence of allied health research policies together with government level advocacy, support and regulations [19, 22, 25, 28, 30, 31, 54, 56, 58, 63]. Strengthening the research capabilities of individual policy-makers and assisting them and their organisations to make greater use of evidence was arguably a necessary first step in generating better evidence-informed policy [25, 27, 54, 55, 57, 58, 59, 63].
The key enabling organisational factors were leadership within organisations (especially allied health managers), collaboration, mentorship and resources. For allied health research capacity and culture to be developed and sustained, a whole-of-organisation approach was optimal [19, 25, 26, 27, 28, 54, 56, 57, 58, 59, 60] and support from senior management was essential [19, 23, 24, 25, 26, 27, 28, 54, 56, 57, 58, 59, 60, 63]. Research can be incorporated into the organisational structure, processes and core business such as strategic plans and mission statements [26, 27, 28, 54, 57, 58, 59, 60]. Systems that establish career pathways including research-active leadership positions, research champions, conjoint university positions and research literacy were viewed as helpful [12, 19, 26, 27, 28, 30, 54, 55, 56, 58, 59, 63].
At the organisational level, collaborations between healthcare practice settings and academic institutes such as universities were perceived to have major impact [19, 26, 27, 28, 30, 54, 55, 56, 58, 59]. For change to be sustained, it was recommended that institutions provide incentives for adoption of evidence-informed behaviours [8, 39, 58, 59, 63]. An institutionalised method was preferable [17, 22, 25, 26, 27, 28, 35, 54] and could be achieved through an external regulatory body such as demonstrated by the United Kingdom National Institute of Clinical Excellence [61].
Common to all included frameworks were the themes of strong leadership and management investment. Strengthening the capacity of individuals and organisations is necessary but probably insufficient in isolation to ensure the sustainability of evidence-informed policy-making. Strengthening of institutional capacity and regulatory control arguably requires resources, legitimacy and regulatory support from policy-makers [19, 22, 23, 24, 25, 26, 27, 28, 30, 54, 55, 56, 57, 58, 59, 60].
Practice implications
To support the development of research capacity and capability in allied health, policy-makers and healthcare organisations can optimise capability-building frameworks, models and strategies. The identification of approaches suited to the local environment, caseload mix and workforce profile facilitates implementation. Regulation, strong leadership and supportive management structures form essential elements of a successful research culture within allied health [7, 8, 12, 19, 22, 23, 24, 25, 26, 27, 28, 30, 34, 54, 55, 56, 57, 58, 59, 60]. The future lies in new policies informed by a robustly derived framework.
Limitations
We made every effort to source hard-to-reach publications by using forward and backward citation tracking, government websites, hand-searching and expert communication. Nevertheless, some policy documents or publications not in Web of Science or SCOPUS may have been missed. Moreover, there are more than 20 allied health professions and the literature reviewed may not have addressed issues for each. The literature reviewed predominantly focused on physiotherapy, psychology, social work, podiatry, pharmacy, occupational therapy and dietetics.
Some of the included frameworks did not demonstrate robust development methods and some were government reports. There was a paucity of evidence to support the implementation of these particular capability and capacity-building models in clinical organisations and any measures of their impact or effectiveness. Despite the method quality limitations there was, however, a consensus across all frameworks on the fundamental domains and items. The conceptual relationships between the themes are beyond the scope of this rapid review and await further investigation.
Conclusion
This systematic review and critical evaluation of the literature identified 16 theoretical frameworks that could inform the development of models to embed a culture of allied health research into public and private healthcare services. The framework elements inform policy development, as well as the design of systems and linkages to support knowledge generation, research implementation and knowledge translation. The results will inform future allied health research capacity-building frameworks at government and policy level to oversee investment, evidence uptake and research implementation. The challenges facing policy-makers to support the use of evidence in policy cycles is considerable. Safer, more effective and efficient consumer-oriented care is the ultimate goal. Research-led and evidence-informed allied health practice also facilitates workforce recruitment, retention and capability.
Notes
Acknowledgments
Not applicable.
Funding
SS and MM are supported by Healthscope and La Trobe University. KP is supported by the Victorian Department of Health and Human Services. The funders had no role in protocol development.
Availability of data and materials
All data generated or analysed during this study are included in this published article or are available from the first author on request.
Authors' contributions
The research question resulted from discussions among all the authors. The search strategies were developed with input from all authors. SS conducted the database searches and initial screening by title. SS and MM assessed the literature against the review criteria, and undertook data extraction, synthesis and analysis of the literature. All authors (SS, MM, KP) provided input into findings and conclusions and edited drafts of the article. All authors (SS, MM, KP) read and approved the final manuscript.
Ethics approval and consent to participate
Not applicable.
Consent for publication
Not applicable.
Competing interests
The authors declare that they have no competing interests.
Publisher's Note
Springer Nature remains neutral with regard to jurisdictional claims in published maps and institutional affiliations.
Copyright information
© The Author(s). 2018
Open AccessThis article is distributed under the terms of the Creative Commons Attribution 4.0 International License (http://creativecommons.org/licenses/by/4.0/), which permits unrestricted use, distribution, and reproduction in any medium, provided you give appropriate credit to the original author(s) and the source, provide a link to the Creative Commons license, and indicate if changes were made. The Creative Commons Public Domain Dedication waiver (http://creativecommons.org/publicdomain/zero/1.0/) applies to the data made available in this article, unless otherwise stated.