Where next for the reproducibility agenda in computational biology?
Open Access
Correspondence
Abstract
Background
The concept of reproducibility is a foundation of the scientific method. With the arrival of fast and powerful computers over the last few decades, there has been an explosion of results based on complex computational analyses and simulations. The reproducibility of these results has been addressed mainly in terms of exact replicability or numerical equivalence, ignoring the wider issue of the reproducibility of conclusions through equivalent, extended or alternative methods.
Results
We use case studies from our own research experience to illustrate how concepts of reproducibility might be applied in computational biology. Several fields have developed 'minimum information' checklists to support the full reporting of computational simulations, analyses and results, and standardised data formats and model description languages can facilitate the use of multiple systems to address the same research question. We note the importance of defining the key features of a result to be reproduced, and the expected agreement between original and subsequent results. Dynamic, updatable tools for publishing methods and results are becoming increasingly common, but sometimes come at the cost of clear communication. In general, the reproducibility of computational research is improving but would benefit from additional resources and incentives.
Conclusions
We conclude with a series of linked recommendations for improving reproducibility in computational biology through communication, policy, education and research practice. More reproducible research will lead to higher quality conclusions, deeper understanding and more valuable knowledge.
Keywords
Reproducibility 
Replicability 
Extensibility 
Communication 
Policy 
Education 
Background
Reproducibility is a fundamental concept in the philosophy and practice of science. For hundreds of years, care has been taken over the reliability of experimental methods and results. As computation becomes integrated with the experimental and statistical sciences, questions arise about how the classical standards of reproducibility might also apply to computational science [1]. What do we mean by terms such as "reproducible" and "replicable" in this context? Can they be meaningfully applied to complex computational tools, as well as the day-to-day tasks of data analysis? How do we gain confidence in a computational result, showing it is not a fluke or a quirk of a particular setup, and how do we rule out competing explanations? Many of these questions are as yet unanswered, and it has even been suggested that computational science does not currently qualify as a branch of the scientific method because it cannot yet be said to generate reproducible, verifiable knowledge [2].
The most basic form of reproducibility is replicability: as Titus Brown neatly expresses it, do "other people get exactly the same results when doing exactly the same thing?" [3] This concept transfers naturally from the experimental sciences, in which even the most basic training emphasises the need for recording details that will allow others (or the original researcher) to repeat experiments at a later date. The discussion of reproducibility in computational research has so far focussed almost exclusively on this aspect.
However, replicability should be only the very minimum standard. The next stage is true reproducibility [4]: does "something similar happen in other people's hands?" [3] This is a more difficult demand to meet, not least because it is less well defined. The question of what we mean by "something similar" is very seldom discussed, let alone reported in research papers. But true reproducibility makes a stronger and more important statement than replicability alone: not only the method, but the phenomenon itself can be reproduced. This is, in fact, closer to what is meant by reproducibility in the experimental sciences, and usually a more relevant point to make. Another aspect of this reproducibility is the ruling out of competing explanations for a result. Experimental scientists might confirm the validity of a conclusion by designing a different experiment which tests the same hypothesis by a different route [5]. In the same way, computational researchers can improve confidence in a result by trying to reach the same conclusion in a different way.
Finally, the underlying aim of reproducing a result is very often to build on the work, rather than just to confirm it. In designing software for reproducible results, then, it also makes sense for researchers to take into account the extensibility of their computational method [6].
To gain insights into these three aspects: replicability, reproducibility and extensibility, we consider three case studies drawn from our experience across computational biology: one in software tools for bioinformatics and two in data analysis, simulation and inference studies. By examining the three aspects in each case study, we aim to identify common features of the evolving "reproducibility agenda" that are typically covered neither in purely experimental discussions, nor by studies strictly concerned with software best practice. Although other properties of good software – availability, usability, functionality, etc. – are clearly important, we focus on these three aspects which we propose as a composite definition of reproducibility. Well-designed software can facilitate the three aspects of reproducibility through its good design properties [7, 8]. We conclude by making some recommendations for the community – researchers, peer reviewers, scientific publishers and funders – to allow computational researchers to go beyond replicability to true reproducibility, improving the quality, confidence and value of our work.
Results
Software tools for bioinformatics
Bioinformatics is one important area in which complex computational analyses are applied to biological data. We first discuss how our three aspects of reproducibility apply generally in this field, before considering a specific case study.
Reproducibility in data analysis, simulation and inference studies
Another major activity in computational biology is simulating the behaviour of natural systems from mechanistically-based mathematical and computational models. One reason for conducting such simulations is to examine their behaviour under different sets of parameter values, and perhaps to infer parameter values by comparing results to experimental data.
Discussion
In our attempt to go beyond general discussions of replicability and reproducibility by considering case studies from our own research experience, we immediately faced the problem – across different contexts – of defining the specific features of a result that we aim to reproduce. Exact numerical equivalence is rarely of interest. Instead, there is in general some anticipated tolerance on quantities of interest. We saw that frameworks for quantifying and describing uncertainty already exist in statistical interpretations of probability, but these are underused and often only employed to present uncertainty related to the limitations of data, when they could also be applied to uncertainty associated with stochastic elements of analysis, simulation or inference methods.
We noted a general trend towards dynamic, updatable environments including Jupyter, knitr and Sweave, which move beyond static publications [58, 60, 61]. These new formats provide executable, interactive lab books and are more reflective of the process and increasingly collaborative nature of modern science. The trend can be facilitated by platform-independent tools such as virtual machines and web-based applications, although these tools can equally foster a 'black-box' approach which does not encourage, or even allow, the user to probe the details of how the software works. It is becoming clear that traditional research papers and peer review processes are an incomplete medium for communicating the context needed to fully replicate or reproduce a scientific result, and post-publication peer review is allowing the community to question and comment on published work. However, a tension arises between complete description and clear communication. When so much detail and information is available, how can authors guide the reader towards the key message of the study? And how should we integrate best practices for code development and the presentation of results? Complete documentation only permits reproducibility: clear communication is also required to motivate and simplify it, and the challenge lies in balancing the two. In a similar vein, extensibility presents a problem of balancing demands of clarity against flexibility and reuse. The analysis script for a figure in a publication, for example, should focus more on clarity of presentation than modularity for future extension. Core numerical/simulation libraries, on the other hand, need to focus primarily on ease of reuse, incorporation into larger systems, easy replacement of modules, and the like.
Our observations also raise the question of how good reproducibility practice can be made feasible and attractive. In a world where researchers are judged mainly by numbers of publications, citations and funding income, how should we facilitate and incentivise good practice in a cost-effective way that is achievable for busy researchers? One idea might be a reproducibility "seal of approval" which individual researchers, groups or departments could be awarded and which would improve chances of attracting funding, in a similar way to the Athena SWAN awards [74, 75] for commitment to equality and diversity which are becoming required by some UK funders. Minimum Information reporting guidelines would provide a helpful starting point for defining the criteria for such an endorsement. Scientific journals could stipulate adherence to minimum information checklists as a requirement for publication. An official standard endorsed by the community and by funding bodies might help to reassure researchers who are worried about sharing code and data. Support structures such as Software Carpentry [76, 77] also exist in part to address these concerns and introduce best practices to as many researchers as possible, and a commitment to this kind of education might form another part of the standard.
Encouragingly, the trends we have identified – increasing standardisation of data formats and reporting guidelines; clearer definition of the key features of a result to be reproduced, and more use of dynamic publishing tools – suggest that good practice is not only becoming increasingly common and valued in the computational biology community but that it is in fact becoming intrinsically linked with how research is published and communicated. Aspects of standard good practice in software development [7, 8] (version control, modular design) also make research more reproducible. However, although appropriate tools for replicable research are increasingly available, researchers seldom provide advice to their readers about how to quantify confidence in their results. Improving on this state of affairs will require convincing researchers of the benefits of allowing true reproducibility – in addition to replicability – of their results.
Conclusions
We conclude by offering two summaries of our findings. First, Table 
1
brings together the checklists, minimum information guidelines, exchange protocols and software tools described in the manuscript. As well as providing a useful reference for researchers seeking appropriate tools and standards, we hope that it will highlight gaps which could be filled by checklists to be developed by experts in the relevant specialities. Second, Table 
2
presents a set of recommendations for improving software practice in computational biology, gathered from our experiences described above. The recommendations are for implementation by developers, researchers and the community as a whole – and we emphasise that most researchers fall into all three of these categories. Figure 
1
illustrates how these recommendations could form a virtuous circle, whereby an effort on behalf of the whole community and improved education promote good practice and good communication, leading back in turn to an understanding of the importance of reproducibility and a stronger agenda within computational biology.
Table 1
A summary of tools and standards for reproducible computational biology
| Area/activity | Tools and standards |
| --- | --- |
| Umbrella projects for guidelines and standards | |
| Training | GOBLET [34, 35], Software Carpentry [8, 76, 77], Data Carpentry [78] |
| Data exchange and analysis | |
| Model exchange and annotation | |
| Simulation experiments | |
| Notebooks | Jupyter [57, 58], Mathematica [59], knitr [60], Sweave [61]. |
Table 2
Recommendations for improving reproducibility practice
Software developers can:
• Use well thought-out and appropriate principles of modularity in designing software.
• Provide practical, comprehensive advice on installation. Check it by installing software on commonly-used systems, or simplify it using a platform such as Docker.
• Provide code annotation and manuals in multiple, accessible forms with different levels of detail.
Computational researchers can:
• Make use of dynamic and/or updatable formats for publishing research, where appropriate.
• Ensure they provide all details of how an analysis was carried out, including providing all the code and data necessary to reproduce a result. Context-specific minimum information guidelines can provide useful checklists.
• State explicitly what are the key features of a piece of published work, how to measure agreement when the work is reproduced, and how close the agreement is expected to be.
The computational biology community can:
• Introduce a "seal of approval" for good reproducibility practice including adherence to reporting checklists, which could be awarded to labs, individual researchers or particular pieces of software or research.
• Require adherence to appropriate minimum information checklists for publication in peer-reviewed journals and through other channels.
• Promote and campaign for education in good computational practice for scientists of all backgrounds, from undergraduate to professorial level.
• Provide structures and opportunities for networking, support and professional development of computational researchers.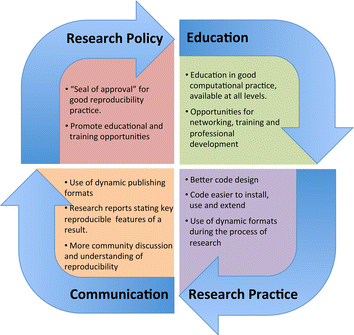 Methods
This work was carried out during the Software Sustainability Institute (SSI)/2020 Science Paper Hackathon, 10–12 September 2014. The authors had identified case studies from their own research experience, to which they felt the topic of reproducibility was relevant. During intensive discussions over the course of three days they compared and discussed the case studies with the aim of drawing out common themes from across computational biology and developing a framework for understanding reproducibility in the computational/systems biology context. An early version of the paper was drafted during this stage. Following review and comments from another participant in the hackathon (working on a different project), the ideas and the manuscript were refined and clarified over the following months.
Abbreviations
BioPAX, Biological Pathway Exchange; Chaste, Cancer, Heart and soft tissue environment; COMBINE, Computational Modelling in Biology Network; eFORGE, Functional Element Overlap analysis of the Results of Epigenome-wide association study Experiments; EWAS, epigenome-wide association studies; GOBLET, Global Organisation for Bioinformatics Learning, Education & Training; HTML, HyperText Markup Language; MIASE, Minimum Information About a Simulation Experiment; MIBBI, Minimum Information for Biological and Biomedical Investigations; MIRIAM, Minimum Information Required in Annotation of Models; ODE, ordinary differential equation; odeSD, second-derivative ordinary differential equation integrator; PSI-MI, Proteomics Standards Initiative Molecular Interactions; SBML, Systems Biology Markup Language; SED-ML, Simulation Experiment Description Markup Language; SWAN, Scientific Women's Academic Network; UK, United Kingdom
Notes
Acknowledgements
The authors are grateful to Dr Derek Groen for the invitation to the SSI/2020 Science Paper Hackathon, and to Dr Ben Calderhead for useful discussion and comments.
Funding
This work was carried out during the Software Sustainability Institute (SSI)/2020 Science Paper Hackathon, 10–12 September 2014, which was funded through an SSI fellowship awarded to Dr Derek Groen and by the '2020 Science' programme (see below). JL and JCo gratefully acknowledge research support from the 2020 Science programme funded through the Engineering and Physical Sciences Research Council (EPSRC) Cross-Disciplinary Interface Programme (grant number EP/I017909/1) and supported by Microsoft Research. JL was also funded by the National Institute for Health Research Health Protection Research Unit (NIHR HPRU) in Modelling Methodology at Imperial College London in partnership with Public Health England (PHE); grant number HPRU-2012-10080. CEB was funded by EU-FP7 project EpiTrain (316758) and the Cancer Institute Research Trust. JCh acknowledges the support of the SSI. OJM received funding from the Biotechnology and Biological Sciences Research Council through grant BB/K017578/1. None of the funding bodies played any role in the design of the study or in writing the manuscript. The views expressed are those of the authors and not necessarily those of the NHS, the NIHR, the Department of Health or Public Health England.
Availability of data and materials
Not applicable.
Authors' contributions
JCo originally proposed the study. All authors contributed to discussions and to the writing and revision of the manuscript. All authors read and approved the final version of the manuscript.
Competing interests
The authors declare that they have no competing interests.
Consent for publication
Not applicable.
Ethics approval and consent to participate
Not applicable.
Copyright information
© The Author(s). 2016
Open AccessThis article is distributed under the terms of the Creative Commons Attribution 4.0 International License (http://creativecommons.org/licenses/by/4.0/), which permits unrestricted use, distribution, and reproduction in any medium, provided you give appropriate credit to the original author(s) and the source, provide a link to the Creative Commons license, and indicate if changes were made. The Creative Commons Public Domain Dedication waiver (http://creativecommons.org/publicdomain/zero/1.0/) applies to the data made available in this article, unless otherwise stated.