Development and validation of a new patient experience tool in patients with serious illness
Open Access
Research article
Part of the following topical collections:
Abstract
Background
Patients with serious chronic illnesses face increasingly complex care and are at risk of poor experience due to a fragmented health system. Most current patient experience tools are not designed to address the unique care aspects of this population and the few that exist are delivered too late in the disease trajectory and are not administered longitudinally which makes them less useful across settings.
Methods
We developed a new tool designed to address these gaps. The 25 item scale was tested and refined using randomly cross-validated exploratory and confirmatory factor analyses. Participants were not yet hospice eligible but sick enough to receive benefits of a supportive care approach in the last 2 to 3 years of life. Full information maximum likelihood models were run to confirm the factor structure developed in exploratory analyses. Goodness-of-fit was assessed with the Comparative Fit Index, the Tucker-Lewis Index, and the Root Mean Square Error of Approximation. Test-retest reliability was assessed with the intraclass correlation coefficient and internal consistency of the final scale was examined using Cronbach's alpha.
Results
Exploratory factor analysis revealed three domains — Care Team, Communication, and Care Goals — after removing weak loading and cross loading items. The initial three domain measurement model suggested in the development cohort was tested in the validation cohort and exhibited poor fit X2 (206) = 565.37, p < 0.001; CFI = 0.879; TLI = 0.864; RMSEA = 0.076. After model respecification, including removing one additional item and allowing paths between theoretically plausible error terms, the final 21 item tool exhibited good fit X2 (173) = 295.63, p < 0.001; CFI = 0.958; TLI = 0.949; RMSEA = 0.048. Cronbach's alpha revealed high reliability of each domain (Care Team = 0.92, Communication = 0.83, Care Goals = 0.77) and the entire scale (α = 0.91). ICC showed adequate test-retest validity (ICC = 0.58; 95% CI: 0.52–0.65) of the full scale.
Conclusions
When administered earlier in the chronic illness trajectory, a new patient experience scale focused on care teams across settings, communication, and care goals, displayed strong reliability and performed well psychometrically.
Trial registrations
This trial (NCT01746446) was registered at ClinicalTrials.gov on November 27, 2012 (retrospectively registered).
Keywords
Patient experience 
Chronic disease 
Health care surveys 
Patient-centered care 
Patient-reported outcome measures 
Abbreviations
ACA

Affordable Care Act

CAHPS

Consumer Assessment of Healthcare Providers and Systems

CFA

Confirmatory factor analysis

CFI

Comparative fit index

CMS

Centers for Medicare & Medicaid Services

EFA

Exploratory factor analysis

EM

Expectation-maximization

EPC

Expected parameter change

MI

Modification index

RMSEA

Root mean square error of approximation

TLI

Tucker-Lewis index

TPT

Twin Cities Public Television
Background
The Commonwealth Fund has stated that health care expenditures in the United States (U.S.) are far higher than those of other developed countries yet our results are not better [1]. Berwick et al. laid the political foundations for improving upon the U.S. health care system through the pursuit of three aims — commonly referred to as the Triple Aim [2] of: improving the experience of care, improving the health of populations, and reducing costs. With the signing of the Affordable Care Act (ACA) in the fall of 2010 [3], health systems in the U.S. are now incentivized to deliver improved patient experience by the Centers for Medicare & Medicaid Services (CMS) through its value-based purchasing program [4]. As the single largest payer for health care in the U.S., CMS is positioned well to drive change nationally. Penalties went into effect in the fall of 2012 for inpatients and will go into effect on all CMS patients by 2018. Health systems in the U.S. are faced with a need to improve the care experience for their patients. In order to do so, providers must be able to track and understand the experiences of some of their most frequent users — patients with serious chronic illness. These patients must manage ongoing chronic diseases while also facing frequent acute care and challenges at the end of life. They are also at risk for an overmedicalized, burdensome, and depersonalized experience [5, 6]. If patient experience is truly valued, it is these patients who may require the most attention.
Patient experience is a standard health care measure, payment criterion, and pillar in the Triple Aim [2, 7]. Current industry standard patient experience tools deployed in the U.S., that are mandated by the ACA [4, 7, 8], such as general and setting-specific variations of the Consumer Assessment of Healthcare Providers and Systems (CAHPS; e.g., for hospitals, clinics, or hospice) focus on doctor-patient communication, access to care, and overall ratings of experience [9, 10, 11]. These tools largely ignore the broader context of care delivery via teams, and are not particularly useful in understanding the experiences of patients with serious chronic illness, as they encounter care across settings, health declines, and life transitions [12].
Many surveys of patient experience exist outside of the U.S. [13] but few focus on patients with serious illness, favoring a generalized approach to measurement. In England, the National Health Service has been collecting data on patients' experience for over a decade [14]. Yet, to our knowledge, no national health survey tailored to patients with serious chronic illness exists in England. However, some countries are developing tools tailored to more advanced patient populations. The Ontario Hospital Association is developing a longitudinal patient experience tool designed to capture a wide set of experience measures for the complex continuing care sector [15]. Of the few tools that do exist for patients with serious illness, many have limitations.
Primarily, experience tools oriented toward palliative care or end-of-life populations are often delivered too late in the serious illness trajectory. Often the focus is within the last 6 months of life or post hoc instruments of the bereaved [11, 16, 17]. Many tools do not ask patients about medical and non-medical goals of care, care team relationships versus communication, or whether patients feel the care team understands the whole individual versus solely aspects of patients' physical wellbeing.
To address these gaps, our objective was to develop a new patient experience measurement tool for individuals with serious chronic illness that could be administered longitudinally, as part of a larger health care delivery intervention, and evaluate its psychometric properties.
Results
Analytic sample
On average, respondents were aged 74 years, 50% were female, and had 5 comorbidities. The majority of the respondents were living at home with a primary diagnosis of advanced heart failure. Participants had 5 inpatient days, 2 emergency department visits, and 1 intensive care unit stay in the 12 months prior to selection. The randomly split development and validation cohorts had 304 and 303 cases, respectively. Patient characteristics were not found to be statistically different between the development and validation samples (Table 
1
).
Table 1
Sample description overall and by cohort
Characteristic

Overall (N = 607)

Development Cohort (N = 304)

Validation Cohort (N = 303)

P-Valuea

N

Mean ± SD/%

N

Mean ± SD/%

N

Mean ± SD/%

Age, years

607

74 ± 13

304

74 ± 12

303

74 ± 13

0.915

Comorbidity Scoreb

564

5 ± 2

280

5 ± 2

284

5 ± 2

0.745

Utilizationc

 ED Visits

607

2 ± 2

304

2 ± 2

303

2 ± 3

0.963

 Inpatient Days

607

5 ± 6

304

4 ± 6

303

5 ± 6

0.926

 ICU Days

607

1 ± 3

304

0 ± 3

303

1 ± 4

0.285

Male

306

50%

149

49%

157

52%

0.490

Married or Living with Partner

286

47%

140

46%

146

48%

0.599

Caucasian

576

95%

291

96%

285

94%

0.352

Highest Level of Education

 
 
 
 
 
 

0.232

 Non-Graduate, H.S. or GED

189

31%

99

33%

90

30%

 

 Some College to 4-year Graduate

283

47%

148

49%

135

45%

 

 Graduate or Professional School

123

20%

52

17%

71

23%

 

 Unknown

12

2%

5

2%

7

2%

 

Participant Location at Baseline

 
 
 
 
 
 

0.539

 Home

528

87%

269

88%

259

85%

 

 Assisted Living

58

10%

26

9%

32

11%

 

 Nursing Home

21

3%

9

3%

12

4%

 

Primary Diagnosis

 
 
 
 
 
 

0.485

 Heart Failure

426

70%

220

72%

206

68%

 

 Cancer

118

19%

54

18%

64

21%

 

 Dementia

63

10%

30

10%

33

11%

 
Exploratory factor analysis
The EFA suggested a 3-factor model which accounted for 92% of the total item variances (63%, 16%, and 13%). Item 30, "My problem or physical symptom was well controlled", and item 9, "I received conflicting advice from members of my care team", were removed since they did not load ≥0.35. Additionally, item 32, "I was frustrated by the care I received", cross-loaded on two factors and was removed. We extracted three subscales from the 22 remaining items: Care Team (14 items); Communication (5 items); and Care Goals (3 items). For all factors, we found good loadings for almost all items; all loadings were between 0.40 and 0.84 (and most above 0.50). Items with rotated factor loadings of the domains can be found in Table 
2
.
Table 2
Rotated factor loadings from exploratory factor analysis in the development cohort (N = 304)
| Items | Factor 1 | Factor 2 | Factor 3 |
| --- | --- | --- | --- |
| Chronbach's Alpha | 0.897 | 0.811 | 0.821 |
| The care team helped me make a choice about my care when I had one. (Q12) | 0.742 | −0.029 | 0.056 |
| The care team kept my wishes at the center of my care. (Q14) | 0.737 | 0.012 | −0.025 |
| The care team helped me understand all of my options when I had a choice about my care. (Q11) | 0.722 | 0.070 | 0.025 |
| The care team respected me. (Q13) | 0.709 | 0.010 | −0.073 |
| The care team helped me understand what was important to me. (Q10) | 0.676 | −0.038 | 0.075 |
| I trusted my care team. (Q33) | 0.650 | 0.015 | −0.054 |
| The care team helped me determine which providers I needed to see. (Q15) | 0.634 | −0.113 | −0.008 |
| The care team spent the right amount of time with me. (Q17) | 0.630 | 0.075 | −0.034 |
| I received easy to understand information from the care team in response to my questions. (Q8) | 0.624 | 0.034 | 0.044 |
| The care team did everything they could to help with my problem or physical symptom. (Q31) | 0.613 | 0.042 | 0.076 |
| I was able to get in touch with someone on my care team when needed. (Q18) | 0.568 | 0.117 | −0.102 |
| I got appointments as soon as I needed them. (Q16) | 0.463 | −0.006 | 0.002 |
| The care team knew my personal circumstances or situation. (Q5) | 0.458 | 0.048 | 0.131 |
| The care team relied upon my ideas to manage my care. (Q4) | 0.403 | −0.117 | 0.122 |
| I had to repeat myself when telling the care team about my life. (Q3) | −0.035 | 0.750 | 0.033 |
| I had to repeat myself when telling the care team about my medical condition. (Q1) | −0.018 | 0.712 | −0.054 |
| I had to repeat myself when telling the care team about what was important to me. (Q2) | 0.137 | 0.702 | −0.081 |
| I had unanswered questions about how my illness affected my everyday life. (Q7) | −0.017 | 0.671 | 0.074 |
| I had unanswered questions about how my illness affected my health. (Q6) | −0.050 | 0.649 | 0.051 |
| I have good understanding of my goals of care. (Q28) | 0.003 | 0.062 | 0.841 |
| I know what I need to do as part of my goals of care. (Q29) | 0.013 | 0.012 | 0.807 |
| My goals of care include what is important to me. (Q27) | 0.051 | −0.044 | 0.648 |
Confirmatory factor analysis
The 3-factor model from the EFA in the development cohort was used as the initial measurement model for the CFA and tested in the validation cohort. The initial model exhibited poor fit
X
2
(206) = 565.37,
p
 < 0.001; CFI = 0.879; TLI = 0.864; RMSEA = 0.076. To address the lack of fit, we explored model respecification as an iterative process using a combination of the modification indices (MI), expected parameter change (EPC), and theoretical plausibility. Goodness-of-fit statistics after each respecification can be found in Table 
3
.
Table 3
Fit indices for each model tested during confirmatory factor analysis in the validation cohort (N = 303)
| Modeling Step | X 2 | df | P | CFI | TLI | RMSEA |
| --- | --- | --- | --- | --- | --- | --- |
| 1. Initial model suggested by EFA | 565.372 | 206 | <0.001 | 0.879 | 0.864 | 0.076 |
| 2. Removed item 4 for weak loading (0.33) | 524.304 | 186 | <0.001 | 0.884 | 0.869 | 0.077 |
| 3. Added path between error terms for items with similar wording and adjacency | 358.480 | 179 | <0.001 | 0.939 | 0.928 | 0.058 |
| 4. Added path between error terms for care team items related to access | 327.332 | 176 | <0.001 | 0.948 | 0.938 | 0.053 |
| 5. Added path between error terms for care team items related to care delivery | 295.626 | 173 | <0.001 | 0.958 | 0.949 | 0.048 |
After examining the model coefficients we discovered item 4, "The care team relied upon my ideas to manage my care", did not load ≥ 0.35. This item exhibited weak loadings in both the development and validation cohort, possibly indicating it is associated with another unmeasured factor so it was removed from analysis. Subsequently, all estimated coefficients in the model indicated that the parameters from all three latent variables to each of their items were all statistically significant with fair to strong loadings (0.50–0.86), indicating that the items related to their factors.
MI and EPC suggested that there were relationships among some of the residuals between items within factors. After closely examining the items, we allowed theoretically plausible correlations between some of the residuals within the scale, which improved model fit. These correlations were based on method effects which we grouped into categories: (1) items which share similar wording and adjacent to each other on the questionnaire, (2) care team related items which address access to care, and (3) care team related items which address care delivery. Error terms for these items were allowed to be freely estimated and each model improved the fit significantly (Table 3).
Factor loadings, factor labels, and correlations among factors for the final model are presented in Fig. 
2
. The final model exhibited good fit as evidenced by the Chi-square/
df
ratio (1.71) below 2;
X
2
(173) = 295.63,
p
 < 0.001; CFI = 0.958; TLI = 0.949; RMSEA = 0.048. Weak to moderate intercorrelations between domains were present. The correlation between Care Team and Communication was 0.61, Care Team and Care Goals was 0.45, and Communication and Care Goals was 0.25.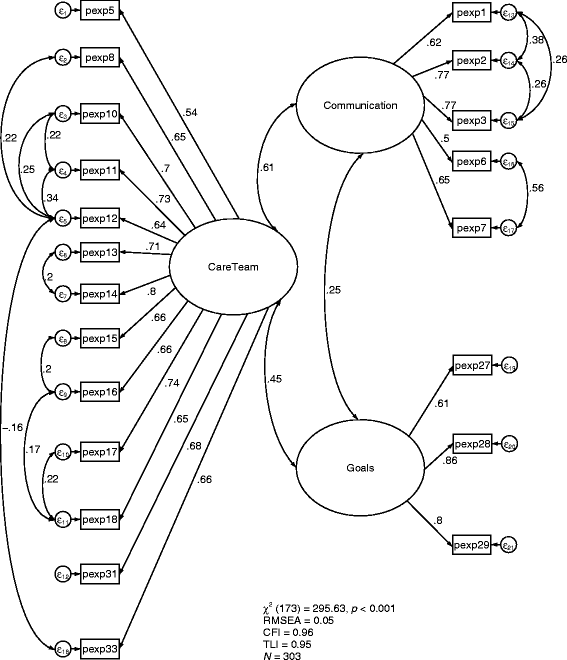 Internal reliabilities were checked by calculating Cronbach's alpha for each domain and the entire scale (Care Team = 0.92, Communication = 0.83, Care Goals = 0.77, LifeCourse Experience Scale = 0.91). Test-retest reliability for the LifeCourse experience scale was measured among participants surveyed at baseline and 3 months (ICC = 0.58; 95% CI: 0.52–0.65). Since our experience tool is designed to be deployed longitudinally, a high test-retest reliability is not desirable for quarterly intervals as it would limit the ability of a tool administered at multiple time points to detect change. Construct validity was measured through correlating the LifeCourse Experience Scale with two global items which asked participants to "Rate your care" and "Rate your support" over the past 30 days. Both items correlated significantly with the scale, r = 0.65 and r = 0.64, respectively. Since these items correlated highly with all domains and nearly all items, they were used as indicators for a broad gauge of the construct of patient care experience.
Discussion
A newly developed patient experience scale demonstrated high reliability and validity and could be used in further evaluation of care delivery experiences for those late in life. Experience tools oriented toward existing relationships and later-life care for complex patients may allow for meaningful assessment and better understanding of targets for integrating and streamlining care. This is especially important since existing patient-centered tools, such as decision aids, do not guarantee that patients will be treated as partners or that providers will understand their wishes in late life [28, 29]. New models of care, regardless of their design, require tracking and assessment with regard to their impact on relationships and communication with care teams and whether patients' goals are actively understood. This is particularly true in later life. As patients age, their health needs increase exceeding their individual capacity [30].
Several strengths in the design of this scale improve measurement of patient experience in patients with chronic life-limiting illnesses. First, our scale asks about care teams as a whole unlike many of the standard experience scales which focus on doctor or nurse-only experience. As health systems restructure toward new care delivery models oriented on team-based care, focus on evaluating teams is increasingly important. The care team domain we designed also seeks to address interpersonal aspects of experiences between patients and care teams. Second, our tool was designed to be implemented across settings with a broad focus and targets patients earlier in the chronic illness trajectory than existing scales. For patients frequently experiencing complex health care interactions in siloed health system divisions, this is perhaps a more realistic reflection of what patients experience. Finally, our scale assesses patients' goals of care. In a time of increasingly difficult care decisions which often carry heavy consequences for patients and their families, health systems need to focus more on patient-defined medical and non-medical goals in their efforts to improve care.
The usefulness of this tool may also be understood within a global context in which chronic and non-communicable diseases account for nearly 90% of deaths in high-income countries (and increasing to nearly 70% worldwide by 2030) [31]. Work on multimorbidity and patient burden in chronic conditions such as heart failure in Europe, including guidelines on multimorbidity and measurement of treatment burden [6, 32, 33, 34], reflects recognition of the patient-facing side of this reality. In such a context, understanding how to address individuals' needs via integrated and holistic palliative care services is vital, yet one review found only 20 countries to have advanced levels of palliative care integration (about a third of countries worldwide had no known hospice or palliative care activity) [35]. Among countries working toward palliative care integration, standardization and an evidence base derived from rigorous, patient-centered assessment remain the focus of existing frameworks and calls for further work [36, 37, 38]. In this context, we believe that an experience tool for patients with serious chronic conditions in later life may help to form such an evidence base to help drive practice standards and improve care.
Limitations
This study has several limitations. Factor loadings could be artificially inflated due in part to either the similarity in item wording, likeness of the topic, and/or the adjacency of items concerning the same topic in the survey. However, the fact that items with disparate wording also loaded together on the same factors (e.g., in the Communication domain) suggests that the underlying constructs were relatively cohesive across item content. Correlated error terms could be indicative of underlying undefined factors in the Care Team and Communication domains or due to simple design effects such as clustering of questions about similar topics on the survey. Item and questionnaire refinement focused on care team access and the practical and interpersonal aspects of care delivery, followed by additional analyses, could address this limitation. However, this would need to be balanced against additional length in a survey of patients already prone to high rates of missing data.
With regard to item and unit missingness, future work should focus on the recall time frame — as a 30 day lookback period may be too brief if patients, despite having complex conditions, are not having frequent visits. Conversely, it is also possible that respondents who have had multiple encounters of various quality over longer lookback periods struggle to average their experience as a whole. There is a limited amount of research about the ability of patients to recall their previous experience and how it may be affected by reference periods [39, 40, 41]. Alternative event-based approaches, such as that used by H-CAHPS [10] may address this issue. However, there are tools currently in large scale use in U.S. clinic settings with longer lookback periods, like the 12 month period used in the CG-CAHPS [9, 42] tool, which may exacerbate recall issues.
Further, encounter-based assessment may sacrifice relational aspects of experience regarding care teams. The CAHPS suite of tools assume a lot about the patient-provider and patient-team relationship that is unlikely to fit patients who see a lot of providers and overlooks the team-based approach entirely. H-CAHPS and hospice CAHPS [11] are event driven and hospice CAHPS is sent to caregivers after the patient has died, so the measures don't capture the patient's overall, ongoing relationship with a team across a number of settings and events like our tool. In addition, CAHPS experience tools administered in older populations also suffer from lower response rates [43, 44]. Additional validity studies in different samples drawn at different times are needed to ensure consistency of the results reported here. Furthermore, our sample may not be representative of the population at large and should be replicated in samples with more diverse demographic profiles.
Missing data were somewhat problematic in our sample — a common issue with survey burden in studies of patients with advanced illness [45, 46]. We addressed this in analyses in two ways. First, patients with <80% response (i.e., ≥5 missing items out of 25 total items) were dropped from the analysis. Second, we used maximum likelihood with the expectation-maximization (EM) algorithm to estimate the covariance matrix [47], the EM covariance matrix was used to obtain a factor solution. A factor loading cutoff of 0.35 was used for low loadings or cross-loadings (cases with high loading on more than one factor) [48].
Conclusions
With its focus on care teams, communication, and care goals for patients with serious chronic illness, our new experience tool and its subscales, display strong reliability and perform well psychometrically. This LifeCourse experience tool, while developed as part of an intervention study, may prove highly useful in describing and studying patient experience across this and other populations, helping to further establish experience as a core component of care quality and value for all patients served by healthcare.
Notes
Acknowledgements
The authors would like to thank Cindy Cain, Allison Shipley, and Tetyana Shippee for their substantial contributions to the direction of analysis, survey design, and survey administration.
Funding
This study was funded by the Robina Foundation. The funding body had no role in the study design, data collection, analysis, interpretation of data, and writing of the manuscript.
Availability of data and material
Supplementary files for this manuscript including: (1) the data set, from which personal identifiers of the participants were excluded; (2) the questionnaire to collect information about participants developed for the purpose of this study; are available from the corresponding author on reasonable request.
Authors' contributions
KF designed the study, conducted data analysis and interpretation, and drafted the manuscript. NS designed the study, interpreted the data, and commented on the final draft of the paper. AJ designed the study, conducted data collection, and commented on the final draft of the paper. HB conceived and designed the study and commented on the final draft of the paper. All authors read and approved the final manuscript.
Competing interests
The authors declare that they have no competing interests.
Consent for publication
Not applicable.
Ethics approval and consent to participate
This study was approved by Quorum institutional review board under the protocol number 28142/1. Signed informed consent to participate in the study was provided by all participants or a legally authorized representative.
Copyright information
© The Author(s). 2016
Open AccessThis article is distributed under the terms of the Creative Commons Attribution 4.0 International License (http://creativecommons.org/licenses/by/4.0/), which permits unrestricted use, distribution, and reproduction in any medium, provided you give appropriate credit to the original author(s) and the source, provide a link to the Creative Commons license, and indicate if changes were made. The Creative Commons Public Domain Dedication waiver (http://creativecommons.org/publicdomain/zero/1.0/) applies to the data made available in this article, unless otherwise stated.