Residential neighbourhood greenspace is associated with reduced risk of incident diabetes in older people: a prospective cohort study
Open Access
Research article
Part of the following topical collections:
Abstract
Background
Three cross sectional studies suggest that neighbourhood greenspace may protect against incident diabetes. This study uses data from a longitudinal study with a large sample size to investigate the association between greenspace and the occurrence of incident diabetes over time.
Methods
Data was from the European Prospective Investigation of Cancer Norfolk, UK, cohort, recruitment 1993–2007 (N = 23,865). Neighbourhoods were defined as 800 m circular buffers around participants' home locations, according to their home postcode (zip code). Greenspace exposure was defined as the percentage of the home neighbourhood that was woodland, grassland, arable land, mountain, heath and bog, according to the UK Land Cover Map. Cox proportional hazards regression examined the association between neighbourhood greenspace exposure and incident diabetes. The population attributable fraction assessed the proportion of diabetes cases attributable to exposure to least green neighbourhoods. Mediation analysis assessed if physical activity explained associations between greenspace and diabetes. Interaction analysis was used to test for the modifying effect of rurality and socio-economic status on the relationship between greenspace and diabetes. Models were adjusted for known and hypothesised confounders.
Results
The mean age of participants was 59 years at baseline and 55.1% were female. The mean follow-up time was 11.3 years. Individuals living in the greenest neighbourhood quartile had a 19% lower relative hazard of developing diabetes (HR 0.81; 95% CI 0.67, 0.99; p = 0.035; linear trend p = 0.010). The hazard ratio remained similar (HR 0.81; 95% CI 0.65, 0.99; p = 0.042) after adjusting for age, sex, BMI, whether a parent had been diagnosed with diabetes and socio-economic status at the individual and neighbourhood level. A HR of 0.97 was attributed to the pathway through physical activity in a fully adjusted model, although this was non-significant (95% CI 0.88, 1.08; p = 0.603). The incidence of diabetes in the least green neighbourhoods (with 20% greenspace on average) would fall by 10.7% (95% CI −2.1%, 25.2%; p = 0.106) if they were as green as the average neighbourhood observed across the whole cohort (59% greenspace on average). There were no significant interactions between rurality or socio-economic status and level of greenspace.
Conclusions
Greener home neighbourhoods may protect against risk of diabetes in older adults, although this study does not support a mediation role for physical activity. Causal mechanisms underlying the associations require further investigation.
Keywords
Incident diabetes 
Physical activity 
Greenspace exposure 
Older adults 
Abbreviations
BMI

Body mass index

CI

Confidence interval

EPIC-Norfolk

European prospective investigation of cancer Norfolk

GIS

Geographic information system

HR

Hazard ratio

PAF

Population attributable fraction

UK

United Kingdom
Background
In 2015, 8.8% of adults worldwide were living with diabetes mellitus, at a healthcare cost of over US$673 billion, whilst 5 million people died from the disease [1]. The prevalence of type 2 diabetes is increasing at a fast rate and is anticipated to rise by 55% by 2035 [2]. Lifestyle plays a major role as a risk for type 2 diabetes, with modifiable risk factors such as physical inactivity, unhealthy eating and obesity influencing the development of the disease [3, 4, 5]. Wider environmental factors help to determine these behaviours, and should be the target of interventions to reduce disease incidence due to their potential population-level impact [6].
Several studies have found a link between access to greenspace and better physical and mental health [7, 8]. The association of greenspace with type 2 diabetes has been previously examined in three studies, all of which suggested that the likelihood of having diabetes was lower in people living in the greenest areas [9, 10, 11]. All three studies calculated the amount of greenspace within 1 km and/or 3 km radii of participant's home locations, using mapped land use data, and used regression analyses to test the association with type 2 diabetes. However, these cross-sectional studies only looked at prevalent diabetes in participants at a single time point, and one of the three relied on self-reported diabetes diagnosis [9], so the ability to attribute causality to observed associations is limited. In addition, potential causal pathways were not tested, limiting understanding of mechanisms that may explain the relationship between greenspace and diabetes.
Lachowycz and Jones discussed potential causal pathways to explain the relationship between greenspace exposure and disease outcome in their proposed socio-ecological framework [12]. Potential explanatory mechanisms include the physiological and psychological benefits of seeing greenspace [13], the health benefits from the immunoregulatory effects of exposure to microorganisms found in natural environments [14], the role of greenspace in creating a sense of attachment to place and community [15], urban greenspace and its mitigating of air pollution, noise, and the urban heat island effect [16, 17], and its function as a venue for physical activity [18]. Physical activity may be partly determined by the natural and built environment [19], such as greenspace availability [8], although evidence from previous studies has been inconsistent [7]. Physical activity is also a potential mediator of the relationship between exposure to greenspace and diabetes incidence [12], yet previous studies have not tested this [9, 10].
In this study, our primary objective was to use longitudinal data to explore the association between neighbourhood greenspace and incident diabetes in a large population, using a robust, multi-source ascertainment of incident diabetes over follow-up and a detailed objective measure of greenspace exposure in the home neighbourhood. As a secondary objective, we tested physical activity as a potential mediator in this relationship.
Results
Sample characteristics
Of the 25,639 participants at baseline, we excluded 1087 who did not have a valid postcode that allowed their residential location to be determined. An additional 113 participants who resided more than 20 km from Norfolk by the time of the 18 month follow-up were excluded, as well as 562 who self-reported diabetes in the baseline questionnaire, five with uncertain diabetes status, and seven with no age at either diagnosis or exit from the study. There were no statistically significant differences in participant characteristics between those excluded and those included in the analysis (the final sample), except for age (mean 60.7 in excluded versus 59.1 years,
p
 < 0.001) and BMI (27.0 versus 26.6 kg/m
2
,
p
 = 0.012). Six participants with incident diabetes but with no known date of diagnosis were given the median date of the final sample. A total of 23,865 participants were included in the analysis with a mean age at baseline of 59.1 years (minimum 39.5 years, maximum 79.1 years) (Table 
2
). Of the total sample, 1486 people (6.2%) had moved house by the time of the ten-year follow-up. A total of 834 participants developed incident type 2 diabetes by the end of 2007.
Table 2
Baseline characteristics of men and women in EPIC Norfolk
Characteristic

Men

(N = 10722)

Women

(N = 13143)

All

(N = 23865)

Incident diabetes, % (n)

4.4 (473)

2.7 (361)

3.5 (834)

Age (years)

59.4 ± 9.3

58.8 ± 9.3

59.1 ± 9.3

BMI (kg/m2)

26.5 ± 3.3

26.2 ± 4.3

26.3 ± 3.9

Parent had diabetes

9.6 (1023)

10.5 (1379)

10.1 (2402)

Social class

 Professional

7.8 (801)

1.6 (196)

4.4 (997)

 Managerial

38.4 (3936)

28.9 (3607)

33.2 (7543)

 Skilled non manual

11.9 (1216)

39.4 (4927)

27.0 (6143)

 Skilled manual

25.9 (2657)

6.6 (822)

15.3 (3479)

 Semi-skilled

13.2 (1349)

16.8 (2103)

15.2 (3452)

 Unskilled

2.8 (289)

6.7 (836)

5.0 (1125)

 Townsend Index of deprivationa

−2.1 ± 2.2

−2.0 ± 2.2

−2.0 ± 2.2

Overall physical activity

 Inactive

30.6 (3276)

30.2 (3963)

30.3 (7239)

 Moderately inactive

24.5 (2631)

32.1 (4216)

28.7 (6847)

 Moderately active

23.0 (2367)

22.3 (2933)

22.6 (5400)

 Active

21.9 (2347)

15.5 (2031)

18.3 (4378)

Leisure physical activity (hrs per wk cycling/sport)

 0

54.9 (5890)

50.9 (6692)

52.7 (12582)

  > 0– < 3.5

26.7 (2864)

33.0 (4340)

30.2 (7204)

  > =3.5–< 7

11.3 (1210)

10.6 (1392)

10.9 (2602)

  > =7

7.1 (758)

5.5 (719)

6.2 (1477)

 Walking in summer (hrs per wk)

10.1 ± 11.0 (10102)

9.4 ± 10.1 (12230)

9.7 ± 10.5 (22332)

Urban/rural location

 Urban

46.7 (5011)

46.9 (6169)

46.9 (11180)

 Town and fringe

20.4 (2188)

20.9 (2749)

20.7 (4937)

 Village

23.8 (2554)

23.4 (3077)

23.6 (5631)

 Hamlet/isolated dwelling

9.0 (969)

8.7 (1148)

8.9 (2117)

 Greenspace (percentage < =800 m home)

59.2 ± 29.6

58.9 ± 29.6

59.0 ± 29.6
Greenspace and incident diabetes
Rates of incident diabetes increased from 7.3 per 10,000 person-years for those aged 40–49 years to 55.2 per 10,000 person-years (1 in 181) for those aged 80–90 years. Figure 
1a
shows the cumulative survival for the cohort not developing diabetes to be 90.6% at age 80 (data not shown after age 80 due to few observations). There was a significant trend in the survivor functions (i.e., probability of remaining free from diabetes) across the quartiles of greenspace (
p
 = 0.010) (Fig. 
1b
); the probability of remaining free from diabetes amongst those in the greenest areas was 2.4% higher than those in the least green at age 80.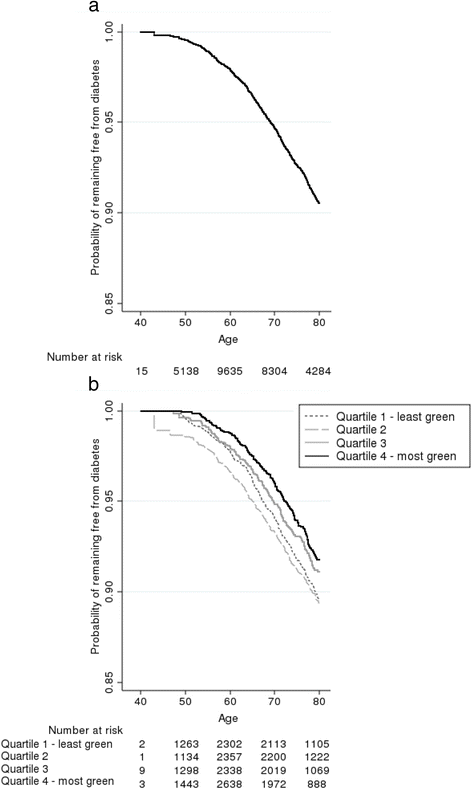 Table 
3
presents hazard ratios (HR), confidence intervals (CI) and
p
-values from the Cox models. Before adjustment for confounders, individuals living in the greenest quartile (Q4) had a 19% lower relative hazard of developing diabetes (HR 0.81; 95% CI 0.67, 0.99;
p
 = 0.010) compared to those living in the least green quartile (Model 1). The linear trend across quartiles was statistically significant (HR 0.92; 95% CI 0.87, 0.98;
p
 = 0.010). The hazard ratio remained similar (HR 0.81; 95% CI 0.65, 0.99;
p
 = 0.042) after adjusting for age, sex, BMI, whether a parent had been diagnosed with diabetes and SES (Model 2), with a statistically significant trend across quartiles (HR 0.92; 95% CI 0.86, 0.99;
p
 = 0.017).
Table 3
Hazard ratios from Cox regression, showing the association between neighbourhood greenspace exposure and incident diabetes
 

Model 1

Adjusted for greenspace

Model 2

Adjusted for confounders

 

95% CI

95% CI

 

HR

Lower

Upper

p

p trend

HR

Lower

Upper

p

p trend

Greenspace quartile

 
 
 
 
 
 
 
 
 
 

 1 (least green, ref)

1.00

 
 
 
 

1.00

 
 
 
 

 2

0.96

0.80

1.15

0.674

0.010

0.97

0.80

1.18

0.768

0.017

 3

0.81

0.67

0.98

0.031

0.83

0.67

1.02

0.075

 4 (most green)

0.81

0.67

0.99

0.035

0.81

0.65

0.99

0.042
Computation of the population attributable fraction (PAF) suggested that, based on the model before adjustment, incident diabetes in the least green neighbourhoods (quartile 1, 20% greenspace on average) would fall by 11.4% (95% CI −0.5%, 24.8%; p = 0.062) should those neighbourhoods be greened to a level observed across the whole sample, which was 59% greenspace coverage of land area on average. After full adjustment, the corresponding estimate decreased slightly to 10.7% and fell just outside of statistical significance (95% CI −2.1%, 25.2%; p = 0.106).
Assessment of mediation and moderation
The direction of association between greenspace and physical activity was positive for overall activity, but in the opposite direction for hours spent walking and in cycling and sports, whereby activity decreased with greenspace. Mediation was therefore only conducted for overall physical activity.
Mediation analysis suggested that, before adjustment, physical activity partially mediated the association between exposure to greenspace in the home neighbourhood and incident diabetes. The HR of incident diabetes was 0.81 for people living in the greenest home neighbourhoods compared to those living in the least green areas. A HR of 0.96 (95% CI 0.88, 1.06; p = 0.452) was attributed to the pathway through physical activity. When covariates of age, BMI, sex, parental diabetes and SES were added to the analysis, the HR of 0.97 remained non-statistically significant (95% CI 0.88, 1.08; p = 0.603).
Area greenspace and urban/rural status were strongly associated, but stratification by urban-rural status revealed no evidence of moderation of the association between greenspace and incident diabetes by rurality. There was no significant interaction between SES and greenspace exposure in the regression models, therefore we conclude that modification of the relationship between greenspace and incident diabetes by SES is not present.
Sensitivity analysis
Sensitivity analysis suggested that using road network buffers rather than circular buffers resulted in only a small change to the hazard ratio in regression analysis. In fully adjusted models, the relative hazard of developing diabetes was slightly lower when neighbourhoods were measured according to road buffers, at 22% (HR 0.78; 95% CI 0.64, 0.96; p = 0.023). The indirect effect attributable to physical activity remained non-statistically significant (HR 0.97; 95% CI 0.88, 1.07; p = 0.601). Greenspace measured using larger buffer sizes was not statistically significantly associated with incident diabetes. See Additional file 1 for the results of the sensitivity analysis.
Discussion
The findings of this study suggest that exposure to greenspace may be protective against the development of type 2 diabetes. Participants living in the greenest locations had a 19% lower relative risk of developing diabetes at follow-up when compared to those living in the least green areas. After adjustment for potential confounding by age, sex, BMI, parental diabetes, and SES, the risk reduction remained similar and the relationship remained statistically significant. Our study does not support a mediation role for physical activity in the relationship between exposure to greenspace and incident diabetes. Interestingly, two of the measures of physical activity – walking and time spent doing cycling and other sports – were negatively associated with neighbourhood greenspace. This counter-intuitive finding could be due to residual confounding or measurement error, but it is most likely due high levels of utilitarian walking in urban areas, a factor which we were unable to separate out from leisure walking in the data.
This study is in agreement with the findings from the three previous cross-sectional studies exploring the association between greenspace exposure and diabetes, that type 2 diabetes tends to be lower in greener areas, even after accounting for covariates. However, ours is the only study to look at incident diabetes rather than prevalence of the disease. Maas et al. [11] found that prevalence fell from 10/1000 for participants living in areas with 10% greenspace in a 1 km neighbourhood, to 8/1000 for 90% greenspace; and that a 10% increase in greenspace was associated with a 2% lower prevalence in diabetes in both 1 km and 3 km neighbourhoods. Unlike our study, this did not take BMI and family history of diabetes into account. Our participants lived in greener environments, in an average of 59% greenspace compared to 42.4% in their study. Interestingly, Bodicoat et al. [10] did not find a significant relationship for a 800 m neighbourhood, but found a 3 km neighbourhood to indicate the odds ratio for diabetes of 0.67 in the highest compared with lowest greenspace quartile after adjustment for ethnicity, age, sex, area deprivation and urban/rural location. Their study participants lived in areas with an average of 57% neighbourhood greenspace coverage. Astell-Burt et al. [9] found no relationship for people living in the greenest (>80%) areas, but they found that the odds of having diabetes was 0.90 for those living in 41–60% greenspace in their fully adjusted model. Conversely, we found our greenest quartile, 95% greenspace on average, to be significantly associated with elevated diabetes risk.
Greenspace in the home neighbourhood may be potentially used for physical activity. If this is the case, it should be accessible for people to actively use, and promoted for this use. On the other hand, these results suggest that the relationship between greenspace exposure and incident diabetes remains partly unexplained. This may be due to measurement error of exposure and outcome, residual confounding between greenspace and diabetes risk, and the fact that we had an overall measure of physical activity, rather than just that conducted in greenspace. Other explanatory mechanisms in addition to physical activity might explain the causal link, such as the advantages of exposure to nature for immunological regulation [14]. Increasing the amount of greenspace in the home neighbourhood may reduce incident diabetes in older populations, although without knowing the other mechanisms through which the effects are beneficial, we may not be able to tailor interventions to need. For example, if immunological regulation was found to be involved, the provision of places rich in biodiversity may be key. Alternatively, if causal mechanisms are related to stress-associated inflammatory responses, improving views and increasing the aesthetic value of greenspaces may be important.
The research has a number of strengths. The multiple data source used for ascertainment of type 2 diabetes provided a robust classification of disease incidence. A previous study examining the relationship between exposure to greenspace and diabetes used only self-report data [9], which is subject to error [46]. The large sample size and length of follow-up, with a total of 834 incident cases over a period of 16 years in 23,835 older adults, enabled us to estimate associations between greenspace and incident diabetes with a reasonable degree of precision. In addition, we have used a new and robust method of mediation appropriate for use with survival data. Previous analyses have needed to rely on other methods which have been either too crude or restrictive [43]. It is also noted that despite to the historical nature of the postcodes used for this analysis, only 4.2% of participant addresses could not be matched with a geographical location, representing a small proportion of the total sample. This meant we were able to compute home neighbourhood buffers based on the home address of individuals. Finally, we tested different classifications of exposure to greenspace by running the models on different neighbourhood buffer sizes and types.
In terms of limitations, we had no information about use of greenspace amongst our participants. It may be that physical activity in greenspace is more protective for diabetes, rather than physical activity conducted indoors but we are unable to determine this. Indeed, other research has outlined the possibility of additional health and wellbeing benefits associated with activity outdoors, due to greater enjoyment and satisfaction from the interaction with nature [47]. Further the greenspace measure did not represent the area of publicly accessible greenspace in the home neighbourhood, although it is unclear if greenspace needs to be publicly accessible or just visible to have health benefits. Of the participants who had moved by the ten year follow-up, we did not know how long they resided at each address and therefore we assumed they resided at each address for an equal time, although sensitivity analysis suggested that findings were not strongly altered when using only baseline residential address (results not presented). Our physical activity measurement was based on self-reported data which may be subject to error, although validation exercises have shown this measure to be both valid and repeatable [33, 34].
We were not able to assess quality of greenspaces within the neighbourhood, yet some research suggests that more attractive, litter-free environments improve health outcomes [48]. In the absence of such data, we used detailed land cover information with circular buffers to indicate a potential maximum accessible greenspace, testing the sensitivity by using different sized buffers. Other measures of greenspace have been employed in previous research, such as distance to nearest greenspace or number and size of greenspaces around a home location [12], although these are based on various assumptions around greenspace use. In the absence of a clear causal mechanism linking greenspace exposure to diabetes risk we did not test them.
One other limitation was that the study was conducted in Norfolk and may not be representative of other areas. In particular, there was a lack of ethnic heterogeneity in the sample, as over 99% of the participants were white. However, a benefit of this setting was that the sample had high heterogeneity in greenspace exposure and was drawn from a variety of urban and rural locations across the county. Additionally, we did not know the type of incident diabetes, so we were unable to explore if the relationship between greenspace exposure and disease outcome differed between type 1 and type 2 diabetes. However, in a population aged over 40 at baseline, the incidence of type 2 diabetes is expected to be around 8 per 1000 person-years follow-up [49], compared to an expected incidence of type 1 diabetes of around 8 per 100,000 person-years follow-up [50]. As such, almost all new cases were most likely to be type 2.
Conclusions
In conclusion, greener home neighbourhoods appear to offer protection against the risk of incident diabetes in older people, a relationship that was not associated with overall physical activity. Other potential causal mechanisms should be explored, including the psychological and social benefits of greenspace and its potential for immune regulation.
Notes
Acknowledgements
We are very grateful to the help of Dr Theis Lange at the Department of Public Health, University of Copenhagen, for his assistance with the mediation analysis.
We thank all EPIC-Norfolk participants and staff for their contribution to the study.
Funding
This work was supported by the Centre for Diet and Activity Research (CEDAR), a UKCRC Public Health Research Centre of Excellence. Funding from Cancer Research UK, the British Heart Foundation, the Economic and Social Research Council, the Medical Research Council, the National Institute for Health Research, and the Wellcome Trust, under the auspices of the UK Clinical Research Collaboration, is gratefully acknowledged. The corresponding author was supported by MR/K025147/1. The study was also supported by MC_UU_12015/1 and MC_UU_12015/4. The views and opinions expressed herein are those of the authors. The funders had no role in study design, data analysis, the decision to publish, or the preparation of the manuscript.
Authors' contributions
AD carried out the analysis and drafted the manuscript. AJ made substantial contributions to conception and design of the analysis, the interpretation of data, and helped to draft the manuscript. SS, AC, SG and NW have provided advice regarding the analysis and have been involved in revising the manuscript critically for important intellectual content. All authors read and approved the final manuscript.
Competing interests
The authors declare that they have no competing interests.
Consent for publication
Not applicable.
Ethics approval and consent to participate
Informed consent was obtained from all study participants, and ethical approval was granted by the Norwich District Ethics Committee.
Copyright information
© The Author(s). 2016
Open AccessThis article is distributed under the terms of the Creative Commons Attribution 4.0 International License (http://creativecommons.org/licenses/by/4.0/), which permits unrestricted use, distribution, and reproduction in any medium, provided you give appropriate credit to the original author(s) and the source, provide a link to the Creative Commons license, and indicate if changes were made. The Creative Commons Public Domain Dedication waiver (http://creativecommons.org/publicdomain/zero/1.0/) applies to the data made available in this article, unless otherwise stated.