Corticosteroids for severe sepsis: an evidence-based guide for physicians
Abstract
Septic shock is characterized by uncontrolled systemic inflammation that contributes to the progression of organ failures and eventually death. There is now ample evidence that the inability of the host to mount an appropriate hypothalamic-pituitary and adrenal axis response plays a major in overwhelming systemic inflammation during infections. Proinflammatory mediators released in the inflamed sites oppose to the anti-inflammatory response, an effect that may be reversed by exogenous corticosteroids. With sepsis, via nongenomic and genomic effects, corticosteroids restore cardiovascular homeostasis, terminate systemic and tissue inflammation, restore organ function, and prevent death. These effects of corticosteroids have been consistently found in animal studies and in most recent frequentist and Bayesian meta-analyses. Corticosteroids should be initiated only in patients with sepsis who require 0.5 μg/kg per minute or more of norepinephrine and should be continued for 5 to 7 days except in patients with poor hemodynamic response after 2 days of corticosteroids and with a cortisol increment of more than 250 nmol/L after a standard adrenocorticotropin hormone (ACTH) test. Hydrocortisone should be given at a daily dose of 200 mg and preferably combined to enteral fludrocortisone at a dose of 50 μg. Blood glucose levels should be kept below 150 mg/dL.
Keywords
Corticosteroid 
Hydrocortisone 
Glucocorticoid 
Septic Shock 
Severe Sepsis 
These keywords were added by machine and not by the authors. This process is experimental and the keywords may be updated as the learning algorithm improves.
Introduction
More than half a century after the first randomized, controlled trial on corticosteroids for severe infection [1], there is a broad use of corticosteroids by physicians worldwide despite an amazing contradiction between experts on their benefit-to-risk ratio. Among the various factors that influence physician's practice, one of the most important is the positive or negative physician's own experience with a drug. The broad and longstanding adoption of corticosteroids to treat severe infections likely relies on the prompt reversal often seen at the bedside of life-threatening complications, such as shock and respiratory failure. The current controversy among experts on this topic is not fuelled by new scientific data but rather by distorting differently the reality. This current review was designed to provide readers with a clear and fair evaluation of the rationale for using corticosteroids and with evidence-based decision tree for whom to treat, when, and how.
Rationale for using corticosteroids
Use of Corticosteroids in practice: the "Who," "When," and "How"
Optimal target population for corticosteroids
In this review, we will not consider the use of corticosteroids in specific infections, such as bacterial or tuberculosis meningitis, severe typhoid fever, or Pneumocystis carinii infections in the immune-compromised patient.
A necessary condition to initiate corticosteroids in patients with severe infections is the need for vasopressor therapy. Moreover, the recent meta-analyses found a strong and negative correlation between the severity of sepsis and the relative risk of dying [
36
,
37
,
38
]. The meta-regression analysis suggested that low-to-moderate doses of corticosteroids are more likely to improve survival in patients with a baseline risk of death of 44% or more. One of the major differences between the French Ger-Inf-05 study [
25
] and CORTICUS [
40
] was baseline severity of septic shock. More specifically, in the former trial patients had to require dose of vasopressors that were roughly twice greater than in CORTICUS (on average 1.1 μg/kg/min vs. 0.5 μg/kg/min of norepinephrine). Of note, analysis of the subgroup of CORTICUS patients (n = 126) who met the same entry criteria than those requested in the French Ger-Inf-05 trial found survival benefits that were very consistent with findings of the French trial. Indeed, 63 of 126 patients died at 28 days after randomization. There were 31 of 69 (45%) deaths in the hydrocortisone-treated group and 32 of 57 (56%) in the placebo group, corresponding to a -11% absolute reduction in 28-day mortality. In practice, corticosteroids should be initiated in patients with sepsis requiring >0.5 μg/kg/min of norepinephrine or equivalent (Figure
1
).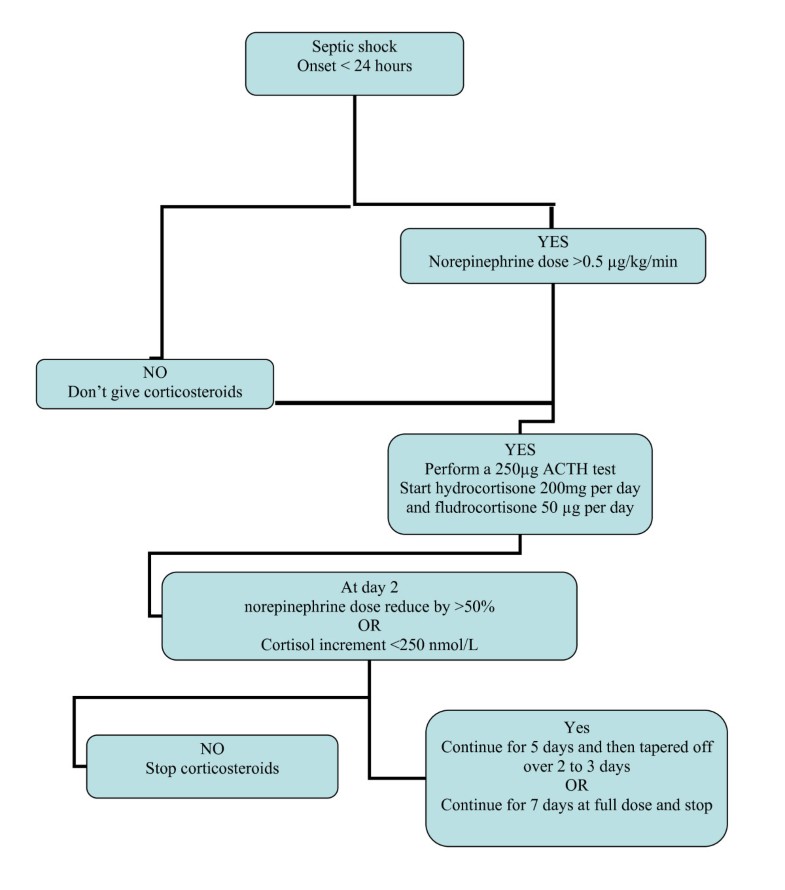 None of the recent meta-analysis found differences in treatment benefits in nonresponders versus responders to the ACTH test [3, 4, 5, 6, 7, 8, 9, 10, 11, 12, 13, 14, 15, 16, 17, 18, 19, 20, 21, 22, 23, 24, 25, 26, 27, 28, 29, 30, 31, 32, 33, 34, 35, 36, 37, 38]. However, in the French Ger-Inf-05 trial [25], only nonresponders to the 250-μg ACTH test (cortisol increment < 250 nmol/L) drew benefit from corticosteroids. Whereas in CORTICUS primary analysis, there was no interaction between treatment effects and the results of the ACTH test [40], in the subpopulation mimicking the French trial population, hydrocortisone significantly decreased mortality in the nonresponders (hazards ratio (HR) = 0.45; 95% CI, 0.21-0.93) and had no effect in the responders (HR = 0.9; 95% CI, 0.45-1.78). Thus, it is this author's opinion that an ACTH test should be performed when initiating corticosteroids. The results of diagnostic tests should be taken into account for the decision to stop or continue treatment (see below).
When corticosteroids should be initiated? And stopped?
Animal experiments have demonstrated that baboons challenged with a lethal dose of endotoxin had a greater survival chance when corticosteroids were initiated within the first 4 hours, even though delayed treatment was associated with better survival rates than controls [41]. Five randomized trials investigated the effects of low-to-moderate doses of corticosteroids when initiated within the 24 hours of onset of severe sepsis [25, 42, 43, 44, 45, 46]. There were 118 deaths among the 222 corticosteroids-treated patients and 139 deaths among the 223 controls (RR = 0.85; 95% CI, 0.73-0.99; P = 0.03). There was no heterogeneity across the studies (I2 = 0%). In contrast, in five studies with a time window of up to 72 hours [40, 47, 48, 49], corticosteroids had no effect on survival (RR = 0.72; 95% CI, 0.48-1.1; P = 0.13) and there was some heterogeneity across the studies (I2 = 49%). Thus, based on findings from animal experiments and clinical trials, corticosteroids should be initiated within the first 24 hours of septic shock.
Recommendations from experts suggest that treatment with corticosteroids should be weaned off over 3 to 6 days after 5 days of treatment at full dose [50, 51]. Due to the genomic nature of sustained corticosteroids effects, treatment should be prolonged for several days. Meta-regression in a recent meta-analysis suggested that the duration of treatment at full dose is a strong predictor of survival benefit from corticosteroids with the "neutrality line" being crossed by the regression line for time equal to 120 hours arguing for maintaining treatment at full dose for at least 5 days [26, 36]. In this meta-analysis, there was no evidence for better survival rates in studies with versus without tapering. It is this author's opinion that corticosteroids should be stopped in patients whose vasopressor dependency has not improved after 2 days of treatment and are responders to the 250-μg ACTH test.
How should corticosteroids be given?
As highlighted in the first part of this review, the rationale for using corticosteroids in septic shock relies on the concept of critical illness associated corticosteroids insufficiency [51]. Hydrocortisone, the natural hormone, should be preferred to synthetic corticosteroids. The commonly accepted dose is on average 200 mg per day. A recent meta-analysis demonstrated that the lower the corticosteroids dose the greater the response to treatment [26, 36]. Hydrocortisone may be given as boluses or as a continuous infusion. Whereas a continuous infusion may be associated with less glucose variability [52], it also may favor adrenal insufficiency after withdrawal of corticosteroids. A recent randomized trial of corticosteroid-treated septic shock found no evidence for a benefit of normalizing blood glucose levels versus maintaining levels <150 mg/dL [53]. The adjunction of fludrocortisone to hydrocortisone remains controversial. In a recent randomized trial, there was a -3% nonstatistically significant absolute reduction in mortality with hydrocortisone plus fludrocortisone versus hydrocortisone alone. However, this trial was not powered for this analysis, there was no fludrocortisone placebo, and the study was not blinded. Thus, due to the fact that the French Ger-Inf-05 trial has tested the combination of hydrocortisone and fludrocortisones, it is still this author's opinion that fludrocortisones should be given via the nasogastric tube at a dose of 50 μg per day.
Conclusions
There is a strong biological rationale to support the use of low-to-moderate doses of corticosteroids for at least 5 days before tapering. Animal studies and recent frequentists or Bayesian meta-analyses consistently have demonstrated survival benefit with this treatment particularly when given to the sickest patients, i.e., those who require 0.5 μg/kg per minute or more of norepinephrine. Treatment should be initiated within the first 24 hours and should consist of both hydrocortisone and fludrocortisone.
Copyright information
© Annane; licensee Springer. 2011
This article is published under license to BioMed Central Ltd. This is an Open Access article distributed under the terms of the Creative Commons Attribution License (http://creativecommons.org/licenses/by/2.0), which permits unrestricted use, distribution, and reproduction in any medium, provided the original work is properly cited.