Over-stimulation of insulin/IGF-1 signaling by Western diet may promote diseases of civilization: lessons learnt from Laron syndrome
Abstract
The insulin/insulin-like growth factor-1 (IGF-1) pathway drives an evolutionarily conserved network that regulates lifespan and longevity. Individuals with Laron syndrome who carry mutations in the growth hormone receptor (GHR) gene that lead to severe congenital IGF-1 deficiency with decreased insulin/IGF-1 signaling (IIS) exhibit reduced prevalence rates of acne, diabetes and cancer. Western diet with high intake of hyperglycemic carbohydrates and insulinotropic dairy over-stimulates IIS. The reduction of IIS in Laron subjects unmasks the potential role of persistent hyperactive IIS mediated by Western diet in the development of diseases of civilization and offers a rational perspective for dietary adjustments with less insulinotropic diets like the Paleolithic diet.
Keywords
Androgen Receptor 
Acne 
Western Diet 
FoxO Protein 
Paleolithic Diet 
These keywords were added by machine and not by the authors. This process is experimental and the keywords may be updated as the learning algorithm improves.
Abbreviations
Age-1

catalytic subunit of PI3K of C. elegans

Akt

Akt kinase (protein kinase B)

C. elegans

Caenorhabditis elegans

DAF-2

Insulin/IGF-1 receptor of C. elegans

DAF-16

dauer form 16 (FoxO ortholog in the worm)

FoxO

forkhead box transcription factor class O

GH

growth hormone

GHR

growth hormone receptor

G.I.

glycemic index

GIP

glucose-dependent insulinotropic polypeptide (gastric inhibitory polypeptide)

I.I.

insulinemic index

IIS

insulin/IGF-1 signaling

IGF-1

insulin-like growth factor-1

IGF1R

insulin-like growth factor-1 receptor

IR

insulin receptor

IRS

insulin receptor substrate

PI3K

phosphoinositide-3 kinase

Leu

leucine

mTORC1

mammalian target of rapamycin complex 1

ROS

reactive oxygen species

S6K1

S6 kinase 1

T2D

type 2 diabetes

Trp

tryptophan.
Introduction
Recently, Guevara-Aguirre
et al
reported on 99 Ecuadorian individuals with Laron syndrome due to growth hormone receptor (
GHR
) deficiency and congenital insulin-like growth factor-1 (IGF-1) deficiency who did not develop type 2 diabetes (T2D) and were almost free of cancer, in contrast to their healthy relatives with normal insulin/IGF-1 signaling (IIS) [
1
]. A recent worldwide survey of Steuerman
et al
demonstrated that none of 230 individuals with Laron syndrome developed cancer [
2
]. Laron syndrome is a very informative experiment of nature and uncovers the link between low IIS and the related protection from diseases of civilization in contrast to exaggerated IIS induced by Western diet as shown in Figure
1
.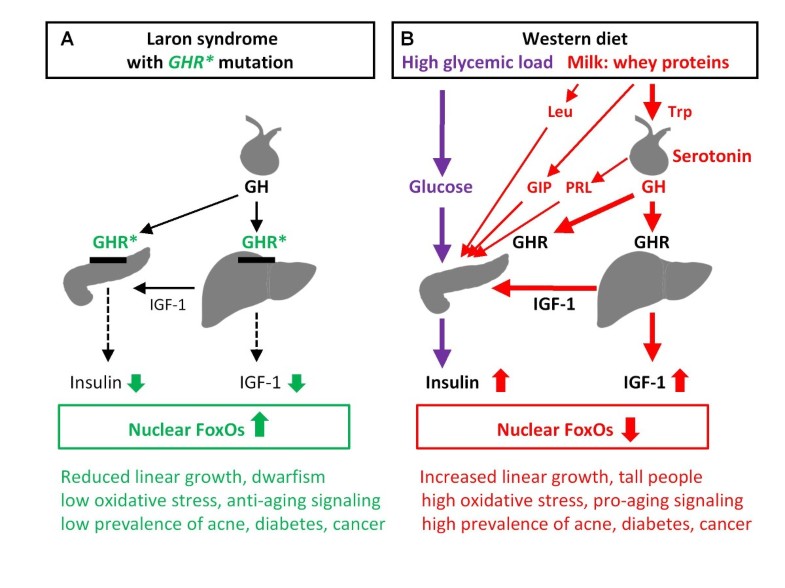 Conclusion and future perspectives
Laron syndrome with decreased IIS is associated with a reduced prevalence of acne, T2D and cancer. In contrast, up-regulated IIS by Western diet appears to promote the development of chronic diseases of civilization. Paleolithic diet, which excludes hyperglycemic carbohydrates and insulinotropic dairy, has been successfully introduced for the prevention and treatment of acne, T2D and cardiovascular diseases [16, 29]. Future efforts should be undertaken to lower the high insulinemic index of milk (I.I. 140) and other whey-based milk products to reach values of beef (I.I. 51) or cheese (I.I. 45) [16, 29]. Furthermore, combinations of hyperglycemic carbohydrates and insulinotropic dairy with potentiating effects on IIS should be restricted.
Individuals with genetic single nucleotide polymorphisms (SNPs) resulting in hyperactive IIS may be at special risk for the development of age-related diseases, predominantly when their high intrinsic IIS is superposed by exaggerated IIS of Western diet. Intriguingly, genetic variations with reduced IIS due to SNPs of interacting components of the IIS cascades (GH1, IGF1, IGF1R, IRS1, FoxO1A, FoxO3A) and have been associated with increased longevity [30, 31]. Thus, future research should consider the impact of interacting intrinsic genetic as well as extrinsic dietary factors involved in the regulation of IIS.
The access to higher amounts of insulinotropic and IGF-1-raising foods (sugar, grains and dairy) occurred about 10,000 years ago during the Neolithic Revolution and was further augmented by the Industrial Revolution. However, the human genome may not have adapted to this "recent switch" to higher IIS driven by Western diet. According to mitochondrial DNA data, modern humans with nearly similar genomic structure lived roughly 200,000 years ago and consumed a less insulinotropic Paleolithic diet. In this regards, it has been proposed to re-adapt our nutrition to the beneficial characteristics of our pre-agricultural diets [32]. The time point introducing a well-balanced Paleolithic diet may be a special issue of concern as proper IIS is important for the function of the reproductive and central nervous system. In adulthood however, dietary restrictions decreasing IIS may reduce the risk of age-associated pathology like proteotoxicity as recently demonstrated in a mouse model of Alzheimer disease [33].
Copyright information
© Melnik et al; licensee BioMed Central Ltd. 2011
This article is published under license to BioMed Central Ltd. This is an Open Access article distributed under the terms of the Creative Commons Attribution License (http://creativecommons.org/licenses/by/2.0), which permits unrestricted use, distribution, and reproduction in any medium, provided the original work is properly cited.