Selective gene silencing by viral delivery of short hairpin RNA
Abstract
RNA interference (RNAi) technology has not only become a powerful tool for functional genomics, but also allows rapid drug target discovery and in vitro validation of these targets in cell culture. Furthermore, RNAi represents a promising novel therapeutic option for treating human diseases, in particular cancer. Selective gene silencing by RNAi can be achieved essentially by two nucleic acid based methods: i) cytoplasmic delivery of short double-stranded (ds) interfering RNA oligonucleotides (siRNA), where the gene silencing effect is only transient in nature, and possibly not suitable for all applications; or ii) nuclear delivery of gene expression cassettes that express short hairpin RNA (shRNA), which are processed like endogenous interfering RNA and lead to stable gene down-regulation. Both processes involve the use of nucleic acid based drugs, which are highly charged and do not cross cell membranes by free diffusion. Therefore, in vivo delivery of RNAi therapeutics must use technology that enables the RNAi therapeutic to traverse biological membrane barriers in vivo. Viruses and the vectors derived from them carry out precisely this task and have become a major delivery system for shRNA. Here, we summarize and compare different currently used viral delivery systems, give examples of in vivo applications, and indicate trends for new developments, such as replicating viruses for shRNA delivery to cancer cells.
Keywords
Human Immunodeficiency Virus 
Adenoviral Vector 
Murine Leukemia Virus 
Feline Immunodeficiency Virus 
Severe Acute Respiratory Syndrome 
These keywords were added by machine and not by the authors. This process is experimental and the keywords may be updated as the learning algorithm improves.
Introduction
The human genome project not only unraveled the human genetic code, but spin-off technical improvements also inspired genome sequencing of a multitude of other organisms. However, since sequence data alone are not sufficient to identify gene function, gene knock-out or knock-in strategies have to replenish the results in order to analyze the resulting phenotypic changes defining gene functions.
Knowledge about the in vivo phenotype after knocking out gene products is a prerequisite to assess the therapeutic potential of inhibitors against specific targets, so in drug development knock-out animal models have become very important. However, generating transgenic animals is still very labor and cost intense. Alternatively, selective silencing can be achieved by exploiting the RNA interference (RNAi) machinery of the host cell.
Since its discovery by Fire and Mello [1] in C. elegans in 1998, which gained them the Nobel prize in 2006, and by Tuschl et al. [2] in mammalian cells in 2001, RNAi was quickly adopted by the research community as a versatile tool with a wide range of applications, from reverse genetics to high throughput screening of drug targets. The key therapeutic advantage of using RNAi lies in its ability to specifically and potently knock-down the expression of disease-causing genes of known sequence.
Although RNAi is in comparison to knock-out strategies, able to only knock-down the gene expression, simple in vivo inhibition of single gene products by RNAi yields phenotypes that are comparable to classical knock-out animals used for therapeutic target identification or validation. Furthermore, basic research benefits from in vivo RNAi as this strategy can be changed dependent on the desired outcome. For example, conditional gene knock-outs utilizing inducible promoters can be used to unravel molecular pathways and investigate functional genomics.
RNAi is a basic pathway in eukaryotic cells. In contrast to activating cascades in cells upon exposure to long double stranded RNA, leading to non-specific RNA degradation, RNAi is mediated by short RNA duplexes hitchhiking a cellular pathway that silences genes in a sequence-specific manner at the mRNA level. Perfectly complementary dsRNA (short hairpin RNA, shRNA) is chopped up by Dicer, a ribonuclease III (RNase III) family member, into small interfering RNA (siRNA) duplexes 21-23 nt in length with symmetric 2-3 nucleotide (nt) 3' overhangs [3]. The use of siRNA duplexes is often accompanied by off-target effects, which can be avoided or reduced by adding backbone modifications to the duplexes to alter key thermodynamic and binding properties [4, 5, 6, 7]. DICER-chopped duplexes are incorporated into a protein complex called the RNA-induced silencing complex (RISC) and subsequently unwound by the multi-functional protein Argonaut 2, contained within RISC. The activated RISC, which contains the antisense strand (or guide strand) of the siRNA, is then thought to direct the siRNA to the target mRNA with identical sequence. This leads to degradation of the target mRNA. The activated RISC complex can then move on to destroy additional mRNA targets, which further propagates gene silencing [8, 9]. This feature of the RNAi mechanism induced by synthetic siRNA provides a knock-down effect for up to seven days in rapidly dividing cells and for several weeks in resting cells [10, 11]. Thus, RNAi provides a simple, inexpensive and selective method for gene inhibition with a high success rate [12].
Eukaryotes produce various types of small RNAs that function in diverse pathways [3, 13, 14, 15]. Since in some species the active forms of small RNAs are often indistinguishable biochemically or functionally, they are conventionally grouped into two classes based on their origins and their biogenesis: microRNAs (miRNAs) and small interfering RNAs (siRNAs). MiRNAs are generated from the dsRNA region of the hairpin-shaped precursors, whereas siRNAs are derived from long double-stranded RNAs (dsRNAs) [16]. MiRNAs are transcribed as primary miRNA transcripts (pri-miRNAs) which are then processed within the nucleus by a complex consisting of RNAse III enzyme Drosha and the double-stranded RNA-binding protein DGCR 8 into pre-miRNAs. These are exported from the nucleus into the cytoplasm by exportin-5. In the cytoplasm the pre-miRNA enters the same pathway as the above mentioned siRNA. At the end both miRNAs and siRNAs bind to mRNA and induce mRNA cleavage, translational repression, and cleavage-independent mRNA decay [17]. While miRNAs predominantly induce translational repression due to imperfect pairing to their target mRNA, siRNAs often form a perfect duplex with their target and therefore direct the cleavage of the target mRNAs at the site of complementarity.
Figure
1
schematically summarizes the RNAi machinery of the host cell.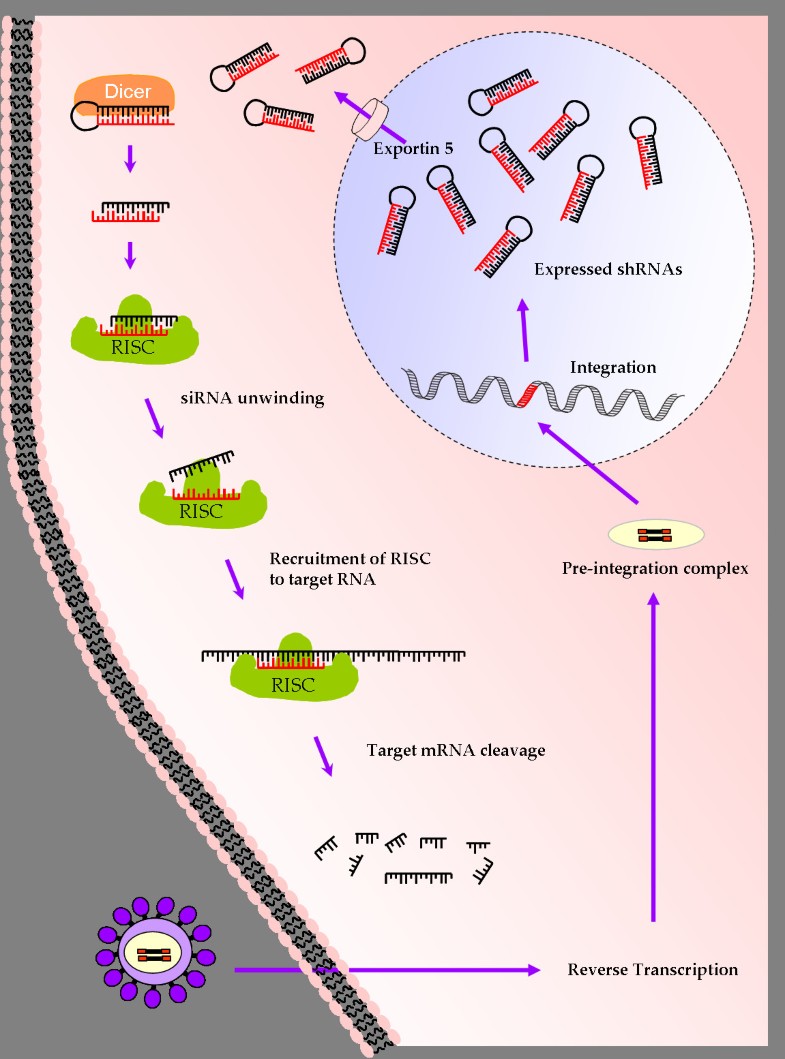 Potential therapeutic targets for RNA interference
RNAi-based therapy for human cancer is one of the most rapidly progressing applications for virally delivered shRNA [18, 19, 20]. Theoretically, when using appropriately designed siRNA, the RNAi machinery can be exploited to silence almost any gene in the genome. Indeed, it has already been reported that synthetic siRNAs are capable of knocking down targets in various diseases in vivo [21, 22, 23]. Experimentally tested, effective targets are genes involved in cancer-associated cellular pathways, either oncogenes, particularly fusion oncogenes due to their unique link with certain tumor cells, or anti-apoptotic genes. In addition, genes that play a role in tumor-host interactions, such as factors involved in angiogenesis or innate immunity, and those that mediate resistance to chemo- or radiotherapy are targets for interference [24, 25]. For instance, cancer disease such as ovarian cancer [26] and bone cancer [27] are currently being investigated and successfully treated with siRNAs in vivo.
A further interesting therapy field is the area of miRNA-caused malignancies. The direct effects of miRNA, which are believed to regulate as many as one-third of all human gene transcripts (or messenger RNAs), are implicated in many human diseases. Using gene therapy to manipulate miRNA levels represents an attractive new approach for controlling gene expression and identifying targeted and effective therapeutics [28]. An important role for miRNAs in cancer pathogenesis has emerged over the last few years, and many reports reveal numerous examples linking dysregulated expression of miRNAs to cancer [29, 30]. Recent results demonstrated that expression of a single miRNA in vivo can reverse disease progression in a liver cancer model [31]. This opened up a whole new replacement therapy field for cancer treatment using RNAi.
Human pathogenic viruses are also excellent targets for RNAi, because, as exogenous sequences, they are unique in the host, which minimizes off-target side effects due to the treatment. Here, the strategy is to target essential viral genes to prevent viral proliferation. However, one has to keep in mind that some viruses have acquired the ability to counteract anti-viral RNAi. Examples of successful RNAi approaches to combat human pathogenic viruses include targeting Hepatitis B Virus (HBV) [32, 33], Human Papilloma Virus [34], Severe Acute Respiratory Syndrome (SARS) Coronavirus [35], and Respiratory Syncytial Virus (RSV) infections [36].
Other therapeutically relevant fields are metabolic diseases, cardiac disorders, human neurodegenerative diseases and inherited genetic diseases. A recently published study showed successful siRNA targeting of PCSK9, a member of the mammalian serine protein convertase family, that typically functions in proteolytic processing and maturation of secretory proteins and was the first family member to be implicated in a dominantly inherited form of hypercholesterolemia [
37
]. Targeting PCSK9 with siRNA lowered plasma cholesterol and hence offers an auspicious therapeutic approach to controlling this disease. Clinical trials for coronary artery disease are also underway, using an RNA therapeutic agent aimed at silencing one of the genes (c-myc) responsible for causing arteries to reclose after stent insertion (restenosis) [
38
]. Another study showed almost completely resolved liver fibrosis and prolonged survival
in vivo
in rats following treatment with synthetic and modified siRNAs. The efficacy highlighted a new therapeutic potential for reversing human liver cirrhosis [
39
]. Table
1
provides a rough overview of current clinical trials for siRNA therapeutics.
Table 1
Current Clinical Trials for siRNA Therapeutics
| Disease | Mode of administration | Status | Company |
| --- | --- | --- | --- |
| Age-related macular degeneration (AMD) | Topical | Phase II | Allergan |
| Respiratory syncytial virus (RSV) | Local/direct | Phase II | Alnylam |
| Liver cancer (HCC and others) | Systemic | Phase I | Alnylam |
| Hepatitis B Virus (HBV) | Systemic | Phase I | Nucleonics |
| Solid tumors | Systemic/local | Phase I | Calando Silence Therapeutics AG |
| Acute renal failure | Systemic | Phase I | Quark Pharmaceuticals/Pfizer |
| Diabetic macular edema | Topical | Phase II | Silence/Quark/Pfizer |
| Metastatic melanoma | Local/direct | Phase I | Duke University |
| Pachyonychia congenita | Topical | Phase Ia/b | Transderm |
| High cholesterol | Systemic | Phase I | Tekmira Pharmaceuticals Corporation |
| Asthma | Systemic | Phase II | ZaBeCor Pharmaceuticals |
| HIV | Direct | Phase I/II | Benitec/City of Hope |
The first clinical trial conducted using siRNA was aimed at age related macular degeneration (AMD) [40]. As early as 2004, the company Sirna presented the first ever clinical data for an RNAi-based drug - the compound AGN-745, formerly Sirna-027 - against AMD [41]. The company OPOKO Health launched the first ever siRNA Phase III trial in 2007 using Bevasiranib, a first-in-class siRNA drug designed to silence the genes producing Vascular Endothelial Growth Factor (VEGF), believed to be largely responsible for vision loss in wet AMD. Unfortunately in March 2009, the phase III trial was terminated ahead of schedule due to a review by an independent data committee, which found that although the drug showed activity, the trial was unlikely to meet its primary endpoint (OPOKO Health, Miami, Florida, press release). One should keep in mind that the clinical trials were performed with unmodified siRNAs and no doubt showed good results, but apparently not convincing enough for human therapy.
Failure of this first clinical phase III study highlights the need for second generation siRNA therapeutics, for example shRNA-expression cassettes, as well as efficient transfer vehicles for these cassettes.
Delivery of interfering RNA
In principal, there are many different ways to trigger RNAi. Most of the proposed clinical applications of RNAi incorporate chemically synthesized 21 nt siRNA duplexes with 2 nt 3' overhangs. This mode of administration is transient, since intracellular concentrations of the siRNAs are diluted during cell division. Furthermore, duplex siRNAs are negatively charged polymers and therefore do not easily penetrate hydrophobic cellular membranes without assisting carriers. In addition, unprotected and unmodified siRNAs are generally rapidly degraded by serum RNases.
In contrast, intracellularly expressed short hairpin RNAs mediate long-term knock-down of target transcripts for as long as the shRNA is transcribed. Therapy of chronic diseases, for example, requires exactly this - long-term target gene down-regulation. An ideal delivery vehicle should therefore facilitate endosomal/lysosomal escape and, in the case of shRNA, the payload must penetrate the nuclear membrane. Viruses and vectors derived from them carry out precisely these tasks and have therefore become a major delivery system for shRNA.
RNAi in cells can be induced from intracellularly expressed short hairpin RNAs either by shRNAs or synthetic miRNAs [2, 42, 43]. The basic transcriptional unit of shRNA is sense and antisense sequences connected by a loop of unpaired nucleotides. MiRNA stem loops are typically expressed as part of larger primary transcripts (pri-miRNAs) [44]. Artificial miRNAs more naturally resemble endogenous RNAi substrates and are more amenable to Pol-II transcription and may seem to be more attractive for therapies [44, 45]. But to date shRNA- and artificial miRNA-based strategies have been compared with conflicting results [46, 47, 48] and it seems that the choice is always dependent on the strategy and the desired outcome and has to be figured out experimentally [49].
Viral delivery of shRNA expression cassettes
Combining RNAi with viral gene therapy vectors is a powerful approach in certain scenarios where spatiotemporal control over gene silencing is highly critical, and/or where persistent suppression of a target is mandatory for success. The design of viral RNAi vectors became possible upon discovering that promoter-driven expression of short hairpin RNAs (shRNAs) induces the RNAi machinery [50]. This strategy involves cloning an oligonucleotide containing the siRNA sequence into plasmid or viral vectors to endogenously express shRNA, which is subsequently processed in the cytoplasm to siRNA. Fortunately, shRNA expression cassettes are extremely limited in size, meaning they can be packaged into even the smallest known viral vectors. The next section reviews existing viral vector systems.
Conclusions
RNAi technology has become a powerful tool and key method for gene therapy in the scientist's hands. Although the effectiveness of RNAi is undoubted, there are still limitations to exploiting the technology properly due to inefficient delivery and distribution of the shRNA-cassettes into the target cells. Focusing on viral delivery of shRNA, we highlighted that viruses and vectors derived from them are excellent candidates to deliver shRNA into the desired tissue or cells. We discussed different methods for viral delivery of shRNA expression cassettes using conventional methods and revealed promising new strategies utilizing replicating retroviruses.
Copyright information
© Sliva and Schnierle; licensee BioMed Central Ltd. 2010
This article is published under license to BioMed Central Ltd. This is an Open Access article distributed under the terms of the Creative Commons Attribution License (http://creativecommons.org/licenses/by/2.0), which permits unrestricted use, distribution, and reproduction in any medium, provided the original work is properly cited.