A qualitative exploration of the human resource policy implications of voluntary counselling and testing scale-up in Kenya: applying a model for policy analysis
Open Access
Research article
Part of the following topical collections:
Abstract
Background
Kenya experienced rapid scale up of HIV testing and counselling services in government health services from 2001. We set out to examine the human resource policy implications of scaling up HIV testing and counselling in Kenya and to analyse the resultant policy against a recognised theoretical framework of health policy reform (policy analysis triangle).
Methods
Qualitative methods were used to gain in-depth insights from policy makers who shaped scale up. This included 22 in-depth interviews with Voluntary Counselling and Testing (VCT) task force members, critical analysis of 53 sets of minutes and diary notes. We explore points of consensus and conflict amongst policymakers in Kenya and analyse this content to assess who favoured and resisted new policies, how scale up was achieved and the importance of the local context in which scale up occurred.
Results
The scale up of VCT in Kenya had a number of human resource policy implications resulting from the introduction of lay counsellors and their authorisation to conduct rapid HIV testing using newly introduced rapid testing technologies. Our findings indicate that three key groups of actors were critical: laboratory professionals, counselling associations and the Ministry of Health. Strategic alliances between donors, NGOs and these three key groups underpinned the process. The process of reaching consensus required compromise and time commitment but was critical to a unified nationwide approach. Policies around quality assurance were integral in ensuring standardisation of content and approach.
Conclusion
The introduction and scale up of new health service initiatives such as HIV voluntary counselling and testing necessitates changes to existing health systems and modification of entrenched interests around professional counselling and laboratory testing. Our methodological approach enabled exploration of complexities of scale up of HIV testing and counselling in Kenya. We argue that a better understanding of the diverse actors, the context and the process, is required to mitigate risks and maximise impact.
Keywords
Health Care Worker 
Quality Assurance System 
PITC 
Diary Note 
Comprehensive Quality Assurance 
These keywords were added by machine and not by the authors. This process is experimental and the keywords may be updated as the learning algorithm improves.
Background
The expansion of voluntary counselling and testing for HIV (VCT) has implications for human resources. There has been increasing global recognition of the need for task shifting (whereby medical tasks are delegated to less specialised health care workers) in response to the HIV epidemic [1, 2]. 2008 saw the launch of new task shifting guidelines [3] with a number of countries reporting the success of this approach in HIV services generally [4, 5] and in HIV counselling and testing specifically [6, 7]. However, as new cadres of staff emerge, concerns remain over the professional recognition of lay staff, their training and supervisory support as well as quality assurance mechanisms [8, 9].
Kenya, like many resource-poor countries, has a chronically under-resourced health care system and a high prevalence of poverty [10]. In the public sector in 2004, there were 3 doctors and 49 nurses per 100 000 population and more than half of all health personnel were based in urban areas [11]. The average health centre has no laboratory staff and a district hospital having an average of only 4 technicians and technologists. Kenya continues to lose large numbers of qualified health care workers, including high numbers of laboratory staff every year [12]. On the one hand the Government of Kenya is committed to scale up of access to HIV services, on the other hand donors are unwilling to fund salaries and a recent International Monetary Fund moratorium on hiring of civil servants means that despite increasing workloads, the government is not able to hire additional health professionals [13, 14].
In 2000, when this work commenced, an estimated 2.2 million adult Kenyans were infected with HIV [15]. Prevalence rates showed significant regional and rural/urban variations, average urban prevalence was (10%) nearly twice that in rural areas (5-6%) and some districts in Nyanza province had prevalence rates in excess of 30% [16]. Kenya is an example of a country where task shifting has been employed to facilitate the rapid scale up of client-initiated counselling and testing services in government health facilities [17, 18] and high prevalence areas were targeted in the initial phase of scale up. The introduction in 2000 of rapid HIV testing technology that enabled whole blood from a finger prick to be used for testing made it possible for lay counsellors to conduct HIV testing with rapid and reliable results [19]. Kenya then saw a rapid increase in the availability of VCT from 3 sites in 2000 to over 400 registered sites in early 2004 [17].
The Kenyan scenario represents the kind of challenges that health policymakers are faced with in many resource poor countries: the need to increase the flexibility of health services provision balanced with the need for quality and professionalism. New HIV services are provided in a fast-changing context with wide reaching implications for human resources. Kenya has a chronically under-resourced health care system [20]. Staffing implications need to be understood in the context of serious shortages, mal-distribution of staff and financing constraints [1]. We set out to explore the complex interactions between the key actors, the context they operated in and the processes that evolved as human resources policies for the scale up of HIV testing and counselling (HTC) were developed.
Methods
Qualitative research methodologies were employed, appropriate to exploring policymakers' perceptions and attitudes of human resources for VCT scale up [21, 22]. Methods which were carried out simultaneously included participant observation, review of minutes of taskforce meetings and individual in-depth interviews with key informants all conducted by the principal investigator (MT). Scale-up occurred across the country and so the whole of Kenya may therefore be seen as the study area. With the exception of a one week retreat in 2001, all taskforce meetings were held in Nairobi and this is where the policymaker interviews were conducted.
A total of 53 sets of minutes, representing all of the taskforce meetings held between Sept 2000 and July 2004 were reviewed. Close to 80% (42/53) of these had matching diary notes. Consideration was given to the interaction of the individuals as well as the group processes and decisions in analysis of diary notes. MT was thus both a participant and an observer [23], and 'insiders' (co-authors who were members of the VCT taskforce - AI, JHN, CN, JS) as well as 'outsiders' were included in the qualitative analysis process. While the authors' involvement in the process may have led to subjectivity, the close 'insider' involvement allowed unique insights, grounded in a reflexive approach. Awareness of the difficulties, dilemmas and potential biases of the methodology meant that steps were taken to mitigate them. Open-ended questions followed by probes were used in interviews to enable participants' own views to be clearly expressed. The roles of individuals within the group are examined reflexively in the analytical process to assess their influence on policy and in shaping strategies for VCT scale up.
Purposive sampling was employed to recruit interviewees with rich and relevant experience [24]. Interviewees ranged from those with first hand experiences establishing VCT programmes, to technical advisors, donors and Ministry of Health (MoH) officials. Not all were permanent members of the taskforce but all were key political drivers of the scale up process. A total of 22 interviews were conducted, 14 of whom were taskforce members. Interviews were conducted in English by MT between March and May 2004 and were audio-taped with concomitant note-taking. Informed consent was obtained and participants' details were anonymised and coded. However, the gender and position of participants means that many would be able to recognise not only their own inputs but also those of fellow members of the VCT taskforce. Wherever possible (given the time delay) results were sent to participants for feedback and 'participant checking', thus ensuring quality control. Feedback was received from 15 of 22 interviewees (some were no longer contactable), who indicated they were happy with the way their views were identified and portrayed. For these participants, details of gender and location are provided with illustrative quotations; for others these details are not included to maintain confidentiality.
All 22 interviews were included in the analysis. Data analysis commenced during the data collection period allowing emerging issues to be included in subsequent interviews and issues from participant observation to be included in the interview guide. Once complete, the data were analysed using a thematic framework [
25
], integrating themes from interviews with those from participant observations and diary notes enabling cross connections to be made. Our analysis was informed by conceptual and empirical work by Walt and Gilson [
26
,
27
] and Buse [
28
], who developed a simplified analytical model, called the 'health policy triangle' (see Figure
1
). The model was developed to address the problem that the focus of most policy analysis at the time - in this case related to health reform - was on the content of the policy. Like Reich [
29
] they believed that policy change is a highly political process and therefore
actors
were at the centre of the process. In addition, attention should be paid to the
processes
of developing policy including how the policy issue arises (agenda setting), how decisions are made in the development and finally how the policy is implemented. Finally, all this takes place with a particular
context
(for example, the particular role of the state, within a specific cultures and the current economic situation), which along with the policy content formed the three apices of the triangle around the actors. This model, or variants of it, continues to be used in resource poor contexts for analysis of health policy [
30
,
31
,
32
]. In our analysis, too, particular attention was paid to the complex inter-relationships between the actors (forming the centre of the triangle) and the context, processes and content.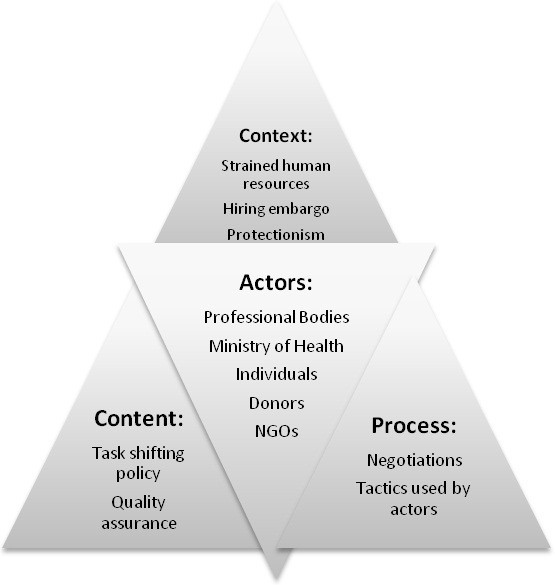 All study participants provided written informed consent and were informed of the study by the VCT taskforce at the Kenyan National AIDS and STD Control Programme, which gave explicit permission for meeting minutes to be reviewed. Ethical approval was obtained from the Kenya Medical Research Institute for operational research on the scale up of VCT. This specific study also received institutional approval from the Liverpool School of Tropical Medicine Research Ethics Committee (ref 03.62).
Results
Data was synthesized from all the different qualitative methods employed, the results shed light on the difficulties faced in instigating task shifting policy. The health policy triangle (see Figure 1) is used to graphically illustrate and structure the findings. The findings are thus presented against the four areas in the triangle: 'context', 'actors', 'process' and 'content'.
Discussion
Our findings indicate that programmers have to deal with more than the content (the technical components) of a policy in order to get it successfully implemented. A qualitative approach has revealed multiple complex layers as individuals and groups with their own personal and political histories and interactions all play a role. Our methodology and our policy analysis, that was not restricted to the policy content, but included all four components of the policy triangle, have enabled an in-depth understanding of the human resource implications of VCT scale up from the perspective of the full breadth of task force members, including representative, experienced service providers. First we need to be clear about the actors and their interests (which may or may not be supportive). Next we need to understand the context as this might influence the interests of the actors (for example an employment embargo heightening the opposition of the lab staff to task-shifting). Finally, with a better understanding of the actors and the context and the potential risks involved, the content and the process can be better planned. These findings have resonance for the provision of new services, such as new rapid diagnostic tests or new care pathways in many settings.
Despite staffing shortages, medical training colleges in many resource-poor countries continue to produce health care workers, without significant overlapping skills, who strive to maintain high standards. These health care workers are understandably protective of professional boundaries and this protectionism has the potential to threaten or even deliberately sabotage the move to task shifting. The advent of a new testing technology which could be performed without extensive laboratory training clearly raised concerns among laboratory workers Kenya. The VCT taskforce compounded this by failing to engage adequately with all the officially recognized groups (Board and Association) of laboratory seniors. A better understanding of the preceding political conflicts between the Association and the Board as well as of the positions and legitimate concerns of the members would have allowed a smoother path to scale up. Some members' concerns may have been rooted in their training. As a result, despite documented high standards of lay counsellors conducting testing [40], the professional associations diverted time and attention away from supervision and the establishment of comprehensive quality assurance systems for HIV testing in all settings (including provider-initiated HIV testing and counselling) to do battle with VCT. Time has shown that their concerns over quality of testing are justified in the absence of comprehensive and funded systems of training, certification, data recording and external retesting of samples.
In keeping with findings from Zambia and Cameroon we highlight the importance of clearly re-defining roles and task-shifting procedures [6, 42]. Our data also indicated that the success of task shifting in Kenya was in part due to the quality assurance systems for HIV testing. While the introduction of task shifting for HIV counselling and testing in Kenya has enabled rapid scale up of services, it was the flexibility around who conducts testing that allowed expansion into non-medical areas, outreach services and non-government facilities. This flexibility was possible through the scale up of one unified regulatory and quality assurance system [18]. Quality assurance systems for VCT scale up in Kenya are thus both part of the context (as they were planned as part of scale up from the outset) and the content as policies evolved and new systems piloted as scale up progressed.
In 2005 Kenyan unified guidelines broadened the scope of HIV testing further to include all health cadres with minimal training [43]. Here, even more so than in VCT, rapid expansion has threatened the quality of services, both in Kenya and globally [44, 45]. External quality assurance systems for testing and counselling are not maintained in provider-initiated HIV testing and counselling to the same standard as those in VCT sites. Testing sites do not conduct proficiency panels and do not send dried blood spots from rapid tests to reference laboratories (personal communication, NASCOP, 2008). Indeed there is no national picture of where testing is conducted, who is doing the testing and what the quality of ward and clinic-based testing is. It has also become the expectation that every health care worker will do counselling in every clinical setting. While this has increased the rates of HIV testing and counselling, it has also led to missed opportunities for prevention messages and created a coercive atmosphere around testing in some settings [44, 46]. Involving lay counsellors in busy clinics conducting HTC has been a successful approach in Botswana [47] and may yet have a role to play in PITC scale up with a renewed focus on universal access to HTC. Issues of sustainability, quality assurance of testing and the use of lay counsellors are still debated and local actors, processes and content are vital components in understanding how these opportunities can be maximised in different contexts.
Conclusion
Our findings are still relevant today as new approaches to HTC are scaled up within health systems and staff struggle to balance the human resources requirements with the need to maintain quality of service and laboratory and counselling professionalism. Our analysis shows that the use of lay counsellors and health care workers from a number of cadres to conduct counselling as well as testing in Kenya served to strengthen rather than undermine primary care without diverting significant resources from laboratories or depleting any one cadre. Concentrating only on the content or technical side of programme scale up is likely to fail, whatever the approach to HTC scale up that is being used. A critical and informed analysis of context and actors and the prioritisation of quality assurance are central to the successful scale up of HIV services.
Conflict of interests
The authors declare that they have no competing interests.
Notes
Acknowledgements
The authors would like to thank all interview participants as well as all members of the VCT taskforce, the Kenya Medical Laboratory Technicians and Technologists Board, the Association of Kenya Medical Laboratory Scientific Officers, the Kenyan Association of Professional Counsellors and the staff of Liverpool VCT Treatment and Care, Kenya. All gave of their time and insights whether directly or indirectly. Important feedback from interview participants was incorporated in the paper and many read and critically appraised earlier drafts of this document. The authors wish to thank them all for very helpful comments. While this study did not receive direct donor funding the programmes it describes were funded by numerous donors including USAID, The US Centers for Diseases Control and the UK's Department for International Development (DfID).
Copyright information
© Taegtmeyer et al; licensee BioMed Central Ltd. 2011
This article is published under license to BioMed Central Ltd. This is an Open Access article distributed under the terms of the Creative Commons Attribution License (http://creativecommons.org/licenses/by/2.0), which permits unrestricted use, distribution, and reproduction in any medium, provided the original work is properly cited.