Abstract
Conservation translocations have the potential to strengthen populations of threatened and endangered species, but facilitating integration of translocated individuals with resident populations remains a substantial challenge. Developing functional social relationships like cooperative partnerships or establishing clear dominance hierarchies may be critical to integration of released individuals. Developing such relationships has not received much attention in translocation research, especially for long-lived, socially complex animals for which establishment and navigation of social environments is often a lengthy process that requires sustained monitoring to understand. Here, we present a case study of the social associations of African savannah elephant (Loxodonta africana) calves that have been rehabilitated and released into a fenced wildlife sanctuary in northern Kenya with a resident population of elephants. We use focal follows of interactions pre-release and GPS tracking post-release to quantify social associations of calves with each other and with resident elephants at the release site. We demonstrate how this approach supports translocation monitoring by capturing temporal trends in social patterns within and between release cohorts and among released elephants and wild elephants already resident at the site during a transitional soft release period. Our results show that initial post-release social behavior of rehabilitated calves is related to histories of interaction with familiar individuals and cohort membership and that released calves increased their associations with residents over time. This information provides new behavioral insights for guiding elephant release projects, like the strength of relationships within and among release cohorts, the time to integration with the resident population, and the occurrence and increased incidence of societal fission–fusion. Further, this study provides an example of the utility of animal behavior research to achieve and assess progress towards conservation objectives, and to develop monitoring tools for conservation managers.
References
Altmann J (1974) Observational study of behavior: sampling methods. Behaviour 49:227–267

Archie EA, Morrison TA, Foley CAH, Moss CJ, Alberts SC (2006) Dominance rank relationships among wild female African elephants, Loxodonta africana. Anim Behav 71:117–127

Baotic A, Garcia M, Boeckle M, Stoeger A (2018) Field propagation experiments of male African savanna elephant rumbles: a focus on the transmission of formant frequencies. Animals 8:167

Bastian M, Heymann S, Jacomy M (2009) Gephi: an open source software for exploring and manipulating networks. In: Third international AAAI conference on weblogs and social media

Berger-Tal O, Saltz D (2014) Using the movement patterns of reintroduced animals to improve reintroduction success. Curr Zool 60:515–526

Berger-Tal O, Blumstein DT, Swaisgood RR (2020) Conservation translocations: a review of common difficulties and promising directions. Anim Conserv 23:121–131

Burnham KP, Anderson DR (2002) Model selection and multi-model inference: a practical information-theoretic approach. Springer, Berlin

Campos-Arceiz A, Blake S (2011) Megagardeners of the forest—the role of elephants in seed dispersal. Acta Oecol 37:542–553

Cheyne S (2009) Challenges and opportunities of primate rehabilitation—gibbons as a case study. Endang Species Res 9:159–165

Douglas-Hamilton I (1972) On the ecology and behaviour of the African elephant

Dunston EJ, Abell J, Doyle RE, Kirk J, Hilley VB, Forsyth A, Jenkins E, Freire R (2016) An assessment of African lion Panthera leo sociality via social network analysis: prerelease monitoring for an ex situ reintroduction program. Curr Zool 63:301–311

Engh AL, Beehner JC, Bergman TJ, Whitten PL, Hoffmeier RR, Seyfarth RM, Cheney DL (2006) Behavioural and hormonal responses to predation in female chacma baboons (Papio hamadryas ursinus). Proc R Soc B Biol Sci 273:707–712

Evans K, Moore R, Harris S (2013) The social and ecological integration of captive-raised adolescent male African elephants (Loxodonta africana) into a wild population. PLoS ONE 8:18–21

Foley C, Pettorelli N, Foley L (2008) Severe drought and calf survival in elephants. Biol Lett 4:541–544

Franks VR, Andrews CE, Ewen JG, McCready M, Parker KA, Thorogood R (2020) Changes in social groups across reintroductions and effects on post-release survival. Anim Conserv 23:443–454

Goldenberg SZ, Wittemyer G (2017) Orphaned female elephant social bonds reflect lack of access to mature adults. Sci Rep 7:14408

Goldenberg SZ, Wittemyer G (2018) Orphaning and natal group dispersal are associated with social costs in female elephants. Anim Behav 143:1–8

Goldenberg SZ, Douglas-Hamilton I, Wittemyer G (2016) Vertical transmission of social roles drives resilience to poaching in elephant networks. Curr Biol 26:75–79

Goldenberg SZ, Owen MA, Brown JL, Wittemyer G, Oo ZM, Leimgruber P (2019) Increasing conservation translocation success by building social functionality in released populations. Glob Ecol Conserv 18:e00604

Goldenberg SZ, Hahn N, Stacy-Dawes J, Chege SM, Daballen D, Douglas-Hamilton I, Lendira RR, Lengees MJ, Loidialo LS, Omengo F, Pope F, Thouless C, Wittemyer G, Owen MA (2021) Movement of rehabilitated African elephant calves following soft release into a wildlife sanctuary. Front Conserv Sci 2:720202

Hartig F (2021) DHARMa: residual diagnostics for hierarchical (multi-level/mixed) regression models

International Union for Conservation of Nature (2013) Guidelines for reintroductions and other conservation translocations

Kelly A, Scrivens R, Grogan A (2010) Post-release survival of orphaned wild-born polecats Mustela putorius reared in captivity at a wildlife rehabilitation centre in England. Endang Species Res 12:107–115

Kuiper TR, Druce DJ, Druce HC (2018) Demography and social dynamics of an African elephant population 35 years after reintroduction as juveniles. J Appl Ecol 55:2898–2907

Louys J, Corlett RT, Price GJ, Hawkins S, Piper PJ (2014) Rewilding the tropics, and other conservation translocations strategies in the tropical Asia-Pacific region. Ecol Evol 4:4380–4398

Magnusson A, Skaug HJ, Nielsen A, Berg CW, Kristensen K, Maechler M, van Bentham KJ, Bolker BM, Brooks ME (2017) glmmTMB: generalized linear mixed models using template model builder. R package version 013

McComb K, Moss C, Sayialel S, Baker L (2000) Unusually extensive networks of vocal recognition in African elephants. Anim Behav 59:1103–1109

McComb K, Moss C, Durant SM, Baker L, Sayialel S (2001) Matriarchs as repositories of social knowledge in African elephants. Science 292:491–494

McKnight BL (1995) Behavioural ecology of "hand-reared" African elephants (Loxodonta africana (Blumenbach)) in Tsavo East National Park, Kenya. Afr J Ecol 33:242–256

Moss CJ (1988) Elephant memories: thirteen years in the life of an elephant family. University of Chicago Press, Chicago

Moss CJ (1996) Getting to know a population. In: Kangwana K (ed) Studying elephants. African Wildlife Foundation, Nairobi, pp 58–74

Nunez CMV, Adelman JS, Rubenstein DI (2015) Sociality increases juvenile survival after a catastrophic event in the feral horse (Equus caballus). Behav Ecol 26:138–147

Oksanen J, Blanchet FG, Friendly M, Kindt R, Legendre P, McGlinn D, Minchin PR, O'Hara RB, Simpson GL, Solymos P, Stevens MHH, Szoecs E, Wagner (2020) vegan: community ecology package

Parker JM, Webb CT, Daballen D, Goldenberg SZ, Lepirei J, Letitiya D, Lolchuragi D, Leadismo C, Douglas-Hamilton I, Wittemyer G (2021) Poaching of African elephants indirectly decreases population growth through lowered orphan survival. Curr Biol 31:4156–4162

Perera BV, Jayawardena BADS, Kumudini N (2016) Success of rehabilitation of orphaned elephant (Elephas maximus) calves in Sri Lanka, vol 21, pp 177–178

Pinter-Wollman N, Isbell LA, Hart LA (2009) The relationship between social behaviour and habitat familiarity in African elephants (Loxodonta africana). Proc R Soc B 276:1009–1014

Poirier M-A, Festa-Bianchet M (2018) Social integration and acclimation of translocated bighorn sheep (Ovis canadensis). Biol Cons 218:1–9

R Development Core Team (2010) R: a language and environment for statistical computing. R Foundation for Statistical Computing, Vienna, Austria. www.R-project.org

Rasmussen HB (2005) Reproductive tactics of male African savannah elephants (Loxodonta africana). Oxford University

Seddon PJ, Griffiths CJ, Soorae PS, Armstrong DP (2014) Reversing defaunation: Restoring species in a changing world. Science 345:406–412

Shannon G, Slotow R, Durant SM, Sayialel KN, Poole J, Moss C, McComb K (2013) Effects of social disruption in elephants persist decades after culling. Front Zool 10:62

Shier DM (2006) Effect of family support on the success of translocated black-tailed prairie dogs. Conserv Biol 20:1780–1790

Shier DM, Swaisgood RR (2012) Fitness costs of neighborhood disruption in translocations of a solitary mammal. Conserv Biol 26:116–123

Slotow R, Garaï ME, Reilly B, Page B, Carr RD (2005) Population dynamics of elephants re-introduced to small fenced reserves in South Africa. S Afr J Wildl Res 35:10

Snijders L (2020) Ecological and evolutionary dynamics of elephant rewilding. Anim Sentience 311:6

Snijders L, Blumstein DT, Stanley CR, Franks DW (2017) Animal social network theory can help wildlife conservation. Trends Ecol Evol 32:567–577

Thitaram C, Dejchaisri S, Somgird C, Angkawanish T, Brown J, Phumphuay R, Chomdech S, Kangwanpong D (2015) Social group formation and genetic relatedness in reintroduced Asian elephants (Elephas maximus) in Thailand. Appl Anim Behav Sci 172:52–57

Vidya TNC, Varma S, Dang NX, Van Thanh T, Sukumar R (2007) Minimum population size, genetic diversity, and social structure of the Asian elephant in Cat Tien National Park and its adjoining areas, Vietnam, based on molecular genetic analyses. Conserv Genet 8:1471–1478

Wall J (2014) Movement ecology tools for ArcGIS® (ArcMET)

Wickham H (2016) ggplot2: elegant graphics for data analysis. Springer, New York

Wittemyer G, Douglas-Hamilton I, Getz W (2005) The socioecology of elephants: analysis of the processes creating multitiered social structures. Anim Behav 69:1357–1371

Wittemyer G, Getz WM, Vollrath F, Douglas-Hamilton I (2007) Social dominance, seasonal movements, and spatial segregation in African elephants: a contribution to conservation behavior. Behav Ecol Sociobiol 61:1919–1931

Wittemyer G, Okello JBA, Rasmussen HB, Arctander P, Nyakaana S, Douglas-Hamilton I, Siegismund HR (2009) Where sociality and relatedness diverge: the genetic basis for hierarchical social organization in African elephants. Proc R Soc B Biol Sci 276:3513–3521
Acknowledgements
We thank the Kenyan Office of the President, the Kenya Wildlife Service, and the Sera and Namunyak communities for permission to conduct this research. We are grateful to the staff of the Reteti Elephant Sanctuary, the rangers of Sera Conservancy, and the Save the Elephants monitors in Sera for their conservation efforts that make this work possible. Funding for this work was provided by the Harriet E. Pfleger Foundation, the W T Yoshimoto Foundation Charitable Trust, and other donors to San Diego Zoo Wildlife Alliance and Save the Elephants.
Ethics declarations
Conflict of interest
On behalf of all authors, the corresponding author states that there is no conflict of interest.
Additional information
Handling editors: Scott Y.S. Chui and Leszek Karczmarski.
Publisher's Note
Springer Nature remains neutral with regard to jurisdictional claims in published maps and institutional affiliations.
This article is a contribution to the special issue on "Individual Identification and Photographic Techniques in Mammalian Ecological and Behavioural Research – Part 2: Field Studies and Applications" — Editors: Leszek Karczmarski, Stephen C.Y. Chan, Scott Y.S. Chui and Elissa Z. Cameron.
Supplementary Information
Below is the link to the electronic supplementary material.
Appendix
Appendix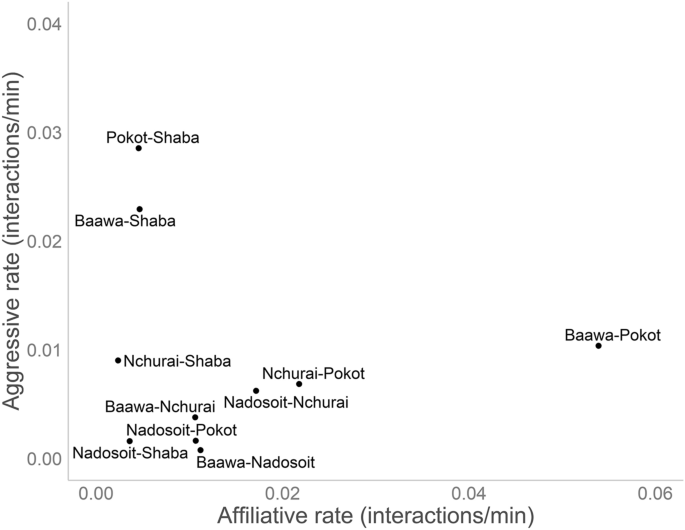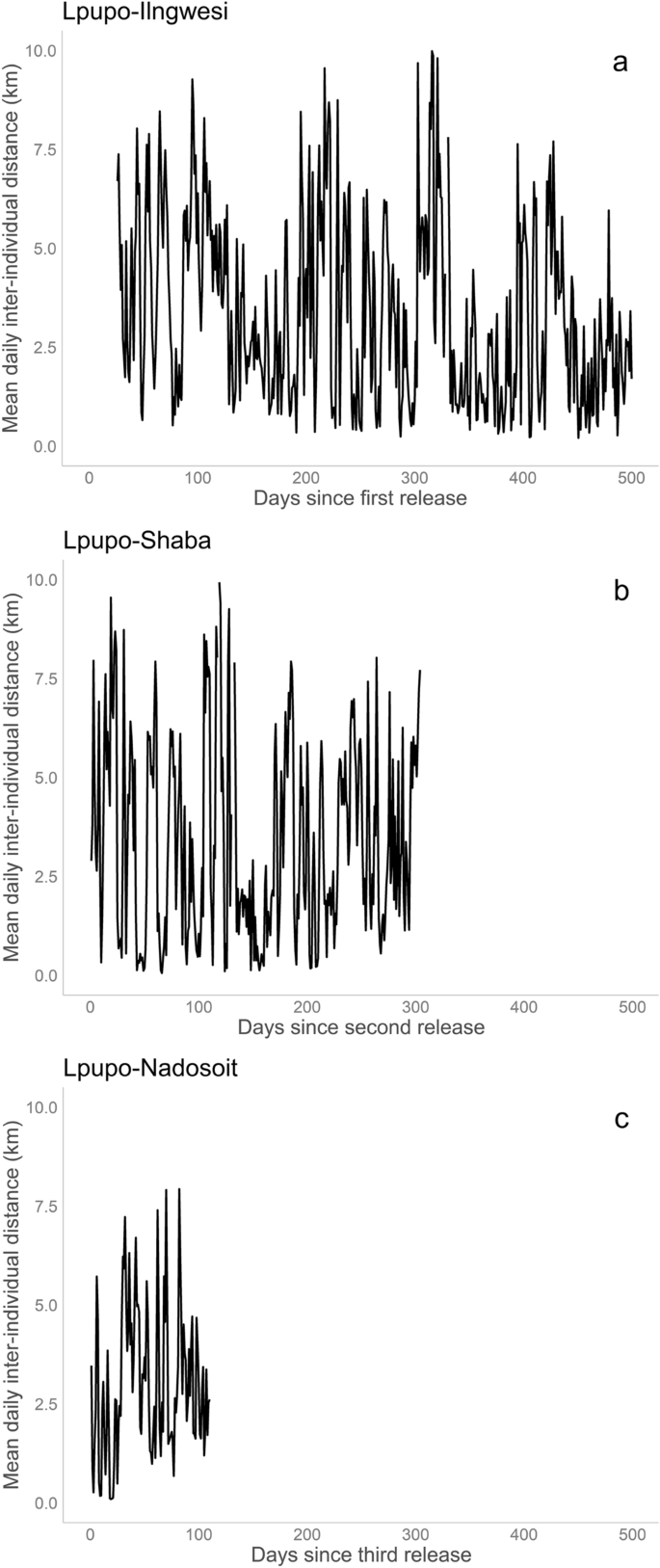 Rights and permissions
Open Access This article is licensed under a Creative Commons Attribution 4.0 International License, which permits use, sharing, adaptation, distribution and reproduction in any medium or format, as long as you give appropriate credit to the original author(s) and the source, provide a link to the Creative Commons licence, and indicate if changes were made. The images or other third party material in this article are included in the article's Creative Commons licence, unless indicated otherwise in a credit line to the material. If material is not included in the article's Creative Commons licence and your intended use is not permitted by statutory regulation or exceeds the permitted use, you will need to obtain permission directly from the copyright holder. To view a copy of this licence, visit http://creativecommons.org/licenses/by/4.0/.
About this article
Cite this article
Goldenberg, S.Z., Chege, S.M., Mwangi, N. et al. Social integration of translocated wildlife: a case study of rehabilitated and released elephant calves in northern Kenya. Mamm Biol 102, 1299–1314 (2022). https://doi.org/10.1007/s42991-022-00285-9
Received:

Accepted:

Published:

Issue Date:

DOI: https://doi.org/10.1007/s42991-022-00285-9
Keywords
Adaptive management

Conservation behavior

GPS tracking

Loxodonta africana

Orphans

Post-release monitoring

Restoration ecology

Social network

Translocation benchmarks