Abstract
Mental fatigue is a psychobiological state caused by prolonged periods of demanding cognitive activity which results in slower reaction time and attention deficits. The main aim of the current study was to investigate whether two types of interventions, specifically mindfulness and music/binaural beats, could reduce the negative effects of mental fatigue on subsequent cognitive processing. Recent studies show that individuals practicing mindfulness exhibit enhanced stress-coping and cognitive performance, including improved working memory and sustained attention. There is also evidence suggesting that using binaural beats increases sustained attention. To explore the influence of mindfulness and music on mentally fatigued individuals, four groups were recruited: a novice mindfulness group (n = 22), an experienced mindfulness group (n = 24), a music/binaural beats group (n = 23) and a control group (n = 21). The participants completed 5 phases of testing on the same day. Phase 1 consisted of completion of the BRUMS and a measurement of mind wandering using the SART. Phase 2 consisted of an induced state of mental fatigue using the 90-min AX-CPT. Phase 3 consisted of another BRUMS completion. Subjects were subsequently asked to complete one of the two 12 min. on-the-spot interventions (mindfulness or binaural beats). Phase 5 consisted of another completion of the SART. The results showed that the music group and the experienced mindfulness group were least affected by mental fatigue and its effect on the SART %NoGo success rate, whereas performance of the control group and the novice mindfulness group was reduced by mental fatigue. The findings are discussed in terms of using music/binaural beats to enhance cognitive control, with similar effects as mindfulness.
Access options
Buy single article
Instant access to the full article PDF.
USD 39.95
Price includes VAT (USA)
Tax calculation will be finalised during checkout.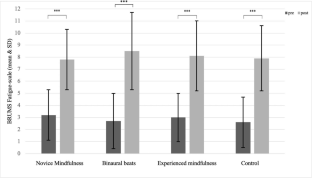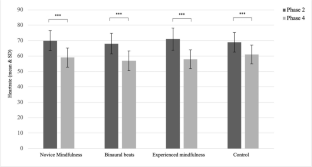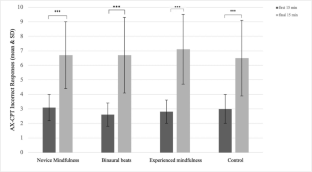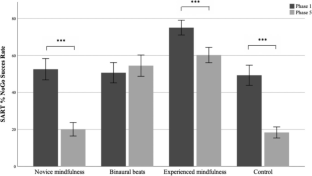 References
Bakeman, R. (2005). Recommended effect size statistics for repeated measures designs. Behavior Research Methods, 37(3), 379–384.

Bennike, I. H., Wieghorst, A., & Kirk, U. (2017). Online-based mindfulness training reduces mind wandering. Journal of Cognitive Enhancement, 1(2), 172–181.

Boksem, M. A. S., & Tops, M. (2008). Mental fatigue: costs and benefits. Brain Research Reviews, 59(1), 125–139.

Boksem, M. A. S., Meijman, T. F., & Lorist, M. M. (2005). Effects of mental fatigue on attention: an ERP study. Cognitive Brain Research, 25(1), 107–116.

Boksem, M. A. S., Meijman, T. F., & Lorist, M. M. (2006). Mental fatigue, motivation and action monitoring. Biological Psychology, 72(2), 123–132.

Brefczynski-Lewis, J. A., Lutz, A., Schaefer, H. S., Levinson, D. B., & Davidson, R. J. (2007). Neural correlates of attentional expertise in long-term meditation practitioners. Proceedings of the National Academy of Sciences of the United States of America, 104(27), 11483–11488.

Brewer, J. A., Worhunsky, P. D., Gray, J. R., Tang, Y., Weber, J., & Kober, H. (2011). Meditation experience is associated with differences in default mode network activity and connectivity. Proceedings of the National Academy of Sciences of the United States of America, 108(50), 20254–20259.

Budgett, R. (1998). Fatigue and underperformance in athletes: the overtraining syndrome. British Journal of Sports Medicine, 32(2), 107–110.

Chambers, R., Lo, B. C. Y., & Allen, N. B. (2008). The impact of intensive mindfulness training on attentional control, cognitive style, and affect. Cognitive Therapy and Research, 32, 303–322.

Cheyne, J. A., Solman, G. J. F., Carriere, J. S. A., & Smilek, D. (2009). Anatomy of an error: A bidirectional state model of task engagement/disengagement and attention-related errors. Cognition, 111(1), 98–113.

Erisman, S., & Roemer, L. (2010). A preliminary investigation of the effects of experimentally induced mindfulness on emotional responding to film clips. Emotion, 10(1), 72–82.

Galy, E., & Mélan, C. (2015). Effects of cognitive appraisal and mental workload factors on performance in an arithmetic task. Applied Psychophysiology and Biofeedback, 40(4), 313–325.

Galy, E., Cariou, M., & Mélan, C. (2012). What is the relationship between mental workload factors and cognitive load types? International Journal of Psychophysiology, 83(3), 269–275.

Guo, W., Ren, J., Wang, B., & Zhu, Q. (2015). Effects of relaxing music on mental fatigue induced by a continuous performance task: behavioral and ERPs evidence. PLoS One, 10(8), e0136446.

Jha, A. P., Stanley, E. A., Kiyonaga, A., Wong, L., & Gelfand, L. (2010). Examining the protective effects of mindfulness training on working memory capacity and affective experience. Emotion, 10(1), 54–64.

Jha, A. P., Morrison, A., Dainer-Best, J., Parker, S., Rostrup, N., & Stanley, E. (2015). Minds "at attention": mindfulness training curbs attentional lapses in military cohorts. PLoS One, 10(2), e0116889–e0116889.

Johansson, B., Bjuhr, H., Rönnbäck, L., Institutionen för neurovetenskap och fysiologi, sektionen för klinisk neurovetenskap och rehabilitering, Sahlgrenska akademin, Göteborgs universitet, et al. (2012). Mindfulness-based stress reduction (MBSR) improves long-term mental fatigue after stroke or traumatic brain injury. Brain Injury, 26(13–14), 1621–1628.

Kabat-Zinn, J., Massion, A. O., Kristeller, J., Peterson, L. G., Fletcher, K. E., Pbert, L., et al. (1992). Effectiveness of a meditation-based stress reduction program in the treatment of anxiety disorders. American Journal of Psychiatry, 149, 936–943.

Kirk, U., Wieghorst, A., Nielsen, C. M., & Staiano, W. (2019). On-the-spot binaural beats and mindfulness reduces behavioral markers of mind wandering. Journal of Cognitive Enhancement, 3(2), 186–192.

Lorist, M., Boksem, M., & Ridderinkhof, K. (2005). Impaired cognitive control and reduced cingulate activity during mental fatigue. Cognitive Brain Research, 24(2), 199–205.

Marcora, S. M., Staiano, W., & Manning, V. (2009). Mental fatigue impairs physical performance in humans. Journal of Applied Physiology, 106(3), 857–864.

Morrison, A. B., Goolsarran, M., Rogers, S. L., & Jha, A. P. (2014). Taming a wandering attention: short-form mindfulness training in student cohorts. Frontiers Human Neuroscience, 7, 897–897.

Mrazek, M. D., Smallwood, J., Franklin, M. S., Baird, B., Chin, J. M., & Schooler, J. W. (2012). The role of mind-wandering in measurements of general aptitude. Journal of Experimental Psychology: General, 141(4), 788–798.

Pageaux, B., Marcora, S. M., Rozand, V., & Lepers, R. (2015). Mental fatigue induced by prolonged self-regulation does not exacerbate central fatigue during subsequent whole- body endurance exercise. Frontiers in Human Neuroscience, 9, 67–67.

Robertson, I. H., Manly, T., Andrade, J., Baddeley, B. T., & Yiend, J. (1997). 'Oops!': performance correlates of everyday attentional failures in traumatic brain injured and normal subjects. Neuropsychologia, 35(6), 747–758.

Rosvold, H. E., Mirsky, A. F., Sarason, I., Bransome Jr., E. D., & Beck, L. H. (1956). A continuous performance test of brain damage. Journal of Consulting Psychology, 20(5), 343–350.

Smilek, D., Carriere, J. S. A., & Cheyne, J. A. (2010). Failures of sustained attention in life, lab, an brain: ecological validity of the SART. Neuropsychologia, 48(9), 2564–2570.

Smith, M. R., Marcora, S. M., & Coutts, A. J. (2015). Mental fatigue impairs intermittent running performance. Medicine & Science in Sports & Exercise, 47(8), 1682–1690.

Terry, P. C., Lane, A. M., Lane, H. J., & Keohane, L. (1999). Development and validation of a mood measure for adolescents. Journal of Sports Sciences, 17(11), 861–872.

Terry, P. C., Lane, A. M., & Fogarty, G. J. (2003). Construct validity of the profile of mood states – adolescents for use with adults. Psychology of Sport & Exercise, 4(2), 125–139.

van der Linden, D., & Eling, P. A. T. M. (2006). Mental fatigue disturbs local processing more than global processing. Psychological Research, 70(5), 395–402.

van der Linden, D., Frese, M., & Meijman, T. F. (2003). Mental fatigue and the control of cognitive processes: Effects on perseveration and planning. Acta Psychologica, 113(1), 45–65.

Wallace, J. C., & Vodanovich, S. J. (2003). Can accidents and industrial mishaps be predicted? Further investigation into the relationship between cognitive failure and reports of accidents. Journal of Business and Psychology, 17(4), 503–514.
Funding
This work is supported by a grant from Velliv (ID 18-0019) (U.K.)
Ethics declarations
Ethical Approval
All procedures performed in studies involving human participants were in accordance with the ethical standards of the national research committee and with the 1964 Helsinki declaration and its later amendments or comparable ethical standards.
Conflict of Interest
The authors declare that they have no conflict of interest.
Additional information
Publisher's Note
Springer Nature remains neutral with regard to jurisdictional claims in published maps and institutional affiliations.
About this article
Cite this article
Axelsen, J.L., Kirk, U. & Staiano, W. On-the-Spot Binaural Beats and Mindfulness Reduces the Effect of Mental Fatigue. J Cogn Enhanc 4, 31–39 (2020). https://doi.org/10.1007/s41465-019-00162-3
Received:

Accepted:

Published:

Issue Date:
Keywords
Mental fatigue

Binaural beats

Mindfulness

Cognitive performance