Abstract
Digital technologies such as chatbots can be used in the field of mental health. In particular, chatbots can be used to support citizens living in sparsely populated areas who face problems such as poor access to mental health services, lack of 24/7 support, barriers to engagement, lack of age appropriate support and reductions in health budgets. The aim of this study was to establish if user groups can design content for a chatbot to support the mental wellbeing of individuals in rural areas. University students and staff, mental health professionals and mental health service users (N = 78 total) were recruited to workshops across Northern Ireland, Ireland, Scotland, Finland and Sweden. The findings revealed that participants wanted a positive chatbot that was able to listen, support, inform and build a rapport with users. Gamification could be used within the chatbot to increase user engagement and retention. Content within the chatbot could include validated mental health scales and appropriate response triggers, such as signposting to external resources should the user disclose potentially harmful information or suicidal intent. Overall, the workshop participants identified user needs which can be transformed into chatbot requirements. Responsible design of mental healthcare chatbots should consider what users want or need, but also what chatbot features artificial intelligence can competently facilitate and which features mental health professionals would endorse.
References
Abd-Alrazaq, A. A., Alajlani, M., Ali, N., et al. (2021). Perceptions and opinions of patients about mental health chatbots: Scoping review. Journal of Medical Internet Research, 23, e17828.

Addis, M. E., & Mahalik, J. R. (2003). Men, masculinity, and the contexts of help seeking. American Psychologist, 58, 5–14. https://doi.org/10.1037/0003-066X.58.1.5

Aldrich, R. S., Wilde, J., & Miller, E. (2018). The effectiveness of QPR suicide prevention training. Health Education Journal, 77, 964–977. https://doi.org/10.1177/0017896918786009

Armenta, C. N., Fritz, M. M., & Lyubomirsky, S. (2017). Functions of positive emotions: Gratitude as a motivator of self-improvement and positive change. Emotion Review, 9, 183–190. https://doi.org/10.1177/1754073916669596

Audrey, M., Temcheff, C. E., Léger, P.-M., et al. (2021). Emotional reactions and likelihood of response to questions designed for a mental health chatbot among adolescents: Experimental study. JMIR Human Factors, 8(1), e24343. https://doi.org/10.2196/24343

Barkham, M., Bewick, B., Mullin, T., et al. (2013). The CORE-10: A short measure of psychological distress for routine use in the psychological therapies. Counselling and Psychotherapy Research, 13, 3–13. https://doi.org/10.1080/14733145.2012.729069

Benavides-Vaello, S., Strode, A., & Sheeran, B. C. (2013). Using technology in the delivery of mental health and substance abuse treatment in rural communities: A review. Journal of Behavioral Health Services and Research, 40, 111–120.

Bond, R. R., Mulvenna, M. D., Finlay, D. D., & Martin, S. (2015). Multi-faceted informatics system for digitising and streamlining the reablement care model. Journal of Biomedical Informatics, 56, 30–41. https://doi.org/10.1016/j.jbi.2015.05.008

Burnap, P., Colombo, G., & Scourfield, J. (2015). Machine classification and analysis of suicide-related communication on Twitter. In HT 2015—Proceedings of the 26th ACM Conference on Hypertext and Social Media. https://doi.org/10.1145/2700171.2791023

Calvo, R. A., Dinakar, K., Picard, R., et al. (2018). Toward impactful collaborations on computing and mental health. Journal of Medical Internet Research. https://doi.org/10.2196/jmir.9021

Cheng, S. T., Tsui, P. K., & Lam, J. H. M. (2015). Improving mental health in health care practitioners: Randomized controlled trial of a gratitude intervention. Journal of Consulting and Clinical Psychology, 83, 177–186. https://doi.org/10.1037/a0037895

de Gennaro, M., Krumhuber, E. G., & Lucas, G. (2020). Effectiveness of an empathic chatbot in combating adverse effects of social exclusion on mood. Frontiers in Psychology. https://doi.org/10.3389/FPSYG.2019.03061

Dell'Era, C., & Landoni, P. (2014). Living lab: A methodology between user-centred design and participatory design. Creativity and Innovation Management, 23, 137–154. https://doi.org/10.1111/caim.12061

Department of Health Northern Ireland. (2019). Protect life 2: A strategy for preventing suicide and self harm in Northern Ireland 2019–2024. Retrieved September 30, 2020, from https://www.health-ni.gov.uk/sites/default/files/publications/health/pl-strategy.PDF

Ducasse, D., Dassa, D., Courtet, P., et al. (2019). Gratitude diary for the management of suicidal inpatients: A randomized controlled trial. Depression and Anxiety, 36, 400–411. https://doi.org/10.1002/da.22877

Easton, K., Potter, S., Bec, R., et al. (2019). A virtual agent to support individuals living with physical and mental comorbidities: Co-design and acceptability testing. Journal of Medical Internet Research, 21, e12996. https://doi.org/10.2196/12996

Fitzpatrick, K. K., Darcy, A., & Vierhile, M. (2017). Delivering cognitive behavior therapy to young adults with symptoms of depression and anxiety using a fully automated conversational agent (Woebot): A randomized controlled trial. JMIR Mental Health, 4, e19. https://doi.org/10.2196/mental.7785

Grové, C. (2021). Co-developing a mental health and wellbeing chatbot with and for young people. Front Psychiatry, 11, 606041. https://doi.org/10.3389/fpsyt.2020.606041

Hoermann, S., McCabe, K. L., Milne, D. N., & Calvo, R. A. (2017). Application of synchronous text-based dialogue systems in mental health interventions: Systematic review. Journal of Medical Internet Research, 19, e267.

Inkster, B., Sarda, S., & Subramanian, V. (2018). An empathy-driven, conversational artificial intelligence agent (Wysa) for digital mental well-being: Real-world data evaluation mixed-methods study. JMIR Mental Health. https://doi.org/10.2196/12106

Kocaballi, A. B., Quiroz, J. C., Rezazadegan, D., et al. (2020). Responses of conversational agents to health and lifestyle prompts: Investigation of appropriateness and presentation structures. Journal of Medical Internet Research, 22, e15823. https://doi.org/10.2196/15823

Kroenke, K., Spitzer, R. L., & Williams, J. B. W. (2001). The PHQ-9: Validity of a brief depression severity measure. Journal of General Internal Medicine, 16, 606–613. https://doi.org/10.1046/j.1525-1497.2001.016009606.x

Ly, K. H., Ly, A. M., & Andersson, G. (2017). A fully automated conversational agent for promoting mental well-being: A pilot RCT using mixed methods. Internet Interventions, 10, 39–46. https://doi.org/10.1016/j.invent.2017.10.002

Mojtabai, R., Olfson, M., Sampson, N. A., et al. (2011). Barriers to mental health treatment: Results from the National Comorbidity Survey Replication. Psychological Medicine, 41, 1751–1761. https://doi.org/10.1017/S0033291710002291

Morris, R. R., Kouddous, K., Kshirsagar, R., & Schueller, S. M. (2018). Towards an artificially empathic conversational agent for mental health applications: System design and user perceptions. Journal of Medical Internet Research, 20, e10148. https://doi.org/10.2196/10148

Mulvenna, M., & Martin, S. (2013). Living labs: Frameworks and engagement. Smart Innovation, Systems and Technologies, 18, 135–143. https://doi.org/10.1007/978-3-642-34219-6_15

National Institute of Clinical Excellence. (2019). Overview | Depression in adults: recognition and management | Guidance | NICE. Retrieved Sept 30, 2020, from https://www.nice.org.uk/Guidance/CG90

O'Connor, R. C., & Nock, M. K. (2014). The psychology of suicidal behaviour. The Lancet Psychiatry, 1, 73–85.

O'Neill, S., Corry, C. V., Murphy, S., et al. (2014). Characteristics of deaths by suicide in Northern Ireland from 2005 to 2011 and use of health services prior to death. Journal of Affective Disorders, 168, 466–471. https://doi.org/10.1016/j.jad.2014.07.028

Palanica, A., Flaschner, P., Thommandram, A., et al. (2019). Physicians' perceptions of chatbots in health care: Cross-sectional web-based survey. Journal of Medical Internet Research, 21, 1–10. https://doi.org/10.2196/12887

Provoost, S., Lau, H. M., Ruwaard, J., & Riper, H. (2017). Embodied conversational agents in clinical psychology: A scoping review. Journal of Medical Internet Research, 19, e151.

Roy, A., Nikolitch, K., McGinn, R., et al. (2020). A machine learning approach predicts future risk to suicidal ideation from social media data. NPJ Digital Medicine, 3, 1–12. https://doi.org/10.1038/s41746-020-0287-6

Sabo Mordechay, D., Nir, B., & Eviatar, Z. (2019). Expressive writing—Who is it good for? Individual differences in the improvement of mental health resulting from expressive writing. Complementary Therapies in Clinical Practice, 37, 115–121. https://doi.org/10.1016/j.ctcp.2019.101064

Suhr, M., Risch, A. K., & Wilz, G. (2017). Maintaining mental health through positive writing: Effects of a resource diary on depression and emotion regulation. Journal of Clinical Psychology, 73, 1586–1598. https://doi.org/10.1002/jclp.22463

Tamres, L. K., Janicki, D., & Helgeson, V. S. (2002). Sex differences in coping behavior: A meta-analytic review and an examination of relative coping. Personality and Social Psychology Review, 6, 2–30. https://doi.org/10.1207/S15327957PSPR0601_1

Tay, S., Alcock, K., & Scior, K. (2018). Mental health problems among clinical psychologists: Stigma and its impact on disclosure and help-seeking. Journal of Clinical Psychology, 74, 1545–1555. https://doi.org/10.1002/jclp.22614

Tennant, R., Hiller, L., Fishwick, R., et al. (2007). The Warwick-Dinburgh mental well-being scale (WEMWBS): Development and UK validation. Health and Quality of Life Outcomes. https://doi.org/10.1186/1477-7525-5-63

Vaidyam, A. N., Wisniewski, H., Halamka, J. D., et al. (2019). Chatbots and conversational agents in mental health : A review of the psychiatric landscape. The Canadian Journal of Psychiatry. https://doi.org/10.1177/0706743719828977

Warner, C. H., Appenzeller, G. N., Grieger, T., et al. (2011). Importance of anonymity to encourage honest reporting in mental health screening after combat deployment. Archives of General Psychiatry, 68, 1065–1071. https://doi.org/10.1001/ARCHGENPSYCHIATRY.2011.112

World Health Organisation. (2019). mhGAP Intervention Guide—Version 2.0. Retrieved Sept 30, 2020, from https://www.who.int/publications/i/item/mhgap-intervention-guide---version-2.0

Xu, Z., Huang, F., Kösters, M., et al. (2018). Effectiveness of interventions to promote help-seeking for mental health problems: Systematic review and meta-analysis. Psychological Medicine, 48, 2658–2667.
Acknowledgements
The authors would like to thank all the clients, participants, project members, supporters, and researchers at Ulster University, University of Eastern Finland, Norrbotten Association of Local Authorities, Region Norrbotten, Luleå University of Technology, NHS Western Isles, Action Mental Health, Munster Technological University, and Health Innovation Hub Ireland, for participating in this research. The ChatPal consortium acknowledges the support provided by the Interreg VB Northern Periphery & Arctic Programme project number 345.
Additional information
Publisher's Note
Springer Nature remains neutral with regard to jurisdictional claims in published maps and institutional affiliations.
The original version of this article unfortunately contained a mistake. The name of the author M.D. Mulvenna is now corrected in the author group.
Appendix
Appendix
Appendix I: Example chatbot personas created for Woebot and Wysa, and blank template for completion by participants.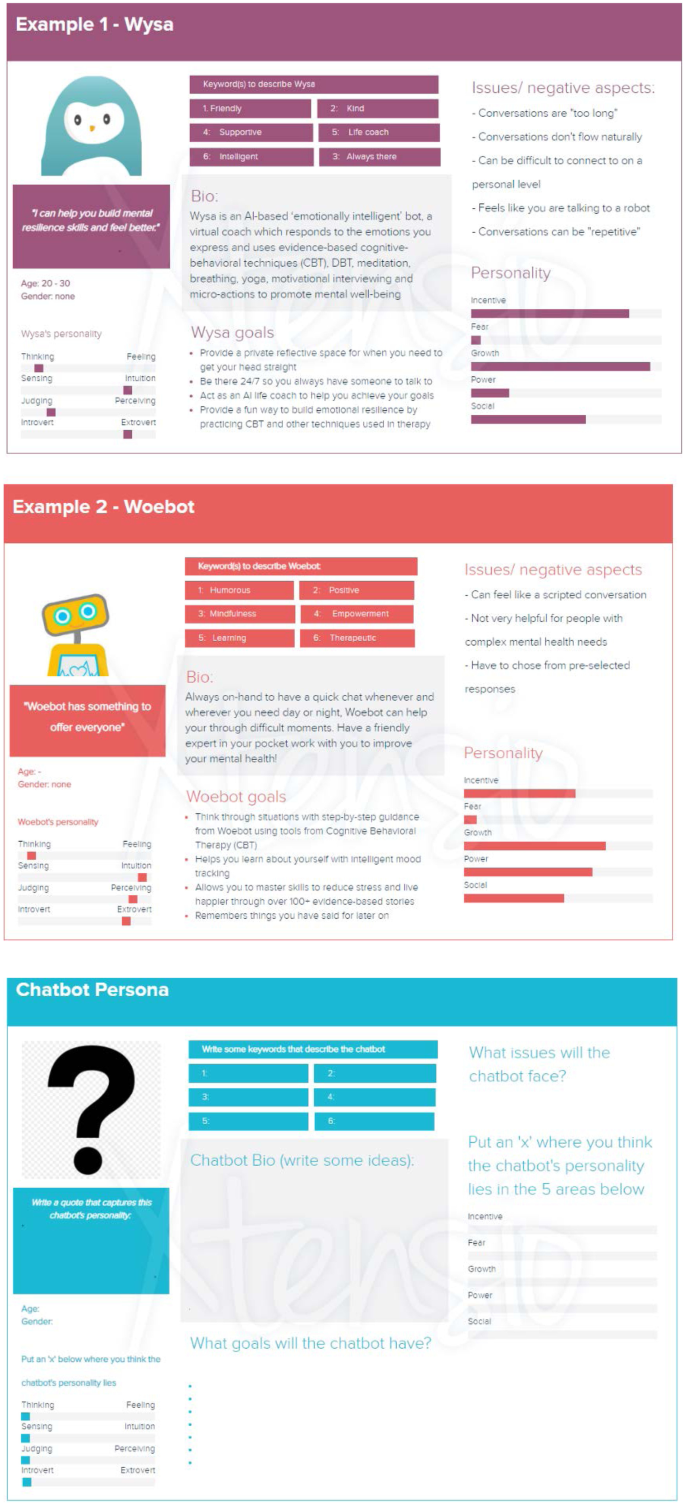 Rights and permissions
Open Access This article is licensed under a Creative Commons Attribution 4.0 International License, which permits use, sharing, adaptation, distribution and reproduction in any medium or format, as long as you give appropriate credit to the original author(s) and the source, provide a link to the Creative Commons licence, and indicate if changes were made. The images or other third party material in this article are included in the article's Creative Commons licence, unless indicated otherwise in a credit line to the material. If material is not included in the article's Creative Commons licence and your intended use is not permitted by statutory regulation or exceeds the permitted use, you will need to obtain permission directly from the copyright holder. To view a copy of this licence, visit http://creativecommons.org/licenses/by/4.0/.
About this article
Cite this article
Potts, C., Ennis, E., Bond, R.B. et al. Chatbots to Support Mental Wellbeing of People Living in Rural Areas: Can User Groups Contribute to Co-design?. J. technol. behav. sci. 6, 652–665 (2021). https://doi.org/10.1007/s41347-021-00222-6
Received:

Revised:

Accepted:

Published:

Issue Date:

DOI: https://doi.org/10.1007/s41347-021-00222-6
Keywords
Mental health

Co-creation

Conversational agents

Conversation design

Living labs