Docking-based inverse virtual screening: methods, applications, and challenges
Abstract
Identifying potential protein targets for a small-compound ligand query is crucial to the process of drug development. However, there are tens of thousands of proteins in human alone, and it is almost impossible to scan all the existing proteins for a query ligand using current experimental methods. Recently, a computational technology called docking-based inverse virtual screening (IVS) has attracted much attention. In docking-based IVS, a panel of proteins is screened by a molecular docking program to identify potential targets for a query ligand. Ever since the first paper describing a docking-based IVS program was published about a decade ago, the approach has been gradually improved and utilized for a variety of purposes in the field of drug discovery. In this article, the methods employed in docking-based IVS are reviewed in detail, including target databases, docking engines, and scoring function methodologies. Several web servers developed for non-expert users are also reviewed. Then, a number of applications are presented according to different research purposes, such as target identification, side effects/toxicity, drug repositioning, drug–target network development, and receptor design. The review concludes by discussing the challenges that docking-based IVS needs to overcome to become a robust tool for pharmaceutical engineering.
Keywords
Inverse virtual screening 
Target fishing 
Polypharmacology 
Side effects 
Drug repositioning 
Molecular docking 
Introduction
Identifying protein targets for a query ligand is a crucial aspect of drug discovery. Historically, natural products derived from plants, animals, micro-organisms, etc., were used as medicines to cure many diseases. The accumulated experience and knowledge of their usages have become an abundant resource for modern drug discovery (Ji et al. 2009). Although purified compounds from these natural products present good therapeutic activities, molecular mechanisms of action including the identification of binding targets are often shrouded in mystery. The drug design process in modern times is highly dependent on Ehrlich's assumption (Kaufmann 2008), in which drugs work as "magic bullets" modulating one target of particular relevance to a disease. Great success has been achieved with this simple assumption, while disadvantages are also emerging in recent years. The most visible disadvantage is the high attrition rate (about 90%) of potential compounds at the late stage of clinical trials due to certain efficacy and clinical safety problems (Nwaka and Hudson 2006). A number of drugs have been withdrawn from the market because of serious side effects or life-threatening toxicities. Recent studies also suggest that each existing drug binds to, on average, about six target proteins instead of one (Azzaoui et al. 2007; Mestres et al. 2008). If all the targets of an interested ligand can be identified at the early stage of new drug design, the side effects and toxicities that appear in the later stages of clinical trials can be effectively avoided. Thus, a prescreening process can significantly increase the success rate and reduce the development cost for the overall drug pipeline. However, the lack of effective experimental tools in identifying all the potential targets for a small molecule on a proteome-wide scale remains a daunting challenge to overcome.
Recently, an inverse virtual screening (IVS) technology based on molecular docking methods has been developed and widely used for the process of target identification (Chen and Zhi
2001
). A molecular docking method is defined as the prediction of both the binding mode and binding affinity of a query ligand (such as a small-molecule drug) against a receptor (such as a target protein) (Brooijmans and Kuntz
2003
; Sousa
et al.
2006
; Grinter and Zou
2014a
,
b
). In the IVS method, a molecular docking process is employed to screen a protein database for a query ligand, and then an enriched subset containing possible targets of the ligand is provided. Figure 
1
shows a flowchart of the docking-based IVS procedure.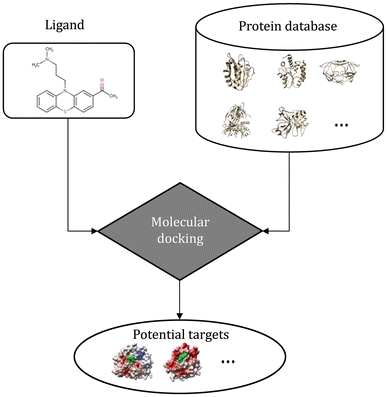 To run a docking-based IVS study, at least two components are required, a protein database and a molecular docking program. The target database is a collection of structures of proteins or active sites. With the rapidly increasing number of structures deposited in the Protein Data Bank (PDB) (Berman et al. 2000), a desirable target database can be constructed for docking-based IVS. The target database can also be extended through homology modeling techniques. Then, a potentially interesting small molecule is docked to each element of the target database by a docking program. Generally, a docking program consists of two main components—the sampling algorithm and the scoring function. The sampling component generates sufficient putative binding modes. The scoring function further ranks these modes based on binding energy evaluations. The ability of the existing scoring functions to accurately predict binding energies remains limited (Brooijmans and Kuntz 2003; Huang et al. 2010). Fortunately, the purpose of IVS studies (and of virtual screening of potent ligands against a query target) is in pursuit of an enriched subset of potential candidates (e.g., top 1% of the ranked proteins in the IVS case or top 1% of the ranked ligands in the virtual screening case), which is a relatively less challenging task than binding energy prediction for a scoring function.
In addition to docking-based IVS, there are several other computational methods that can be used for target identification, including ligand-based methods, binding site comparisons, protein–ligand interaction fingerprints, and so on (Rognan 2010; Koutsoukas et al. 2011; Xie et al. 2011; Ma et al. 2013). Ligand-based methods are based on the molecular similarity principle, which states that molecules with similar structures tend to have similar biological activities (Willett et al. 1998; Bender and Glen 2004). These methods heavily rely on the pre-existing knowledge about the molecules in the database, and require a database of small molecules with known binding targets. Although ligand-based methods are widely used for target identification and have achieved a great amount of success, they become utterly useless for the remaining "unknown space" (i.e., dissimilar ligands). Similarly, for the methods of binding site comparison and protein–ligand interaction fingerprinting, at least one protein–ligand complex structure of the query small molecule is required (Rognan 2010). All the aforementioned approaches are classified as "knowledge-based" IVS methods. By contrast, docking-based IVS is the only method that does not rely on such preliminary information, rendering it a more attractive option in the field of target identification.
Ever since the first docking-based IVS program was developed by Chen et al. (Chen and Zhi 2001), the method has been improved and utilized widely for various purposes in the field of drug discovery. Here, we review the method of docking-based IVS, including the target database, docking engine, and scoring function components of this method. We also review the web servers that integrate the complex process of IVS for non-expert users. Then, we present published studies in which docking-based IVS played an important role. These application studies are classified into target identification, side effect/toxicity assessments, drug repositioning, multi-target therapy/drug–target network, and receptor design. Finally, we discuss about current challenges that docking-based IVS needs to overcome in order to become a robust tool for far-reaching applications.
Docking-based IVS
In docking-based IVS, a given small molecule is docked to the binding site of each protein in a target database through a docking engine. Then, target proteins are ranked according to the binding scores estimated by a scoring function. This complex process has been integrated and presented as online web servers for non-expert utilization. These components are explained in detail as follows.
Challenges
In summary, during the last decade, the entire field of docking-based IVS, including the construction of target databases, scoring functions, and post analysis, has been significantly improved by researchers from all over the world. A number of successful applications as described in this review have proved that docking-based IVS is a powerful technique for drug discovery. However, several challenges remain to be solved for docking-based IVS to become a robust tool.
The first challenge is the incompleteness of available target databases. Using the data in DrugPort (http://www.ebi.ac.uk/thornton-srv/databases/drugport/) as an example, there are a total of 1664 known druggable protein targets in the database, but only about half of them have 3D structures in the PDB. If unknown targets are considered, this rate could be much lower. Furthermore, these targets with known-structures are not evenly distributed among different superfamilies, due to experimental limitations. For example, the superfamily of membrane proteins, the G-protein-coupled receptors (GPCRs), is one of the most important targets in drug design, given the fact that they account for over a quarter of the known drug targets (Overington et al. 2006), and about half of the drugs on the market target GPCRs specifically (Klabunde and Hessler 2002). However, only a fraction of the GPCRs have experimental structures (Venkatakrishnan et al. 2013), because the structural resolution of membrane proteins like GPCRs is much more complicated and difficult to elucidate than global proteins such as enzymes. Fortunately, the current databases can be significantly improved through homology modeling techniques, and the incompleteness problem can be gradually solved with time as more and more complete structures are determined by experimental methods.
Another challenge is from the vantage point of protein flexibility. As aforementioned, protein–ligand binding is a mutual fitting process. The existing docking programs are able to account for the flexibility of small molecules very well, but the overall flexibility of the entire protein remains a great challenge. Efforts have been made to partially consider protein flexibility during docking. For example, the side chains of the residues in the active site can be treated to be flexible with the induced-fit docking strategies (Sherman et al. 2006). In another example, an ensemble of protein structures are used for docking in MDOCK (Huang and Zou 2007a, b). However, flexible docking using the induced-fit strategy is time-consuming. For the ensemble docking using MDOCK, an ensemble of experimentally determined protein structures are not always available. These methods are usually difficult to be directly applied to IVS studies which involve hundreds of different proteins. To the best of our knowledge, the proteins were all treated as rigid bodies in the published docking-based IVS studies. Thus, it would be useful to develop efficient protein flexibility algorithms for IVS studies.
At this stage, IVS and the more traditional VS work as an enrichment method rather than an accurate prediction tool, mainly due to the inaccuracy of the scoring functions. Simply selecting the top targets in the ranking list could result in many false positive candidates. As reviewed in the subsection on scoring functions, efforts have been made to improve the success rate, including setting a threshold for each target, using consensus scoring functions, or normalizing binding scores. However, all these methods can be regarded as post analysis, which are highly dependent on the scoring values calculated by the existing inaccurate scoring functions. In fact, the scoring function could be the biggest challenge for molecular docking. A detailed review about scoring functions for protein–ligand docking can be found in a recent review (Huang et al. 2010). Recently, Wang et al. (2012b) evaluated the performance of Glide scoring functions in IVS based on the Astex diverse set. Interestingly, "interprotein noises" were found in the Glide scores, suggesting that scoring functions that are developed for conformational (the same complex) ranking could result in over- or underestimated scores when they are directly used for the ranking of different protein–ligand complexes. By introducing a correction term based on a given protein characteristic, the ratio of the relative hydrophobic and hydrophilic character of the binding site, the accuracy of target prediction was improved by 27% (i.e., from 57% to 72%). The study could be used as a reference in the optimization of the existing scoring functions for IVS studies.
An efficient way to address the above challenges (i.e., protein flexibility and scoring function) could be the use of more accurate yet more time-consuming sampling/scoring strategies for the enriched subset (e.g., top 5% of the targets). Regarding the sampling aspect, protein flexibility could be partially considered by using ensemble docking or induced-fit docking strategies. Regarding the scoring aspect, contributions from the solvent effect and from the conformational entropic effect could be considered. Well-studied strategies are molecular dynamics (MD)-based binding free energy calculation methods, such as MM/PBSA and MM/GBSA (Srinivasan et al. 1998; Kollman et al. 2000; Wang et al. 2001). In addition, recent studies show that polarization effects are important for both binding mode and binding affinity predictions (Cho et al. 2005; Xu and Lill 2013). To efficiently consider polarization effects in the docking process, quantum mechanics (QM) or hybrid quantum mechanics/molecular mechanics (QM/MM) methods need to be employed. A QM-polarized ligand docking method has been implemented in a commercial software package, Schrödinger Suites (https://www.schrodinger.com).
There are many docking programs and scoring functions that can be used for an IVS study. As reviewed in this paper, some of them have already been used by different groups for different purposes with varying degrees of success. It would be interesting to find which programs are more effective for IVS studies than others. Such an attempt has been tried by Liu et al. (2010a). In their work, five schemes, GOLD (Jones et al. 1997) and FlexX (Rarey et al. 1996) implemented in Sybyl, TarFisDock (Li et al. 2006) which is based on DOCK4.0 (Ewing et al. 2001), and two in-house docking strategies, TarSearch-X and TarSearch-M (DOCK5.1 (Moustakas et al. 2006)) combined with two in-house scoring functions X-Score (Wang et al. 2002) and M-score (Yang et al. 2006), were tested for eight multi-target compounds extracted from DrugBank (Wishart et al. 2006). The target database was collected from the PDB, and contained 1714 entries from 1594 known drug targets. According to the order of the known targets in the rank list, their results show that TarSearch-X is the most efficient and GOLD is acceptable. However, the study has some limitations. Seven of the eight selected multi-target compounds have only two known targets. Another compound has three known targets. More convincing validation would be to use compounds that have many known targets, such as vitamin E with 14 known targets and 4H-tamoxifen with ten known targets which were used in the test for TarFisDock (Li et al. 2006). In addition, a number of other powerful docking programs and scoring functions are awaited to be assessed for IVS studies.
To effectively evaluate a method of docking-based IVS, a database is desired to contain both positive and negative results. However, negative data are difficult to collect because literature prefer to present successful cases rather than failed cases, i.e., in which a molecule does not interact with a protein. Fortunately, Schomburg and Rarey (2014) recently provided an example of such a database. Because of the limited data available for negative results, the authors constructed a small set with both positive and negative results. This small set, referred to as the selectivity dataset, consists of a total of eight proteins belonging to three target classes and 17 small molecules with defined selectivity in the respective target class. The selectivity dataset is suggested to be used for proof-of-concept studies. A large dataset containing 7992 protein structures and 72 drug-like ligands was also provided. The dataset, called Drugs/sc-PDB dataset, was constructed based on the data in DrugBank (Wishart et al. 2006) and sc-PDB (Kellenberger et al. 2006). The 72 drug-like ligands were selected based on the assumption that the selectivity and targets of the approved drugs have been well studied. The selectivity dataset and the Drugs/sc-PDB dataset form a benchmark for target identification methods.
The last challenge could potentially be the post-analysis problem. The output of IVS is an enriched subset, which contains at least tens of potential targets (including false positive targets). How to connect these predicted multiple targets to the mechanisms of the ligand remains an open question. Usually, the predicted targets need to be validated by biological experiments. Only then can biological functions of the true targets be connected to the phenotypic effects of the ligand. Recently, the biological network idea was employed for the analysis of IVS results. In the work by Zhao et al. (2012), predicted targets were mapped onto the protein–protein interaction network of the human genome. A sub-network was identified that could effectively explain a connection to the actual mechanisms of the ligand in question.
Notes
Acknowledgements
This work was supported by the NSF CAREER Award (DBI-0953839), NIH (R01GM109980), and American Heart Association (Midwest Affiliate) (13GRNT16990076) to XZ. MH is supported by NIH T32LM012410 (PI: Chi-Ren Shyu).
Compliance with Ethical Standards
Conflict of interest
Xianjin Xu, Marshal Huang, and Xiaoqin Zou declare that they have no conflict of interest.
Human and animal rights and informed consent
This article does not contain any studies with human or animal subjects performed by any of the authors.
Copyright information
© The Author(s) 2018
Open AccessThis article is distributed under the terms of the Creative Commons Attribution 4.0 International License (http://creativecommons.org/licenses/by/4.0/), which permits unrestricted use, distribution, and reproduction in any medium, provided you give appropriate credit to the original author(s) and the source, provide a link to the Creative Commons license, and indicate if changes were made.