Big Data Reduction Methods: A Survey
Abstract
Research on big data analytics is entering in the new phase called fast data where multiple gigabytes of data arrive in the big data systems every second. Modern big data systems collect inherently complex data streams due to the volume, velocity, value, variety, variability, and veracity in the acquired data and consequently give rise to the 6Vs of big data. The reduced and relevant data streams are perceived to be more useful than collecting raw, redundant, inconsistent, and noisy data. Another perspective for big data reduction is that the million variables big datasets cause the curse of dimensionality which requires unbounded computational resources to uncover actionable knowledge patterns. This article presents a review of methods that are used for big data reduction. It also presents a detailed taxonomic discussion of big data reduction methods including the network theory, big data compression, dimension reduction, redundancy elimination, data mining, and machine learning methods. In addition, the open research issues pertinent to the big data reduction are also highlighted.
Keywords
Big data 
Data compression 
Data reduction 
Data complexity 
Dimensionality reduction 
1

Introduction

Big data is the aggregation of large-scale, voluminous, and multi-format data streams originated from heterogeneous and autonomous data sources [1]. The volume is the primary characteristic of big data that is represented by the acquisition of storage spaces in large-scale data centers and storage area networks. The massive size of the big data not only causes the data heterogeneity but also results in diverse dimensionalities in the datasets. Therefore, efforts are required to reduce the volume to effectively analyze big data [2]. In addition, big data streams are needed to be processed online to avoid lateral resource consumption for storage and processing. The second key characteristic of big data is velocity. The velocity refers to the frequency of data streams, which is needed to be abridged in order to handle big data effectively. For example, solar dynamics observatory generates excess of one terabytes data per day and the analysis of such a fast big data is possible only after reduction or summarization [3]. On the other hand, big data inherits the 'curse of dimensionality.' In other words, millions of dimensions (variables, features, attributes) are required to be effectively reduced to uncover the maximum knowledge patterns [4, 5]. For example, behavior profiles of the Internet users that mainly comprise of searches, page-views, and click-stream data are sparse and high dimensional with millions of possible keywords and URLs [6]. Similarly, personal genomic high-throughput sequencing not only increases the volume and velocity of data but also adds to the high dimensionality of the data [7]. Therefore, it is imperative to reduce the high dimensions while retaining the most important and useful data.

Data reduction methods for big data vary from pure dimension reduction techniques to compression-based data reduction methods and algorithms for preprocessing, cluster-level data deduplication, redundancy elimination, and implementation of network (graph) theory concepts. Dimension reduction techniques are useful to handle the heterogeneity and massiveness of big data by reducing million variable data into manageable size [8, 9, 10, 11]. These techniques usually work at post-data collection phases. Similarly, cluster deduplication and redundancy elimination algorithms that remove duplicated data for efficient data processing and useful knowledge discovery are primarily post-data collection methods [12, 13, 14, 15]. Recently, the network theory concepts have also been employed for big data reduction [16, 17, 18]. The aforementioned methods first extract the semantics and linked structures from the unstructured datasets and then apply graph theory for network optimization. Conversely, some methods to reduce big data during the data collection process are also proposed in the recent literature [19, 20, 21]. In this study, we presented a detailed discussion of these data reduction methods.

This article presents a thorough literature review of methods for big data reduction. A few similar prior studies have also been conducted. However, these studies either present a generic discussion of big data reduction or discuss a specific group of relevant systems or methods. For example, the authors in [1] discussed the big data reduction to be the critical part of mining sparse, uncertain, and incomplete data. Similarly, the authors in [22, 23] argue big data reduction as the critical part of data analysis and data preprocessing. However, both of the studies lack in presenting discussion about specific systems and methods for big data reduction. The authors in [4] discussed big data reduction issue specifically by focusing on dimension reduction, whereas the authors in [24] emphasized on the data compression. However, a wide range of methods remain unexplored. Currently, there is no specific study in the literature that addresses the core issue of big data reduction. Therefore, we aim to present a detailed literature review that is specifically articulated to highlight the existing methods relevant to big data reduction. In addition, some open research issues are also presented to direct future researchers.

The main contributions of this article are:
A thorough literature review and classification of big data reduction methods are presented.

Recently proposed schemes for big data reduction are analyzed and synthesized.

A detailed gap analysis for the articulation of limitations and future research challenges for data reduction in big data environments is presented.
The article is structured as follows: Sect. 2 discuses the complexity problem in big data and highlights the importance of big data reduction. The taxonomical discussion on big data reduction methods is presented in Sect. 3. The discussion on open issues and future research challenges is given in Sect. 4, and finally, the article is concluded in Sect. 5.
2

Big Data Complexity and the Need for Data Reduction

Big data systems include social media data aggregators, industrial sensor networks, scientific experimental systems, connected health, and several other application areas. The data collection from large-scale local and remote sensing devices and networks, Internet-enabled data streams, and/or devices, systems, and networks-logs brings massively heterogeneous, multi-source, multi-format, aggregated, and continuous big data streams. Effectively handling the big data stream to store, index, and query the data sources for lateral data processing is among the key challenges being addressed by researchers [

25

,

26

]. However, data scientists are facing data deluge issue to uncover the maximum knowledge patterns at fine-grained level for effective and personalized utilization of big data systems [

3

,

27

]. The data deluge is due to 6Vs properties of big data, namely the volume, variety, value, velocity, veracity, and variability. The authors in [

26

] discussed the 6Vs as follows.
Volume The data size characterizes the volume of big data. However, there is no agreed upon definition of big data which specifies the amount of data to be considered as 'big' on order to meet the definition of big data. However, a common sense is developed in research community who consider any data size as big in terms of volume which is not easily processable by underlying computing systems. For example, a large distributed system such as computing clusters- or cloud-based data centers may offer to process multiple terabytes of data but a standalone computer or resource constrained mobile devices may not offer the computational power to process even a few gigabytes of data. Therefore, the volume property of big data varies according to underlying computing systems.

Velocity The velocity of big data is determined by the frequency of data streams which are entering in big data systems. The velocity is handled by big data systems in two ways. First, the whole data streams are collected in centralized systems, and then, further data processing is performed. In the second approach, the data streams are processed immediately after data collection before storing in big data systems. The second approach is more practical; however, it requires a lot of programming efforts and computational resources in order to reduce and filter the data streams before entering in big data systems.

Variety Big data systems collect data stream from multiple data sources which produce data streams in multiple formats. This heterogeneity in data sources and data types impacts the variety property-related characteristics. Therefore, big data systems must be able to process multiple types of data stream in order to effectively uncover hidden knowledge patterns.

Veracity The utility of big data systems increases when the data streams are collected from reliable and trustworthy sources. In addition, the data stream collection is performed with compromising the quality of data streams. The veracity property of big data relates to reliability and trustworthiness of big data systems.

Variability Since all data sources in big data systems do not generate the data streams with same speed and same quality. Therefore, variability property enables to handle the relevant issues. For example, the elastic resource provisioning as per the requirements of big data systems.

Value The value property of big data defines the utility, usability, and usefulness of big data systems. This property tends more toward the outcomes of data analytics and data processing processes and is directly proportional to other 5Vs in big data systems.
The well-designed big data systems must able to deal with all 6Vs effectively by creating a balance between data processing objectives and the cost of data processing (i.e., computational, financial, programming efforts) in big data systems.
Moreover, the complexity in big data systems emerges in three forms: (1) data complexity, (2) computational complexity, and (3) system complexity [28]. The data complexity arises due to multiple formats and unstructured nature of big data, which elevate the issue of multiple dimensions and the complex inter-dimensional and intra-dimensional relationships. For example, the semantic relationship between different values of the same attribute, for example, noise level in the particular areas of the city, increases the inter-dimensional complexity. Likewise, the linked relationship among different attributes (for example, age, gender, and health records) raises the intra-dimensional complexity issue. In addition, the increasing level of data complexity in any big data system is directly proportional to the increase in computational complexity where only the sophisticated algorithms and methods can address the issue. Moreover, the system-level complexity is increased due to extensive computational requirements of big data systems to handle extremely large volume, complex (mostly unstructured and semi-structured), and sparse nature of the data. The extensive literature review exhibits that the big data reduction methods and systems have potential to deal with the big data complexity at both algorithms and systems level. In addition to data complexity, the big data reduction problem is studied in various other perspectives to articulate the effects and the need of data reduction for big data analysis, management, commercialization, and personalization.
Big data analysis also known as big data mining is a tedious task involving extraneous efforts to reduce data in a manageable size to uncover maximum knowledge patterns. To make it beneficial for data analysis, a number of preprocessing techniques for summarization, sketching, anomaly detection, dimension reduction, noise removal, and outliers detection are applied to reduce, refine, and clean big data [29]. The New York Times, a leading US newspaper, reports that data scientists spend 50–80% of the time on cleaning the big datasets [30]. The terms used in the industry for the aforementioned process are 'data munging,' 'data wrangling,' or 'data janitor work.' Another issue with the large-scale high-dimensional data analysis is the over-fitting of learning models that are generated from large numbers of attributes with a few examples. These learning models fit well within the training data, but their performance with testing data significantly degrades [31].
Data management is another important aspect to discuss the big data reduction problem. The effective big data management plays a pivotal role from data acquisition to analysis and visualization. Although data acquisition from multiple sources and aggregation of relevant datasets improve the efficiency of big data systems, it increases the in-network processing and data movement at clusters and data center levels. Similarly, the indexing techniques discussed in [26] enhance the big data management; however, the techniques come across data processing overheads. Although the conversion of unstructured data to semi-structured and structured formats is useful for effective query execution, the conversion in itself is a time- and resource-consuming activity. Moreover, big data is huge in volume that is distributed in different storage facilities. Therefore, the development of learning models and uncovering global knowledge from massively distributed big data is a tedious task. Efficient storage management of reduced and relevant data enhances both the local learning and global view of the whole big data [32, 33]. Currently, visual data mining technique of selecting subspace from the entire feature spaces and subsequently finding the relevant data patterns also require effective data management techniques. Therefore, the reduction in big data at the earliest enhances the data management and data quality and therefore improves the indexing, storage, analysis, and visualization operations of big data systems.
Recently, businesses particularly the enterprises are turning into big data systems. The collection of large data streams from Web users' personal data streams (click-streams, ambulation activities, geo-locations, and health records) and integration of those data streams with personalized services is a key challenge [34]. The collection of irrelevant data streams increases the computational burden that directly affects the operational cost of enterprises. Therefore, the collection of fine-grained, highly relevant, and reduced data streams from users is another challenge that requires serious attention while designing big data systems. Currently, user data collection by third parties without explicit consent and information about commercialization is raising the privacy issues. The participatory personal data where users collect and mine their own data and participate for further utilization and customization of services in ubiquitous environments can address the issue of fine-grained data availability for enterprises. Keeping in view the big data complexity, the need for big data reduction, and analyzing big data reduction problem in different perspective, we present a thorough literature review of the methods for big data reduction.
The core technological support for big data reduction methods is based on multilayer architecture (see Fig. 
1
). The data storage is enabled by large-scale data centers and networks of different computing clusters [
35
]. The storage infrastructures are managed by core networking services, embarrassingly parallel distributed computing frameworks, such as Hadoop map-reduce implementations and large-scale virtualization technologies [
36
]. In addition, cloud services for the provision of computing, networking, and storage are also enabled using different cloud-based operating systems. A recent phenomenon in cloud computing is enabling the edge-cloud services by the virtualization of core cloud services near the data sources. Recently, Cisco released a Fog cloud to enable the intercommunication between core cloud services and proximal networks of data sources [
37
,
38
]. At the lowest layers of the big data architecture resides the multi-format data sources which include standalone mobile devices, Internet-enabled social media data streams, remotely deployed wireless sensor networks, and large-scale scientific data streams among many others. This layered architecture enables to process and manage big data at multiple levels using various computing systems with different form factors. Therefore, wide ranges of application models are designed and new systems have been developed for big data processing.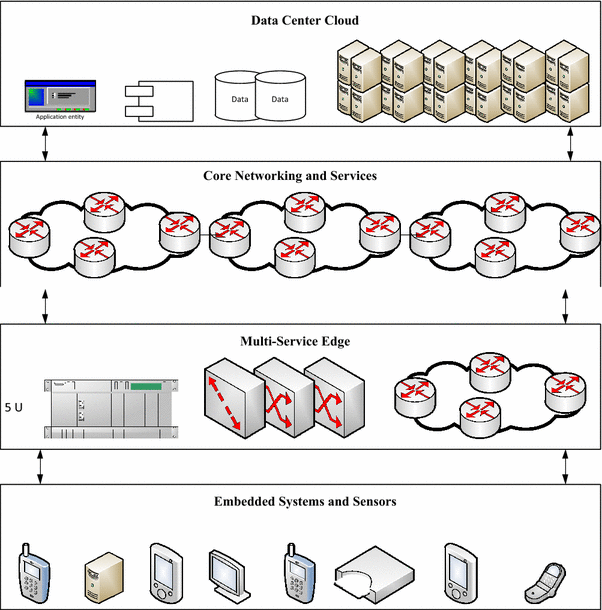 3

Big Data Reduction Methods

This section presents the data reduction methods being applied in big data systems. The methods either optimize the storage or in-network movement of data or reduce data redundancy and duplication. In addition, some of the methods only reduce the volume by compressing the original data and some of the methods reduce the velocity of data streams at the earliest before entering in big data storage systems. Alternatively, some of the methods extract topological structures of unstructured data and reduce the overall big data using network theory approaches that are discussed as follows.
4

Open Research Issues

The discussion on the open research issues, limitations, and possible future research directions is presented in this section.

Network theory The extraction of topological network and ranking of network nodes from big data is a complex process due to inherent big data complexity. In addition, the complex interactions among different nodes of the extracted networks increase the computational complexity of existing network theory-based methods. The scale-free networks and random networks can effectively reduce complex big datasets. However, the full network extraction from inconsistent and missing data is the key challenge [16, 40]. Big data systems contain many small and manageable datasets, but finding the connections among these datasets is a crucial task. The similarity graph is generated from big data where vertices represent datasets and the weighted edges are defined on the basis of similarity measure. The graph is further reduced by merging similar datasets to reduce the number of nodes. The similarity-based big data reduction methods are good choice for network extraction and reduction. However, a range of new similarity measures are required to deal with the evolving complexity and to fully comply with 6Vs of big data [17].

Persistent homology is a good solution for topological data analysis, but it involves high computational complexity. The solutions like selective collapse algorithms represent datasets in the form of forests, and the nodes are collapsed in a way to improve the speed of persistent homology and maintain strong collapse. The persistent homology tools for reducing and analyzing big data still need to be further explored in the future research [18, 42]. Similarly, the automated extraction of events and their representation in network structures is an emerging research area. The assessment of events co-occurrence and their mutual influences is the key challenge for big data reduction. The authors in [41] performed the influence assessment among different concepts (events or datasets) based on the co-occurrence of two events. The co-occurrence is assessed based on the preferential attachment property which determines that new nodes are most likely connected with highly connected nodes as compared to less connected nodes. In addition, the influence relationship among network nodes can be effectively derived from conditional dependencies among variables. However, the mathematical and probabilistic constraints increase the computational complexity in network extraction methods. Therefore, efforts are required to optimize the influence assessment methods for computationally efficient and better approximated network structures [41].

Compression Big data processing in cloud computing environments involves challenges relevant to inefficiency, parallel memory bottlenecks, and deadlocks. The spatiotemporal compression is a key solution for processing big graph data in the cloud environment. In spatiotemporal compression-based methods, the graph is partitioned and edges are mapped into different clusters where compression operations are performed for data reduction. The spatiotemporal compression is an effective approach for big data reduction. However, the research is required to find new parameters that are helpful in finding additional spatiotemporal correlations for maximum big data reduction [45].

The gap between computations and I/O capacity in the HEC systems degrades the system performance significantly. Although in situ analytics are useful for decreasing the aforementioned gap, the cost of computation increases abruptly. The compression methods can significantly reduce the transferred data and narrow the gap between computations and I/O capacity. The authors in [43] suggested that the number of available processors and the data reduction ratio (compression ratio) are two key factors that need attention in future research in this area. Alternately, the AST is a new way of compressing digitized data by selectively stretching and warping the signal. The technique is primarily based on self-adaptive stretch where more samples are associated with sharp features and fewer samples are associated with redundant coarse features. The AST performs data compression of the signal extracted on frequency domain. The method also performs inverse transformation of the constructed signal. The method specifically works with big data involving signal processing. However, the generalization to other domains is a bottleneck in this research [47].

Compressed sensing is a compressible and/or sparse signal that projects a high-dimensional data in low-dimensional space using random measurement matrix. The proposed scheme performs data acquisition and compression in parallel for improved performance as compared with Nyquist sampling theory-based compression methods. The probability of poor data quality and information fidelity loss increases when the analysis is performed on reduced and compressed data [48]. The RED encoding scheme proposed by authors in [48] is used to manage massively generated voluminous electrophysiology data. The scheme performs best when encoding of invariant signals is performed. However, while encoding time-series signals, the performance varies but the scheme achieves high compression rate with improved computational speed in lossless compression. The performance of the RED encoding methods degrades with high variance in signals [50].

Parallel compression methods can be used to reduce the data size with low computational cost. It uses proper orthogonal decomposition to compress data because it can effectively extract important features from the data and resulting compressed data can also be linearly decompressed. The parallel compression methods balance between feature retention error and compression ratio and perform fast decompression for interactive data visualization. However, the standard deviation of error is significant due to noise in the dataset [55]. The sketching method uses count-min sketch algorithm to compress vehicular movement data and achieve compact communication. Although it ensures data reduction by preserving some important characteristics of the original data, the probability of information fidelity loss is more when sketching is applied with inconsistent and noisy data stream [46].

Data deduplication (redundancy elimination) Cluster-level data deduplication is a key requirement to comply with service-level agreements (SLAs) for privacy preserving in cloud environments. The main challenge is the establishment of trade-off between high deduplication ratio and scalable deduplication throughput. The similarity-based deduplication scheme optimizes the elimination process by considering the locality and similarity of data points in both the intra-node and inter-node scenarios. The approach is effective for data reduction, but it requires to be implemented with very large-scale cluster data deduplication systems [12]. The I/O latency and extra computational overhead of cluster-level data deduplication are among the key challenges. The authors in [13] characterized the deduplication schemes in terms of energy impact and performance overhead. The authors outlined three sources of redundancy in cluster environment including: (1) the deployment of additional nodes in the cluster, (2) the expansion of big datasets, and (3) the usage of replication mechanisms. The outcomes of the analysis reveal that the local deduplication, at cluster level, can reduce the hashing overhead. However, local deduplication cannot achieve the maximum redundancy. In contrast, global deduplication can achieve maximum redundancy but compromises on the hashing overheads. In addition, fine-grained deduplication is not suitable for big datasets especially in streaming data environments [13].

Data routing is a key issue in multi-node data deduplication systems. The availability of sufficient throughput is the main bottleneck for data movement among backup and recovery systems. The stateful data routing schemes, as compared to stateless approaches, have higher overhead with low imbalance in the data which minimizes the utility of data deduplication systems. The open issues for data routing include the characterization of parameters which causes the data skew. In addition, the scalability of routing methods to large-scale cluster systems and the impact of feature selection and super-chunk size are needed to be explored in future research. Moreover, the addition of new nodes is needed to be considered for effective bin migration strategies [14].

The in-network data processing methods facilitate in data reduction and reduce the bandwidth consumption, and the efforts are required for on-the-path data reduction and redundancy elimination. The reduced bandwidth consumption by in-network data processing methods enable enhanced query processing throughput. The future implementation of in-network data processing is envisioned as the provision of network-as-a-service (NaaS) in the cloud environment which is fully orchestrated for redundancy elimination and query optimization [57]. In addition, there is a need to devise new network-aware query processing and optimization models, and integration of these models in distributed data processing systems. Research shows that co-operative sensing methods can aid in significant data reduction in large-scale sensing infrastructures [58]. Current co-operative sensing methods lack in low-level contextual features and adaptive global learning models to handle the change detection in streaming data environments. Future research work to integrate current low-level contextual models and adaptive machine learning methods can aid in maximum data reduction as well as collection of a high-quality data.

Data preprocessing The investigations of research problems relevant to preprocessing techniques of big data are still at the initial level. Most of the works are based on the adoption of existing preprocessing methods that were earlier proposed for historical large datasets and data streams. The forefront deployment of data preprocessing methods in the big data knowledge discovery process requires new, efficient, robust, scalable, and optimized preprocessing techniques for both historical and streaming big data. The application of appropriate and highly relevant preprocessing methods not only increases data quality but also improves the analytics on reduced datasets. The research on new methods for sketching, anomaly detection, noise removal, feature extraction, outliers detection, and pre-filtering of streaming data is required to reduce big data effectively. In addition, the deployment of adaptive learning models in conjunction with said methods can aid in dynamic preprocessing of big streaming data [21].

Dimension reduction Big data reduction is traditionally considered to be a dimension reduction problem where multi-million features spaces are reduced to manageable feature spaces for effective data management and analytics. Unsupervised learning methods are the key consideration for dimensionality reduction problem. However, this literature review revealed several other statistical and machine learning methods to address this issue. The techniques to combine conventional dimension reduction methods with statistical analysis methods can increase the efficiency of big data systems [8]. This approach may aid in targeting highly dense and information oriented structures (feature sets) to achieve maximum and efficient big data reduction. Alternately, tensor decomposition and approximation methods are useful to cope with the curse of dimensionality that arises due to high-dimensional complex and sparse feature spaces [10]. The main application of TD-based methods is witnessed in the scientific computing and quantum information theory domain. This literature review revealed that the issue of dimensionality reduction in big data could be handled by adopting front-end data processing, online feature selection from big data streams, constant-size corsets for clustering, statistical methods, and fuzzy classification-based soft computing approaches. These adoptions open new research avenues for interdisciplinary research and develop novel big data reduction methods. The strengths and weaknesses of these methods are already presented in detail in Table 2.

DM and ML The DM and the ML methods for big data reduction could be used at various levels of big data architectures. These methods enable to find interesting knowledge patterns from big data streams to produce highly relevant and reduced data for further analysis. For example, HMM as applied in [78] enables the context-aware features to filter the raw data streams to transmit only highly relevant and required information. In addition, the scheme enables to project high-dimensional data streams in manageable low-dimensional feature spaces. Although the application of these methods is convenient for data reduction, the trade-off between energy consumptions in local processing with raw data transmission is a key challenge that is needed to be considered. The DM and ML methods also have potential to be deployed in map-reduce implementations of Hadoop architecture. The authors in [79] parallelized the frequent pattern mining algorithms using the map-reduce programming model to reduce the massively high-dimensional feature space produced by uncertain big data. However, there exists a huge research gap for the implementation of other DM and ML methods for big data reduction that include supervised, unsupervised, semi-supervised, and hierarchical deep learning models [85]. In addition, the implementation of statistical methods, both descriptive and inferential, for big data reduction using approximation and estimation properties in uncertain big data environments is also useful for data reduction in map-reduce programming models. Moreover, the DM and ML methods are equally useful for big data reduction when coupled with artificial intelligence-based optimization methods. However, supervised, unsupervised, and semi-supervised learning methods need more attention for future research [80].

Deep learning models have recently gained attention by the researchers. The deployment of deep learning models for big data reduction is potential research direction that can be pursued in future. The deep learning models are initially developed from certain data and gradually evolve with uncertain data to effectively reduce big data streams. However, the increasing computational complexities of operating in uncertain big data environments and optimization of learning models to discover patterns from maximum data are the issues that can be further investigated [84].

In this section, we thoroughly discussed the open issues, research challenges, the limitations of proposed methods for big data reduction and presented some future research directions. The survey reveals that big data reduction is performed at many levels during the data processing lifecycle that include data capturing, data preprocessing, data indexing and storage, data analysis, and visualization. Therefore, the relevant reduction methods and systems should be designed to handle the big data complexity at all stages of big data processing. In addition, the future research work should focus on considering all 6Vs to process big data in computing systems with different form factors from fine-grained mobile computing systems to large-scale massively parallel computing infrastructures.
5

Conclusions

Big data complexity is a key issue that is needed to be mitigated. The methods discussed in this article are an effort to address the issue. The presented literature review reveals that there is no existing method that can handle the issue of big data complexity single-handedly by considering the all 6Vs of big data. The studies discussed in this article mainly focused on data reduction in terms of volume (by reducing size) and variety (by reducing number of features or dimensions). However, further efforts are required to reduce the big data streams in terms of velocity and veracity. In addition, the new methods are required to reduce big data streams at the earliest immediately after data production and its entrance into the big data systems. In general, compression-based data reduction methods are convenient for reducing volume. However, the decompression overhead needs to be considered to improve efficiency. Similarly, network theory-based methods are effective for extracting structures from unstructured data and to efficiently handle the variety in big data. The data deduplication methods are useful to improve the data consistency. Therefore, the aforementioned methods are a suitable alternative to manage the variability issues in big data. Likewise, data preprocessing, dimension reduction, data mining, and machine learning methods are useful for data reduction at different levels in big data systems. Keeping in view the outcomes of this survey, we conclude that big data reduction methods are emerging research area that needs attention by the researchers.
Copyright information
© The Author(s) 2016
Open AccessThis article is distributed under the terms of the Creative Commons Attribution 4.0 International License (http://creativecommons.org/licenses/by/4.0/), which permits unrestricted use, distribution, and reproduction in any medium, provided you give appropriate credit to the original author(s) and the source, provide a link to the Creative Commons license, and indicate if changes were made.