Charge Engineering of Mo2C@Defect-Rich N-Doped Carbon Nanosheets for Efficient Electrocatalytic H2 Evolution
Highlights
The Mo2C modified carbon nanosheets produce a graphene wave structure to form localized charges and further enhance the N-doping effect.

The optimal sample shows a Tafel slope as low as 60.6 mV dec−1 and high durability up to 10 h in acidic media.
Abstract
Charge engineering of carbon materials with many defects shows great potential in electrocatalysis, and molybdenum carbide (Mo
2
C) is one of the noble-metal-free electrocatalysts with the most potential. Herein, we study the Mo
2
C on pyridinic nitrogen-doped defective carbon sheets (MoNCs) as catalysts for the hydrogen evolution reaction. Theoretical calculations imply that the introduction of Mo
2
C produces a graphene wave structure, which in some senses behaves like N doping to form localized charges. Being an active electrocatalyst, MoNCs demonstrate a Tafel slope as low as 60.6 mV dec
−1
and high durability of up to 10 h in acidic media. Besides charge engineering, plentiful defects and hierarchical morphology also contribute to good performance. This work underlines the importance of charge engineering to boost catalytic performance.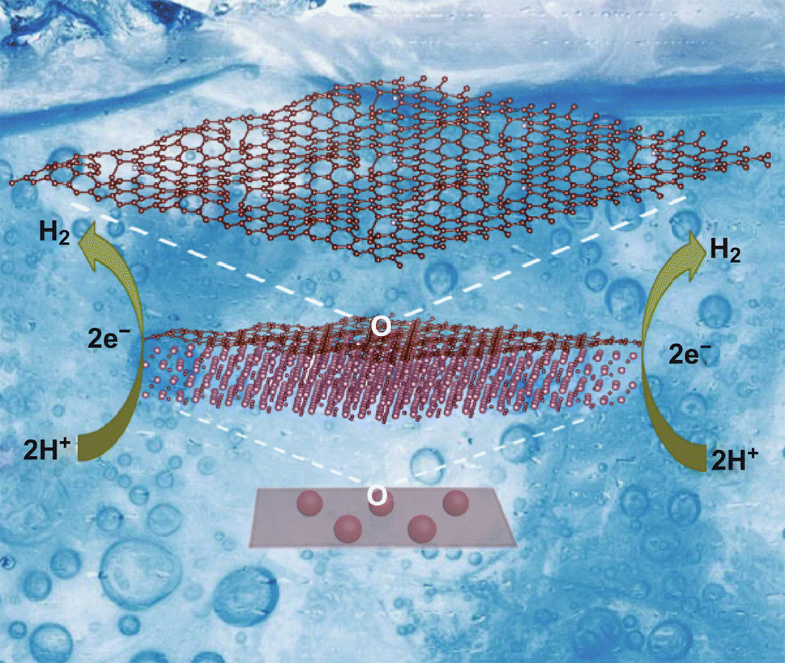 Keywords
Molybdenum carbide 
Nitrogen-doped carbon nanosheets 
Charge engineering 
Graphene wave 
Hydrogen evolution reaction 
1

Introduction

With the intensification of global energy consumption and severe environmental deterioration, sustainable and environmentally friendly approaches have aroused increasing interest [1]. Among ongoing attempts to produce clean fuels, the electrolysis of water to produce H2 is attractive [2, 3, 4, 5, 6]. The key to this problem is to seek an effective electrocatalyst to minimize the overpotential for hydrogen evolution reaction (HER). To replace Pt-based noble metals, abundant earth catalysts have received great attention [7, 8, 9, 10, 11]. Because of their similar electronic structure and catalytic behaviors to Pt [12], Mo-based compounds [13, 14], especially molybdenum carbide [15], have drawn tremendous fascination. On the other hand, the electronic structure significantly affects the interaction between the catalyst surface and reactants [4, 16, 17, 18, 19, 20]. Charge engineering is an important strategy to regulate the surface/interface behaviors involved in catalysis. For example, Sasaki et al. [21] found that carbide ligand changed the d-electron configuration of Mo2C to moderate Mo–H binding energy, leading to enhanced-HER activity.

Recently, researchers have paid great attention to nitrogen-doped defective carbon materials for electrocatalysis [22, 23, 24, 25, 26]. The defects not only play an important role in the adsorption/desorption during reaction, but also change the electrical conductivity of the catalysts to regulate the electronic structure [27]. However, related work on the application of MO2C to pyridinic N-doped carbon is limited. Furthermore, for gas-involving electrocatalysis, the hierarchical morphology is also important to optimize the gas/mass transport [16].

Considering the above-mentioned observations, Mo2C@ defect-rich N-doped carbon nanosheets (MoNCs) were developed. The theoretical results imply that the introduction of Mo2C produces a graphene wave structure, which to a degree behaves like N doping to form localized charges. As expected, the catalyst shows high-electrocatalytic HER activity with a Tafel slope as low as 60.6 mV dec−1 and stability up to 10 h in acidic media, making it one of the best Mo2C electrocatalysts. The multifold design, including charge engineering and nanoarchitecture construction, contributes to the HER performance.
2

Experimental Section
2.1

Materials

Ammonium heptamolybdate ((NH4)6Mo7O24·4H2O), melamine (C3H6N6), sucrose, and sulfuric acid (H2SO4, 98%) were bought from Tianjin Kaida Chemical Factory, Tianjin Kermel Chemical Factory, Sinopharm Chemical Reagent Co., Ltd., and Beijing Chemical Factory, respectively. Nafion solution (5 wt.%, Dupont D520) and Pt/C (20 wt.%, JM) were bought from Shanghai Hesen Electric Co., Ltd.
2.2

Synthesis

Graphitic carbon nitride (g-C3N4) was prepared by simple calcination. A certain quantity of melamine was placed in an alumina crucible (100 mL) with a cover and then heated at 550 °C for 4 h in a muffle furnace (2.3 °C min−1). Subsequently, the obtained light-yellow solid product was milled into a powder state and sealed for later use. Next, ammonium heptamolybdate, sucrose, and g-C3N4 were mixed together (1:2:2, mass ratio). The homogeneous mixture was placed in an alumina crucible and then transferred to the center of the tube furnace. After pumping and purging the system three times with N2 flow, it was heated to 800 °C (3 °C min−1) and maintained at 800 °C for 6 h under flowing N2. The obtained black sample, called MoNCs (Mo2C@N-doped carbon sheets; the mass ratio of g-C3N4 and ammonium heptamolybdate is 2), was then ground to a fine powder without further treatment. For comparison, MoNCs-0, MoNCs-1, and MoNCs-5 (the mass ratio of g-C3N4 and ammonium heptamolybdate is 0, 1, 5), as counterparts, were also prepared in the same way.
2.3

Materials Characterization

X-ray diffraction (XRD) was applied on Siemens D-5005 with Cu Kα radiation (2θ = 0.02° per step). X-ray photoelectron spectra (XPS) were performed with an Al Kα source (Thermo Scientific ESCALAB Ka+). The transmission electron microscope (TEM) operated on JEM-2100 at 200 kV. The nitrogen adsorption isotherm (ASAP 2020 at 77 K, USA) was recorded by the Brunauer–Emmett–Teller (BET) equation and Barrett–Joyner–Halenda (BJH) model. The Raman spectrum was measured on LabRAM HR800. Thermogravimetric analysis (TGA) was carried out on an SDT Q600 (TA) instrument under air flow (10 °C min−1) up to 700 °C. The product transformed according to the following reaction: Mo2C + 4O2 = 2MoO3 + CO2 [28].
2.4

Computational Details

In this work, nanosheets with Mo2C nanoparticles have been modeled as single-layer graphene in a 6 × 6 × 1 supercell, and Mo2C in a 5 × 5 × 2 supercell. The cell and atomic coordinates are fully relaxed based on the density functional theory implemented in the Vienna Ab-initio Simulation Package (VASP) v5.3.5 [29, 30, 31] with grimme-D2 correction [32], where the PBE functional [33] and PAW pseudopotential [34, 35] have been used. The criteria of convergence of energy and force have been taken as 1 × 10−6 eV and 0.01 eV Å−1, respectively, the energy cutoff is set to 450 eV, and a 3 × 3×1 k-mesh is used to sample the Brillouin zone [36, 37]. The parameters are comparable to those in Refs. [36, 37]. In the core-level shift (CLS) calculation, the final state approximation has been adopted.
2.5

Electrochemical Measurements

The HER measurements were performed in a typical three-electrode cell in 0.5 M H2SO4 using a CHI 660e electrochemical station (Shanghai Chenhua Co., China) at room temperature. A glassy carbon electrode (GCE) 8 mm in diameter, a saturated calomel electrode (SCE), and a graphite rod electrode were used as the working electrode, reference electrode, and counter electrode, respectively. All of the potentials were converted to the potential versus the reversible hydrogen electrode (RHE) according to E (RHE) = E (SCE) + 0.241 + 0.059 pH. The working electrode was fabricated as follows: A catalyst ink was prepared by dispersing 6 mg of catalyst into a mixed solution including 40 μL Nafion solution and 1 mL of 3:1 v/v water/isopropanol via sonication for at least 1 h to form a homogeneous ink. Then, 20 μL of well-dispersed catalyst ink was drop-casted on the glassy carbon electrode, producing a ~ 0.23 mg cm−2 loading for all samples, and the modified GC electrode was then dried at 50 °C in a drying oven for the following test. Before data collection, all working electrodes were pretreated by cyclic voltammetric scanning in 0.5 M H2SO4 solution to activate the electrodes. The electrochemical impedance spectroscopy (EIS) measurements were tested in 0.5 M H2SO4 solution with open-circuit voltage at a frequency from 10 mHz to 100 kHz at an amplitude of 5 mV.
3

Results and Discussion

Here, a Mo2C slab covered with one layer of graphene was used to simulate the real case, in which Mo2C nanoparticles are enclosed in nanosheets. Given that the nanoparticles have various shapes and sizes, the structural change and charge localization on the graphene should be more significant, as the nanoparticles have curved and highly indexed surfaces. On the other hand, with the increase in the number of nanosheets, the effect weakens. However, for a nanoparticle with two or three layers of nanosheets, the predicted phenomena should occur and contribute to the catalysis. Moreover, to clarify the influence of Mo2C on N-doped carbon sheets (NCS) further, we computed the N1s CLS within pyridinic N-doped graphene and Mo2C@N-doped graphene. For Mo-terminated Mo2C@N-doped graphene, the CLS moves forward to a higher energy (Figs. 1e, f and S1). The N1s core level deepens, which means that N achieved more electrons localized on the N atom. This will strengthen the N-doping effect and further promote the HER activity. Apart from these, we also calculated three more types of N doping in the Mo2C region within Mo2C@N-doped graphene, as shown in Fig. S1b–d. All three types of structures yield rather smaller binding energies for N1s core electrons.
4

Conclusion

In summary, we illustrate charge engineering of Mo2C@ defect-rich N-doped carbon nanosheets for electrocatalytic H2 evolution. The calculation result indicates that the introduction of Mo2C induces a graphene wave structure, which behaves like N doping to form localized charges for the first time. The thin carbon nanosheets, combined with plentiful defects, facilitate the fast electron transfer and effective exposure of active phases. As a result, the sample displays a Tafel slope as low as 60.6 mV dec−1 and high durability up to 10 h in acidic media, featuring excellent HER catalytic activity and stability. Our work emphasizes the importance of charge engineering in electrocatalysis.
Notes
Acknowledgements
Y. Lei thanks the financial support from Changsha Science and Technology Plan (kq1801065), Hunan Provincial Science and Technology Plan Project (No. 2017TP1001), and State Key Laboratory Fund and the National Key R&D Program of China (2018YFB0704100). Q. Feng acknowledges the NSFC grant (No. 11627901), the Scientific Challenge Project of China (No. TZ2018001), and the visit at the National Joint Engineering Laboratory of Power Grid with Electric Vehicles (Shandong University). The computations are supported by the IMD supercomputing center.
Copyright information
© The Author(s) 2019
Open AccessThis article is distributed under the terms of the Creative Commons Attribution 4.0 International License (http://creativecommons.org/licenses/by/4.0/), which permits unrestricted use, distribution, and reproduction in any medium, provided you give appropriate credit to the original author(s) and the source, provide a link to the Creative Commons license, and indicate if changes were made.