Low-Temperature Soft-Cover-Assisted Hydrolysis Deposition of Large-Scale TiO2 Layer for Efficient Perovskite Solar Modules
Abstract
Perovskite solar cells with TiO
2
electron transport layers exhibit power conversion efficiency (PCE) as high as 22.7% in single cells. However, the preparation process of the TiO
2
layer is adopted by an unscalable method or requires high-temperature sintering, which precludes its potential use for mass production of flexible devices. In this study, a scalable low-temperature soft-cover-assisted hydrolysis (SAH) method is presented, where the precursor solution is sandwiched between a soft cover and preheated substrate to form a closed hydrolysis environment. Compact homogeneous TiO
2
films with a needle-like structure were obtained after the hydrolysis of a TiCl
4
aqueous solution. Moreover, by careful optimization of the TiO
2
fabrication conditions, a high PCE of 14.01% could be achieved for a solar module (4 × 4 cm
2
) prepared using the SAH method. This method provides a novel approach for the efficient scale-up of the low-temperature TiO
2
film growth for industrial applications.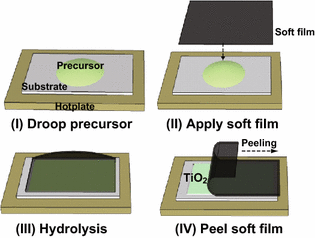 Keywords
Low-temperature 
TiO2 
Large-scale 
Soft-cover-assisted hydrolysis deposition 
Perovskite solar cell 
1

Highlights
A simple soft-cover-assisted hydrolysis method to prepare TiO2 films at a low temperature is proposed.

Compact homogeneous large-area TiO2 films with a needle-like morphology were obtained.

A solar module fabricated with as-prepared TiO2 films as electron transfer layers exhibited a power conversion efficiency of 14.01%.
2

Introduction

Perovskite solar cells (PSCs) have been demonstrated to be next-generation photovoltaic devices that meet future energy-generation demands owing to their high power conversion efficiency (PCE), low cost, simple solution-based preparation, lightweight, and flexibility [1, 2, 3, 4, 5, 6]. Conventional PSCs using TiO2 as the electron transport material have exhibited high PCEs [7, 8, 9, 10]. However, the high-temperature processing of the TiO2 layer makes their manufacture more complex and hampers the development of lightweight and flexible substrates. To overcome this limitation, several deposition techniques to fabricate TiO2 films at low temperatures have been successfully implemented, such as spin coating (SC) [11, 12, 13], atomic layer deposition (ALD) [14, 15], sputtering [16, 17, 18], chemical bath deposition [19, 20], and electron-beam evaporation [21].

Among these techniques, SC is the principal method for low-temperature TiO2 film preparation. A PSC based on a TiO2 layer prepared by SC chlorine-capped TiO2 colloidal nanocrystal solutions has achieved a PCE of 19.5%, with an active area of 1.1 cm2, which is the highest PCE reported for PSCs prepared at low temperatures [22]. Non-SC methods, including ALD, sputtering, chemical bath deposition, and electron-beam evaporation, are also applicable for controllable TiO2 film deposition and have achieved PCEs up to 19% for active areas smaller than 1 cm2 [7]. However, it is obvious that neither SC nor above non-SC methods are suitable for a large-scale PSC manufacture owing to their inherent limitations [23, 24]. Therefore, the investigation of simple TiO2-layer preparation methods involving a large area and low temperatures is necessary for industrial applications.

In this study, we report a simple low-temperature soft-cover-assisted hydrolysis (SAH) method, where a soft polyimide (PI) film is used to cover a TiCl4 aqueous solution spread on a preheated substrate. Compact and homogeneous large-area TiO2 films with a needle-like morphology (SAH–TiO2) were obtained after the hydrolysis. Moreover, a solar module (4 × 4 cm2) with an SAH–TiO2 layer as an electron transport layer using the SAH method exhibited a PCE of 14.01% in a conventional device configuration at low temperatures. Therefore, the proposed SAH technology provides a novel non-SC route to the deposition of large-area TiO2 films for industrial applications.
3

Experimental Methods
3.1

Materials and Reagents

All chemicals were used as received. PbI2 (99%), N,N-dimethylformamide (anhydrous), dimethyl sulfoxide, and chlorobenzene were purchased from Sigma Aldrich. Methylammonium iodide (98%) was obtained from Tokyo Chemical Industry Co. Ltd. Titanium tetrachloride (TiCl4) was purchased from Alfa Aesar. A low-temperature TiO x SC solution was purchased from Shanghai MaterWin New Materials Co., Ltd.
3.2

Preparation of an SAH–TiO2 Layer

The substrates were cleaned by a detergent followed by sequential ultrasonic washing in deionized water, ethanol, and acetone (for 30 min in each of them); they were then dried under nitrogen gas. After 15 min of oxygen plasma treatment, the substrates were preheated at 75 °C for 10 min on a heating plate. Different concentrations (0.1–0.6 M) of 25 μL cm−2 TiCl4 aqueous solution were added at the centers of the substrates, and a piece of a soft film, used as the soft cover, was immediately placed on the precursor. The covered film was peeled off after the hydrolysis for 20 min, followed by washing with deionized water and ethanol; the obtained film was then dried in air.
3.3

Fabrication of PSCs and Modules

A perovskite precursor solution (90 μL) comprising 1.3 M PbI2 and CH3NH3I (1:1/n:n) in N,N-dimethylformamide and dimethyl sulfoxide (4:1/v:v) was spread on the SAH–TiO2 film using a consecutive two-step SC process at 1000 and 5000 rpm for 12 and 30 s, respectively. Chlorobenzene (500 μL) was dropped on top of the substrates during the second SC step, 20 s before the end of the procedure, followed by annealing at 100 °C for 10 min. A precursor solution of the hole transport layer (HTL) was prepared by dissolving 72.3 mg spiro-OMeTAD, 28.8 μL 4-tert-butylpyridine, and 17.5 μL lithium bis(trifluoromethylsulphonyl)imide acetonitrile solution (520 mg mL−1) into 1 mL chlorobenzene. The HTL was then deposited on perovskite by SC at 3000 rpm for 30 s. An 80-nm-thick Au electrode was then thermally evaporated on top of the device to form the back contact. The active area of the device was fixed to 1.02 cm2.

For the solar module, the fabricating process was similar to that of small solar cells; the laser scribing patterning process was consistent with that reported previously [25]. In brief, 400 μL TiCl4 precursor solution was used for a 6 × 6 cm2 substrate. For standard control samples, 1.5 mL TiO x solution was spin-coated onto a cleaned fluorine-doped tin oxide (FTO) substrate with the same area at 3000 rpm for 30 s. The laser scribing process included scribing on a 4 × 4 cm2 FTO/SAH–TiO2 layer using a 1064-nm laser. A pulse laser with energy of 30 μJ, spot size of 25 μm, pulse frequency of 30 kHz, and low scribing speed of 50 mm s−1 was used to scribe FTO/SAH–TiO2 substrates with a line width of 100 μm. We then used pulse energy of 10 μJ, spot size of 25 μm, pulse frequency of 20 kHz, and scribing speed of 20 mm s−1 to scribe perovskite/TiO2 and HTL with a line width of 300 μm. Finally, pulse energy of 10 μJ, spot size of 25 μm, pulse frequency of 35 kHz, and scribing speed of 80 mm s−1 were applied to scribe the Au electrode with a line width of 100 μm.
3.4

Measurement and Characterization

Current–voltage characteristics were measured using a solar simulator (Oriel Class A, 91195A; Newport) and source meter (2400 series; Keithley) at 100 mW cm2 and AM 1.5 G illumination. The simulated light intensity was calibrated with a silicon photodiode. The J–V curves were measured in the reverse (from 1.2 to − 0.2 V) or forward (from − 0.2 to 1.2 V) scanning modes [26]. The voltage step was fixed at 10 mV, and the delay time (delay at each voltage step before the measurement of the current) was fixed at 50 ms. Monochromatic incident photon-to-current conversion efficiency spectra were measured using a monochromatic incident light (1 × 1016 photons cm−2) in the direct-current mode (CEP-2000BX; Bunko-Keiki). The morphologies and thicknesses of the films were investigated using a field-emission scanning electron microscope (SEM) (JSM-7800F; JEOL). The microstructure of the product was investigated by a field-emission transmission electron microscope (TEM) (JEM-2100F, JEOL). X-ray diffraction (XRD) patterns of the samples were recorded using an X-ray diffractometer (Ultima IV; Rigaku) with Cu K radiation of 1.54 Å and speed of 21° min−1. Ultraviolet–visible (UV–Vis) absorption spectra were recorded using a spectrophotometer (UV-2450; Shimadzu) in a wavelength range of 200–800 nm at room temperature. X-ray spectroscopy measurements were performed using an ESCALAB 250Xi spectrometer (Thermo Scientific).
5

Conclusion

A simple SAH method was introduced for large-scale deposition of TiO2 films at low temperatures. Using this method, we achieved compact homogeneous TiO2 films with a needle-like morphology. A solar module fabricated using SAH–TiO2 films exhibited a PCE of 14.01% with hysteresis. The results indicated that SAH is a convenient and versatile novel approach for the deposition of large-area TiO2 films, demonstrating a large potential for practical applications in the future.
Notes
Acknowledgements
This work was supported financially by the National Natural Science Foundation of China (Grants Nos. 11574199, 11674219), the Program for Professor of Special Appointment (Eastern Scholar) at Shanghai Institutions of Higher Learning, the Natural Science Foundation of Shanghai (17ZR1414800), and the Baotou-SJTU innovation guidance fund Project (17H100000514).
Copyright information
© The Author(s) 2018
Open AccessThis article is distributed under the terms of the Creative Commons Attribution 4.0 International License (http://creativecommons.org/licenses/by/4.0/), which permits unrestricted use, distribution, and reproduction in any medium, provided you give appropriate credit to the original author(s) and the source, provide a link to the Creative Commons license, and indicate if changes were made.