Digital Cognitive Behavioral Therapy (dCBT) for Insomnia: a State-of-the-Science Review
Open Access
Behavioral Therapy (J Edinger, Section Editor)
Part of the following topical collections:
Abstract
Purpose of Review
Over the past decade, digital solutions have been developed to support the dissemination of Cognitive Behavioral Therapy (CBT). In this paper, we review the evidence for and implications of digital CBT (dCBT) for insomnia.
Recent Findings
We propose three categories of dCBT, which differ in the amount of clinician time needed, level of automatization, costs, and scalability: dCBT as support, guided dCBT, and fully automated dCBT. Consistent evidence has been published on the effectiveness of dCBT to address insomnia disorder, in a variety of populations, with effects extending into well-being. Important gaps in the literature are identified around moderators and mediators of dCBT, cost-effectiveness, and the implementation of dCBT.
Summary
The evidence base for dCBT is rapidly developing and already suggests that dCBT for insomnia is effective. However, further science and digital innovation is required to realize the full potential of dCBT and address important clinical questions.
Keywords
Insomnia 
Cognitive Behavioral Therapy 
Digital CBT 
Introduction
The ubiquitous nature of web and smartphone technology has changed our lives in every way imaginable, including offering new approaches to the evaluation and treatment of many disorders. Over the past decade, digital solutions, for example via web and mobile devices, have been developed to support the dissemination of Cognitive Behavioral Therapy (CBT). These are of particular interest to the insomnia field because CBT has emerged as the recommended first-line therapy for insomnia [1]. Correspondingly, perhaps the 5-year period ending in December 2016 saw a substantial increase in published papers, with approximately one paper featuring digital CBT (dCBT) for insomnia published per month, whereas less than a handful of articles were published prior to 2012. Undoubtedly, therefore, the evidence base has substantially increased. However, CBT for insomnia, in whichever form, still faces a lot of challenges such as costs and scalability [2, 3]. Similar to the dissemination of conventional CBT, the dissemination of dCBT remains limited.
What Is "Digital CBT" for Insomnia?
CBT has traditionally been a face-to-face talking therapy, delivered in a direct one-to-one relationship between patient and therapist. It also has been demonstrated that CBT can be provided successfully as a group therapy [4], in large workshops [5], as a self-help bibliotherapy [6], or by telephone [7]. These methods reflect attempts at "scaling" CBT to meet the population need. However, they are by no stretch sufficient if our ambition is to make CBT as ubiquitous as pharmacotherapy. It is in fact a perfectly reasonable ambition to provide CBT to the tens of millions of people who might benefit, considering that CBT's evidence base is stronger than that of pharmacotherapy—the problem is that providing CBT to a large population is not even remotely feasible using traditional methods of dissemination. Potentially, technology can bridge that feasibility gap, with digital solutions offering the possibility of true scalability.
Although several terms have been used to describe technological advances, for example internet CBT (iCBT), computerized CBT (cCBT), electronic CBT (eCBT), or online CBT (oCBT), we have suggested that the field recognizes and evolves towards the term "digital CBT (dCBT)" to reflect the contemporary spectrum of digital technology, rather than one specific, and most likely historical aspect (e.g. computer or internet) that will soon enough be lost in the mists of time [
3
]. There can be little doubt that the pace of change in this digital age will afford unrelenting opportunity for the dissemination of dCBT. The corollary to this, however, is that all forms of dCBT will be perpetually out of date unless they remain at the forefront of digital innovation. Consequently, it will not be the provenance, content, validation, or outcome data associated with any particular dCBT program that determines its longevity but its level of execution. For clinicians and patients wherever they may be to have ready and sustained access to high quality, engaging, and effective CBT, we need both clinical excellence and creative genius, as illustrated in Fig.
1
.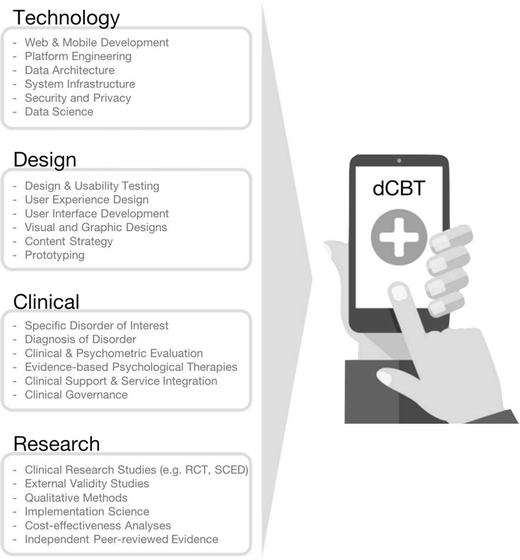 Supportive to Fully Automated dCBT
For convenience, to present a model of how CBT may be offered using technology, and to summarize progress in the field to date, we will use the term dCBT for all interventions, but the reader should note that the literature to date comprises everything from optimized web sites through to advanced algorithm-driven systems. Broadly, we suggest that dCBT provision can be divided into three categories (see Table
1
) which differ in the amount of clinician time needed, level of automatization, costs, and scalability, each with their own unique challenges for the dissemination of digital CBT.
Table 1
dCBT as support, guided dCBT, and fully automated dCBT compared
 

dCBT as support

Guided dCBT

Fully automated dCBT

Definition

dCBT elements are used to support conventional therapy

Automated dCBT with guidance of trained clinicians

Fully automated and tailored dCBT without clinical support

Automatization

Limited

Partly

Fully

Costs

Clinician time

Development and maintenance dCBT

Clinician time

Development and maintenance dCBT

No clinician time

Development and maintenance dCBT

Scalability

Capped by availability of trained clinicians

Capped by availability of trained clinicians

Fully extensible

Clinician involvement

Comparable to conventional CBT

Up to 2 h

None

Example programs

Bastien et al. [7]

Gehrman et al. [8]

Lichstein et al. [9]

Kuhn et al. [10]

Kaldo et al. [11]

Van Straten et al. [12]

Thiart et al. [13]

Anderson et al. [14]

Feuerstein et al. [15]

Lancee et al. [16]

Ritterband et al. [17]

Vincent et al. [18]

Espie et al. [19]
(a) Digital CBT as Support
This is the least extensive form of digital involvement in treating insomnia; it also comprises the field of telemedicine [7, 8, 9]. Here, a therapist or other health professional provides the therapy, and specific digital elements are used to support the therapy [10]. Approaches can vary from using digital tools, such as a communication program to give therapy, to the development of mobile applications with components such as sleep diaries, background information, and relaxation exercises to support the treatment. For example, recently, a mobile application has been developed to support face-to-face CBT for insomnia in the VA system [10]. A feasibility study suggests that the app was well received by participants and therapists alike. Although received favorably, data so far have not been published in relation to treatment effectiveness. The use of dCBT as support is mainly intended to enhance current conventional therapy. Therefore, it may increase the feasibility of accessing CBT in remote areas or at times preferable for the patient; however, this category is not likely to have a large effect on the scalability of CBT for insomnia.
(b) Guided Digital CBT
By far, the largest number of dCBT programs described in the literature combines an automated program with clinical support [11, 12, 13, 14, 15, 16, 20, 21]. The programs usually provide pre-assembled course information, available in different modalities, across multiple sessions. This digital content is combined with therapeutic feedback, most commonly after each session, and in some cases, the therapist, or health care provider, also determines the order of the therapeutic content. The therapeutic feedback mostly consists of written feedback via email or integrated chat functions [11, 12, 13, 14, 15, 16, 20, 21]. These programs have demonstrated effectiveness in improving sleep-onset latency, wake after sleep onset, sleep efficiency, and insomnia severity. An overview of randomized controlled trials including some of these programs can be found in three recently published meta-analyses [22, 23, 24]. As the name suggests, guided dCBT needs a time investment of a health professional. Time commitments have been suggested to be in the range from 40 min [25] to around 2 h [11] per patient per dCBT course. This is a much lower time investment than needed for face-to-face CBT, suggesting that guided dCBT could substantially increase the scalability of CBT for insomnia; however, a sufficient number of trained professionals will still be needed.
(c) Fully automated digital CBT
To our knowledge, only three fully automated dCBT programs have been reported in the scientific literature [17, 18, 19]. These programs can function without any form of support of a human therapist, although some programs might offer therapist support as an additional, but not essential, feature. Presentation of the fully automated dCBT programs differ largely, and range from presenting text with interactive components, such as videos, to a virtual animated therapist. In general, sleep diaries and questionnaires support the automatic tailoring of these programs to the patients' need, in a similar fashion as a therapist would. Different additional features that mimic therapist or group interaction, for example patient testimonies, expert testimonies, live expert sessions, or a forum for users may also be included in fully automated programs. The effectiveness of automated dCBT has been demonstrated in randomized controlled trials [17, 18, 19] and the effect sizes seem to be in a similar range as guided digital interventions [22, 23, 24].
Evidence in Support of dCBT
In 2013, we suggested that there were 10 key research questions that needed to be addressed relating to the emergence of dCBT [3]. Since then, a substantial number of dCBT applications have been developed, and there has been a substantial amount of scientific publications. Therefore, we will consider the extent to which dCBT evidence base has evolved sufficiently to address these questions.
Conclusion
The clinical evidence for dCBT has substantially increased over the last few years, from which it seems reasonable to conclude that dCBT is effective even in comorbid conditions, and that there are likely benefits beyond sleep to mental health and well-being. This is consistent with the general CBT for insomnia literature, as are ongoing questions around component effectiveness, mechanisms of action, and mediators and moderators of CBT response. Further research, as always, is required. However, we would like to end by refreshing on comments made in 2009:
The challenge for CBT is no longer to prove its credentials, but to punch its weight. For at least a decade, CBT should have been a contender as the treatment of first choice for insomnia. In reality, however, it has had very little impact on the high volume of insomnia patient care. Indeed, it has amounted to little more than a patchy cottage industry (Espie, 2009).
This challenge undoubtedly continues. However, we now know that dCBT quite genuinely has the potential to provide therapy on a global scale. That is, to make digital medicine as ubiquitous as pharmacological medicine. We hope that our taxonomy of "digital medicine," comprising dCBT as support, guided dCBT, and fully automated dCBT, will provide a useful clinical and research framework as we work towards that goal. We hypothesize that the fully automated approach will be intrinsically more scalable and cost-effective. However, we have to be cognizant of the fact that all forms of dCBT will be perpetually out of date and impoverished in terms of user experience unless they remain at the forefront of global digital innovation. World-leading science needs to be partnered with world-leading creative genius.
Notes
Compliance with Ethical Standards
Conflict of Interest
Annemarie I Luik reports holding a position at Oxford University funded by Big Health Ltd and serving as their Research Lead.
Simon D Kyle reports personal fees from Sleepio.
Colin A Espie reports personal fees from Big Health Ltd. and Warnford Wellness. Dr. Espie reports a licensed patent from Sleepio and is the co-founder and CMO of Big Health Ltd.
Human and Animal Rights and Informed Consent
This article does not contain any studies with human or animal subjects performed by any of the authors.
Copyright information
© The Author(s) 2017
Open Access This article is distributed under the terms of the Creative Commons Attribution 4.0 International License (http://creativecommons.org/licenses/by/4.0/), which permits unrestricted use, distribution, and reproduction in any medium, provided you give appropriate credit to the original author(s) and the source, provide a link to the Creative Commons license, and indicate if changes were made.