Non-celiac gluten/wheat sensitivity (NCGS)—a currently undefined disorder without validated diagnostic criteria and of unknown prevalence
Position statement of the task force on food allergy of the German Society of Allergology and Clinical Immunology (DGAKI)
Open Access
position article
Abstract
Within the last decade, non-celiac gluten/wheat sensitivity (NCGS) has been increasingly discussed not only in the media but also among medical specialties. The existence and the possible triggers of NCGS are controversial. Three international expert meetings which proposed recommendations for NCGS were not independently organized and only partially transparent regarding potential conflicts of interest of the participants. The present position statement reflects the following aspects about NCGS from an allergist's and nutritionist's point of view: (A) Validated diagnostic criteria and/or reliable biomarkers are still required. Currently, this condition is frequently self-diagnosed, of unknown prevalence and non-validated etiology. (B) Gluten has not been reliably identified as an elicitor of NCGS because of high nocebo and placebo effects. Double-blind, placebo-controlled provocation tests are of limited value for the diagnosis of NCGS and should be performed in a modified manner (changed relation of placebo and active substance). (C) Several confounders hamper the assessment of subjective symptoms during gluten-reduced or gluten-free diets. Depending on the selection of food items, e.g., an increased vegetable intake with soluble fibers, diets may induce physiological digestive effects and can modify gastrointestinal transit times independent from the avoidance of gluten. (D) A gluten-free diet is mandatory in celiac disease based on scientific evidence. However, a medically unjustified avoidance of gluten may bear potential disadvantages and risks. (E) Due to a lack of diagnostic criteria, a thorough differential diagnostic work-up is recommended when NCGS is suspected. This includes a careful patient history together with a food-intake and symptom diary, if necessary an allergy diagnostic workup and a reliable exclusion of celiac disease. We recommend such a structured procedure since a medically proven diagnosis is required before considering the avoidance of gluten.
Keywords
Gluten-free 
Self-diagnosis 
Nocebo effects 
Placebo effects 
Irritable bowel syndrome 
Abbreviations
ATI

Amylase-trypsin inhibitors

DBPCFC

Double-blind, placebo-controlled food challenge

DGAKI

German Society of Allergology and Clinical Immunology

IBS

Irritable bowel syndrome

NCGS

Non-celiac gluten/wheat sensitivity
Introduction
Non-celiac gluten sensitivity (NCGS) or non-celiac wheat sensitivity is an increasingly discussed disorder. The mechanism is unknown and reliable biomarkers for diagnosis are lacking. Whether it is a specific disease entity and which wheat component is the responsible trigger is a long-running controversy [
1
,
2
,
3
,
4
,
5
,
6
]. Reported symptoms may be caused by undiagnosed celiac disease, variants of irritable bowel syndrome (IBS), or other undiagnosed functional disorders of the gut [
7
,
8
]. Thus, individuals reporting gastrointestinal (GI) symptoms after wheat consumption may be wrongly characterized with NCGS. Three international expert meetings concerning NCGS have taken place [
9
,
10
,
11
]. Those meetings were not organized independent of "interested parties" and findings did not convincingly exclude possible conflict of interest of the participants and/or sponsors. From an allergist's point of view, the diagnostic algorithm proposed during the third expert meeting is inappropriate for the diagnosis of NCGS [
11
]. The following issues will be discussed:
1.

Absence of validated diagnostic criteria and/or suitable biomarkers, frequent self-diagnosis, undocumented prevalence and unconfirmed etiology of reported symptoms.

 

2.

No reliable identification of gluten as trigger of NCGS during controlled food challenges due to an a priori bias of the subject toward experiencing symptoms.

 

3.

Several variables confounding the evaluation of subjective symptoms during gluten-reduced and/or -free diet.

 

4.

Potential disadvantages and risks will prevail in case of medically unjustified gluten avoidance.

 

5.

Proposed diagnostic procedure in suspected NCGS.

 
Conclusion
Without a confirmed diagnosis, a gluten-free diet is unjustified and not recommended. Patients who intend to continue to restrict their diet despite the recommendation should be encouraged to seek professional nutritional counselling.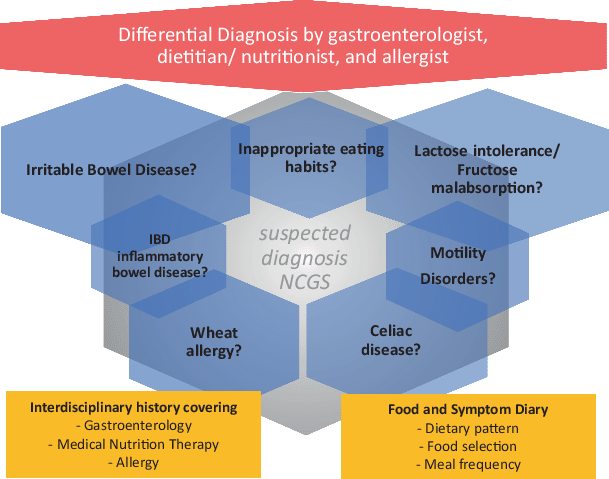 Notes
Acknowledgements
The authors gratefully thank Steve Love, PhD, Laguna Niguel, CA, USA, for reading the manuscript, helpful suggestions, and editorial assistance with the English translation.
Conflict of interest
The authors declare that they have no competing interests.
Copyright information
© The Author(s) 2018
Open Access This article is distributed under the terms of the Creative Commons Attribution 4.0 International License (http://creativecommons.org/licenses/by/4.0/), which permits unrestricted use, distribution, and reproduction in any medium, provided you give appropriate credit to the original author(s) and the source, provide a link to the Creative Commons license, and indicate if changes were made.