Abstract
Background
Recent data demonstrate potentially protective pre-existing T cells reactive against the severe acute respiratory syndrome coronavirus 2 (SARS-CoV-2) in samples of healthy blood donors, collected before the SARS-CoV-2 pandemic. Whether pre-existing immunity is also detectable in immunosuppressed patients is currently not known.
Methods
Fifty-seven patients were included in this case–control study. We compared the frequency of SARS-CoV-2-reactive T cells in the samples of 20 renal transplant (RTx) patients to 20 age/gender matched non-immunosuppressed/immune competent healthy individuals collected before the onset of the SARS-CoV-2 pandemic. Seventeen coronavirus disease 2019 (COVID-19) patients were used as positive controls. T cell reactivity against Spike-, Nucleocapsid-, and Membrane- SARS-CoV-2 proteins were analyzed by multi-parameter flow cytometry. Antibodies were analyzed by neutralization assay.
Results
Pre-existing SARS-CoV-2-reactive T cells were detected in the majority of unexposed patients and healthy individuals. In RTx patients, 13/20 showed CD4+ T cells reactive against at least one SARS-CoV-2 protein. CD8+ T cells reactive against at least one SARS-CoV-2 protein were demonstrated in 12/20 of RTx patients. The frequency and Th1 cytokine expression pattern of pre-formed SARS-CoV-2 reactive T cells did not differ between RTx and non-immunosuppressed healthy individuals.
Conclusions
This study shows that the magnitude and functionality of pre-existing SARS-CoV-2 reactive T cell in transplant patients is non-inferior compared to the immune competent cohort. Although several pro-inflammatory cytokines were produced by the detected T cells, further studies are required to prove their antiviral protection.
Graphic abstract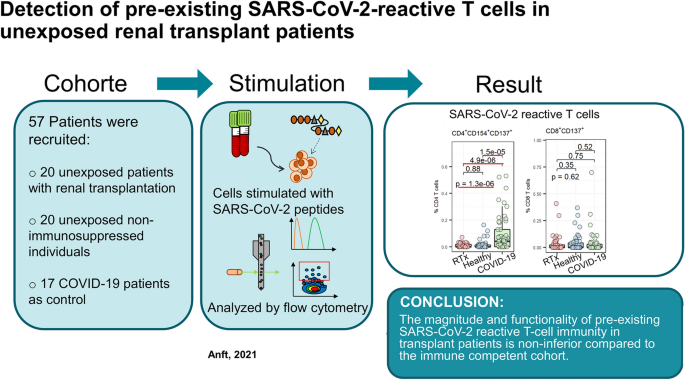 Data availability
Data is available on request from the authors.
Code availability
No new code was produced in this study.
Acknowledgements
We want to express our deepest gratitude to the patients who donated their blood samples and allowed the use of their clinical data for this project.
Funding
Open Access funding enabled and organized by Projekt DEAL. This work was supported by Grants from the Mercator Foundation (St-2018-0014), BMBF e:KID (01ZX1612A), BMBF NoChro (FKZ 13GW0338B) and SepsisDataNet (EFRE-0800984).
Ethics declarations
Conflict of interest
The authors of this manuscript have no conflicts of interest to disclose.
Ethics approval
The study was approved by the ethical committee of the Ruhr-University Bochum (20-6886) and University Hospital Essen (20-9214-BO).
Consent to participate and publication
Written informed consent was obtained from all participants.
Additional information
Publisher's Note
Springer Nature remains neutral with regard to jurisdictional claims in published maps and institutional affiliations.
Supplementary Information
Below is the link to the electronic supplementary material.
Rights and permissions
Open Access This article is licensed under a Creative Commons Attribution 4.0 International License, which permits use, sharing, adaptation, distribution and reproduction in any medium or format, as long as you give appropriate credit to the original author(s) and the source, provide a link to the Creative Commons licence, and indicate if changes were made. The images or other third party material in this article are included in the article's Creative Commons licence, unless indicated otherwise in a credit line to the material. If material is not included in the article's Creative Commons licence and your intended use is not permitted by statutory regulation or exceeds the permitted use, you will need to obtain permission directly from the copyright holder. To view a copy of this licence, visit http://creativecommons.org/licenses/by/4.0/.
About this article
Cite this article
Anft, M., Blazquez-Navarro, A., Stervbo, U. et al. Detection of pre-existing SARS-CoV-2-reactive T cells in unexposed renal transplant patients. J Nephrol 34, 1025–1037 (2021). https://doi.org/10.1007/s40620-021-01092-0
Received:

Accepted:

Published:

Issue Date:

DOI: https://doi.org/10.1007/s40620-021-01092-0
Keywords
Renal transplantation

Sars-CoV-2

Antigen-spcific T cells

Immunosuppression