The Influence of Growth and Maturation on Stretch-Shortening Cycle Function in Youth
Open Access
Review Article
Abstract
Hopping, skipping, jumping and sprinting are common tasks in both active play and competitive sports. These movements utilise the stretch-shortening cycle (SSC), which is considered a naturally occurring muscle action for most forms of human locomotion. This muscle action results in more efficient movements and helps optimise relative force generated per motor unit recruited. Innate SSC development throughout childhood and adolescence enables children to increase power (jump higher and sprint faster) as they mature. Despite these improvements in physical performance, the underpinning mechanisms of SSC development during maturational years remain unclear. To the best of our knowledge, a comprehensive review of the potential structural and neuromuscular adaptations that underpin the SSC muscle action does not exist in the literature. Considering the importance of the SSC in human movement, it is imperative to understand how neural and structural adaptations throughout growth and maturation can influence this key muscle action. By understanding the factors that underpin functional SSC development, practitioners and clinicians will possess a better understanding of normal development processes, which will help differentiate between training-induced adaptations and those changes that occur naturally due to growth and maturation. Therefore, the focus of this article is to identify the potential underpinning mechanisms that drive development of SSC muscle action and to examine how SSC function is influenced by growth and maturation.
Key Points
Stretch-shortening cycle (SSC) performance increases with age in various forms of hopping, jumping, and sprinting tasks.
Research suggests that changes in the neuromuscular system during growth and maturation include increases in muscle size, pennation angle, fascicle length, tendon stiffness, motor unit recruitment and preactivation.
Combined, these adaptations may result in an improved SSC function due to increased elastic energy reutilisation, increased neural potentiation and an enhanced stretch-reflex contribution, predominantly due to an increase in force producing capabilities and a reduced electro-mechanical delay.
Operational Definitions
Childhood represents the developmental period of life from the end of infancy to the beginning of adolescence. The term children refers to girls and boys (generally up to the age of 11 and 13 years, respectively) who have not developed secondary sex characteristics.

The term adolescence refers to a period of life between childhood and adulthood. Although adolescence is a more difficult period to define in terms of chronological age due to differential maturation rates [1], girls 12–18 years and boys 14–18 years are generally considered adolescents.

The terms youth and young athletes represent global terms which include both children and adolescents.

Growth refers to quantifiable changes in body composition, either the size of the body as a whole or the size of specific regions of the body [2].

Maturation refers to qualitative system changes, both structural and functional, in the body's progress toward adulthood, such as the change of cartilage to bone in the skeleton, appearance of pubic hair or menstruation [1, 2]. The timing and tempo of maturation varies greatly between individuals during growth. Timing refers to when specific maturational events occur and tempo refers to the rate at which maturation progresses. All tissues, organs and systems of the body mature with growth, but they do so at different times and rates [1]. Within the current article, maturation is referring to biological maturation unless specifically stated.

Natural development represents the increase in physical ability (strength, power, speed, etc.) that is apparent in children as they experience growth and maturation, independent of any specific physical training.

Adaptation, in the context of this article, refers to changes in structure or neuromuscular properties.

Peak height velocity is a somatic biological maturity indicator and reflects the maximum acceleration of growth during adolescence, providing a universal landmark to reflect the occurrence of other body dimension velocities within and between individuals [3].
1

Introduction

Active play constitutes a large part of physical activity for children [4], with various forms of hopping, skipping and jumping tasks being performed frequently during the early years. Additionally, sprinting, jumping and throwing are key components of athletic motor skill competencies that are important for success in most sports [5]. These movements utilise the stretch-shortening cycle (SSC), which is characterised by an eccentric 'stretching' action prior to a subsequent concentric 'shortening' action [6]. The prior eccentric stretching (e.g. pre-load of the muscle) has been shown to enhance the performance of the final concentric phase in comparison to an isolated concentric action [7, 8]. For example, jump height improves 18–30% in adults when utilising a preceding countermovement [9, 10]. These values may be lower in a younger population, however, as pre-stretch only increased jump height in children by approximately 1–5% [11]. The SSC has been categorised into fast and slow actions based on a ground contact thresholds [12]; ground contact times shorter than 250 ms were classified as fast SSC activities, whereas slow SSC actions have ground contact times in excess of 250 ms. It has been suggested that slow SSC actions may enable greater force production because of increased contraction time and working range [7, 13], whereas fast SSC actions promote greater movement speed via elastic energy usage, stretch reflex contributions and a greater level of neural excitation from the preceding stretch [7, 13, 14, 15, 16, 17].

SSC performance increases non-linearly with age in various forms of hopping and jumping tasks [

1

,

18

,

19

], and the underlying mechanisms of such neuromuscular developments associated with maturation remain unclear. SSC performance is governed by effective neuromuscular function, requiring an efficient interaction between both neural and muscular systems [

6

,

8

] and the structure of the musculo-tendon unit (MTU) [

20

,

21

]. Figure 

1

presents a visual representation of the primary neuromuscular and structural qualities that are likely to influence the natural development of SSC function. Specifically, age-related developments in the neural system that could influence SSC function include greater preactivation [

22

,

23

], increased stretch reflex magnitude [

24

] and musculotendinous stiffness [

25

], and reduced co-contraction ratios [

26

]. A number of musculo-tendinous adaptations also occur throughout childhood and adolescence, including increases in muscle thickness, cross-sectional area (CSA) and fascicle length, and changes in fascicle pennation angle (Table 

1

) [

27

,

28

,

29

]. Furthermore, adaptations to the tendinous structures occur, including increases in tendon CSA, length and stiffness [

28

,

30

,

31

,

32

,

33

,

34

]. This review explains how the qualities highlighted in Fig. 

1

develop throughout maturation, and the manner in which development influences SSC function in children and adolescents.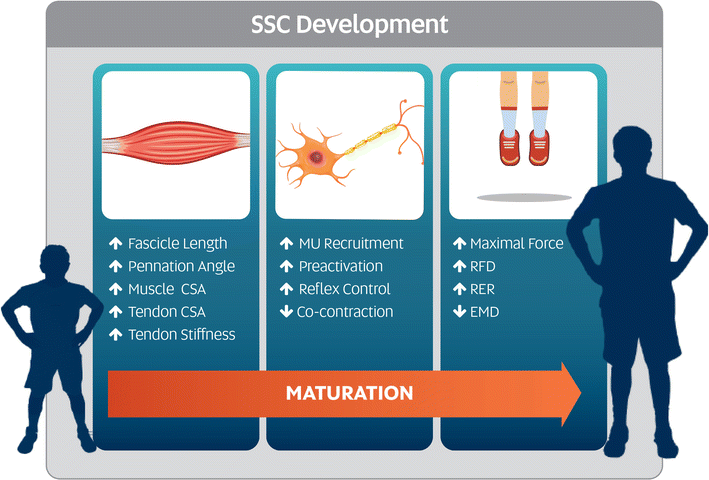 Table 1
Influence of structural and neural adaptations throughout biological maturation on stretch-shortening cycle function
Adaptation with maturation?

Influence on kinetic variables

Likely influence on stretch–shortening cycle function

Supporting evidence

Fibre type composition

Force production

Shortening velocity

Increased force production

Increased RFD

Increased muscle size

Force production

Increased impulse

Increased RFD

Increased cross bridges

Increased EE storage

Increased pennation angle

L-T and F-V relationship

Gearing

Increased force production

Increased RFD

Increased EE reutilisation

Increased stiffness

Increased fascicle length

Shortening velocity

Increased RFD

Increased EE reutilisation

Increased stiffness

Increased tendon size

Rate of force production

Increased tendon stiffness

Increased RFD

Increased tendon stiffness

Rate of force production

Increased RFD

Decreased EMD

Increased stretch reflex

MU recruitment

Force production

Increased RFD

Increased contraction speed

Co-contraction

Force production

Increased EE reutilisation

Increased stretch reflex

Increased neural potentiation

Preactivation

Rate of force production

Reduced EMD

Increased RFD

Reflex control

Force production

Increased force production

Increased RFD

Increased stiffness

RER

Rate of force production

Increased RFD
3

Neuromuscular Adaptations as a Result of Growth and Maturation

While the mechanical properties of the muscle and tendon will have a significant role in the regulation of the SSC, it is the interaction of the muscular and neural system that governs SSC performance [6, 8]. Similar to alterations in MTU structure, neural adaptations throughout childhood and adolescence will have a significant impact on the ability to regulate the SSC [22]. For example, a reduced RFD in children is partly caused by a greater agonist–antagonist co-contraction [25, 44], reduced ability to recruit high-threshold type II motor units [43, 71, 104] and lower muscle activation rates [43, 44], highlighting the importance of the neuromuscular system for explosive force production during SSC [35].
4

Trainability of Stretch-Shortening Cycle Function

A growing number of studies have examined the effects of training on SSC ability in youth, typically using a range of jump protocols to quantify indirect measures of SSC function [121]. A number of studies have demonstrated positive effects of plyometric training [122, 123, 124, 125, 126, 127, 128, 129, 130, 131, 132], traditional strength training [133, 134, 135, 136, 137], and combined plyometric and strength training [138, 139] on jump performance in both children and adolescents. Furthermore, recent meta-analytical data have demonstrated that various forms of resistance training can improve measures of SSC function in youth [140, 141]. From these data, plyometric training has been proven to elicit a larger overall effect on vertical jump height than interventions consisting solely of resistance training, or a combination of strength training and plyometric/speed training [141]. Research shows that the effectiveness of certain training interventions to enhance jumping performance in boys is influenced by maturation [142]. There is evidence to suggest that pre-PHV boys benefit more from plyometric training, while boys who are post-PHV respond more favourably to a combined training intervention, inclusive of both plyometric and traditional strength training exercise [142]. These maturity-dependent responses may be indicative of 'synergistic adaptation', which refers to the symbiotic relationship between specific adaptations of an imposed training demand and concomitant growth and maturity-related adaptations [142].

There is a significant lack of research exploring the training-induced improvements in SSC function in youth. However, research has determined the positive effect plyometric training has on motor unit recruitment, contraction velocity, excitability of soleus muscle short latency stretch reflexes and muscle activation strategies in adults [143, 144, 145, 146]. In an adult population, research has demonstrated that an 8-week plyometric training programme results in significant increases in peak force and maximal contraction velocity in type I, type IIa and type IIb/IIx muscle fibres [146]. Similarly, a 4-week plyometric training programme was sufficient to elicit a positive training effect on the excitability of the soleus short-latency stretch reflex [145]. Plyometric training has also produced significant improvements in adductor muscle activation during the preparatory phase (150 ms prior to ground contact) during drop jump performance [144]. These studies highlight the potential effects that plyometrics have on mechanistic adaptation to muscle activation strategies in adults; however, whether the same adaptation can hold true for children and adolescents remains unclear. It may be possible to infer that the improvements in SSC function from plyometric training in children and adolescents is due to increased motor unit activation, contraction velocity, preactivation and a greater reliance on the short-latency stretch reflex, resulting in a more feed-forward SSC function.

Traditional strength training may also result in greater motor-unit activation [147, 148], resulting in positive effects on SSC function; however, this form of training is commonly linked with structural and architectural changes to the MTU. While there is a scarcity of research investigating the effects of training on muscle architecture in children and adolescents, many studies have found that resistance training alters aspects of muscle architecture in adults, specifically causing increases in muscle fascicle length [149, 150, 151, 152, 153, 154], pennation angle [79, 150, 155, 156] and PCSA [79, 151]. However, it is unclear whether training will have the same effects on children and adolescents, and more research is required to understand the training-induced adaptations.

Recently, the effects of traditional strength training on the mechanical properties of the Achilles tendon have been shown to increase in stiffness following 10 weeks of twice-weekly resistance training in previously untrained pre-pubertal children [157]. This increase in tendon stiffness seems to occur due to changes to the internal properties of the tendon, as no changes to tendon CSA were found [157]. This suggests that a higher loading intensity or a greater duration of training may be required to elicit significant tendon hypertrophy. While this increase in tendon stiffness also resulted in a decreased EMD, changes to the rate of EMG rise and RFD did not occur, indicating that the magnitude of improvement in tendon stiffness (~29%), was not sufficient enough to alter these qualities [157]. Potentially, longer or more intensive training periods may yield more favourable results with respect to RFD adaptations resulting directly from greater increases in tendon stiffness.
5

Conclusions

As children transition towards adulthood they demonstrate natural improvements in their ability to perform hopping and jumping tasks. Children display increases in muscle volume, fascicle length and fascicle pennation in many muscles as they mature. Additionally, tendon dimensions and mechanical properties develop with age-related body mass and force production increases, influencing its stiffness. At younger ages, the natural regulation of movement is more reactive in nature, transitioning to a more preactive control of movement as children improve their neuromuscular capacity as they age. Additionally, agonist–antagonist co-contraction may reduce as children age, stemming from a desensitisation of the Golgi tendon organs, resulting in a greater net force output. Increases in tendon stiffness, motor-unit recruitment and preactivation, and reduced co-contraction should impart a positive effect on force production characteristics and SSC function. With age and maturation, adaptations to the MTU and neuromuscular system enhance the rapid force-producing potential and result in better utilisation of the underpinning mechanisms of the SSC, resulting in an improved SSC function. Through training, SSC function seems to improve in children; however, the specific mechanisms that underpin these improvements are unclear, and further research is required to better understand the structural and neural adaptations that occur through training that lead to improved SSC function. Longitudinal studies, where key indicators of growth (size attained, rate of growth) and maturation (sexual, skeletal, age at PHV) are measured alongside SSC actions, are needed to provide more evidence into the natural development of the SSC throughout childhood and into adolescence.
Notes
Compliance with Ethical Standards
Funding
No sources of funding were used to assist in the preparation of this article. Gregory Myer would like to acknowledge funding support from National Institutes of Health Grants.
Conflict of interest
John Radnor, Jon Oliver, Isabel Moore, Charlie Waugh and Rhodri Lloyd declare that they have no conflicts of interest relevant to the content of this review. Gregory Myer would like to declare that he receives book royalties on topics related to the manuscript.
Copyright information
© The Author(s) 2017
Open AccessThis article is distributed under the terms of the Creative Commons Attribution 4.0 International License (http://creativecommons.org/licenses/by/4.0/), which permits unrestricted use, distribution, and reproduction in any medium, provided you give appropriate credit to the original author(s) and the source, provide a link to the Creative Commons license, and indicate if changes were made.