Abstract
Background
Polypharmacy is a complex phenomenon with a number of negative effects.
Objective
The aim of this study was to investigate the prevalence and characteristics of simple (6–10 medicines/person), major (> 11), and excessive (> 21) polypharmacy in patients aged ≥ 60 years in the suburban older age population of Greece.
Methods
The prescribing records of 469 consecutive individuals, aged ≥ 60 years and with homogenous characteristics, who were clients of community pharmacies in two suburban areas of Greece (Athens and Thessaloniki) were examined over a period of 14 months. Medications used to treat chronic diseases were divided into 32 major categories and analyzed by age, sex, and medicine consumption.
Results
Polypharmacy was identified in 56.5% of patient records, with 48.8% of records identifying simple polypharmacy and the remaining 7.7% identifying major polypharmacy, with no cases of excessive polypharmacy. An increased usage of chronic drug treatment was observed in the older age groups relative to younger age groups (70.8% of patients aged > 80 years received polypharmacy vs 52.8 and 47.6% of those aged 70–79 and 60–69 years, respectively). The use of polypharmacy did not differ significantly between sexes. The use of chronic disease medication was higher for polypharmacy patients in all drug categories.
Conclusions
Polypharmacy in Greece, especially in older populations, still appears to be increasing, even in the era of e-prescriptions.
Access options
Buy single article
Instant access to the full article PDF.
US$ 49.95
Tax calculation will be finalised during checkout.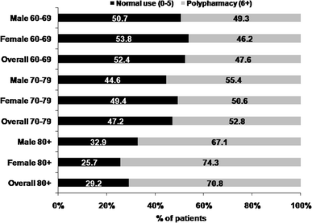 References
1.

Pappa E, Kontodimopoulos N, Papadopoulos AA, et al. Prescribed-drug utilization and polypharmacy in a general population in Greece: association with sociodemographic, health needs, health-services utilization, and lifestyle factors. Eur J Clin Pharmacol. 2011;67(2):185–92.

2.

Sharifi H, Hasanloei MA, Mahmoudi J. Polypharmacy-induced drug-drug interactions; threats to patient safety. Drug Res (Stuttg). 2014;64(12):633–7.

3.

Medeiros-Souza P, Santos-Neto LL, Kusano LT, et al. Diagnosis and control of polypharmacy in the elderly. Rev Saude Publica. 2007;41(6):1049–53.

4.

Jörgensen T, Johansson S, Kennerfalk A, et al. Prescription drug use, diagnoses, and healthcare utilization among the elderly. Ann Pharmacother. 2001;35(9):1004–9.

5.

Linjakumpu T, Hartkainen S, Klaukka T, et al. Use of medications and polypharmacy are increasing among the elderly. J Clin Epidemiol. 2002;55(8):809–17.

6.

Kim HA, Shin JY, Kim MH, et al. Prevalence and predictors of polypharmacy among Korean elderly. PLoS One. 2014;9(6):e98043.

7.

Qato DM, Alexander GC, Conti R, et al. Use of prescription and over-the-counter medications and dietary supplements among older adults in the United States. JAMA. 2008;300(24):2867–78.

8.

Fialova D, Topinkova E, Gambassi G, AdHOC Project Research Group, et al. Potentially inappropriate medication use among elderly home care patients in Europe. JAMA. 2005;293(11):1348–58.

9.

Schuler J, Dückelmann C, Beindl W, et al. Polypharmacy and inappropriate prescribing in elderly internal-medicine patients in Austria. Wien Klin Wochenschr. 2008;120(23–24):733–41.

10.

Bierman AS, Pugh MJ, Dhalla I, et al. Sex differences in inappropriate prescribing among elderly veterans. Am J Geriatr Pharmacother. 2007;5(2):147–61.

11.

Venturini CD, Engroff P, Ely LS, et al. Gender differences, polypharmacy, and potential pharmacological interactions in the elderly. Clinics (Sao Paulo). 2011;66(11):1867–72.

12.

Antonakis N, Xylouri I, Alexandrakis M, et al. Seeking prescribing patterns in rural Crete: a pharmacoepidemiological study from a primary care area. Rural Remote Health. 2005;6:488.

13.

Tzimis L, Kafatos A. Drug utilization and health behaviours among indigent elderly patients in Crete, Greece. Pharmacoepidemiol Drug Saf. 1998;8:105–14.

14.

Bedell S, Jabbour S, Goldberg R, et al. Discrepancies in the use of medications. Arch Intern Med. 2000;160(14):2129–34.

15.

Bjerrum L. Pharmacoepidemiological studies of polypharmacy: methodological issues, population estimates, and influence of practice patterns. Doctoral dissertation, Odense University; 1998.

16.

Golden A, Preston R, Barnett S, et al. Inappropriate medication prescribing in homebound older adults. J Am Geriatr Soc. 1999;47(8):948–53.

17.

Tamblyn R, McLeod P, Abrahamowicz M, et al. Do too many cooks spoil the broth? Multiple physician involvement in medical management of elderly patients and potentially inappropriate drug combinations. CMAJ. 1996;154(8):177–84.

18.

Veehof L, Stewart R, Haaijer-Ruskamp F, et al. The development of polypharmacy: a longitudinal study. Fam Pract. 2000;17(3):261–7.
Ethics declarations
Conflict of interest
Eleni Charalampopoulou, Christos Kontogiorgis, Evangelia Nena, Theodoros Constantinides, and George Kolios have no conflicts of interest
Funding
No sources of funding were used to conduct this study or prepare this manuscript.
Ethical approval
All procedures performed in studies involving human participants were in accordance with the ethical standards of the institutional and/or national research committee and with the 1964 Helsinki declaration and its later amendments or comparable ethical standards. For this type of study, formal consent is not required. Patients' e-prescription data were collected from community pharmacies and were used anonymously after patient agreement.
About this article
Cite this article
Charalampopoulou, E., Kontogiorgis, C., Nena, E. et al. The complex phenomenon of polypharmacy in older age people of Greece: data from the new era of e-prescribing. Drugs Ther Perspect 33, 580–584 (2017). https://doi.org/10.1007/s40267-017-0449-z