Abstract
Growing evidence indicates that many drugs have the ability to cause a potentially lethal cardiac arrhythmia, torsades de pointes (TdP). This necessitates the development of a compilation of drugs that have this potential toxicity. Such a list is helpful in identifying the etiology of TdP in patients taking multiple drugs and assists decision making by those caring for patients at high risk of TdP. The Arizona Center for Education and Research on Therapeutics (AZCERT) has developed a process to standardize the identification of drugs and place them in risk categories for their clinical ability to cause TdP and QT prolongation. AZCERT's Adverse Drug Event Causality Analysis (ADECA) utilizes 16 types of data drawn from four sources to compile an open-source knowledge base, QTdrugs, which is maintained on the CredibleMeds.org website. Because the evidence for most drugs is incomplete, the ADECA process is used to place drugs into one of three categories that represent different levels of certainty: known TdP risk, possible TdP risk, and conditional TdP risk. Each category has strict evidentiary requirements for clinical evidence of TdP and/or QT prolongation. These are described in this paper. Because evidence can evolve over time, the ADECA process includes the continuous gathering and analysis of newly emerging evidence to revise the lists. The QTdrugs lists have proven to be a valued, readily available, commercial influence-free resource for healthcare providers, patients, researchers, and authors of consensus guidelines for the safe use of medicines.
Access options
Buy single article
Instant access to the full article PDF.
US$ 49.95
Tax calculation will be finalised during checkout.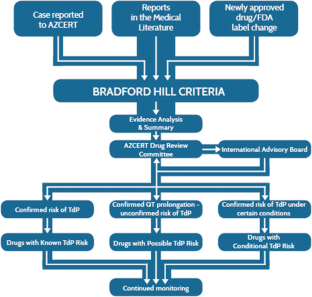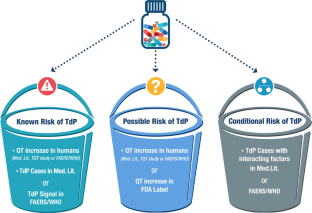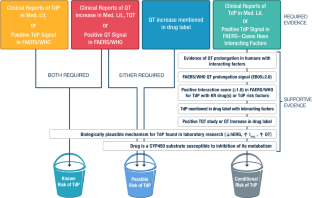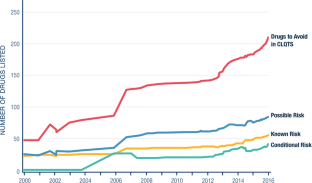 References
1.

Woosley RL. Centers for education and research in therapeutics. Clin Pharmacol Ther. 1994;55(3):249–55.

2.

Bates DW, Cullen DJ, Laird N, Petersen LA, Small SD, Servi D, et al. Incidence of adverse drug events and potential adverse drug events. Implications for prevention. ADE Prevention Study Group [see comments]. JAMA. 1995;274(1):29–34.

3.

Leape LL, Bates DW, Cullen DJ, Cooper J, Demonaco HJ, Gallivan T, et al. Systems analysis of adverse drug events. ADE Prevention Study Group [see comments]. JAMA. 1995;274(1):35–43.

4.

Bates DW, Spell N, Cullen DJ, Burdick E, Laird N, Petersen LA, et al. The costs of adverse drug events in hospitalized patients. Adverse Drug Events Prevention Study Group [see comments]. JAMA. 1997;277(4):307–11.

5.

Bates DW. Frequency, consequences and prevention of adverse drug events. J Qual Clin Pract. 1999;19(1):13–7.

6.

Lazarou J, Pomeranz BH, Corey PN. Incidence of adverse drug reactions in hospitalized patients: a meta-analysis of prospective studies. JAMA. 1998;279(15):1200–5.

7.

Ray WA, Murray KT, Hall K, Arbogast PG, Stein CM. Azithromycin and the risk of cardiovascular death. N Engl J Med. 2012;366(20):1881–90.

8.

Ray WA, Murray KT, Meredith S, Narasimhulu SS, Hall K, Stein CM. Oral erythromycin and the risk of sudden death from cardiac causes. N Engl J Med. 2004;351(11):1089–96.

9.

Woosley RL, Roden DM. Pharmacologic causes of arrhythmogenic actions of antiarrhythmic drugs. Am J Cardiol. 1987;59(Supp):19E–25E.

10.

Honig PK, Woosley RL, Zamani K, Conner DP, Cantilena LRJ. Changes in the pharmacokinetics and electrocardiographic pharmacodynamics of terfenadine with concomitant administration of erythromycin. Clin Pharmacol Ther. 1992;52(3):231–8.

11.

Woosley RL, Chen Y, Freiman JP, Gillis RA. Mechanism of the cardiotoxic actions of terfenadine. JAMA. 1993;269(12):1532–6.

12.

Barbey JT, Anderson M, Ciprandi G, Frew AJ, Morad M, Priori SG, et al. Cardiovascular safety of second-generation antihistamines. Am J Rhinol. 1999;13(3):235–43.

13.

Tran HT. Torsades de pointes induced by nonantiarrhythmic drugs [published erratum appears in Conn Med 1994 Aug; 58(8):494]. Conn Med. 1994;58(5):291–5.

14.

Drici MD, Knollmann BC, Wang WX, Woosley RL. Cardiac actions of erythromycin: influence of female sex. JAMA. 1998;280(20):1774–6.

15.

Drew BJ, Ackerman MJ, Funk M, Gibler WB, Kligfield P, Menon V, et al. Prevention of torsade de pointes in hospital settings: a scientific statement from the American Heart Association and the American College of Cardiology Foundation. Circulation. 2010;121(8):1047–60.

16.

Woosley RL. Discovering adverse reactions: why does it take so long? Clin Pharmacol Ther. 2004;76(4):287–9.

17.

Shah RR. Drug-induced QT interval prolongation: regulatory perspectives and drug development. Ann Med. 2004;36(Suppl 1):47–52.

18.

Schwartz PJ, Ackerman MJ. The long QT syndrome: a transatlantic clinical approach to diagnosis and therapy. Eur Heart J. 2013;34(40):3109–16.

19.

Danielsson B, Collin J, Jonasdottir BG, Borg N, Salmi P, Fastbom J. Antidepressants and antipsychotics classified with torsades de pointes arrhythmia risk and mortality in older adults—a Swedish nationwide study. Br J Clin Pharmacol. 2016;81(4):773–83.

20.

Hill AB. The environment and disease: association or causation? Proc R Soc Med. 1965;58:295–300.

21.

Perrio M, Voss S, Shakir SAW. Application of the Bradford-Hill criteria to assess the causality of cisapride-induced arrhythmia: a model for assessing causal association in pharmacovigilance. Drug Saf Int J Med Toxicol Drug Exp. 2007;30(4):333–46.

22.

Shakir SAW, Layton D. Causal association in pharmacovigilance and pharmacoepidemiology: thoughts on the application of the Austin Bradford-Hill criteria. Drug Saf Int J Med Toxicol Drug Exp. 2002;25(6):467–71.

23.

Benton RE, Sale M, Flockhart DA, Woosley RL. Greater quinidine-induced QTc interval prolongation in women. Clin Pharmacol Ther. 2000;67(4):413–8.

24.

Rodriguez I, Kilborn MJ, Liu XK, Pezzullo JC, Woosley RL. Drug-induced QT prolongation in women during the menstrual cycle. JAMA. 2001;285(10):1322–6.

25.

Shuba YM, Degtiar VE, Osipenko VN, Naidenov VG, Woosley RL. Testosterone-mediated modulation of HERG blockade by proarrhythmic agents(1). Biochem Pharmacol. 2001;62(1):41–9.

26.

Katchman AN, McGroary KA, Kilborn MJ, Kornick CA, Manfredi PL, Woosley RL, et al. Influence of opioid agonists on cardiac human ether-a-go-go-related gene K(+) currents. J Pharmacol Exp Ther. 2002;303(2):688–94.

27.

Curtis LH, Østbye T, Sendersky V, Hutchison S, Allen LaPointe NM, Al-Khatib SM, et al. Prescription of QT-prolonging drugs in a cohort of about 5 million outpatients. Am J Med. 2003;114(2):135–41.

28.

Kornick CA, Kilborn MJ, Santiago-Palma J, Keefe DL, Katchman AN, Schulman G, et al. Electrocardiographic changes and life-threatening ventricular arrhythmias with intravenous methadone. Pain. 2003;105(3):499–506.

29.

Katchman AN, Koerner J, Tosaka T, Woosley RL, Ebert SN. Comparative evaluation of HERG currents and QT intervals following challenge with suspected torsadogenic and nontorsadogenic drugs. J Pharmacol Exp Ther. 2006;316(3):1098–106.

30.

Szarfman A, Tonning JM, Doraiswamy PM. Pharmacovigilance in the 21st century: new systematic tools for an old problem. Pharmacotherapy. 2004;24(9):1099–104.

31.

Szarfman A, Machado SG, O'Neill RT. Use of screening algorithms and computer systems to efficiently signal higher-than-expected combinations of drugs and events in the US FDA's spontaneous reports database. Drug Saf. 2002;25(6):381–92.

32.

Almenoff JS, DuMouchel W, Kindman LA, Yang X, Fram D. Disproportionality analysis using empirical Bayes data mining: a tool for the evaluation of drug interactions in the post-marketing setting. Pharmacoepidemiol Drug Saf. 2003;12(6):517–21.

33.

Pearson EC, Woosley RL. QT prolongation and torsades de pointes among methadone users: reports to the FDA spontaneous reporting system. Pharmacoepidemiol Drug Saf. 2005;14(11):747–53.

34.

Straus SM, Bleumink GS, Dieleman JP, van der LJ, 't Jong GW, Kingma JH, et al. Antipsychotics and the risk of sudden cardiac death. Arch Intern Med. 2004;164(12):1293–7.

35.

van der Sijs H, Kowlesar R, Klootwijk AP, Nelwan SP, Vulto AG, van GT. Clinically relevant QTc prolongation due to overridden drug-drug interaction alerts: a retrospective cohort study. Br J Clin Pharmacol. 2009;67(3):347–54.

36.

Poluzzi E, Raschi E, Koci A, Moretti U, Spina E, Behr ER, et al. Antipsychotics and torsadogenic risk: signals emerging from the US FDA adverse event reporting system database. Drug Saf. 2013;36(6):467–79.

37.

Priori SG, Wilde AA, Horie M, Cho Y, Behr ER, Berul C, et al. Executive summary: HRS/EHRA/APHRS expert consensus statement on the diagnosis and management of patients with inherited primary arrhythmia syndromes. Europace. 2013;15(10):1389–406.

38.

Haugaa KH, Bos JM, Tarrell RF, Morlan BW, Caraballo PJ, Ackerman MJ. Institution-wide QT alert system identifies patients with a high risk of mortality. Mayo Clin Proc. 2013;88(4):315–25.

39.

Tisdale JE, Jaynes HA, Kingery JR, Overholser BR, Mourad NA, Trujillo TN, et al. Effectiveness of a clinical decision support system for reducing the risk of QT interval prolongation in hospitalized patients. Circ Cardiovasc Qual Outcomes. 2014;7(3):381–90.

40.

Sorita A, Bos JM, Morlan BW, Tarrell RF, Ackerman MJ, Caraballo PJ. Impact of clinical decision support preventing the use of QT-prolonging medications for patients at risk for torsade de pointes. J Am Med Inform Assoc. 2015;22(e1):e21–7. doi:10.1136/amiajnl-2014-002896 (Epub 2014 Oct 16).
Acknowledgements
The authors gratefully acknowledge the contributions of Kristin Black and Marius Petriu to the CredibleMeds.org website and the QTdrugs knowledge base.
Ethics declarations
Funding
The work reported here has been supported by the US Food and Drug Administration's Safe Use Initiative, HHSF223201400189C, and a Grant from the Bert W. Martin Foundation.
Conflict of interest
The authors, Raymond L. Woosley, Klaus Romero, Craig W. Heise, Tyler Gallo, Jared Tate, Raymond David Woosley, and Sophie Ward have no conflicts of interest that are directly relevant to the content of this study.
About this article
Cite this article
Woosley, R.L., Romero, K., Heise, C.W. et al. Adverse Drug Event Causality Analysis (ADECA): A Process for Evaluating Evidence and Assigning Drugs to Risk Categories for Sudden Death. Drug Saf 40, 465–474 (2017). https://doi.org/10.1007/s40264-017-0519-0
Keywords
Risk Category

Clinical Decision Support System

Potential DDIs

Conditional Risk

Component Pair