Abstract
Diabetes mellitus is a widespread endocrine disease with severe impact on health systems worldwide. Increased serum glucose causes damage to a wide range of cell types, including endothelial cells, neurons, and renal cells, but also keratinocytes and fibroblasts. Skin disorders can be found in about one third of all people with diabetes and frequently occur before the diagnosis, thus playing an important role in the initial recognition of underlying disease. Noninfectious as well as infectious diseases have been described as dermatologic manifestations of diabetes mellitus. Moreover, diabetic neuropathy and angiopathy may also affect the skin. Pruritus, necrobiosis lipoidica, scleredema adultorum of Buschke, and granuloma annulare are examples of frequent noninfectious skin diseases. Bacterial and fungal skin infections are more frequent in people with diabetes. Diabetic neuropathy and angiopathy are responsible for diabetic foot syndrome and diabetic dermopathy. Furthermore, antidiabetic therapies may provoke dermatologic adverse events. Treatment with insulin may evoke local reactions like lipohypertrophy, lipoatrophy and both instant and delayed type allergy. Erythema multiforme, leukocytoclastic vasculitis, drug eruptions, and photosensitivity have been described as adverse reactions to oral antidiabetics. The identification of lesions may be crucial for the first diagnosis and for proper therapy of diabetes.
Access options
Buy single article
Instant access to the full article PDF.
USD 49.95
Price excludes VAT (USA)
Tax calculation will be finalised during checkout.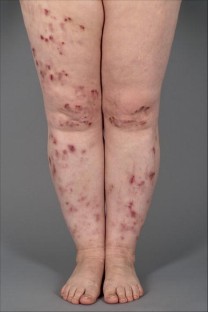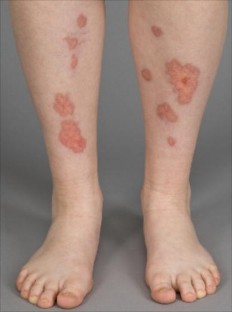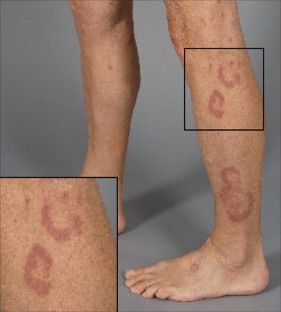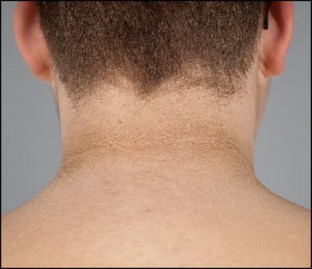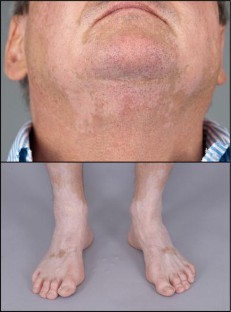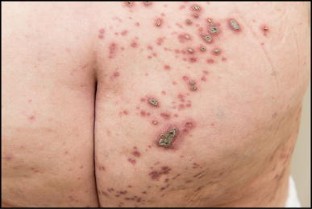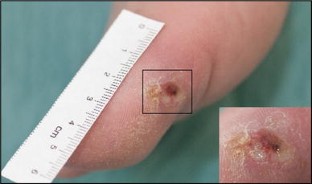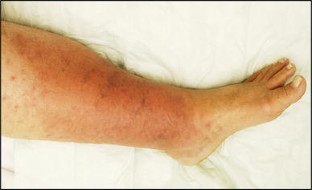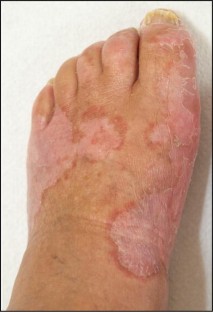 References
Jaacks LM, Siegel KR, Gujral UP, Narayan KM. Type 2 diabetes: a 21st century epidemic. Best Pract Res Clin Endocrinol Metab. 2016;30(3):331–43. doi:10.1016/j.beem.2016.05.003.

Perez MI, Kohn SR. Cutaneous manifestations of diabetes mellitus. J Am Acad Dermatol. 1994;30(4):519–31; quiz 32-4.

International Diabetes Foundation (IDF) Diabetes Atlas [database on the Internet]. 2015. Available from: http://www.diabetesatlas.org/.

Centers for disease control and prevention. National diabetes statistics report: estimates of diabetes and its burden in the United States, 2014. Atlanta, GA: US Department of Health and Human Services; 2014. http://www.cdc.gov/diabetes/pubs/statsreport14/national-diabetes-report-web.pdf. Accessed 19 Oct 2016.

American Diabetes A. Diagnosis and classification of diabetes mellitus. Diabetes Care. 2004;27(Suppl 1):S5–10.

Atkinson MA, Eisenbarth GS, Michels AW. Type 1 diabetes. Lancet. 2014;383(9911):69–82. doi:10.1016/S0140-6736(13)60591-7.

Eisenbarth GS. Update in type 1 diabetes. J Clin Endocrinol Metab. 2007;92(7):2403–7. doi:10.1210/jc.2007-0339.

Horenstein RB, Shuldiner AR. Genetics of diabetes. Rev Endocr Metab Disord. 2004;5(1):25–36. doi:10.1023/B:REMD.0000016122.84105.75.

DeFronzo RA. Pathogenesis of type 2 diabetes mellitus. Med Clin North Am. 2004;88(4):787–835, ix. doi:10.1016/j.mcna.2004.04.013.

Gonzalez EL, Johansson S, Wallander MA, Rodriguez LA. Trends in the prevalence and incidence of diabetes in the UK: 1996–2005. J Epidemiol Community Health. 2009;63(4):332–6. doi:10.1136/jech.2008.080382.

Jallut D, Golay A, Munger R, Frascarolo P, Schutz Y, Jequier E, et al. Impaired glucose tolerance and diabetes in obesity: a 6-year follow-up study of glucose metabolism. Metabolism. 1990;39(10):1068–75.

Bastard JP, Maachi M, Lagathu C, Kim MJ, Caron M, Vidal H, et al. Recent advances in the relationship between obesity, inflammation, and insulin resistance. Eur Cytokine Netw. 2006;17(1):4–12.

Metzger BE, Coustan DR. Summary and recommendations of the Fourth International Workshop-Conference on Gestational Diabetes Mellitus. The Organizing Committee. Diabetes Care. 1998;21(Suppl 2):B161–7.

Baz B, Riveline JP, Gautier JF. ENDOCRINOLOGY OF PREGNANCY: gestational diabetes mellitus: definition, aetiological and clinical aspects. Eur J Endocrinol. 2016;174(2):R43–51. doi:10.1530/EJE-15-0378.

Bellamy L, Casas JP, Hingorani AD, Williams D. Type 2 diabetes mellitus after gestational diabetes: a systematic review and meta-analysis. Lancet. 2009;373(9677):1773–9. doi:10.1016/S0140-6736(09)60731-5.

Catalano PM, Tyzbir ED, Wolfe RR, Calles J, Roman NM, Amini SB, et al. Carbohydrate metabolism during pregnancy in control subjects and women with gestational diabetes. Am J Physiol. 1993;264(1 Pt 1):E60–7.

Amed S, Oram R. Maturity-onset diabetes of the young (MODY): making the right diagnosis to optimize treatment. Can J Diabetes. 2016;. doi:10.1016/j.jcjd.2016.03.002.

Fajans SS, Bell GI. MODY: history, genetics, pathophysiology, and clinical decision making. Diabetes Care. 2011;34(8):1878–84. doi:10.2337/dc11-0035.

Laugesen E, Østergaard JA, Leslie RD, Danish Diabetes Academy Workshop and Workshop Speakers. Latent autoimmune diabetes of the adult: current knowledge and uncertainty. Diabet Med. 2015;32(7):843–52. doi:10.1111/dme.12700.

WHO. Definition and diagnosis of diabetes mellitus and intermediate hyperglycemia: report of a WHO/IDF consultation. Geneva: WHO; 2006.

ADA. Standards of medical care in diabetes—2010. Diabetes Care. 2010;33(Suppl. 1):S11–61.

Palimeri S, Palioura E, Diamanti-Kandarakis E. Current perspectives on the health risks associated with the consumption of advanced glycation end products: recommendations for dietary management. Diabetes Metab Syndr Obes. 2015;8:415–26. doi:10.2147/DMSO.S63089.

Blakytny R, Jude EB. Altered molecular mechanisms of diabetic foot ulcers. Int J Low Extremity Wounds. 2009;8(2):95–104. doi:10.1177/1534734609337151.

Obrosova IG. Increased sorbitol pathway activity generates oxidative stress in tissue sites for diabetic complications. Antioxid Redox Signal. 2005;7(11–12):1543–52. doi:10.1089/ars.2005.7.1543.

Stern D, Yan SD, Yan SF, Schmidt AM. Receptor for advanced glycation endproducts: a multiligand receptor magnifying cell stress in diverse pathologic settings. Adv Drug Deliv Rev. 2002;54(12):1615–25.

Hu H, Jiang H, Ren H, Hu X, Wang X, Han C. AGEs and chronic subclinical inflammation in diabetes: disorders of immune system. Diabetes Metab Res Rev. 2015;31(2):127–37. doi:10.1002/dmrr.2560.

Gkogkolou P, Bohm M. Advanced glycation end products: key players in skin aging? Dermatoendocrinol. 2012;4(3):259–70. doi:10.4161/derm.22028.

Ko MJ, Chiu HC, Jee SH, Hu FC, Tseng CH. Postprandial blood glucose is associated with generalized pruritus in patients with type 2 diabetes. Eur J Dermatol. 2013;23(5):688–93. doi:10.1684/ejd.2013.2100.

Stander S, Darsow U, Mettang T, Gieler U, Maurer M, Stander H, et al. S2k guideline—chronic pruritus. J Dtsch Dermatol Ges. 2012;10(Suppl 4):S1–27. doi:10.1111/j.1610-0387.2012.08005.x.

Sun PC, Chen CS, Kuo CD, Lin HD, Chan RC, Kao MJ, et al. Impaired microvascular flow motion in subclinical diabetic feet with sudomotor dysfunction. Microvasc Res. 2012;83(2):243–8. doi:10.1016/j.mvr.2011.06.002.

Seite S, Khemis A, Rougier A, Ortonne JP. Importance of treatment of skin xerosis in diabetes. J Eur Acad Dermatol Venereol. 2011;25(5):607–9. doi:10.1111/j.1468-3083.2010.03807.x.

Lee MR, Shumack S. Prurigo nodularis: a review. Australas J Dermatol. 2005;46(4):211–18; quiz 9-20. doi:10.1111/j.1440-0960.2005.00187.x.

Grundmann S, Stander S. Chronic pruritus: clinics and treatment. Ann Dermatol. 2011;23(1):1–11. doi:10.5021/ad.2011.23.1.1.

Zylicz Z, Krajnik M, Sorge AA, Costantini M. Paroxetine in the treatment of severe non-dermatological pruritus: a randomized, controlled trial. J Pain Symptom Manage. 2003;26(6):1105–12.

O'Donoghue M, Tharp MD. Antihistamines and their role as antipruritics. Dermatol Ther. 2005;18(4):333–40. doi:10.1111/j.1529-8019.2005.00034.x.

Cohen O, Yaniv R, Karasik A, Trau H. Necrobiosis lipoidica and diabetic control revisited. Med Hypotheses. 1996;46(4):348–50.

Lowitt MH, Dover JS. Necrobiosis lipoidica. J Am Acad Dermatol. 1991;25(5 Pt 1):735–48.

Sibbald C, Reid S, Alavi A. Necrobiosis lipoidica. Dermatol Clin. 2015;33(3):343–60. doi:10.1016/j.det.2015.03.003.

Jiquan S, Khalaf AT, Jinquan T, Xiaoming L. Necrobiosis lipoidica: a case with histopathological findings revealed asteroid bodies and was successfully treated with dipyridamole plus intralesional triamcinolone. J Dermatol Treat. 2008;19(1):54–7. doi:10.1080/09546630701691228.

Reid SD, Ladizinski B, Lee K, Baibergenova A, Alavi A. Update on necrobiosis lipoidica: a review of etiology, diagnosis, and treatment options. J Am Acad Dermatol. 2013;69(5):783–91. doi:10.1016/j.jaad.2013.05.034.

Suarez-Amor O, Perez-Bustillo A, Ruiz-Gonzalez I, Rodriguez-Prieto MA. Necrobiosis lipoidica therapy with biologicals: an ulcerated case responding to etanercept and a review of the literature. Dermatology. 2010;221(2):117–21. doi:10.1159/000314694.

Clayton TH, Harrison PV. Successful treatment of chronic ulcerated necrobiosis lipoidica with 0.1% topical tacrolimus ointment. Br J Dermatol. 2005;152(3):581–2. doi:10.1111/j.1365-2133.2005.06388.x.

Darvay A, Acland KM, Russell-Jones R. Persistent ulcerated necrobiosis lipoidica responding to treatment with cyclosporin. Br J Dermatol. 1999;141(4):725–7. doi:10.1046/j.1365-2133.1999.03119.x.

Erfurt-Berge C, Seitz AT, Rehse C, Wollina U, Schwede K, Renner R. Update on clinical and laboratory features in necrobiosis lipoidica: a retrospective multicentre study of 52 patients. Eur J Dermatol. 2012;22(6):770–5. doi:10.1684/ejd.2012.1839.

Beers WH, Ince A, Moore TL. Scleredema adultorum of Buschke: a case report and review of the literature. Semin Arthritis Rheum. 2006;35(6):355–9. doi:10.1016/j.semarthrit.2006.01.004.

Angeli-Besson C, Koeppel MC, Jacquet P, Andrac L, Sayag J. Electron-beam therapy in scleredema adultorum with associated monoclonal hypergammaglobulinaemia. Br J Dermatol. 1994;130(3):394–7.

Dinato SL, Costa GL, Dinato MC, Sementilli A, Romiti N. Scleredema of Buschke associated with diabetes mellitus type 2: case report and review of the literature. Arq Bras Endocrinol Metabol. 2010;54(9):852–5.

Anand KP, Kashyap AS. Bullosis diabeticorum. Postgrad Med J. 2004;80(944):354.

Ghosh SK, Bandyopadhyay D, Chatterjee G. Bullosis diabeticorum: a distinctive blistering eruption in diabetes mellitus. Int J Diabetes Dev Ctries. 2009;29(1):41–2. doi:10.4103/0973-3930.50714.

Aye M, Masson EA. Dermatological care of the diabetic foot. Am J Clin Dermatol. 2002;3(7):463–74.

Basarab T, Munn SE, McGrath J, Russell Jones R. Bullosis diabeticorum. A case report and literature review. Clin Exp Dermatol. 1995;20(3):218–20.

Nebesio CL, Lewis C, Chuang TY. Lack of an association between granuloma annulare and type 2 diabetes mellitus. Br J Dermatol. 2002;146(1):122–4.

Goucha S, Khaled A, Kharfi M, Fazaa B, Zermani R, Ben Jilani S, et al. Granuloma annulare. G Ital Dermatol Venereol. 2008;143(6):359–63.

Ma HJ, Zhu WY, Yue XZ. Generalized granuloma annulare associated with chronic hepatitis B virus infection. J Eur Acad Dermatol Venereol. 2006;20(2):186–9. doi:10.1111/j.1468-3083.2005.01366.x.

Li A, Hogan DJ, Sanusi ID, Smoller BR. Granuloma annulare and malignant neoplasms. Am J Dermatopathol. 2003;25(2):113–6.

Piette EW, Rosenbach M. Granuloma annulare: pathogenesis, disease associations and triggers, and therapeutic options. J Am Acad Dermatol. 2016;75(3):467–79. doi:10.1016/j.jaad.2015.03.055.

Milicic V, Ravic-Nikolic A, Jovovic-Dagovic B, Ristic G, Mitrovic S. Generalized granuloma annulare presenting as arcuate dermal erythema. Acta Dermatovenerol Alp Pannonica Adriat. 2010;19(1):25–7.

Rubel DM, Wood G, Rosen R, Jopp-McKay A. Generalised granuloma annulare successfully treated with pentoxifylline. Australas J Dermatol. 1993;34(3):103–8.

Hermanns-Le T, Scheen A, Pierard GE. Acanthosis nigricans associated with insulin resistance: pathophysiology and management. Am J Clin Dermatol. 2004;5(3):199–203.

Stoddart ML, Blevins KS, Lee ET, Wang W, Blackett PR, Cherokee Diabetes S. Association of acanthosis nigricans with hyperinsulinemia compared with other selected risk factors for type 2 diabetes in Cherokee Indians: the Cherokee Diabetes Study. Diabetes Care. 2002;25(6):1009–14.

Kutlubay Z, Engin B, Bairamov O, Tuzun Y. Acanthosis nigricans: a fold (intertriginous) dermatosis. Clin Dermatol. 2015;33(4):466–70. doi:10.1016/j.clindermatol.2015.04.010.

Apridonidze T, Essah PA, Iuorno MJ, Nestler JE. Prevalence and characteristics of the metabolic syndrome in women with polycystic ovary syndrome. J Clin Endocrinol Metab. 2005;90(4):1929–35. doi:10.1210/jc.2004-1045.

Veysey E, Ratnavel R. Facial acanthosis nigricans associated with obesity. Clin Exp Dermatol. 2005;30(4):437–9. doi:10.1111/j.1365-2230.2005.01767.x.

Krause W. Skin diseases in consequence of endocrine alterations. Aging Male. 2006;9(2):81–95. doi:10.1080/13685530600708573.

Stals H, Vercammen C, Peeters C, Morren MA. Acanthosis nigricans caused by nicotinic acid: case report and review of the literature. Dermatology. 1994;189(2):203–6.

Lechleitner M, Hoppichler F, Kaser S. Autoimmune diseases in type 1 diabetes. Wien Klin Wochenschr. 2016;128(Suppl 2):S201–3. doi:10.1007/s00508-015-0929-x.

Amer AA, Gao XH. Quality of life in patients with vitiligo: an analysis of the dermatology life quality index outcome over the past two decades. Int J Dermatol. 2016;55(6):608–14. doi:10.1111/ijd.13198.

Martis J, Bhat R, Nandakishore B, Shetty JN. A clinical study of vitiligo. Indian J Dermatol Venereol Leprol. 2002;68(2):92–3.

Whitton M, Pinart M, Batchelor JM, Leonardi-Bee J, Gonzalez U, Jiyad Z, et al. Evidence-based management of vitiligo: summary of a Cochrane systematic review. Br J Dermatol. 2016;174(5):962–9. doi:10.1111/bjd.14356.

Sudy E, Urbina F, Maliqueo M, Sir T. Screening of glucose/insulin metabolic alterations in men with multiple skin tags on the neck. J Dtsch Dermatol Ges. 2008;6(10):852-5, -6. doi:10.1111/j.1610-0387.2008.06720.x.

Nikoleishvili LR, Kurashvili RB, Virsaladze DK, Khachapuridze NG, Kurashvili LR. Characteristic changes of skin and its accessories in type 2 diabetes mellitus. Georgian Med News. 2006;131:43–6.

Suzuki K, Ito Y, Nakamura S, Ochiai J, Aoki K. Relationship between serum carotenoids and hyperglycemia: a population-based cross-sectional study. J Epidemiol. 2002;12(5):357–66.

Seyhan M, Ozcan H, Sahin I, Bayram N, Karincaoglu Y. High prevalence of glucose metabolism disturbance in patients with lichen planus. Diabetes Res Clin Pract. 2007;77(2):198–202. doi:10.1016/j.diabres.2006.12.016.

Lehman JS, Tollefson MM, Gibson LE. Lichen planus. Int J Dermatol. 2009;48(7):682–94. doi:10.1111/j.1365-4632.2009.04062.x.

Manousaridis I, Manousaridis K, Peitsch WK, Schneider SW. Individualizing treatment and choice of medication in lichen planus: a step by step approach. J Dtsch Dermatol Ges. 2013;11(10):981–91. doi:10.1111/ddg.12141.

Tsuboi H, Katsuoka K. Characteristics of acquired reactive perforating collagenosis. J Dermatol. 2007;34(9):640–4. doi:10.1111/j.1346-8138.2007.00346.x.

Ataseven A, Kayacetin S. Acquired reactive perforating collagenosis. Eurasian J Med. 2012;44(1):51–3. doi:10.5152/eajm.2012.11.

Wagner G, Sachse MM. Acquired reactive perforating dermatosis. J Dtsch Dermatol Ges. 2013;11(8):723-9, -30. doi:10.1111/ddg.12131.

Yancovitz M, Johnson H, Wang N, Pomeranz MK. Perforating collagenosis. Dermatol Online J. 2008;14(10):14.

Nebel R, Fiedler E, Danz B, Marsch WC, Kreft B. Acquired reactive perforating collagenosis associated with diabetes mellitus and renal insufficiency requiring dialysis. Dtsch Med Wochenschr. 2007;132(49):2624–6. doi:10.1055/s-2007-993108.

Singh N, Armstrong DG, Lipsky BA. Preventing foot ulcers in patients with diabetes. JAMA. 2005;293(2):217–28. doi:10.1001/jama.293.2.217.

Behm B, Schreml S, Landthaler M, Babilas P. Skin signs in diabetes mellitus. J Eur Acad Dermatol Venereol. 2012;26(10):1203–11. doi:10.1111/j.1468-3083.2012.04475.x.

Karrer S. Diabetic foot syndrome. Hautarzt. 2011;62(7):493–503. doi:10.1007/s00105-010-2112-7.

Falanga V. Wound healing and its impairment in the diabetic foot. Lancet. 2005;366(9498):1736–43. doi:10.1016/S0140-6736(05)67700-8.

Trieb K. The Charcot foot: pathophysiology, diagnosis and classification. Bone Jt J. 2016;98-B(9):1155–9. doi:10.1302/0301-620X.98B9.37038.

American Diabetes A. Peripheral arterial disease in people with diabetes. Diabetes Care. 2003;26(12):3333–41.

Amin N, Doupis J. Diabetic foot disease: from the evaluation of the "foot at risk" to the novel diabetic ulcer treatment modalities. World J Diabetes. 2016;7(7):153–64. doi:10.4239/wjd.v7.i7.153.

Pandey A, Usman K, Reddy H, Gutch M, Jain N, Qidwai S. Prevalence of hand disorders in type 2 diabetes mellitus and its correlation with microvascular complications. Ann Med Health Sci Res. 2013;3(3):349–54. doi:10.4103/2141-9248.117942.

Loos B, Puschkin V, Horch RE. 50 years experience with Dupuytren's contracture in the Erlangen University Hospital—a retrospective analysis of 2919 operated hands from 1956 to 2006. BMC Musculoskelet Disord. 2007;8:60. doi:10.1186/1471-2474-8-60.

Perkins BA, Olaleye D, Bril V. Carpal tunnel syndrome in patients with diabetic polyneuropathy. Diabetes Care. 2002;25(3):565–9.

Al-Homood IA. Rheumatic conditions in patients with diabetes mellitus. Clin Rheumatol. 2013;32(5):527–33. doi:10.1007/s10067-012-2144-8.

Kiziltan ME, Benbir G. Clinical and nerve conduction studies in female patients with diabetic dermopathy. Acta Diabetol. 2008;45(2):97–105. doi:10.1007/s00592-008-0031-1.

Ahmed I, Goldstein B. Diabetes mellitus. Clin Dermatol. 2006;24(4):237–46. doi:10.1016/j.clindermatol.2006.04.009.

Morgan AJ, Schwartz RA. Diabetic dermopathy: a subtle sign with grave implications. J Am Acad Dermatol. 2008;58(3):447–51. doi:10.1016/j.jaad.2007.11.013.

Yosipovitch G, Tur E, Cohen O, Rusecki Y. Skin surface pH in intertriginous areas in NIDDM patients. Possible correlation to candidal intertrigo. Diabetes Care. 1993;16(4):560–3.

Suaya JA, Eisenberg DF, Fang C, Miller LG. Skin and soft tissue infections and associated complications among commercially insured patients aged 0-64 years with and without diabetes in the US. PLoS One. 2013;8(4):e60057. doi:10.1371/journal.pone.0060057.

Sunderkotter C, Becker K. Frequent bacterial skin and soft tissue infections: diagnostic signs and treatment. J Dtsch Dermatol Ges. 2015;13(6):501–24; quiz 25-6. doi:10.1111/ddg.12721.

Yeoh DK, Bowen AC, Carapetis JR. Impetigo and scabies—disease burden and modern treatment strategies. J Infect. 2016;72(Suppl):S61–7. doi:10.1016/j.jinf.2016.04.024.

Koning S, van der Sande R, Verhagen AP, van Suijlekom-Smit LW, Morris AD, Butler CC, et al. Interventions for impetigo. Cochrane Database Syst Rev. 2012;1:CD003261. doi:10.1002/14651858.CD003261.pub3.

Tschachler E, Brockmeyer N, Effendy I, Geiss HK, Harder S, Hartmann M, et al. Streptococcal infections of the skin and mucous membranes. J Dtsch Dermatol Ges. 2007;5(6):527–32. doi:10.1111/j.1610-0387.2007.06287.x.

Kilburn SA, Featherstone P, Higgins B, Brindle R. Interventions for cellulitis and erysipelas. Cochrane Database Syst Rev. 2010;(6):CD004299. doi:10.1002/14651858.CD004299.pub2.

Eke N. Fournier's gangrene: a review of 1726 cases. Br J Surg. 2000;87(6):718–28. doi:10.1046/j.1365-2168.2000.01497.x.

Wong CH, Chang HC, Pasupathy S, Khin LW, Tan JL, Low CO. Necrotizing fasciitis: clinical presentation, microbiology, and determinants of mortality. J Bone Jt Surg Am. 2003;85-A(8):1454–60.

Oumeish OY. Skin disorders in patients with diabetes. Clin Dermatol. 2008;26(3):235–42. doi:10.1016/j.clindermatol.2007.10.015.

Rubin Grandis J, Branstetter BFT, Yu VL. The changing face of malignant (necrotising) external otitis: clinical, radiological, and anatomic correlations. Lancet Infect Dis. 2004;4(1):34–9.

Gupta AK, Konnikov N, MacDonald P, Rich P, Rodger NW, Edmonds MW, et al. Prevalence and epidemiology of toenail onychomycosis in diabetic subjects: a multicentre survey. Br J Dermatol. 1998;139(4):665–71.

Lugo-Somolinos A, Sanchez JL. Prevalence of dermatophytosis in patients with diabetes. J Am Acad Dermatol. 1992;26(3 Pt 2):408–10.

de Leon EM, Jacober SJ, Sobel JD, Foxman B. Prevalence and risk factors for vaginal Candida colonization in women with type 1 and type 2 diabetes. BMC Infect Dis. 2002;2:1.

Eckhard M, Lengler A, Liersch J, Bretzel RG, Mayser P. Fungal foot infections in patients with diabetes mellitus—results of two independent investigations. Mycoses. 2007;50(Suppl 2):14–9. doi:10.1111/j.1439-0507.2007.01425.x.

Rashid M, Bari A, Majeed S, Tariq KM, Haq I, Niwaz A. Mucormycosis: a devastating fungal infection in diabetics. J Coll Physicians Surg Pak. 2005;15(1):43–5. doi:01.2005/JCPSP.4345.

Rajagopalan S. Serious infections in elderly patients with diabetes mellitus. Clin Infect Dis. 2005;40(7):990–6. doi:10.1086/427690.

Prabhu RM, Patel R. Mucormycosis and entomophthoramycosis: a review of the clinical manifestations, diagnosis and treatment. Clin Microbiol Infect. 2004;10(Suppl 1):31–47.

Richardson T, Kerr D. Skin-related complications of insulin therapy: epidemiology and emerging management strategies. Am J Clin Dermatol. 2003;4(10):661–7.

Young RJ, Hannan WJ, Frier BM, Steel JM, Duncan LJ. Diabetic lipohypertrophy delays insulin absorption. Diabetes Care. 1984;7(5):479–80.

Reeves WG, Allen BR, Tattersall RB. Insulin-induced lipoatrophy: evidence for an immune pathogenesis. Br Med J. 1980;280(6230):1500–3.

Beltrand J, Guilmin-Crepon S, Castanet M, Peuchmaur M, Czernichow P, Levy-Marchal C. Insulin allergy and extensive lipoatrophy in child with type 1 diabetes. Horm Res. 2006;65(5):253–60. doi:10.1159/000092515.

Havel PJ. Update on adipocyte hormones: regulation of energy balance and carbohydrate/lipid metabolism. Diabetes. 2004;53(Suppl 1):S143–51.

Radermecker RP, Pierard GE, Scheen AJ. Lipodystrophy reactions to insulin: effects of continuous insulin infusion and new insulin analogs. Am J Clin Dermatol. 2007;8(1):21–8.

Scheer BG, Sitz KV. Suspected insulin anaphylaxis and literature review. J Ark Med Soc. 2001;97(9):311–3.

Heinzerling L, Raile K, Rochlitz H, Zuberbier T, Worm M. Insulin allergy: clinical manifestations and management strategies. Allergy. 2008;63(2):148–55. doi:10.1111/j.1398-9995.2007.01567.x.

Blanco C, Castillo R, Quiralte J, Delgado J, Garcia I, de Pablos P, et al. Anaphylaxis to subcutaneous neutral protamine Hagedorn insulin with simultaneous sensitization to protamine and insulin. Allergy. 1996;51(6):421–4.

Ben Salem C, Hmouda H, Slim R, Denguezli M, Belajouza C, Bouraoui K. Rare case of metformin-induced leukocytoclastic vasculitis. Ann Pharmacother. 2006;40(9):1685–7. doi:10.1345/aph.1H155.

Wiwanitkit V. Metformin allergy. Indian J Pharmacol. 2011;43(2):216–7. doi:10.4103/0253-7613.77379.

Fujii S, Nakashima T, Kaneko T. Glibenclamide-induced photosensitivity in a diabetic patient with erythropoietic protoporphyria. Am J Hematol. 1995;50(3):223.

Noakes R. Lichenoid drug eruption as a result of the recently released sulfonylurea glimepiride. Australas J Dermatol. 2003;44(4):302–3.

Lao B, Czyzyk A, Szutowski M, Szczepanik Z. Alcohol tolerance in patients with non-insulin-dependent (type 2) diabetes treated with sulphonylurea derivatives. Arzneimittelforschung. 1994;44(6):727–34.

Franz CB, Massullo RE, Welton WA. Lichenoid drug eruption from chlorpropamide and tolazamide. J Am Acad Dermatol. 1990;22(1):128–9.

Goh CL. Psoriasiform drug eruption due to glibenclamide. Australas J Dermatol. 1987;28(1):30–2.

Paterson AJ, Lamey PJ, Lewis MA, Nolan A, Rademaker M. Pemphigus vulgaris precipitated by glibenclamide therapy. J Oral Pathol Med. 1993;22(2):92–5.

Goldberg I, Sasson A, Gat A, Srebrnik A, Brenner S. Pemphigus vulgaris triggered by glibenclamide and cilazapril. Acta Dermatovenerol Croat. 2005;13(3):153–5.

Koca R, Altinyazar HC, Yenidunya S, Tekin NS. Psoriasiform drug eruption associated with metformin hydrochloride: a case report. Dermatol Online J. 2003;9(3):11.

Kono T, Hayami M, Kobayashi H, Ishii M, Taniguchi S. Acarbose-induced generalised erythema multiforme. Lancet. 1999;354(9176):396–7. doi:10.1016/S0140-6736(99)02135-2.

Wu CS, Chang WY, Lan CC, Chen GS, Chiu HH. Acute generalized exanthematous pustulosis possibly induced by acarbose. Int J Dermatol. 2008;47(12):1313–5. doi:10.1111/j.1365-4632.2008.03668.x.
Ethics declarations
Conflict of interest
A. L. Lima, T. Illing, S. Schliemann, and P. Elsner declare that they have no conflicts of interest.
Funding
No funding was received for the preparation of this manuscript.
About this article
Cite this article
Lima, A.L., Illing, T., Schliemann, S. et al. Cutaneous Manifestations of Diabetes Mellitus: A Review. Am J Clin Dermatol 18, 541–553 (2017). https://doi.org/10.1007/s40257-017-0275-z
Published:

Issue Date:

DOI: https://doi.org/10.1007/s40257-017-0275-z
Keywords
Carpal Tunnel Syndrome

Lichen Planus

Bullous Pemphigoid

Continuous Subcutaneous Insulin Infusion

Pimecrolimus