Abstract
Trained infectious diseases (ID) specialists are an integral part of inpatient and outpatient care in many countries, however, these specialized services are established only in selected tertiary care hospitals in Germany. This review summarises studies that addressed the impact of ID consultation services on patient care and outcome. Extensive data for a clinical benefit is available in the context of Staphylococcus aureus bacteremia (SAB), in which in-hospital or 30-day mortality was significantly reduced by 40–50 % in patients evaluated and treated in cooperation with ID consultants. This effect was associated with improved adherence to quality-of-care standards. Moreover, newer studies show a reduced length of hospital stay due to ID consultations, especially if patients are evaluated early in the course of their hospital stay. Of note, informal consultations do not seem to be equivalent to a formal ID consultation with bedside patient evaluation. Studies in other patient groups (solid organ transplant recipients or intensive care unit patients) or in the context of other infections (infective endocarditis, pneumonia, other bloodstream infections) also revealed positive effects of ID consultations. Higher rates of appropriate empirical and targeted antimicrobial treatments and de-escalation strategies due to successful pathogen identification were documented. These modifications resulted in lower treatment costs and decreased antimicrobial resistance development. Although there are methodological limitations in single studies, we consider the consistent and reproducible positive effects of ID consultations shown in studies in different countries and health care systems as convincing evidence for improved quality-of-care and treatment outcomes in patients with infectious diseases. Thus, we strongly recommend efforts to establish significantly more ID consultation services in hospitals in Germany.
Access options
Buy single article
Instant access to the full article PDF.
US$ 39.95
Tax calculation will be finalised during checkout.
Subscribe to journal
Immediate online access to all issues from 2019. Subscription will auto renew annually.
US$ 99
Tax calculation will be finalised during checkout.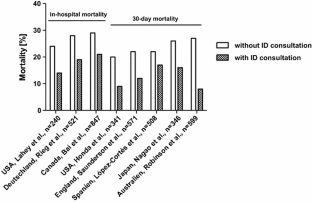 References
1.

Bursle EC, Playford EG, Looke DF. Infectious diseases consultations at an Australian tertiary hospital: a review of 11,511 inpatient consultations. Intern Med J. 2014;44:998–1004.

2.

Kern WV. Management of Staphylococcus aureus bacteremia and endocarditis: progresses and challenges. Curr Opin Infect Dis. 2010;23:346–58.

3.

Bai AD, Showler A, Burry L, Steinberg M, Ricciuto DR, Fernandes T, et al. Impact of Infectious Disease Consultation on Quality of Care, Mortality, and Length of Stay in Staphylococcus aureus Bacteremia: results From a Large Multicenter Cohort Study. Clin Infect Dis. 2015;60:1451–61.

4.

Honda H, Krauss MJ, Jones JC, Olsen MA, Warren DK. The value of infectious diseases consultation in Staphylococcus aureus bacteremia. Am J Med. 2010;123:631–7.

5.

Lahey T, Shah R, Gittzus J, Schwartzman J, Kirkland K. Infectious diseases consultation lowers mortality from Staphylococcus aureus bacteremia. Medicine (Baltimore). 2009;88:263–7.

6.

Lopez-Cortes LE, Del Toro MD, Galvez-Acebal J, Bereciartua-Bastarrica E, Farinas MC, Sanz-Franco M, et al. Impact of an evidence-based bundle intervention in the quality-of-care management and outcome of Staphylococcus aureus bacteremia. Clin Infect Dis. 2013;57:1225–33.

7.

Nagao M, Iinuma Y, Saito T, Matsumura Y, Shirano M, Matsushima A, et al. Close cooperation between infectious disease physicians and attending physicians can result in better management and outcome for patients with Staphylococcus aureus bacteraemia. Clin Microbiol Infect. 2010;16:1783–8.

8.

Rieg S, Peyerl-Hoffmann G, de With K, Theilacker C, Wagner D, Hubner J, et al. Mortality of S. aureus bacteremia and infectious diseases specialist consultation—a study of 521 patients in Germany. J Infect. 2009;59:232–9.

9.

Robinson JO, Pozzi-Langhi S, Phillips M, Pearson JC, Christiansen KJ, Coombs GW, et al. Formal infectious diseases consultation is associated with decreased mortality in Staphylococcus aureus bacteraemia. Eur J Clin Microbiol Infect Dis. 2012;31:2421–8.

10.

Saunderson RB, Gouliouris T, Nickerson EK, Cartwright EJ, Kidney A, Aliyu SH, et al. Impact of routine bedside infectious disease consultation on clinical management and outcome of Staphylococcus aureus bacteraemia in adults. Clin Microbiol Infect. 2015;21:779–85.

11.

Vogel M, Schmitz RP, Hagel S, Pletz MW, Gagelmann N, Scherag A, et al. Infectious disease consultation for Staphylococcus aureus bacteremia - A systematic review and meta-analysis. J Infect. 2016;72:19–28.

12.

Isobe M, Uejima E, Seki M, Yamagishi Y, Miyawaki K, Yabuno K, et al. Methicillin-resistant Staphylococcus aureus bacteremia at a university hospital in Japan. J Infect Chemother. 2012;18:841–7.

13.

Tissot F, Calandra T, Prod'hom G, Taffe P, Zanetti G, Greub G, et al. Mandatory infectious diseases consultation for MRSA bacteremia is associated with reduced mortality. J Infect. 2014;69:226–34.

14.

Holland TL, Arnold C, Fowler VG Jr. Clinical management of Staphylococcus aureus bacteremia: a review. JAMA. 2014;312:1330–41.

15.

Forsblom E, Ruotsalainen E, Ollgren J, Jarvinen A. Telephone consultation cannot replace bedside infectious disease consultation in the management of Staphylococcus aureus Bacteremia. Clin Infect Dis. 2013;56:527–35.

16.

Kuo D, Gifford DR, Stein MD. Curbside consultation practices and attitudes among primary care physicians and medical subspecialists. JAMA. 1998;280:905–9.

17.

Pulcini C, Botelho-Nevers E, Dyar OJ, Harbarth S. The impact of infectious disease specialists on antibiotic prescribing in hospitals. Clin Microbiol Infect. 2014;20:963–72.

18.

Classen DC, Burke JP, Wenzel RP. Infectious diseases consultation: impact on outcomes for hospitalized patients and results of a preliminary study. Clin Infect Dis. 1997;24:468–70.

19.

Hamandi B, Husain S, Humar A, Papadimitropoulos EA. Impact of infectious disease consultation on the clinical and economic outcomes of solid organ transplant recipients admitted for infectious complications. Clin Infect Dis. 2014;59:1074–82.

20.

Schmitt S, McQuillen DP, Nahass R, Martinelli L, Rubin M, Schwebke K, et al. Infectious diseases specialty intervention is associated with decreased mortality and lower healthcare costs. Clin Infect Dis. 2014;58:22–8.

21.

Kunin CM, Tupasi T, Craig WA. Use of antibiotics. A brief exposition of the problem and some tentative solutions. Ann Intern Med. 1973;79:555–60.

22.

Fox BC, Imrey PB, Voights MB, Norwood S. Infectious disease consultation and microbiologic surveillance for intensive care unit trauma patients: a pilot study. Clin Infect Dis. 2001;33:1981–9.

23.

Raineri E, Pan A, Mondello P, Acquarolo A, Candiani A, Crema L. Role of the infectious diseases specialist consultant on the appropriateness of antimicrobial therapy prescription in an intensive care unit. Am J Infect Control. 2008;36:283–90.

24.

Farinas MC, Saravia G, Calvo-Montes J, Benito N, Martinez-Garde JJ, Farinas-Alvarez C, et al. Adherence to recommendations by infectious disease consultants and its influence on outcomes of intravenous antibiotic-treated hospitalized patients. BMC Infect Dis. 2012;12:292.

25.

Yamamoto S, Hosokawa N, Sogi M, Inakaku M, Imoto K, Ohji G, et al. Impact of infectious diseases service consultation on diagnosis of infective endocarditis. Scand J Infect Dis. 2012;44:270–5.

26.

Lemmen SW, Hafner H, Kotterik S, Lutticken R, Topper R. Influence of an infectious disease service on antibiotic prescription behavior and selection of multiresistant pathogens. Infection. 2000;28:384–7.

27.

Lemmen SW, Becker G, Frank U, Daschner FD. Influence of an infectious disease consulting service on quality and costs of antibiotic prescriptions in a university hospital. Scand J Infect Dis. 2001;33:219–21.

28.

Gums JG, Yancey RW Jr, Hamilton CA, Kubilis PS. A randomized, prospective study measuring outcomes after antibiotic therapy intervention by a multidisciplinary consult team. Pharmacotherapy. 1999;19:1369–77.

29.

Retamar P, Portillo MM, Lopez-Prieto MD, Rodriguez-Lopez F, de Cueto M, Garcia MV, et al. Impact of inadequate empirical therapy on the mortality of patients with bloodstream infections: a propensity score-based analysis. Antimicrob Agents Chemother. 2012;56:472–8.

30.

Marquet K, Liesenborgs A, Bergs J, Vleugels A, Claes N. Incidence and outcome of inappropriate in-hospital empiric antibiotics for severe infection: a systematic review and meta-analysis. Crit Care. 2015;19:63.

31.

Garnacho-Montero J, Gutierrez-Pizarraya A, Escoresca-Ortega A, Corcia-Palomo Y, Fernandez-Delgado E, Herrera-Melero I, et al. De-escalation of empirical therapy is associated with lower mortality in patients with severe sepsis and septic shock. Intensive Care Med. 2014;40:32–40.

32.

Leone M, Bechis C, Baumstarck K, Lefrant JY, Albanese J, Jaber S, et al. De-escalation versus continuation of empirical antimicrobial treatment in severe sepsis: a multicenter non-blinded randomized noninferiority trial. Intensive Care Med. 2014;40:1399–408.

33.

Singer C, Kaplan MH, Armstrong D. Bacteremia and fungemia complicating neoplastic disease. A study of 364 cases. Am J Med. 1977;62:731–42.

34.

Farmakiotis D, Kyvernitakis A, Tarrand JJ, Kontoyiannis DP. Early initiation of appropriate treatment is associated with increased survival in cancer patients with Candida glabrata fungaemia: a potential benefit from infectious disease consultation. Clin Microbiol Infect. 2015;21:79–86.

35.

Patel M, Kunz DF, Trivedi VM, Jones MG, Moser SA, Baddley JW. Initial management of candidemia at an academic medical center: evaluation of the IDSA guidelines. Diagn Microbiol Infect Dis. 2005;52:29–34.

36.

Takakura S, Fujihara N, Saito T, Kimoto T, Ito Y, Iinuma Y, et al. Improved clinical outcome of patients with Candida bloodstream infections through direct consultation by infectious diseases physicians in a Japanese university hospital. Infect Control Hosp Epidemiol. 2006;27:964–8.

37.

Sellier E, Labarere J, Gennai S, Bal G, Francois P, Pavese P. Compliance with recommendations and clinical outcomes for formal and informal infectious disease specialist consultations. Eur J Clin Microbiol Infect Dis. 2011;30:887–94.

38.

Vehreschild JJ, Morgen G, Cornely OA, Hartmann P, Koch S, Kalka-Moll W, et al. Evaluation of an infectious disease consultation programme in a German tertiary care hospital. Infection. 2013;41:1121–8.

39.

Pulcini C, Pradier C, Samat-Long C, Hyvernat H, Bernardin G, Ichai C, et al. Factors associated with adherence to infectious diseases advice in two intensive care units. J Antimicrob Chemother. 2006;57:546–50.

40.

de La BA, Boutemy J, Thibon P, Michon J, Verdon R, Cattoir V. Clinical benefit of infectious diseases consultation: a monocentric prospective cohort study. Infection. 2012;40:501–7.

41.

Rieg S, Kupper MF. Impact of an infectious diseases consultation service on the quality of care and the survival of patients with infectious diseases. Z Evid Fortbild Qual Gesundhwes. 2015;109:500–10.

42.

Gomez J, Conde Cavero SJ, Hernandez Cardona JL, Nunez ML, Ruiz GJ, Canteras M, et al. The influence of the opinion of an infectious disease consultant on the appropriateness of antibiotic treatment in a general hospital. J Antimicrob Chemother. 1996;38:309–14.

43.

Byl B, Clevenbergh P, Jacobs F, Struelens MJ, Zech F, Kentos A, et al. Impact of infectious diseases specialists and microbiological data on the appropriateness of antimicrobial therapy for bacteremia. Clin Infect Dis. 1999;29:60–6.

44.

Fluckiger U, Zimmerli W, Sax H, Frei R, Widmer AF. Clinical impact of an infectious disease service on the management of bloodstream infection. Eur J Clin Microbiol Infect Dis. 2000;19:493–500.

45.

Eron LJ, Passos S. Early discharge of infected patients through appropriate antibiotic use. Arch Intern Med. 2001;161:61–5.

46.

Kerremans JJ, Verbrugh HA, Vos MC. Frequency of microbiologically correct antibiotic therapy increased by infectious disease consultations and microbiological results. J Clin Microbiol. 2012;50:2066–8.

47.

Apisarnthanarak A, Danchaivijitr S, Bailey TC, Fraser VJ. Inappropriate antibiotic use in a tertiary care center in Thailand: an incidence study and review of experience in Thailand. Infect Control Hosp Epidemiol. 2006;27:416–20.

48.

Kawanami GH, Fortaleza CM. Factors predictive of inappropriateness in requests for parenteral antimicrobials for therapeutic purposes: a study in a small teaching hospital in Brazil. Scand J Infect Dis. 2011;43:528–35.

49.

Hosoglu S, Parlak Z, Geyik MF, Palanci Y. Critical evaluation of antimicrobial use–a Turkish university hospital example. J Infect Dev Ctries. 2013;7:873–9.

50.

Bornard L, Dellamonica J, Hyvernat H, Girard-Pipau F, Molinari N, Sotto A, et al. Impact of an assisted reassessment of antibiotic therapies on the quality of prescriptions in an intensive care unit. Med Mal Infect. 2011;41:480–5.

51.

Lesprit P, Landelle C, Girou E, Brun-Buisson C. Reassessment of intravenous antibiotic therapy using a reminder or direct counselling. J Antimicrob Chemother. 2010;65:789–95.

52.

Rimawi RH, Mazer MA, Siraj DS, Gooch M, Cook PP. Impact of regular collaboration between infectious diseases and critical care practitioners on antimicrobial utilization and patient outcome. Crit Care Med. 2013;41:2099–107.
Ethics declarations
Conflict of Interest
None of the authors declares any conflict of interests.
Additional information
A more detailed version of this manuscript was published in German in the journal 'Zeitschrift für Evidenz, Fortbildung und Qualität im Gesundheitswesen' (Der Einfluss eines infektiologischen Konsiliardienstes auf die Versorgungsqualität und das Überleben von Patienten mit Infektionskrankheiten) Volume 109, Issue 7, 2015, Pages 500–510 (doi: 10.1016/j.zefq.2015.09.008) [41].
About this article
Cite this article
Rieg, S., Küpper, M.F. Infectious diseases consultations can make the difference: a brief review and a plea for more infectious diseases specialists in Germany. Infection 44, 159–166 (2016). https://doi.org/10.1007/s15010-016-0883-1
Received:

Accepted:

Published:

Issue Date:
Keywords
Infectious diseases consultation

Clinical Infectious diseases services

Quality-of-care

Staphylococcus aureus

Bacteremia

Quality indicator