Abstract
Dyes are synthetic organic compounds widely used in various industries such as, textile, leather, plastic, food, pharmaceutical, and paints manufacturing industries. Coloured effluents are highly toxic to the aquatic life and mutagenic to humans. Wastewater containing dyes has become an important issue demanding serious attention. Among the synthetic dyes, azo dyes are the largest and most widely used dyes and account for more than half of the annually produced dyes. The biodegradation of azo dyes is difficult due to their complex structure and synthetic nature. Several treatments have been proposed for efficient azo dye removal, most of them presenting some limitations such as generation of waste sludge, high operational costs, poor efficiency, and incomplete mineralization. Biological treatment is a cost-effective and eco-friendly process for dye degradation. Sequential anaerobic–aerobic biological treatment is considered as one of the most cost-effective methods for the complete mineralization of azo dyes. The anaerobic stage yields decolourization through reductive cleavage of the dye's azo linkages, resulting in the formation of generally colourless but potentially hazardous aromatic amines. The aerobic stage involves degradation of the aromatic amines. It is the most logical step for removing the azo dyes from the wastewater. Several factors can influence the microbial activity and consequently the efficacy and effectiveness of the complete biodegradation processes. This paper summarizes the results of biological decolourization of azo dyes using various types of reactors, elaborates biochemical mechanisms involved, and discusses influence of various operational parameters on decolourization based on reports published in the last decade.
Access options
Buy single article
Instant access to the full article PDF.
USD 39.95
Price excludes VAT (USA)
Tax calculation will be finalised during checkout.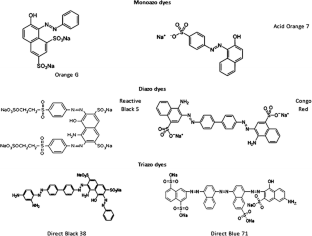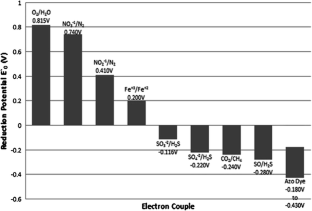 References
Adinew B (2012) Textile effluent treatment and decolonization techniques—a review. Bulg J Sci Educ 21:434–456

Albuquerque M, Lopes A, Serralheirob M, Novaisa J, Pinheiroa H (2005) Biological sulphate reduction and redox mediator effects on azo dye decolourisation in anaerobic–aerobic sequencing batch reactors. Enzyme Microb Technol 36:790–799

Ali H (2010) Biodegradation of synthetic dyes—a review. Water Air Soil Pollut 213:251–273. doi:10.1007/s11270-010-0382-4

Amin N (2008) Removal of reactive dye from aqueous solutions by adsorption onto activated carbons prepared from sugarcane bagasse pith. Desalination 223:152–161

Anjaneyulu Y, Chary NS, Raj D (2005) Decolourization of industrial effluents—available methods and emerging technologies—a review. Rev Environ Sci Biotechnol 4:245–273

Barraga B, Costa C, Marquez M (2007) Biodegradation of azo dyes by bacteria inoculated on solid media. Dyes Pigm 75:73–81

Bonakdarpour B, Vyrides I, Stuckey D (2011) Comparison of the performance of one stage and two stage sequential anaerobic aerobic biological processes for the treatment of reactive azo dye containing synthetic wastewaters. Int Biodeterior Biodgrad 65:591–599

Boonyakamol A, Imai T, Chairattanamamokom P, Higuchi T, Sekine M (2009) Key factors regarding decolourization of synthetic and anthraquinone and azo dyes. Appl Biochem Biotechnol 158:180–191. doi:10.1007/s12010-008-8330-0

Carvalho M, Pereira C et al (2008) Assessment of the biodegradability of a monosulfonated azo dye and aromatic amines. Int Biodeterior Biodgrad 64:676–681

Chengalroyen M, Dabbs E (2013) The microbial degradation of azo dyes: a mini review. World J Microbiol Biotechnol 29:389–399. doi:10.1007/s11274-012-1198-8

Chequer F, Dortaz D, Oliveira D (2011) Azo dyes and their metabolites: Does the discharge of the azo dyes into water bodies represent Human and Ecological risks? In: Hauser P (ed) Advances in treating textile effluents, ISBN: 978-953-307-704-8, In Tech. http://www.intechopen.com/download/get/type/pdfs/id/22392

Chou W, Wang C, Cheng-ping C (2011) Comparison of removal of Acid Orange 7 by electrooxidation using various anode materials. Desalination 266:201–207

Cinar O, Yasar S et al (2008) Effect of cycle time on biodegradation of azo dye in sequencing batch reactor. Process Saf Environ 86:455–460

Cirik K, Kitis M, Cinar O (2012) The effect of biological sulfate reduction on anaerobic color removal in anaerobic–aerobic sequencing batch reactors. Bioprocess Biosyst Eng. doi:10.1007/s00449-012-0813-2

Costa C, Montilla F, Morallon E, Oliyi P (2009) Electrochemical oxidation of acid black 210 dyes on the boron dopes diamond electrode in the presence of phosphate ions: effect of current density, pH and chloride ions. Electrochim Acta 54:7048–7055

Da Silva M, Firmino P, De Sousa M, Dos Santos A (2012) Sequential anaerobic/aerobic treatment of dye—containing wastewaters: colour and COD removals and Ecotoxicity tests. Appl Biochem Biotechnol 166:1057–1069

Daneshvar N, Oladegaragoze A, Djafarzadeh N (2007) Decolourization of basic dye solutions by electrocoagulation: an investigation of the effect of operational parameters. J Hazard Mater 129:116–124

Daneshwar N, Salari D, Khataee A (2003) Photocatalytic degradation of azo dye Acid Red 14 in water: investigation of the effect of operational parameters. J Photochem Photobiol A 157:111–116

Dos Santos A, Cervantes F, Vanlier J (2007) Review paper on current technologies for decolourisation of textile wastewaters: perspectives for anaerobic biotechnology. Bioresour Technol 98:2369–2385

Forgacs E, Cserhatia T, Oros G (2004) Removal of synthetic dyes from wastewaters: a review. Environ Int 30:953–971

Franciscon E, Zille A et al (2009) Microperophilic–aerobic sequential decolourization/biodegradation of textile azo dyes by a facultative Klebsiella sp. Strain VN-31. Process Biochem 44:446–452

Fu Y, Viraraghavan T (2001) Fungal decolourization of dye wastewaters: a review. Bioresour Technol 79:251–262

Golob V, Vinder A, Simonic M (2005) Efficiency of the coagulation/flocculation method for the treatment of dye bath effluents. Dyes Pigm 67:93–97

Gutowska A, Czaplinska J, Jozwiak W (2007) Degradation mechanism of reactive orange 113 dye by H2O2/Fe2+ and ozone in aqueous solution. Dyes Pigm 74:41–48

Hakimelahi M, Moghaddam M, Hashemi S (2012) Biological treatment of wastewater containing an azo dye using mixed culture in alternating anaerobic/aerobic sequencing batch reactors. Biotechnol Bioproc Eng 17:875–880. doi:10.1007/s12257-011-0673-7

Hao O, Kim H, Chiang P (2000) Decolourization of wastewater. Crit Rev Environ Sci Technol 30:449–505

Hunger K (2009) Industrial dyes—chemistry, properties, applications. Wiley-VCH, Germany

Inaloo KD, Naddafi K, Mesdaghinia AR, Nasseri S, Nodehi RN, Rahimi A (2011) Optimization of operational parameters for decolorizatoin and degradation of C. I. Reactive Blue 29 by ozone. Iran J Environ Health Sci Eng 8(227):234

Iqbal M (2008) Textile dyes. Rehbar, Karachi

Isik M, Sponza D (2004) Monitoring of toxicity and intermediated of C.I Direct Black 38 azo dye through decolorization in an anaerobic/aeroic sequential reactor system. J Hazard Mater 114:29–39

Isik M, Sponza D (2006) Biological treatment of acid dyeing wastewater using a sequential anaerobic/aerobic reactor system. Enzyme Microb Technol 38:887–892

Johnstrup M, Kumar N, Murto M, Mattiasson B (2011) sequential anaerobic–aerobic treatment of azo dyes: decolourisation and amine degradability. Desalination 280:339–346

Kapdan I, Oztekin R (2006) The effect of hydraulic residence time and initial COD concentration on color and COD removal performance of the anaerobic–aerobic SBR system. J Hazard Mater 136:896–901

Karatas M, Dursun S, Argun M (2009) Decolorization of reactive dyes under batch anaerobic condition by mixed microbial culture. Afr J Biotechnol 8:6856–6862

Karatas M, Dursun S, Argun M (2010) The decolourisation of azo dye Reactive Black 5 in a sequential anaerobic–aerobic system. Ekoloji 19(74):15–23

Khan H, Ahmad N, Yasar A, Shahid R (2010) Advanced oxidative decolourization of red ci-5B: effects of dye concentration, process optimization and reaction kinetics. Polish J Environ Stud 19:83–92

Khan R, Bhawana P, Fulekar M (2013) Microbial decolorization and degradation of synthetic dyes: a review. Rev Environ Sci Biotechnol 12:75–97

Khehra M, Saini H et al (2006) Biodegradation of azo dye C.I. Acid Red 88 by an anoxic–aerobic sequential bioreactor. Dyes Pigm 70:1–7

Koprivanac N, Kusic H (2009) Hazardous organic pollutants in colored wastewaters. Nova Science, New York

Koupaie E, Alavi Moghaddam M, Hashemi S (2011) Post treatment of anaerobically degraded azo dye Acid Red 18 using aerobic moving bed biofilm process: enhanced removal of aromatic amines. J Hazard Mater 195:147–154

Koupaie E, Alavi Moghaddam M, Hashemi S (2012) Investigation of decolourization kinetics and biodegration of azo dye Acid Red 18 using sequencing process of anaerobic sequencing batch reactor/moving bed sequencing batch biofilm reactor. Int Biodeterior Biodgrad 71:43–49

Koupaie E, Alavi Moghaddam M, Hashemi S (2013) Evaluation of integrated anaerobic/aerobic fixed-bed sequencing batch biofilm reactor for decolonization and biodegradation of azo dye Acid Red 18: comparison of using two types of packing media. Bioresour Technol 127:415–421

Laowansiri S, Vinitnantharat S, Chaipraser P, Ha S (2008) Anaerobic degradation kinetics of reactive dye with different carbon sources. J Environ Biol 29:309–314

Libra J, Borchert M, Vigelahn L, Strom T (2004) Two stage biological treatment of a diazo reactive textile dye and the fate of the dye metabolites. Chemosphere 56:167–180

Lourenco N, Novais J, Pinheiro H (2001) Effect of some operational parameters on textile dye biodegradation in a sequencing batch reactor. J Biotechnol 89:163–174

Malik P (2003) Use of activated carbons prepared from sawdust and rice-husk for adsorption of acid dyes: a case study of Acid Yellow 36. Dyes Pigm 56:239–249

Manu B, Chaudhari S (2002) Anaerobic decolorization of simulated textile wastewater containing azo dyes. Bioresour Technol 82:225–231

Martinez-Huitle C, Brillas E (2009) Decontamination of wastewaters containing synthetic organic dyes by electrochemical methods: a General review. Appl Catal B 87:105–145

Mashkour M, Al-Kaim A, Ahmed M, Hussein F (2011) Zinc oxide assisted photocatalytic decolourization of Reactive Red 2 dye. Int J Chem Sci 9:969–979

Melgoza R, Buitron C (2004) Anaerobic/aerobic treatment of colorants present in textile effluents. Water Sci Technol 50:149–155

Mendez-Paz D, Omil F, Lema J (2005) Anaerobic treatment of azo dye Acid Orange 7 under batch conditions. Enzyme Microb Technol 36:264–272

Meric S, Selcuk H, Gallo M, Belgiorno V (2005) Decolourization and detoxifying of Remazol Red and its mixture using Fenton's reagent. Desalination 173:239–248

Mezohegyi G, Kolodkin A, Castr U, Bengoa C, Stuber F, Font J, Fabregat A (2007) Effective anaerobic decolourization of azo dye Acid Orange 7 in continuous upflow packed bed reactor using biological activated carbon system. Ind Eng Chem Res 46:6788–6792

Mohanty S, Dafale N, Rao N (2006) Microbial decolourization of reactive black 5 in a two-stage anaerobic–aerobic reactor using acclimatized activated textile sludge. Biodegradation 17:403–413

Montano J, Domenche X, Hortal G, Torrades F, Peral J (2008) The testing of several biological and chemical coupled treatments for Cibacron Red FN-R azo dye removal. J Hazard Mater 154:484–490

Mutambanengwe C, Togo C, Whiteley C (2007) Decolourization and degradation of textile dyes with biosulfidogenichydrogenases. Biotechnol Prog 23:1095–1100

Naimabadi A, Attar H, Shahsavani A (2009) Decolorization and biological degradation of azo dye Reactive Red 2 by anaerobic/aerobic sequential process. Iran J Environ Health Sci Eng 6:67–72

O'Neill C, Hawkes F, Hawkes D, Esteves S, Wilcox S (2000) Anaerobic–aerobic biotreatment of simulated textile effluent containing varied ratios of starch and azo dye. Water Res 34:2355–2361

Oh Y, Kim Y et al (2004) Colour removal of real textile wastewater by sequential anaerobic and aerobic reactors. Biotechnol Bioproc Eng 9:419–422

Oller I, Malato S, Sanchez-perez J (2011) Combination of advanced oxidation processes and biological treatments for wastewater decontamination—a review. Sci Total Environ 409:4141–4166

Ong S, Li H, Wong Y, Raman K (2012) Performance and kinetic study on bioremediation of diazo dye Reactive Black 5 in wastewater using spent GAC-Biofilm sequencing batch reactor. Water Air Soil Pollut 223:1615–1623

Pandey A, Singh P, Iyengar L (2007) Review: bacterial decolourization and degradation of azo dyes. Int Biodeterior Biodgrad 59:73–84

Panswad T, Luangdilok W (2000) Decolorization of reactive dyes with different molecular structures under different environmental conditions. Water Res 34:4177–4184

Patel T, Nath K (2012) Comparative performance of flat sheet and spiral wound modules in the nanofiltration of reactive dye solution. Env Sci Pollution Res 19:2994–3004

Patel U, Ruparelia J, Patel M (2011) Electrocoagulation treatment of simulated floor-wash containing Reactive Black 5 using iron sacrificial anode. J Hazard Mater 197:128–136

Petrinic I, Andersen N, Sostar-turk S, Le Marechal M (2007) The removal of reactive dye printing compound using nanofiltration. Dyes Pigm 74:512–518

Phalakornkule C, Polgumhang S, Tongdaung W, Karakat B, Nuyut T (2010) Electrocoagulations of blue reactive, red disperse and mixed dyes, and application in treating textile effluent. J Environ Manag 91:918–926

Puvaneshwari N, Muthukrishnan J, Gunasekaran P (2006) Toxicity assessment and microbial degradation of azo dyes. Indian J Exp Biol 44:618–626

Rai H, Bhattacharya M et al (2005) Removal of dyes from the effluent of textile and dyestuff manufacturing industry: a review of emerging techniques with reference to biological treatment. Crit Rev Environ Sci Technol 35:219–238

Rajaguru P, Kaileselvi K, Palanivel M, Subburum V (2000) Biodegradation of azo dyes in sequential anaerobic–aerobic system. Appl Microbial Biotechnol 54:268–273

Rauf M, Salman Ashraf S (2012) Review: survey of recent trends in biochemically assisted degradation of dyes. Chem Eng J 209:520–530

Robinson T, Mcmullan G, Marchant R, Nigam P (2001) Remediation of dyes in textile effluent: a critical review on current treatment technologies with a proposed alternative. Bioresour Technol 77:247–255

Sandhya S, Padmavathy S, Swaminathan K, Subrahmanyam Y, Kaul S (2005) Microaerophilic–aerobic sequential batch reactor for treatment of azo dyes containing simulated wastewater. Proc Biochem 40:885–890

Saratale R, Saratale G, Chang J, Govindwar S (2011) Bacterial decolourization and degradation of azo dyes: a review. J Taiwan Inst Chem Eng 42:138–157

Sen S, Demierer G (2003) Anaerobic treatment of synthetic textile wastewater containing a reactive azo dye. J Environ Eng 129:595–601

Senthikumar S, Bashab C, Perumalsamya M, Prabhua H (2012) Electrochemical oxidation and aerobic biodegradation with isolated bacterial strains for dye wastewater. Electrochim Acta 77:171–178

Sharma BK (2011) Industrial chemistry. Goel Publishing House, India

Shaw C, Carliell C, Wheatley A (2002) Anaerobic/aerobic treatment of coloured textile effluents using sequencing batch reactors. Water Res 36:1993–2001

Solis M, Solis A, Perez H, Manjarrezb N, Floresa M (2012) Microbial decolouration of azo dyes: a review. Process Biochem 47:1723–1748

Spagni A, Grilli S, Casu S, Mattioli D (2010) Treatment of a simulated textile wastewater containing the azo-dye Reactive Orange 16 in an anaerobic-biofilm anoxic–aerobic membrane bioreactor. Int Biodeterior Biodgrad 64:676–681

Sponza D, Isik M (2002) Decolourization and azo dye degradation by anaerobic/aerobic sequential process. Enzyme Microb Technol 31:102–110

Sponza D, Isik M (2004) Decolorization and inhibition kinetic of Direct Black 38 azo dye with granulated anaerobic sludge. Enzyme Microb Technol 34:147–158

Sponza D, Isik M (2005) Reactor performances and fate of aromatic amines through decolorization of Direct Black 38 dye under anaerobic/aerobic sequentials. Process Biochem 40:35–44

Supaka N, Juntongjin K, Damronglerd S, Delia M, Strehaiano P (2004) Microbial decolorization of reactive azo dyes in a sequential anaerobic–aerobic system. Chem Eng J 99:169–176

Talarposhti A, Donnelly T, Andersonm G (2001) Colour removal from a simulated dye wastewater using a two-phase anaerobic packed bed reactor. Water Res 35:425–432

Taplad T, Neramittagapong A, Neramittagapong S, Boonmee M (2008) Degradation of Congo Red dye by ozonation. Chiang Mai J Sci 35:63–68

Tan CG, Leewen A, VanVoorthuizen E et al (2005) Fate and biodegradation of sulfonated aromatic amines. Biodegradation 16:527–537

Uliana C, Garbellini G, Yamanaka H (2012) Electrochemical reduction of disperse orange 1 textile dye at a boron-doped diamond electrode. J Appl Electrochem 42:297–304

Vanderzee F, Cervantes F (2009) Impact and application of electron shuttles on the redox (bio) transformation of contaminants: a review. Biotechnol Adv 27:256–277

Vanderzee F, Villaverde S (2005) Combined anaerobic–aerobic treatment of azo dyes—a short review of bioreactor studies. Water Res 39:1425–1440

Vanderzee F, Lettinga G, Field J (2001) Anaerobic decolourization by granular sludge. Chemoshere 44(1169):1176

Vanderzee F, Bisschops L, Blanchardb VG, Bouwman R, Lettinga G, Field J (2003) The contribution of biotic and abiotic processes during azo dye reduction in anaerobic sludge. Water Res 37:3098–3109

Velmurugan P, Kumar R, Dhinakaran G (2011) Dye removal from aqueous solution using low cost adsorbent. Int J Envrion Sci 1:1493–1503

Vijaya P, Sandhya S (2003) Decolourization and complete degradation of methyl red by a mixed culture. Environmentalist 23:145–149

Wang C, Yedilar A, Lienert D, Wang Z, Kettrup A (2002) Toxicity evaluation of reactive dyestuffs, auxiliaries and selected effluents in textile finishing industry to luminescent bacteria Vibrio Fischeri. Chemosphere 46:339–344

Wong P, Tow T, Abdul Rahman N (2007) Efficiency of the coagulation-flocculation method for the treatment of dye mixtures containing disperse and reactive dyes. Water Qual Res J Canada 42:1

Yasar S, Cirik K, Cinar O (2012) The effect of cyclic anaerobic–aerobic conditions on biodegradation of azo dyes. Bioproc Biosyst Eng 35:449–457. doi:10.1007/s00449-011-0584-1

You S, Teng J (2009) Anaerobic decolourization bacteria for the treatment of azo dye in a sequential anaerobic and aerobic membrane bioreactor. J Taiwan Inst Chem Eng 40:500–504

Young-kim S, Young-An J, Wookim B (2007) Improvement of the decolourization of azo dye by anaerobic sludge bioaugmented with Desulfovibrio desulfuricans. Biotechnol Bioprocess Eng 12:222–227
About this article
Cite this article
Popli, S., Patel, U.D. Destruction of azo dyes by anaerobic–aerobic sequential biological treatment: a review. Int. J. Environ. Sci. Technol. 12, 405–420 (2015). https://doi.org/10.1007/s13762-014-0499-x
Received:

Revised:

Accepted:

Published:

Issue Date:

DOI: https://doi.org/10.1007/s13762-014-0499-x
Keywords
Azo dyes

Biodegradation

Anaerobic decolourization

Aromatic amines

Operating parameters

Toxicity