Abstract
Obesity is crucially involved in many metabolic diseases, such as type 2 diabetes, cardiovascular disease and cancer. Regulating the number or size of adipocytes has been suggested to be a potential treatment for obesity. In this study, we investigated the effect of pyrocincholic acid 3β-O-β-d-quinovopyranosyl-28-O-β-d-glucopyranoside (PAQG), a 27-nor-oleanolic acid saponin extracted from Metadina trichotoma, on adipogenesis and lipid metabolism in 3T3-L1 adipocytes. The 3T3-L1 pre-adipocytes were incubated with vehicle or PAQG for 6 days in differentiation process. PAQG significantly reduced the adipogenesis, adiponectin secretion and the expression level of key transcription factors related to adipogenesis, such as PPARγ, C/EBPβ, C/EBPα, and FABP4. Moreover, PAQG increased the levels of FFA and glycerol in medium and reduced TG level in mature adipocytes. Interestingly, PAQG not only promoted the activation of AMPK and genes involved in fatty oxidation including PDK4 and CPT1a, but also inhibited those genes involved in fatty acid biosynthesis, such as SREBP1c, FAS, ACCα and SCD1. In conclusion, PAQG inhibits the differentiation and regulates lipid metabolism of 3T3-L1 cells via AMPK pathway, suggesting that PAQG may be a novel and promising natural product for the treatment of obesity and hyperlipidemia.
Graphical Abstract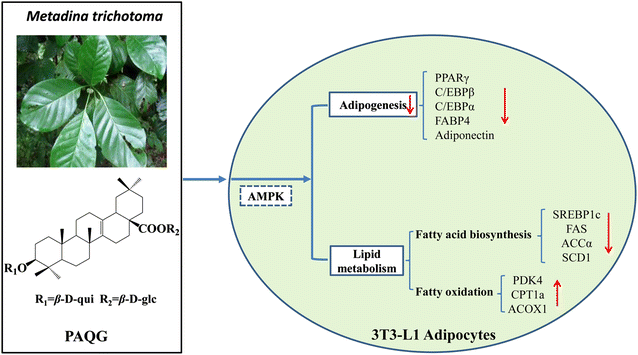 References
P. Arner, A. Kulyte, Nat. Rev. Endocrinol. 11, 276–288 (2015)

P.G. Kopelman, Nature 404, 635–643 (2000)

J. Jo, O. Gavrilova, S. Pack, W. Jou, S. Mullen, A.E. Sumner, S.W. Cushman, V. Periwal, PLOS Comput. Biol. 5(3), e1000324 (2009)

R. Zieba, Postepy Hig. Med. Dosw.(Online) 61, 612–626 (2007)

J.C.G. Halford, Curr. Opin. Investig. Drugs 7, 312–318 (2006)

J. Ahn, H. Lee, S. Kim, J. Park, T. Ha, Biochem. Biophys. Res. Commun. 404(2011), 579 (2008)

Y.H. He, Y. Li, T.T. Zhao, Y.W. Wang, C.H. Sun, PLoS ONE 8, 12 (2013)

D. Lo Furno, A.C.E. Graziano, R. Avola, R. Giuffrida, V. Perciavalle, F. Bonina, G. Mannino, V. Cardile, PPAR Res. 2016, 9 (2016)

Y.L. Peng, L.B. Zhang, Phytotaxa 269, 236 (2016)

B. Dinda, S. Debnath, B.C. Mohanta, Y. Harigaya, Chem. Biodivers. 7, 2327–2580 (2010)

K.S. Kim, O. Ezaki, S. Ikemoto, H. Itakura, J. Nutr. Sci. Vitaminol. 41, 485–491 (1995)

H.J. Green, O. Kehinde, Cell 5, 19–27 (1975)

D.L. Brasaemle, Cell Metab. 11, 173–174 (2010)

B.B. Lowell, Cell 99, 239–242 (1999)

W.Y. Liu, R.S. Jiang, Pak. J. Biol. Sci. 16, 1459–1468 (2013)

Y. Han, J. Kee, J. Park, H. Kim, M.Y. Jeong, D.S. Kim, Y. Jeon, Y.W. Jung, D.H. Youn, J. Kang, J. Cell. Biochem. 117, 2067 (2016)

N.M. Anthony, M.P. Gaidhu, R.B. Ceddia, Obesity 17, 1312–1317 (2009)

Q.Q. Tang, M.D. Lane, Annu. Rev. Biochem. 81, 715–736 (2012)

J.M. Ntambi, K. Youngcheul, J. Nutr. 130(12), 3122S–3126S (2000)

X. Zeng, X. Zhou, J. Xu, S.M.H. Chan, C. Xue, J.C. Molero, J. Ye, Biochem. Pharmacol. 84, 830–837 (2012)

E.D. Rosen, O.A. Macdougald, Nat. Rev. Mol. Cell Biol. 7, 885–896 (2006)

Q. Sun, W. Qi, J. Yang, K.S. Yoon, J.M. Clark, Y. Park, Food Chem. Toxicol. 92, 217–223 (2016)

L. Guo, X. Li, Q. Tang, J. Biol. Chem. 290, 755–761 (2015)

J.D. Paulauskis, H.S. Sul, J. Biol. Chem. 263, 7049–7054 (1988)

Y. Chen, X.Y. Zeng, Y. He, H. Liu, B. Wang, H. Zhou, J. Chen, P.Q. Liu, L. Gu, J.M. Ye, ACS Chem. Biol. 8, 2301–2311 (2013)

J. Zhang, H. Tang, R. Deng, N. Wang, Y. Zhang, Y. Wang, Y. Liu, F. Li, W. Xiao, L. Zhou, PLoS ONE 10(4), e0125667 (2015)

J.L. Ramirezzacarias, F. Castromunozledo, W. Kuriharcuch, Histochem. Cell Biol. 97, 493–497 (1992)
Acknowledgements
Thanks for our group member Lan Gao, Weifeng Tian, Yanfen Niu, Pianchou Gongpan for discussions for the project.
Ethics declarations
Conflict of interest
The authors declare no conflict of interest.
Electronic supplementary material
Below is the link to the electronic supplementary material.
Rights and permissions
Open Access This article is distributed under the terms of the Creative Commons Attribution 4.0 International License (http://creativecommons.org/licenses/by/4.0/), which permits unrestricted use, distribution, and reproduction in any medium, provided you give appropriate credit to the original author(s) and the source, provide a link to the Creative Commons license, and indicate if changes were made.
About this article
Cite this article
Peng, L., Lu, Y., Xu, Y. et al. Pyrocincholic acid 3β-O-β-d-quinovopyranosyl-28-O-β-d-glucopyranoside suppresses adipogenesis and regulates lipid metabolism in 3T3-L1 adipocytes. Nat. Prod. Bioprospect. 7, 225–234 (2017). https://doi.org/10.1007/s13659-017-0127-9
Received:

Accepted:

Published:

Issue Date:

DOI: https://doi.org/10.1007/s13659-017-0127-9
Keywords
Pyrocincholic acid 3β-O-β-

d

-quinovopyranosyl-28-O-β-

d

-glucopyranoside

Adipogenesis

Lipid metabolism

AMP-activated protein kinase