Abstract
Urban agriculture is growing worldwide with the growth of cities. Urban agriculture represents about 20 % of Cuban agriculture. In Cuba, urban agriculture is institutionalized and organized with ecological principles. For instance, local agriculture enhances food security and decreases the use of nonrenewable fertilizers. However, organic crop production in urban environments is challenging because of intensive plant nutrient requirements and disease incidence. Here, we tested an innovative technology based on plant growth promoters isolated from vermicompost and applied directly to lettuce leaves. We monitored plant metabolism by measuring the activities of nitrate reductase, an enzyme linked to N assimilation, and of phenylalanine ammonia lyase, an enzyme linked to plant defense. The experiment was conducted in the organic urban system in Guines, Cuba. We applied liquid humates at 10, 15, or 20 mg C L−1 once at the seedling stage and again 15 days after transplantation. Our results show that humates at 15 mg C L−1 shortened by 21 days the lettuce production cycle, allowing early harvesting without changing quality while increasing yields expressed as the number of leaves per plant. Humate application also decreased total carbohydrate, increased protein, increased nitrate uptake, and stimulated nitrate reductase and phenylalanine ammonia lyase in lettuce leaves.
Access options
Buy single article
Instant access to the full article PDF.
US$ 39.95
Tax calculation will be finalised during checkout.
Subscribe to journal
Immediate online access to all issues from 2019. Subscription will auto renew annually.
US$ 79
Tax calculation will be finalised during checkout.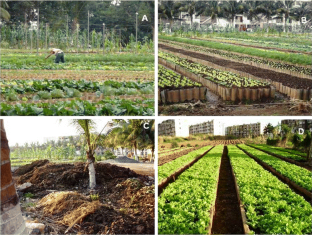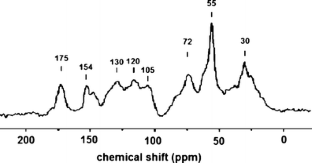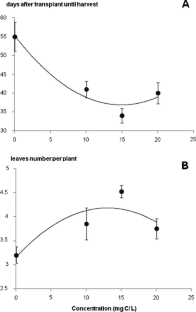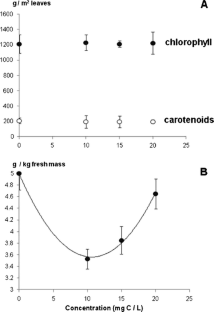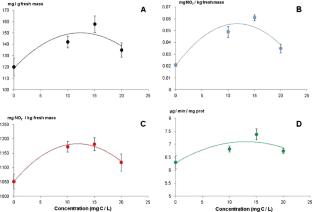 References
Aguiar NO, Olivares FL, Novotny EH, Dobbss LB, Balmori DM, Santos-Júnior LG, Chagas JG, Façanha AR, Canellas LP (2013) Bioactivity of humic acids isolated from vermicomposts at different maturation stages. Plant Soil 362:161–174. doi:10.1007/s11104-012-1277-5

Ali M, Griffiths AJ, Williams KP, Jones DL (2007) Evaluating the growth characteristics of lettuce in vermicompost and green waste compost. Eur J Soil Biol 43:S316–S319. doi:10.1016/j.ejsobi.2007.08.045

Altieri MA, Funes-Monzote FR, Petersen P (2012) Agroecologically efficient agricultural systems for smallholder farmers: contributions to food sovereignty. Agron Sustain Dev 32:1–13. doi:10.1007/s13593-011-0065-6

Arancon NQ, Edwards CA, Atiyeh R, Metzger JD (2004) Effects of vermicomposts produced from food waste on the growth and yields of greenhouse peppers. Biores Technol 93:139–144. doi:10.1016/j.biortech.2003.10.015

Bradford MM (1976) A rapid and sensitive method for the quantification of micrograms quantities of protein utilizing the principle of protein-dye binding. Anal Biochem 72:248–254

Canellas LP, Okorokova-Façanha A, Olivares FL, Façanha AR (2002) Humic acids isolated from earthworm compost enhance root elongation, lateral root emergence, and plasma membrane H+-ATPase activity in maize roots. Plant Physiol 130:1951–1957. doi:10.1104/pp. 007088

Canellas LP, Martinez-Balmori D, Médici LO, Aguiar NO, Campostrini E, Rosa RCC, Façanha AR, Olivares FL (2013) A combination of humic substances and Herbaspirillum seropedicae inoculation enhances the growth of maize (Zea mays L.). Plant Soil 366:119–132. doi:10.1007/s11104-012-1382-5

Cataldo D, Mingguang AR (1975) Rapid colorimetric determination of nitrate in plant tissue by nitration of salicylic acid. Commun Soil Sci Plant Anal 6:71–90. doi:10.1080/00103624.2012.631417

Cavalcante IHL, Silva RRS DA, Albano FG, Lima FN, Marques AS (2011) Foliar spray of humic substances on seedling production of papaya. JAgron 10(4):118–122

Claro SA (2001) Referenciais tecnológicos para a agricultura familiar ecológica: a experiência da região Centro-Serra do Rio Grande do Sul. Emater/RS-Ascar, Porto Alegre, p 75p

Cooper RJ, Liu C, Fisher DS (1998) Influence of humic substances on rooting and nutrient content of creeping bentgrass. Crop Sci 38(6):1639–1644. doi:10.2135/cropsci1998.0011183X003800060037x

Delfine S, Tognetti R, Desiderio R, Alvino A (2005) Effect of foliar application of N and humic acids on growth and yield of durum wheat. Agron Sustain Dev 25:183–191. doi:10.1051/agro:2005017

Dixon RA, Paiva NL (1995) Stress-induced phenylpropanoid metabolism. Plant Cell 7:1085–1097. doi:10.1105/tpc.7.7.1085

Edwards CA, Arancon NQ, Graytak S (2006) Effects of vermicompost teas on plant growth and disease. Biocycle 47:28–31

Femández-Escobar R, Benlloch M, Barranco D, Duefias A, Gutérrez Ganán JA (1996) Response of olive trees to folk application of humic substances extracted from leonardite. Sci Hort 66:191–200

Glass ADM, Shaff JE, Kochian LV (1992) Studies on the uptake of nitrate in barley. Electrophysiology. Plant Physiol 99:456–463. doi:10.1104/pp. 99.2.456

Jaworsky EG (1971) Nitrate reductase assay in intact plant tissues. Biochem Biophys Res Commun 43:1274–1279. doi:10.1016/S0006-291X(71)80010-4

Karakurt Y, Unlu H, Unlu H, Huseyin Padem H (2009) The influence of foliar and soil fertilization of humic acid on yield and quality of pepper. Acta Agric Scand Sect B Soil Plant Sci 59(3):233–237. doi:10.1080/09064710802022952

Lopes CA, Quezado-Duval AM (1998) Doenças da alface. Embrapa Hortaliças, Brasília, p 18p

Morsomme P, Boutry M (2000) The plant plasma-membrane H+-ATPase: structure, function and regulation. Biochim Biophys Acta 1465:1–16. doi:10.1016/S0005-2736(00)00128-0

Nardi S, Muscolo A, Vaccaro S, Baiano S, Spaccini R, Piccolo A (2007) Relationship between molecular characteristics of soil humic fractions and glycolytic pathway and Krebs cycle in maize seedlings. Soil Biol Biochem 39(12):3138–3146. doi:10.1016/j.soilbio.2007.07.006

Nardi S, Carletti P, Pizzeghello D, Muscolo A (2009) A biological activities of humic substances. In: Senesi N, Xing B, Huang P (eds) Biophysico-chemical processes involving natural non living organic matter in environmental systems. Wiley, New Jersey, pp 305–340

Pizzeghello D, Nicolini G, Nardi S (2001) Hormone-like activity of humic substances in Fagus sylvatica forests. New Phytol 151(3):647–657. doi:10.1046/j.0028-646x.2001.00223.x

Plummer DT (1981) Introducción a la bioquímica práctica. http://www.bioquimica.dogsleep.net/Laboratorio/Plummer. Accessed 12 august 2012

Quaggiotti S, Ruperti B, Pizzeghello D, Francioso O, Tugnoli V, Nardi, S (2004) Effect of low molecular size humic substances on nitrate uptake and expression of genes involved in nitrate transport in maize (Zea mays L.). J Exp Bot 55:803–813. doi:10.1093/jxb/erh085

Ricci MSF, Casali VW, Cardoso AA, Ruiz HA (1995) Teores de nutrientes em duas cultivares de alface adubadas com composto orgânico. Pesq Agropec Bras 30:1035–1039. doi:10.1590/S0102-05362006000200004

Rodda MRC, Canellas LP, Façanha AR, Zandonadi DB, Guerra JGM, Almeida DL, Santos GA (2006) Estímulo no crescimento e na hidrólise de ATP em raízes de alface tratadas com humatos de vermicomposto: I - efeito da concentração. R Bras Ci Solo 30:649–656. doi:10.1590/S0100-06832006000400006

Saldana LH, Rivera-Hinojosa R, Colinas-León MT (2007) Fenoles, peroxidasa y fenilalanina amonio-lyasa: su relación con la resistencia genética de clones de papa (Solamun tuberosum L.) contra el tizón tardío (Phytophthora infestans Mont. De Bary). Agrociencia 41:479–489

Schiavon M, Pizzeghello D, Muscolo A, Vaccaro S, Francioso O, Nardi S (2010) High molecular size humic substances enhance phenylpropanoid metabolism in maize (Zea mays L.). J Chem Ecol 36:662–669. doi:10.1007/s10886-010-9790-6

Šesták Z (1966) Limitations for finding a linear relationship between chlorophyll content and photosynthetic activity. Biol Plant 8:336–346

Singh R, Gupta RK, Patil RT, Sharma RR, Asrey R, Kumar A, Jangra KK (2010) Sequential foliar application of vermicompost leachates improves marketable fruit yield and quality of strawberry (Fragaria x ananassa Duch.). Sci Hort 124:34–39. doi:10.1016/j.scienta.2009.12.002

Sze H, Li X, Palmgren MG (1999) Energization of plant cell membranes by H+-pumping ATPases: regulation and biosynthesis. Plant Cell 11:677–689. doi:10.1105/tpc.11.4.677

Tanford C (1961) Physical chemistry of macromolecules. Wiley, New York, p 371p

Tejada M, Gonzalez JL, Hernandez MT, Garcia C (2008) Agricultural use of leachates obtained from two different vermicomposting processes. Biores Technol 99:6228–6232. doi:10.1016/j.biortech.2007.12.031

Warman PR, Anglopez MJ (2010) Vermicompost derived from different feedstocks as a plant growth medium. Biores Technol 101:4479–4483. doi:10.1016/j.biortech.2010.01.098

Yeomans JC, Bremner J (1988) A rapid and precise method for routine determination of organic carbon in soil. Commun Soil Sci Plant Anal 19:1467–1476. doi:10.1080/00103628809368027

Yildirim E (2007) Foliar and soil fertilization of humic acid affect productivity and quality of tomato Acta Agric Scandinavica. Section B Soil Plant Sci 57(2):182–186. doi:10.1080/09064710600813107

Zaller JG (2006) Foliar spraying of vermicornpost extracts: effects on fruit quality and indications of late-blight suppression of field-grown tomatoes. Biol Agric Hortic 24(2):160–185. doi:10.1080/01448765.2006.9755017

Zaller JG (2007) Vermicompost in seedling potting media can affect germination, biomass allocation, yields and fruit quality of three tomato varieties. Eur J Soil Biol 43:S332–S336. doi:10.1016/j.ejsobi.2007.08.020
Acknowledgments
We thank CAPES/MES (AUX-PE 1760/2010) for making possible the international scientific cooperation between Brazil and Cuba. FAPERJ, CNPq, and INCT for Biological Nitrogen Fixation provided financial support. This paper is written in memory of Orlando Hernandez.
About this article
Cite this article
Hernandez, O.L., Calderín, A., Huelva, R. et al. Humic substances from vermicompost enhance urban lettuce production. Agron. Sustain. Dev. 35, 225–232 (2015). https://doi.org/10.1007/s13593-014-0221-x
Accepted:

Published:

Issue Date:
Keywords
Humic substances

Physiological effects

Organic agriculture

Urban agriculture

Nitrogen metabolism

Biostimulant