Identification of Sialic Acid Linkages on Intact Glycopeptides via Differential Chemical Modification Using IntactGIG-HILIC
Focus: Mass Spectrometry in Glycobiology and Related Fields: Research Article
Abstract
Mass spectrometric analysis of intact glycopeptides can reveal detailed information about glycosite, glycan structural features, and their heterogeneity. Sialyl glycopeptides can be positively, negatively, or neutrally charged depending on pH of their buffer solution and ionization conditions. To detect sialoglycopeptides, a negative-ion mode mass spectrometry may be applied with a minimal loss of sialic acids, although the positively charged or neutral glycopeptides may be excluded. Alternatively, the sialyl glycopeptides can be identified using positive-ion mode analysis by doping a high concentration of sodium salts to the analytes. Although manipulation of unmodified sialoglycopeptides can be useful for analysis of samples, less than optimal ionization, facile loss of sialyl and unfavorable ionization of accompanying non-sialyl peptides make such strategies suboptimal. Currently available chemical derivatization methods, while stabilizing for sialic acid, mask sialic acid linkage configuration. Here, we report the development of a novel approach to neutralize sialic acids via sequentially chemical modification that also reveals their linkage configuration, often an important determinant in biological function. This method utilizes several components to facilitate glycopeptide identification. These include the following: solid phase derivatization, enhanced ionization of sialoglycopeptides, differentiation of sialic acid linkage, and enrichment of the modified glycopeptides by hydrophilic interaction liquid chromatography. This technology can be used as a tool for quantitative analysis of protein sialylation in diseases with determination of sialic acid linkage configuration.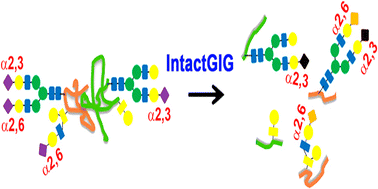 Keywords
Sialoglycopeptide 
NeuAc2,3 
NeuAc2,6 
Amidation 
Esterification 
HILIC 
Notes
Acknowledgements
We thank Drs. St John Skilton and Ilker Sen for expert assistance on Byologic and Byonic. Ewa Jankowska helped on ordering chemical and reagents.
Funding Information
Dr. Marshall Bern's work was supported by NIH grant R21 GM122634 from the Common Fund for Glycoscience.
Copyright information
© This is a U.S. government work and its text is not subject to copyright protection in the United States; however, its text may be subject to foreign copyright protection 2018
Open Access This article is distributed under the terms of the Creative Commons Attribution 4.0 International License (http://creativecommons.org/licenses/by/4.0/), which permits unrestricted use, distribution, and reproduction in any medium, provided you give appropriate credit to the original author(s) and the source, provide a link to the Creative Commons license, and indicate if changes were made.