Abstract
Abnormal productions of amyloid beta (Aβ) plaque and chronic neuroinflammation are commonly observed in the brain of patients with Alzheimer's disease, and both of which induce neuronal cell death, loss of memory, and cognitive dysfunction. However, many of the drugs targeting the production of Aβ peptides have been unsuccessful in treating Alzheimer's disease. In this study, we identified synthetic novel peroxisome proliferator-activating receptor (PPAR) agonist, DTMB, which can ameliorate the chronic inflammation and Aβ pathological progression of Alzheimer's disease. We discovered that DTMB attenuated the proinflammatory cytokine production of microglia by reducing the protein level of NF-κB. DTMB also improved the learning and memory defects and reduced the amount of Aβ plaque in the brain of 5xFAD mice. This reduction in Aβ pathology was attributed to the changes in gliosis and chronic inflammation level. Additionally, bulk RNA-sequencing showed that genes related to inflammation and cognitive function were changed in the hippocampus and cortex of DTMB-treated mice. Our findings demonstrate that DTMB has the potential to be a novel therapeutic agent for Alzheimer's disease.
Graphical abstract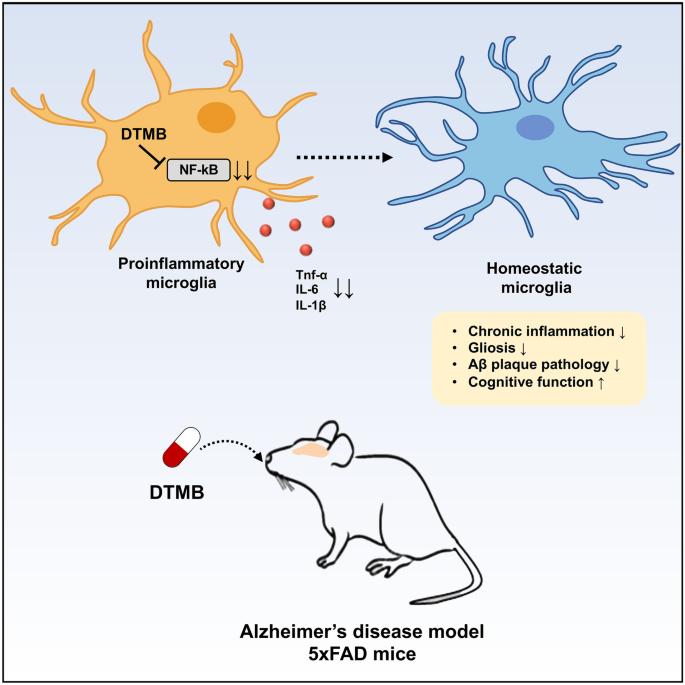 References
McKhann GM, Knopman DS, Chertkow H, et al. The diagnosis of dementia due to Alzheimer's disease: recommendations from the National Institute on Aging-Alzheimer's Association workgroups on diagnostic guidelines for Alzheimer's disease. Alzheimers Dement. 2011;7(3):263–9.

Long JM, Holtzman DM. Alzheimer disease: an update on pathobiology and treatment strategies. Cell. 2019;179(2):312–39.

Congdon EE, Sigurdsson EM. Tau-targeting therapies for Alzheimer disease. Nat Rev Neurol. 2018;14(7):399–415.

Umeda T, Ramser EM, Yamashita M, et al. Intracellular amyloid β oligomers impair organelle transport and induce dendritic spine loss in primary neurons. Acta Neuropathol Commun. 2015;3(1):1–15.

Franco R, Cedazo-Minguez A. Successful therapies for Alzheimer's disease: why so many in animal models and none in humans? Front Pharmacol. 2014;5:146.

Cummings J, Lee G, Ritter A, Sabbagh M, Zhong K. Alzheimer's disease drug development pipeline: 2020. Alzheimer's Dement: Transl Res Clin Interv. 2020;6(1):e12050.

Furman D, Campisi J, Verdin E, et al. Chronic inflammation in the etiology of disease across the life span. Nat Med. 2019;25(12):1822–32.

Chen L, Deng H, Cui H, et al. Inflammatory responses and inflammation-associated diseases in organs. Oncotarget. 2018;9(6):7204.

Demine S, Schiavo AA, Marín-Cañas S, Marchetti P, Cnop M, Eizirik DL. Pro-inflammatory cytokines induce cell death, inflammatory responses, and endoplasmic reticulum stress in human iPSC-derived beta cells. Stem Cell Res Ther. 2020;11(1):7.

McCoy MK, Tansey MG. TNF signaling inhibition in the CNS: implications for normal brain function and neurodegenerative disease. J Neuroinflammation. 2008;5:45.

Schwartz M, Deczkowska A. Neurological disease as a failure of brain–immune crosstalk: the multiple faces of neuroinflammation. Trends Immunol. 2016;37(10):668–79.

Galloway DA, Phillips AE, Owen DR, Moore CS. Phagocytosis in the brain: homeostasis and disease. Front Immunol. 2019;10:790.

Perry VH, Holmes C. Microglial priming in neurodegenerative disease. Nat Rev Neurol. 2014;10(4):217–24.

Butovsky O, Weiner HL. Microglial signatures and their role in health and disease. Nat Rev Neurosci. 2018;19(10):622–35.

Tyagi S, Gupta P, Saini AS, Kaushal C, Sharma S. The peroxisome proliferator-activated receptor: a family of nuclear receptors role in various diseases. J Adv Pharm Technol Res. 2011;2(4):236.

Staels B, Fruchart J-C. Therapeutic roles of peroxisome proliferator–activated receptor agonists. Diabetes. 2005;54(8):2460–70.

Clark RB. The role of PPARs in inflammation and immunity. J Leukoc Biol. 2002;71(3):388–400.

Delerive P, De Bosscher K, Besnard S, et al. Peroxisome proliferator-activated receptor α negatively regulates the vascular inflammatory gene response by negative cross-talk with transcription factors NF-κB and AP-1. J Biol Chem. 1999;274(45):32048–54.

Zingarelli B, Piraino G, Hake PW, et al. Peroxisome proliferator-activated receptor δ regulates inflammation via NF-κB signaling in polymicrobial sepsis. Am J Pathol. 2010;177(4):1834–47.

Wang K, Li Y-F, Lv Q, Li X-M, Dai Y, Wei Z-F. Bergenin, acting as an agonist of PPARγ, ameliorates experimental colitis in mice through improving expression of SIRT1, and therefore inhibiting NF-κB-mediated macrophage activation. Front Pharmacol. 2018;8:981.

Hou Y, Moreau F, Chadee K. PPARγ is an E3 ligase that induces the degradation of NFκB/p65. Nat Commun. 2012;3(1):1–11.

Dallakyan S, Olson AJ. Small-molecule library screening by docking with PyRx. In: Chemical biology: methods and protocols. Hempel JE, Williams CH, Hong CC (Eds.) (Springer New York, New York, NY, 2015) 243–250.

Trott O, Olson AJ. AutoDock Vina: improving the speed and accuracy of docking with a new scoring function, efficient optimization, and multithreading. J Comput Chem. 2010;31(2):455–61.

Lian H, Roy E, Zheng H. Protocol for primary microglial culture preparation. Bio-protocol. 2016;6(21).

Martin M. Cutadapt removes adapter sequences from high-throughput sequencing reads. EMBnet journal. 2011;17(1):10–2.

Dobin A, Davis CA, Schlesinger F, et al. STAR: ultrafast universal RNA-seq aligner. Bioinformatics. 2013;29(1):15–21.

Li B, Dewey CN. RSEM: accurate transcript quantification from RNA-seq data with or without a reference genome. BMC Bioinform. 2011;12(1):1–16.

Love MI, Huber W, Anders S. Moderated estimation of fold change and dispersion for RNA-seq data with DESeq2. Genome Biol. 2014;15(12):1–21.

Zhou Y, Zhou B, Pache L, et al. Metascape provides a biologist-oriented resource for the analysis of systems-level datasets. Nat Commun. 2019;10(1):1–10.

Subramanian A, Tamayo P, Mootha VK, et al. Gene set enrichment analysis: a knowledge-based approach for interpreting genome-wide expression profiles. Proc Natl Acad Sci. 2005;102(43):15545–50.

Liu T, Zhang L, Joo D, Sun S-C. NF-κB signaling in inflammation. Signal Transduct Target Ther. 2017;2(1):1–9.

Broz P, Dixit VM. Inflammasomes: mechanism of assembly, regulation and signalling. Nat Rev Immunol. 2016;16(7):407–20.

Spangenberg E, Severson PL, Hohsfield LA, et al. Sustained microglial depletion with CSF1R inhibitor impairs parenchymal plaque development in an Alzheimer's disease model. Nat Commun. 2019;10(1):1–21.

Davis K. NSAID and Alzheimer's disease; possible answers and new questions. Mol Psychiatry. 2002;7(9):925–925.

Venegas C, Kumar S, Franklin BS, et al. Microglia-derived ASC specks cross-seed amyloid-β in Alzheimer's disease. Nature. 2017;552(7685):355–61.

Heneka MT, Carson MJ, El Khoury J, et al. Neuroinflammation in Alzheimer's disease. Lancet Neurol. 2015;14(4):388–405.

Wyss-Coray T. Inflammation in Alzheimer disease: driving force, bystander or beneficial response? Nat Med. 2006;12(9):1005–15.

Friker LL, Scheiblich H, Hochheiser IV, et al. β-Amyloid clustering around ASC fibrils boosts its toxicity in microglia. Cell Rep. 2020;30(11):3743-3754.e3746.

Minter MR, Taylor JM, Crack PJ. The contribution of neuroinflammation to amyloid toxicity in Alzheimer's disease. J Neurochem. 2016;136(3):457–74.

Heneka MT, Kummer MP, Stutz A, et al. NLRP3 is activated in Alzheimer's disease and contributes to pathology in APP/PS1 mice. Nature. 2013;493(7434):674–8.

Drews HJ, Yenkoyan K, Lourhmati A, et al. Intranasal losartan decreases perivascular beta amyloid, inflammation, and the decline of neurogenesis in hypertensive rats. Neurotherapeutics. 2019;16(3):725–40.

Drews HJ, Klein R, Lourhmati A, et al. Losartan improves memory, neurogenesis and cell motility in transgenic Alzheimer's mice. Pharmaceuticals (Basel). 2021;14(2).

Cai D, Liu T. Inflammatory cause of metabolic syndrome via brain stress and NF-κB. Aging (Albany NY). 2012;4(2):98.

Kim D-G, Krenz A, Toussaint LE, et al. Non-alcoholic fatty liver disease induces signs of Alzheimer's disease (AD) in wild-type mice and accelerates pathological signs of AD in an AD model. J Neuroinflammation. 2016;13(1):1–18.

Barbagallo M, Dominguez LJ. Type 2 diabetes mellitus and Alzheimer's disease. World J Diabetes. 2014;5(6):889.

Nakamura T, Tu S, Akhtar MW, Sunico CR, Okamoto S-I, Lipton SA. Aberrant protein s-nitrosylation in neurodegenerative diseases. Neuron. 2013;78(4):596–614.

Seneviratne U, Nott A, Bhat VB, et al. S-nitrosation of proteins relevant to Alzheimer's disease during early stages of neurodegeneration. Proc Natl Acad Sci. 2016;113(15):4152–7.

Lipton SA, Choi Y-B, Pan Z-H, et al. A redox-based mechanism for the neuroprotective and neurodestructive effects of nitric oxide and related nitroso-compounds. Nature. 1993;364(6438):626–32.

Nakamura T, Oh C-K, Liao L, et al. Noncanonical transnitrosylation network contributes to synapse loss in Alzheimer's disease. Science. 2021;371(6526).

Bright JJ, Kanakasabai S, Chearwae W, Chakraborty S. PPAR regulation of inflammatory signaling in CNS diseases. PPAR Res. 2008;2008:658520.

Esmaeili MA, Yadav S, Gupta RK, et al. Preferential PPAR-α activation reduces neuroinflammation, and blocks neurodegeneration in vivo. Hum Mol Genet. 2016;25(2):317–27.

Ogawa K, Yagi T, Guo T, et al. Pemafibrate, a selective PPARα modulator, and fenofibrate suppress microglial activation through distinct PPARα and SIRT1-dependent pathways. Biochem Biophys Res Commun. 2020;524(2):385–91.

Chandra S, Pahan K. Gemfibrozil, a lipid-lowering drug, lowers amyloid plaque pathology and enhances memory in a mouse model of Alzheimer's disease via peroxisome proliferator-activated receptor α. J Alzheimers Dis Rep. 2019;3(1):149–68.

Konttinen H, Gureviciene I, Oksanen M, et al. PPARβ/δ-agonist GW0742 ameliorates dysfunction in fatty acid oxidation in PSEN1ΔE9 astrocytes. Glia. 2019;67(1):146–59.

de la Monte SM, Tong M, Schiano I, Didsbury J. Improved brain insulin/IGF signaling and reduced neuroinflammation with T3D–959 in an experimental model of sporadic Alzheimer's disease. J Alzheimers Dis. 2017;55(2):849–64.

Cummings J, Lee G, Nahed P, et al. Alzheimer's disease drug development pipeline: 2022. Alzheimer's Dement: Transl Res Clin Interv. 2022;8(1):e12295.

Salmani H, Hosseini M, Beheshti F, et al. Angiotensin receptor blocker, losartan ameliorates neuroinflammation and behavioral consequences of lipopolysaccharide injection. Life Sci. 2018;203:161–70.

Biancardi VC, Stranahan AM, Krause EG, de Kloet AD, Stern JE. Cross talk between AT1 receptors and Toll-like receptor 4 in microglia contributes to angiotensin II-derived ROS production in the hypothalamic paraventricular nucleus. Am J Physiol Heart Circ Physiol. 2016;310(3):H404–15.

Benicky J, Sánchez-Lemus E, Honda M, et al. Angiotensin II AT1 receptor blockade ameliorates brain inflammation. Neuropsychopharmacology. 2011;36(4):857–70.

Rocha NP, de Miranda AS, Teixeira AL. Insights into neuroinflammation in Parkinson's disease: from biomarkers to anti-inflammatory based therapies. Biomed Res Int. 2015;2015: 628192.

Liu J, Wang F. Role of neuroinflammation in amyotrophic lateral sclerosis: cellular mechanisms and therapeutic implications. Front Immunol. 2017;8:1005.

Kamma E, Lasisi W, Libner C, Ng HS, Plemel JR. Central nervous system macrophages in progressive multiple sclerosis: relationship to neurodegeneration and therapeutics. J Neuroinflammation. 2022;19(1):45.
Acknowledgements
We are thankful to Prof. Yuichiro Kanno for providing materials with GAL4-PPAR binding assay vector system.
Required Author Forms
Disclosure forms provided by the authors are available with the online version of this article.
Funding
This work was carried out with the support of Novmetapharma Inc. and partly by "Cooperative Research Program for Agriculture Science and Technology Development (Project No. PJ01640202)" Rural Development Administration, Republic of Korea. This research was also supported by the BK21 FOUR funded by the Ministry of Education, Republic of Korea.
Additional information
Publisher's Note
Springer Nature remains neutral with regard to jurisdictional claims in published maps and institutional affiliations.
Supplementary Information
Below is the link to the electronic supplementary material.
Rights and permissions
Open Access This article is licensed under a Creative Commons Attribution 4.0 International License, which permits use, sharing, adaptation, distribution and reproduction in any medium or format, as long as you give appropriate credit to the original author(s) and the source, provide a link to the Creative Commons licence, and indicate if changes were made. The images or other third party material in this article are included in the article's Creative Commons licence, unless indicated otherwise in a credit line to the material. If material is not included in the article's Creative Commons licence and your intended use is not permitted by statutory regulation or exceeds the permitted use, you will need to obtain permission directly from the copyright holder. To view a copy of this licence, visit http://creativecommons.org/licenses/by/4.0/.
About this article
Cite this article
Oh, E., Kang, JH., Jo, K. et al. Synthetic PPAR Agonist DTMB Alleviates Alzheimer's Disease Pathology by Inhibition of Chronic Microglial Inflammation in 5xFAD Mice. Neurotherapeutics 19, 1546–1565 (2022). https://doi.org/10.1007/s13311-022-01275-y
Accepted:

Published:

Issue Date:

DOI: https://doi.org/10.1007/s13311-022-01275-y
Keywords
Alzheimer's disease

Neuroinflammation

Microglia

Astrocyte

PPAR