Abstract
Managing protected areas effectively requires information about patterns of visitor use, but these data are often limited. We explore how geotagged photos on Flickr, a popular photo-sharing social-media site, can generate hotspot maps and distribution models of temporal and spatial patterns of use in two mountain-protected areas of high conservation value. In Aconcagua Provincial Park (Argentina), two routes to the summit of Aconcagua were used in summer, but most visitors stayed close to the main road, using formal and informal walking trails and the Visitor Centre, while in winter, there was very limited visitation. In Kosciuszko National Park (Australia), alpine walking trails were popular in summer, but in winter, most visitors stayed in the lower altitude ski resorts and ski trails. Results demonstrate the usefulness of social-media data alone as well as a complement for visitor monitoring, providing spatial and temporal information for site-specific and park-level management of visitors and potential impacts in conservation areas.
Access options
Buy single article
Instant access to the full article PDF.
US$ 39.95
Tax calculation will be finalised during checkout.
Subscribe to journal
Immediate online access to all issues from 2019. Subscription will auto renew annually.
US$ 79
Tax calculation will be finalised during checkout.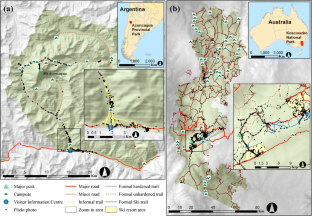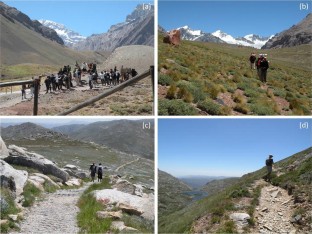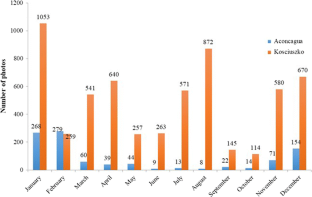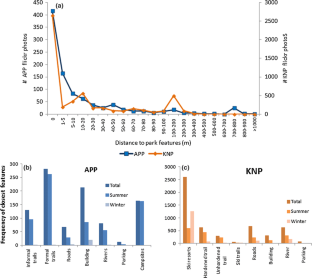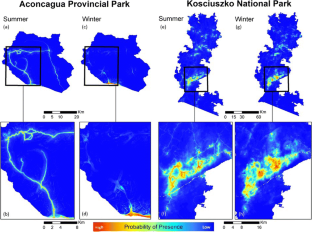 References
Alivand, M., and H.H. Hochmair. 2017. Spatiotemporal analysis of photo contribution patterns to Panoramio and Flickr. Cartography and Geographic Information Science 44: 170–184.

Antoniou, V., J. Morley, and M. Haklay. 2010. Web 2.0 geotagged photos: Assessing the spatial dimension of the phenomenon. Geomatica 64: 99–110.

Ballantyne, M., and C. Pickering. 2015. The impact of trail infrastructure on vegetation and soils: Current literature and future directions. Journal of Environmental Management 164: 53–64.

Barros, A., and C. Pickering. 2017. How networks of informal trails cause landscape level damage to vegetation. Environmental Management 60: 57–68.

Barros, A., J. Gonnet, and C. Pickering. 2013. Impacts of informal trails on vegetation and soils in the highest protected area in the Southern Hemisphere. Journal of Environmental Management 127: 50–60.

Barros, A., C. Pickering, and O. Gudes. 2015. Desktop analysis of potential impacts of visitor use: A case study for the highest park in the Southern Hemisphere. Journal of Environmental Management 150: 179–195.

Bizarro, S., R.M. Nogueira Mendes, T. Santos, and R.P. Julião. 2016. Monitoring outdoor recreation in Serra da Estrela Natural Park, Portugal. In D. Vasiljević et al., eds. Proceedings of the 8th International Conference on Monitoring and Management of Visitors in Recreational and Protected Areas: (Vol. MMV 8—Proceedings). 8th International Conference on Monitoring and Management of Visitors in Recreational and Protected Areas. Novi Sad, Serbia. 26–30 September. pp. 137–139.

Braunisch, V., P. Patthey, and R. Arlettaz. 2011. Spatially explicit modeling of conflict zones between wildlife and snow sports: Prioritizing areas for winter refuges. Ecological Applications 21: 955–967.

Campelo, M.B., and R.M. Nogueira Mendes. 2016. Comparing webshare services to assess mountain bike use in protected areas. Journal of Outdoor Recreation and Tourism 15: 82–88.

Coppes, J., and V. Braunisch. 2013. Managing visitors in nature areas: Where do they leave the trails? A spatial model. Wildlife Biology 19: 1–11.

Debarbieux, B., M. Oiry Varacca, G. Rudaz, D. Maselli, T. Kohler, and M. Jurek (eds.). 2014. Tourism in mountain regions: Hopes, fears and realities. Sustainable Mountain Development Series. Geneva, Switzerland: UNIGE, CDE, SDC.

Eagles, P.F.J. 2014. Research priorities in park tourism. Journal of Sustainable Tourism 22: 528–549.

Elith, J., S.J. Phillips, T. Hastie, M. Dudí, Y. E. Chee, and C.J. Yates. 2011. A statistical explanation of MaxEnt for ecologists. Diversity and Distributions 17: 43–57.

Hadwen, W.L., W. Hill, and C. Pickering. 2007. Icons under threat: Why monitoring visitors and their ecological impacts in protected areas matters. Ecological Management and Restoration 8: 177–181.

Halvorsen, R., S. Mazzoni, J.W. Dirksen, E. Næsset, T. Gobakken, and M. Ohlson. 2016. How important are choice of model selection method and spatial autocorrelation of presence data for distribution modelling by MaxEnt? Ecological Modelling 32: 108–118.

Hammitt, W.E., D.N. Cole, and C. Monz. 2015. Wildland recreation: Ecology and management, 3rd ed. Chichester, UK: Wiley Blackwell.

Hausmann, A., T. Toivonen, R. Slotow, H. Tenkanen, A. Moilanen, V. Heikinheimo, and E. Di Minin. 2017. Social media data can be used to understand tourists' preferences for nature-based experiences in protected areas. Conservation Letters. Advance online publication.

Heikinheimo, V., E. Di Minin, H. Tenkanen, A. Hausmann, J. Erkkonen, and T. Toivonen. 2017. User-generated geographic information for visitor monitoring in a national park: A comparison of social media data and visitor survey. ISPRS International Journal of Geo-Information 6: 85.

Hennig, S. 2017. OpenStreetMap used in protected area management. The example of recreational infrastructure in Berchtesgaden National Park. Eco-mont 9: 30–41.

Johnston, S.W., and A. Growcock. 2005. Visiting the Kosciuszko alpine area: Visitor numbers, characteristics and activities. Gold Coast, Australia: CRC.

Keeler, B.L., S.A. Wood, S. Polasky, C. Kling, C.T. Filstrup, and J.A. Downing. 2015. Recreational demand for clean water: Evidence from geotagged photographs by visitors to lakes. Frontiers in Ecology and the Environment 13: 76–81. https://doi.org/10.1890/140124.

Koch, R., J.S. Almeida-Cortez, and B. Kleinschmit. 2017. Revealing areas of high nature conservation importance in a seasonally dry tropical forest in Brazil: Combination of modelled plant diversity hot spots and threat patterns. Journal for Nature Conservation 35: 24–39.

Korpilo, S., T. Virtanen, and S. Lehvävirtaa. 2017. Smartphone GPS tracking—Inexpensive and efficient data collection on recreational movement. Landscape and Urban Planning 157: 608–617.

Leung, Y.-F., T. Newburger, M. Jones, B. Kuhn, and B. Woiderski. 2011. Developing a monitoring protocol for visitor-created informal trails in Yosemite National Park, USA. Environmental Management 47: 93–106.

Levin, N., S. Kark, and D. Crandall. 2015. Where have all the people gone? Enhancing global conservation using night lights and social media. Ecological Applications 25: 2153–2167.

Levin, N., A.M. Lechner, and G. Brown. 2017. An evaluation of crowdsourced information for assessing the visitation and perceived importance of protected areas. Applied Geography 79: 115–126.

Martínez Pastur, G., P.L. Peri, M.V. Lencinas, M. García-Llortente, and B. Martín-López. 2016. Spatial patterns of cultural ecosystem services provision in Southern Patagonia. Landscape Ecology 31: 383–399.

Massarelli. 2016. Estadisticas del Parque Provincial Aconcagua. Unpublished report. Direccion de Recursos Naturales Renovables, Gobierno de Mendoza, Argentina.

Morán-Ordóñez, A., N.J. Briscoe, and B.A. Wintle. 2017. Modelling species responses to extreme weather provides new insights into constraints on range and likely climate change impacts for Australian mammals. Ecography 40: 1–13.

Morrison, C., and C.M. Pickering. 2013. Perceptions of the ski tourism industry and others to impacts, adaptation and limits to adaption to climate change in the Australian Alps. Journal of Sustainable Tourism 21: 173–191.

Musa, G., A. Carr, and J. Higham. 2016. Mountaineering tourism. Oxford, UK: Routledge.

Newsome, D., S.A. Moore, and R.K. Dowling. 2012. Natural area tourism: Ecology, impacts and management. Bristol: Channel View Publications.

Oeldorf-Hirsch, A., and S. Shyam Sundar. 2016. Social and technological motivations for online photo sharing. Journal of Broadcasting and Electronic Media 60: 624–642.

Orsi, F., and D. Geneletti. 2013. Using geotagged photographs and GIS analysis to estimate visitor flows in natural areas. Journal for Nature Conservation 21: 359–368.

Pickering, C., and R. Buckley. 2003. Swarming to the summit. Mountain Research and Development 23: 230–233.

Pickering, C., and A.J. Growcock. 2009. Impacts of experimental trampling on tall alpine herbfields and subalpine grasslands in the Australian Alps. Journal of Environmental Management 91: 532–540.

Pietilä, M., and K. Kangas. 2015. Examining the relationship between recreation settings and experiences in Oulanka National Park—A spatial approach. Journal of Outdoor Recreation and Tourism 9: 26–36.

Poushter, J. 2016. Smartphone ownership and internet usage continues to climb in emerging economies. Washington D.C.: Pew Research Center. Retrieved 18 September 2017. http://www.diapoimansi.gr/PDF/pew_research%201.pdf.

Richards, D.R., and D.A. Friess. 2015. A rapid indicator of cultural ecosystem service usage at a fine spatial scale: Content analysis of social media photographs. Ecological Indicators 53: 187–195.

Romagosa, F., P.F.J. Eagles, and C.J. Lemieux. 2015. From the inside out to the outside in: Exploring the role of parks and protected areas as providers of human health and well-being. Journal of Outdoor Recreation and Tourism 10: 70–77.

Roy Morgan Research LTD. 2015. Annual visits to PWG managed parks in New South Wales. Brisbane, QLD. Retrieved 24 July 2017 from: http://www.environment.nsw.gov.au/resources/research/2014-nsw-parks-visitation-survey-report.pdf.

Santos, T., R.M. Nogueira Mendes, and A. Vasco. 2016. Recreational activities in urban parks: Spatial interactions among users. Journal of Outdoor Recreation and Tourism 15: 1–9.

See, L., P. Mooney, G. Foody, L. Bastin, A. Comber, J. Estima, S. Fritz, N. Kerle, et al. 2016. Crowdsourcing, citizen science or volunteered geographic information? The current state of crowdsourced geographic information. ISPRS International Journal of Geo-Information 5: 55.

Sessions, C., S.A. Wood, S. Rabotyagov, and D.M. Fisher. 2016. Measuring recreational visitation at U.S. National Parks with crowd-sourced photographs. Journal of Environmental Management 183: 703–711.

Shoval, N., and R. Ahas. 2016. The use of tracking technologies in tourism research: A review of the first decade. Tourism Geographies 18: 587–606.

Sonter, L.J., K.B. Watson, S.A. Wood, and T.H. Ricketts. 2016. Spatial and temporal dynamics and value of nature-based recreation, estimated via social media. PLoS One 11: 0162372.

Spalding, M., L. Burke, S.A. Wood, J. Ashpole, J. Hutchison, and P. zu Ermgassen. 2017. Mapping the global value and distribution of coral reef tourism. Marine Policy 82: 104–113.

van Zanten, B.T., D.B. van Berkel, R.K. Meetemeyer, J.W. Smith, K.F. Tieskens, and P.H. Vergurg. 2016. Continental scale quantification of landscape values using social media data. Proceedings of the National Academy of Sciences of the United States of America 113: 12974–12979.

Walden-Schreiner, C., Y.-F. Leung, T. Kuhn, T. Newburger, and W.-L. Tsai. 2017. Environmental and managerial factors associated with pack stock distribution in high elevation meadows: Case study from Yosemite National Park. Journal of Environmental Management 193: 52–63.

Walden-Schreiner, C., Y.-F. Leung, and L. Tateosian. 2018. Digital footprints: Incorporating crowdsourced geographic information for protected area management. Applied Geography 90: 44–54.

Watson, J.E.M., N. Dudley, D.B. Segan, and M. Hockings. 2014. The performance and potential of protected areas. Nature 515: 67–73.

Westcott, F., and M.E. Andrew. 2015. Spatial and environmental patterns of off-road vehicle recreation in a semi-arid woodland. Applied Geography 62: 97–106.

Wolf, I., G. Brown, and T. Wohlfart. 2017. Applying public participation GIS (PPGIS) to inform and manage visitor conflict along multi-use trails. Journal of Sustainable Tourism. https://doi.org/10.1080/09669582.2017.1360315.

Wood, S.A., A. Guerry, J. Silver, and M. Lacayo. 2013. Using social media to quantify nature-based tourism and recreation. Scientific Reports 3: 2976.

Worboys, G., and C. Pickering. 2002. Managing the Kosciuszko alpine area: Conservation milestones and future challenges. Mountain Tourism Research Report Series: No. 3. Gold Coast, Australia: CRC.

Worboys, G., M. Lockwood, A. Kothari, S. Feary, and I. Pulsford. 2015. Protected areas governance and management. Canberra: ANU Press.

Zielstra, D., and H.H. Hochmair. 2013. Positional accuracy analysis of Flickr and Panoramio images for selected world regions. Journal of Spatial Science 58: 251–273.
Acknowledgements
We thank Ruben Massarelli from Aconcagua Provincial Park who provided us with visitor statistics for the park and Dirección de Recursos Naturales Renovables, Mendoza, for providing the GIS layers for Aconcagua. We also thank Tim Greenville, Pamela O'Brien, and Anthony Evans for providing traffic counter location data and information regarding visitor use patterns in Kosciuszko National Park. Thank you also to Will Dorrington for providing GIS layers for Kosciuszko National Park, and Christopher Darlington for providing data on visitor use of the alpine area in the park.
About this article
Cite this article
Walden-Schreiner, C., Rossi, S.D., Barros, A. et al. Using crowd-sourced photos to assess seasonal patterns of visitor use in mountain-protected areas. Ambio 47, 781–793 (2018). https://doi.org/10.1007/s13280-018-1020-4
Received:

Revised:

Accepted:

Published:

Issue Date:
Keywords
Aconcagua Provincial Park

ALPINE

Geotagged photos

Informal trails

Kosciuszko National Park

MaxEnt modelling