Urban Ecosystem Services for Resilience Planning and Management in New York City
Abstract
We review the current state of knowledge about urban ecosystem services in New York City (NYC) and how these services are regulated, planned for, and managed. Focusing on ecosystem services that have presented challenges in NYC—including stormwater quality enhancement and flood control, drinking water quality, food provisioning and recreation—we find that mismatches between the scale of production and scale of management occur where service provision is insufficient. Adequate production of locally produced services and services which are more accessible when produced locally is challenging in the context of dense urban development that is characteristic of NYC. Management approaches are needed to address scale mismatches in the production and consumption of ecosystem services. By coordinating along multiple scales of management and promoting best management practices, urban leaders have an opportunity to ensure that nature and ecosystem processes are protected in cities to support the delivery of fundamental urban ecosystem services.
Keywords
Urban ecosystem services 
Urban planning 
Management 
Scale 
New York City 
Introduction
Cities are complicated social–ecological systems with both tightly and loosely connected components interacting dynamically over space and time (Pickett et al. 2001) making resilient, equitable, sustainable cities difficult to achieve. Urban resilience depends on the urban system's ability to simultaneously maintain social and ecological functions (Alberti et al. 2003). Ecosystem services provide an important framework for linking ecological infrastructure to social infrastructure in the city, with the potential to benefit humans and ecosystems. Designing, planning, and managing complex urban systems for human health and well-being require urban ecosystems to be resilient to systemic change, and to be managed sustainably to provide critical ecosystem services reliably over time.
Nature in cities plays a crucial role in urbanized systems as the ecological basis for human–nature interactions and the production of urban ecosystem services (Bolund and Hunhammar 1999; TEEB 2011; Gómez-Baggethun et al. 2013). Since the early days of urban planning, planners have sought various means of incorporating nature into the city and preserving the surrounding landscape (Jacobs 1961; Howard 1965; McHarg 1992). Many early landscape architects, notably Fredrick Law Olmsted, sought not only to improve the appearance of the city, but also to improve health and provide areas for rest and recreation for the crowded urban population (Hough 2004). In addition to the cultural benefits that ecosystem functions provide to urban residents, other services such as clean water and clean air are also crucial to health and well-being of urban populations. Here we review the current knowledge of urban ecosystem services in New York City (NYC) and their inclusion in current plans and policies as a foundation for the development of urban resilience planning, policy, and management in the city.
The Social–Ecological System of NYC
The New York Metropolitan region is a classic example of a complex social–ecological system (Cadenasso et al. 2007). Situated along the northeast coast of the United States, the New York Metropolitan region, with unparalleled ethnic and social diversity, encompasses a dense urban core, surrounded by suburban and exurban housing development. New York became the world's first global megacity in 1950 when its population reached 10 million (Chandler 1987) and still ranks as one of the world's largest megacities with 22.2 million people living in the metropolitan region (U.S. Census Bureau 2010) and 8.3 million residents within the municipal city (NYC) that includes the boroughs of Manhattan, Queens, Bronx, Brooklyn, and Staten Island. NYC is the most populous and dense (10 630 residents km−2) of all U.S. municipalities (Mackun and Wilson 2010), and has a higher percentage of open space than any other major U.S. city (The Trust for Public Land 2011). NYC's land area covers ~790 km2 with open space making up 27 % of the city. The rest of the city land area includes 27.3 % in low-density residential use, 12.2 % in multi-family residential use, 7.1 % transportation/utility, 6.9 % public facilities and institutions, 5.8 % vacant land, 4 % commercial/office, 3.6 % industrial/manufacturing, 3 % in mixed residential and commercial, 1.3 % parking facilities, and 1.8 % no data (New York City Department of City Planning 2013).
The population density of the city is matched by its cultural diversity. Thirty-six percent of the city's population is foreign-born (Lobo and Salvo 2004) and NYC continues to be the leading gateway for immigrants to the U.S. (Monger and Yankay 2011). Over 800 languages are spoken in NYC, the most linguistically diverse city in the world (Roberts 2010).
Ecologically, NYC lies at the confluence of several waterways that form one of the world's largest natural harbors used extensively for import and export activities (Kurlansky
2006
). Thirty-five percent of the city's area is water, and includes 23 km of public beaches. Throughout the five boroughs of NYC, there are 110 km
2
of city parkland—nearly 40 % of which is still natural—harboring freshwater wetlands, salt marshes, rocky shorelines, beaches, meadows, and forests. The diverse ecosystems of NYC include 6.7 km
2
of freshwater wetlands, 5.8 km
2
of grassland communities, 20.8 km
2
of forest, 6 km
2
of salt marsh, approximately 2 million trees in landscaped parks, 630 000 street trees, and over 2500 green streets (Fig. 
1
). In total there are over five million trees in NYC (Nowak et al.
2007
) with tree canopy covering 21 % of land area. Still, NYC is expected to add nearly one million new urban residents in the next 20 years (City of New York
2006
), introducing new challenges for managing local ecosystems to meet increased demand for fundamental ecosystem services in the city, including stormwater absorption, climate regulation, air pollution removal, noise mitigation, food production, drinking water, and recreation.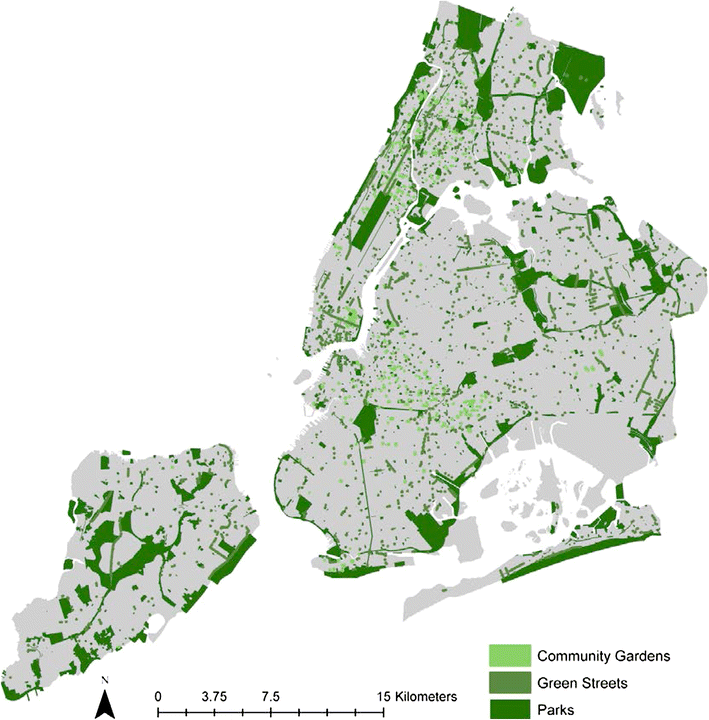 Materials and Methods
In this paper, we review and analyze the current knowledge of the state of ecosystem services in NYC, and the extent to which ecosystem services are managed, regulated, and planned. First, we identified provisioning, regulating, and cultural services that are consumed by residents in NYC. We then conducted a literature review including both the peer reviewed and practitioner literature on topics related to ecosystem services and management in NYC and the region, collecting the following information: (1) the scale of production (whether local, regional, or global) of each ecosystem service; (2) the production unit(s), or ecosystem type in which the ecosystem service is produced; and (3) the scale(s) of management, regulation, or planning (whether federal level, state level, regional level, city level, or by community groups and non-profits). For several ecosystem services that have recently been particularly important and challenging to provide within NYC, we closely examine the context and challenges surrounding each, and describe their specific management regimes. These services include stormwater quality and flood control, drinking water supply and quality, and food provisioning. We then analyze matches and mismatches between the scale of production and scale of management, regulation, or planning for NYC ecosystem services. For ecosystem services not produced at the city level, we highlight instances in which entities with jurisdiction over the scale of production manage ecosystem services in cooperation with entities that have jurisdiction over the scale at which ecosystem services are consumed (city level).
Ecosystem Services in NYC
Discussion
Why Scale Issues are Important
We find that ecosystem services consumed by New Yorkers are produced at the local, regional, and global levels, and managed by local non-governmental actors as well as governmental actors at all levels. These actors have been highly successful at maintaining a supply of clean water for the city, but generally less successful at managing flooding and stormwater runoff, maintaining a supply of healthy and affordable food for all residents, and ensuring equitable access to recreation in green spaces throughout the city. Notably, recreation and food can, in some ways, be more accessible when provided at the local scale if, for example, gardening opportunities are available for low-income households. Moreover, stormwater management is inherently produced at the local scale, since the conditions which create flooding and overflow mostly occur within relatively localized watersheds. That producing these services locally has been so challenging may be related to densification, which decreases land availability and puts increased demands on the use of what land is available. By contrast, management of the city's water supply is unrelated to land use within the city. Although competing land use interests were at issue within the water supply watershed region, a greater availability of land resources may have placed fewer political pressures on compromises that were made in order to develop Whole Farm, the City's land acquisition program, and local land use plans that limit real estate development.
Efforts to protect the quality of NYC's drinking water may have also been successful due to the coordination that has occurred among so many actors at different organizational and jurisdictional levels. In addition to farmers' participation in Whole Farm planning, in order to reduce the cost of water purification, the City needed to engage town and county planners in efforts to restrict real estate development that can also be a significant contributor of non-point source pollution. These efforts aligned with not only City interests, but also the interests of state agencies responsible for administering the federal Safe Drinking Water Act and those of regional environmental groups. Coordination among regional and state-level agencies (which have jurisdiction over the scale at which drinking water is produced) and city-level agencies (which have jurisdiction over the scale at which drinking water is consumed) has likely been a major reason why the quality of NYC's drinking water remains so high. A myriad of organizations are working toward building a local food system in the city, and Five Borough Farm has provided a starting point for comprehensive urban agriculture planning. However, the City has yet to design an over-arching strategy for supporting, harnessing the resources of, and coordinating these actors.
Utility of the Ecosystem Services Framework
Though the ecosystem services framework has utility for uniting biodiversity conservation goals with goals for human health and well-being and illuminating ways in which ecosystem functions benefit people in urban settlements, it is difficult to operationalize. The framework does not help to resolve the problematic ways in which spatial mismatches exist between the locations where ecosystem services are supplied and where they are consumed or demanded. Inherent difficulty coordinating management and planning across government jurisdictions and neighborhood institutions is exacerbated both by potentially competing goals among these groups, and by scale mismatches in supply and demand. These concerns suggest the need for further research to better understand the obstacles and potential solutions for employing the ecosystem services framework to achieve urban resilience and sustainability goals.
Conclusion
Meeting the sustainability and resilience goals within existing policy and plans in NYC will require a better understanding of the current and predicted future state of biodiversity and ecosystem services in a megacity undergoing change. Here we review key urban ecosystem services of high priority in the city in order to provide a baseline for future comparison and to generate discussion about how policy, planning, and management may be improved to transition NYC to a more sustainable and resilient city. Future environmental change, including land use transformation driven by population expansion and development, continued risk from invasive non-native species, and regional climate change place mounting pressure on existing biodiversity in the city, and, therefore, pose a threat to the ecosystem services upon which urban residents rely. Providing services which are inherently produced at the local scale, or lead to more equitable access when produced locally, has been a significant challenge in NYC, particularly with respect to recreation, food provisioning, and stormwater management. We suggest that better coordination among stakeholders and adaptation of land use planning to meet urban residents' needs in the context of increasing densification are needed to support health and well-being.
We find a number of important research questions remain. First, a comprehensive citywide assessment of the current state of ecosystem services production by urban green and blue infrastructure in the city would enable planners and managers to consider how ecosystem services can be improved and where tradeoffs exist. Though existing policies and plans in NYC have multiple ecosystem services goals, it is unclear how a particular management strategy will result in greater synergy and decreased tradeoffs among potentially competing ecosystem service goals. Additional research is needed to understand the inequalities driven by mismatches between the spatial distribution of the supply of ecosystem services and the spatial distribution of the demand for ecosystem services, especially in underserved areas of the city. For example, a recent effort to map the social need for ecosystem services around vacant lots in NYC found that low income, high population density areas of the city also tend to have decreased access to green space where many ecosystem services are produced (Kremer et al. 2013; McPhearson et al. 2013).
More direct inclusion of biodiversity conservation principles into governance practices and sustainability and resiliency policy initiatives could provide opportunities for collaboration between the biodiversity research community and natural resource managers and planners. Still, further study is needed, since the processes underlying patterns of biodiversity in cities and how they influence ecosystem services production are poorly understood (Faeth et al. 2011). Understanding the human-controlled and natural processes that alter urban biodiversity and ecosystems is essential for managing and planning for future delivery of ecosystem services. However, we still know little about the relationship between biodiversity, urban ecosystem processes, and ecosystem services in cities. Despite the need for additional research, we find that ecosystem services framework provides a utilitarian approach to motivate urban biodiversity conservation, promoting human–nature interactions in cities, and highlighting the value of ecosystems to promoting livable, resilient cities.
Notes
Acknowledgments
This project was supported by the Tishman Environment and Design Center at The New School and the Urban Biodiversity and Ecosystem Services Project (http://urbesproject.org/).
Copyright information
© The Author(s) 2014
Open AccessThis article is distributed under the terms of the Creative Commons Attribution License which permits any use, distribution, and reproduction in any medium, provided the original author(s) and the source are credited.