Abstract
The fatty acid composition of adipose tissue in livestock has been recognized as an important carcass trait that affects meat quality. To determine the overall positive effect on fatty acid synthesis, we investigated PPARγ, SREBPs, FABP4, SCD, and FASN genes because SNP and/or SNP combinations were strongly affecting each fatty acid synthesis pathway. We screened their SNPs, SNP combinations, and genotype. Furthermore, we studied the economic traits C18:1, monounsaturated fatty acid (MUFA), and marbling score (MS). To enhance the accuracy of the predictive genetic effect, we applied a statistical adjustment model excluding environmental factors. We also selected superior genes, gene combinations, and genotypes for each economic trait by using multifactor dimensionality reduction. Based on the results, g.3977-325 T>C (CC) was selected as the best genotype of the SNP and the combination (g.10153 A>G, g.3977-325 T>C) (AACC, AGCC, GGCC), (g.3690 G>A, g.3977-325 T>C) (GGCC, GACC), (g.3977-325 T>C, g.25670 C>T) (CCCC, CCCT, CCTT) (genotypes of the best SNP combination) was selected as the best gene combination for C18:1 and MUFA. In addition, g.3977-325 T>C (CC) was selected as the best genotype of the SNP and the combination (g.3977-325 T>C, g.6974 G>A) (TTAA, CTAA, CCAA, CCGA, CCGG) as the best SNP combination for MS. We integrated genes that were selected as excellent SNP and SNP combinations affecting two main routes of the fatty acid synthesis pathway and identified the best and final SNP, SNP combination, and superior genotype.
Access options
Buy single article
Instant access to the full article PDF.
US$ 39.95
Tax calculation will be finalised during checkout.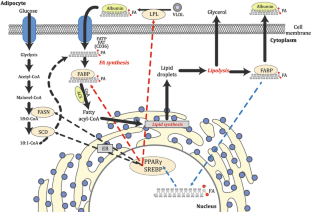 References
Barton L, Kott T, Bures D, Rehak D, Zahradkova R, Kottova B (2010) The polymorphisms of stearoyl-CoA desaturase (SCD1) and sterol regulatory element binding protein-1 (SREBP-1) genes and their association with the fatty acid profile of muscle and subcutaneous fat in Fleckvieh bulls. Meat Sci 85:15–20

Cameron ND, Enser MB (1991) Fatty acid composition of lipid in Longissimus dorsi muscle of Duroc and British Landrace pigs and its relationship with eating quality. Meat Sci 29:295–307

Choudhary V, Kumar P, Bhattacharya TK, Bhushan B, Sharma A, Shukla A (2007) DNA polymorphism of insulin-like growth factor-binding protein-3 gene and its association with birth weight and body weight in cattle. J Anim Breed Genet 124:29–34

Chung KY, Lunt DK, Kawachi H, Yano H, Smith SB (2007) Lipogenesis and stearoyl-CoA desaturase gene expression and enzyme activity in adipose tissue of short- and long-fed Angus and Wagyu steers fed corn- or hay-based diets. J Anim Sci 85:380–387

Folch J, Lees M, Sloane Stanley GH (1957) A simple method for the isolation and purification of total lipides from animal tissues. J Biol Chem 226:497–509

Gotoda T, Yamada N, Kawamura M, Kozaki K, Mori N, Ishibashi S, Shimano H, Takaku F, Yazaki Y, Furuichi Y et al (1991) Heterogeneous mutations in the human lipoprotein lipase gene in patients with familial lipoprotein lipase deficiency. J Clin Invest 88:1856–1864

Hahn LW, Ritchie MD, Moore JH (2003) Multifactor dimensionality reduction software for detecting gene-gene and gene-environment interactions. Bioinformatics 19:376–382

Havel RJ, Shore VG, Shore B, Bier DM (1970) Role of specific glycopeptides of human serum lipoproteins in the activation of lipoprotein lipase. Circ Res 27:595–600

Jeremiah LE (1996) The influence of subcutaneous fat thickness and marbling on beef: palatability and consumer acceptability. Food Res Int 29:513–520

Jin MH, Oh DY, Lee JY (2013) Major gene identification for LPL gene in Korean cattles. J Korean Data Inf Sci Soc 24:1331–1339

Laborde FL, Mandell IB, Tosh JJ, Wilton JW, Buchanan-Smith JG (2001) Breed effects on growth performance, carcass characteristics, fatty acid composition, and palatability attributes in finishing steers. J Anim Sci 79:355–365

LaRosa JC, Levy RI, Herbert P, Lux SE, Fredrickson DS (1970) A specific apoprotein activator for lipoprotein lipase. Biochem Biophys Res Commun 41:57–62

Lee J, Park J (2016) Major genotype identification affecting economic traits in FABP4, SCD, FASN and SREBPs genes of Korean cattle. Korean J Appl Stat 29:1247–1255

Lee J, Jin M, Lee Y, Ha J, Yeo J, Oh D (2014) Gene-gene interactions of fatty acid synthase (FASN) using multifactor-dimensionality reduction method in Korean cattle. Mol Biol Rep 41:2021–2027

Matsubara K, Inoue Y, Tahara K, Nakagawa K (1998) Quality of and consumer preference for marketing beef. Anim Husb 34:10–15

Matsuhashi T, Maruyama S, Uemoto Y, Kobayashi N, Mannen H, Abe T, Sakaguchi S, Kobayashi E (2011) Effects of bovine fatty acid synthase, stearoyl-coenzyme A desaturase, sterol regulatory element-binding protein 1, and growth hormone gene polymorphisms on fatty acid composition and carcass traits in Japanese Black cattle. J Anim Sci 89:12–22

Matsuzaka T, Shimano H, Yahagi N, Kato T, Atsumi A, Yamamoto T, Inoue N, Ishikawa M, Okada S, Ishigaki N et al (2007) Crucial role of a long-chain fatty acid elongase, Elovl6, in obesity-induced insulin resistance. Nat Med 13:1193–1202

May SG, Sturdivant CA, Lunt DK, Miller RK, Smith SB (1993) Comparison of sensory characteristics and fatty acid composition between Wagyu crossbred and Angus steers. Meat Sci 35:289–298

Melton SL, Amiri M, Davis GW, Backus WR (1982) Flavor and chemical characteristics of ground beef from grass-, forage-grainandgrain-finished steers. J Anim 55:77–87

Monson F, Sanudo C, Sierra I (2005) Influence of breed and ageing time on the sensory meat quality and consumer acceptability in intensively reared beef. Meat Sci 71:471–479

Neter J, Wasserman W, Kutner M (1990) Applied linear statistical models, vol 3. CRC Press, Florida

O'keefe PW, Wellington GH, Mattick LR, Stouffer JR (1968) Composition of bovine muscle lipids at various carcass locations. J Food Sci 33:188–192

Oh D, Lee Y, La B, Yeo J, Chung E, Kim Y, Lee C (2012) Fatty acid composition of beef is associated with exonic nucleotide variants of the gene encoding FASN. Mol Biol Rep 39:4083–4090

Oh DY, Jin MH, Lee YS, Ha JJ, Kim BK, Yeo JS, Lee JY (2013) Identification of stearoyl-CoA desaturase (SCD) gene interactions in Korean Native cattle based on the multifactor-dimensionality reduction method. Asian-Australas J Anim Sci 26:1218–1228

Ohsaki H, Tanaka A, Hoashi S, Sasazaki S, Oyama K, Taniguchi M, Mukai F, Mannen H (2009) Effect of SCD and SREBP genotypes on fatty acid composition in adipose tissue of Japanese Black cattle herds. Anim Sci J 80:225–232

Oka A, Iwaki F, Dohgo T, Ohtagaki S, Noda M, Shiozaki T, Endoh O, Ozaki M (2002) Genetic effects on fatty acid composition of carcass fat of Japanese Black Wagyu steers. J Anim Sci 80:1005–1011

Paolo G (2003) Applied data mining: statistical methods for business and industry. Statistics in practice, vol 1. Wiley, Chichester

Park HI, Lee M, Myung SC (1994) Comparison of flavor characteristics and palatability of beef obtained from various breeds. Korean J Food Sci Technol 26:500–506

Robbins K, Jensen J, Ryan KJ, Homco-Ryan C, McKeith FK, Brewer MS (2003) Consumer attitudes towards beef and acceptability of enhanced beef. Meat Sci 65:721–729

Rosenson RS (2007) Effects of peroxisome proliferator-activated receptors on lipoprotein metabolism and glucose control in type 2 diabetes mellitus. Am J Cardiol 99:96B–104B

Sturdivant CA, Lunt DK, Smith GC, Smith SB (1992) Fatty acid composition of subcutaneous and intramuscular adipose tissues and M. longissimus dorsi of Wagyu cattle. Meat Sci 32:449–458

Taniguchi M, Utsugi T, Oyama K, Mannen H, Kobayashi M, Tanabe Y, Ogino A, Tsuji S (2004) Genotype of stearoyl-CoA desaturase is associated with fatty acid composition in Japanese Black cattle. Mamm Genome 15:142–148

van der Wal PG, Engel B, Hulsegge B (1997) Causes for variation in pork quality. Meat Sci 46:319–327

Vreeland WN, Meagher RJ, Barron AE (2002) Multiplexed, high-throughput genotyping by single-base extension and end-labeled free-solution electrophoresis. Anal Chem 74:4328–4333

Yoshimura T, Namikawa K (1983) Influence of breed, sex anatomical location on lipid and fatty acid composition of bovine subcutaneous fat. Jpn J Zootech Sci 54:97–105
Acknowledgements
Jea-Young Lee's work was supported by the 2018 Yeungnam University Research Grant.
Ethics declarations
Conflict of interest
Jea-Young Lee, Jaejung Ha, Junkoo Yi, Jieun Jang, Wooseok Lee, Yoonseok Lee, Dong-yep Oh, and Kyudong Han declare that they have no conflict of interest.
Ethical approval
All research protocols and animal experiments in this study were reviewed and approved by the Institutional Animal Care and Use Committee (IACUC) in Gyeongsangbuk-do, Republic of Korea (Gyeongbuk IACUC-87).
About this article
Cite this article
Lee, JY., Ha, J., Yi, J. et al. Superior single nucleotide polymorphisms that contribute to two main routes of the fatty acid synthesis pathway in Korean cattle. Genes Genom 40, 945–954 (2018). https://doi.org/10.1007/s13258-018-0704-2
Received:

Accepted:

Published:

Issue Date:
Keywords
Hanwoo

Fatty acid synthesis pathway

Single nucleotide polymorphism (SNP)

Statistical adjustment model

Multifactor dimensionality reduction (MDR)