Abstract
The red-necked phalarope is a wonderful species with specific morphological characters and lifestyles. Mitochondrial genomes, encoding necessary proteins involved in the system of energy metabolism, are important for the evolution and adaption of species. In this study, we determined the complete mitogenome sequence of Phalaropus lobatus (Charadriiformes: Scolopacidae). The circular genome is 16714 bp in size, containing 13 PCGs, two ribosomal RNAs and 22 tRNAs and a high AT-rich control region. The AT skew and GC skew of major strand is positive and negative respectively. Most of PCGs are biased towards A-rich except ND1. A codon usage analysis shows that 3 start codons (ATG, GTG and ATA), 4 stop codons (TAA, TAG, AGG, AGA) and two incomplete terminate codons (T–). Twenty two transfer RNAs have the typical cloverleaf structure, and a total of ten base pairs are mismatched throughout the nine tRNA genes. The phylogenetic tree based on 13 PCGs and 2 rRNA genes indicates that monophyly of the family and genus Phalaropus is close to genus Xenus plus Tringa. The analysis of selective pressure shows 13 protein-coding genes are evolving under the purifying selection and P. lobatus is different from other Scolopacidae species on the selective pressure of gene ND4. This study helps us know the inherent mechanism of mitochondrial structure and natural selection.
Access options
Buy single article
Instant access to the full article PDF.
USD 39.95
Price excludes VAT (USA)
Tax calculation will be finalised during checkout.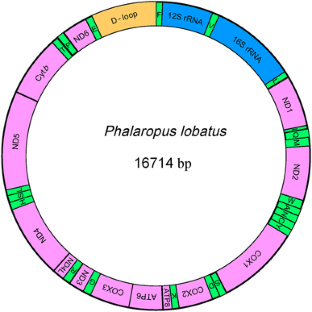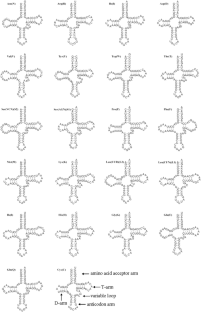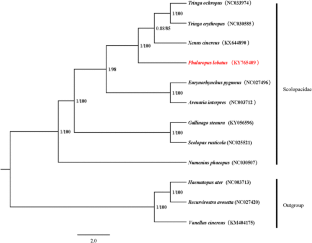 References
Anderson S, Bankier AT, Barrell BG, De Bruijin MHL, Coulson AR, Drouin J, Eperon IC, Nierlich DP, Roe BA, Sanger F et al (1981) Sequence and organization of the human mitochondrial genome. Nature 290:457–465

Baker AJ, Pereira SL, Paton TA (2007) Phylogenetic relationships and divergence times of Charadriiformes genera: multigene evidence for the Cretaceous origin of at least 14 clades of shorebirds. Biol Lett 3:205–210

Bernt M, Donath A, Jühling F, Externbrink F, Florentz C, Fritzsch G, Pütz J, Middendorf M, Stadler PF (2013) MITOS: Improved de novo metazoan mitochondrial genome annotation. Mol Phylogenet Evol 69:313–319

Boore JL (1999) Animal mitochondrial genomes. Nucleic Acids Res 27:1767–1780

Brown RGB, Gaskin DE (1988) The pelagic ecology of the Grey and Red-necked Phalaropes Phalaropus fulicarius and P. lobatus in the Bay of Fundy, eastern Canada. Ibis 130:234–250

Gibson R, Baker A (2012) Multiple gene sequences resolve phylogenetic relationships in the shorebird suborder Scolopaci (Aves: Charadriiformes). Mol Phylogenet Evol 64:66–72

Giroux MA, Ditlecadet D, Martin LJ, Lanctot RB, Lecomte N (2016) Sexing a sex-role-reversed species based on plumage: potential challenges in the red phalarope. Peer J 4:e1989

Hirst J (2005) Energy transduction by respiratory complex I—an evaluation of current knowledge. Biochem Soc Trans 33:525–529

Hu C, Zhang C, Sun L, Zhang Y, Xie W, Zhang B, Chang Q (2017) The mitochondrial genome of pin-tailed snipe Gallinago stenura, and its implications for the phylogeny of Charadriiformes. PLoS ONE 12:e0175244

Huntley B, Collingham YC, Willis SG, Green RE (2008) Potential impacts of climatic change on european breeding birds. PLoS ONE 3:e1439

Kumar S, Stecher G, Tamura K (2016) MEGA7: molecular evolutionary genetics analysis version 7.0 for bigger datasets. Mol Biol Evol 33:msw054

Lavrov DV, Boore JL, Brown WM (2002) Complete mtDNA sequences of two millipedes suggest a new model for mitochondrial gene rearrangements: duplication and nonrandom loss. Mol Biol Evol 19:163–169

Lehninger AL (1970) Mitochondria and calcium ion transport. Biochem J 119:129–138

Lowe TM, Eddy SRB (1997) tRNAscan-SE: a program for improved detection of transfer RNA genes in genomic sequence. Nucleic Acids Res 25:955–964

Pacheco MA, Battistuzzi FU, Lentino M, Aguilar RF, Kumar S, Escalante AA (2011) Evolution of modern birds revealed by mitogenomics: timing the radiation and origin of major orders. Mol Biol Evol 28:1927–1942

Perna NT, Kocher TD (1995) Patterns of nucleotide composition at fourfold degenerate sites of animal mitochondrial genomes. J Mol Evol 41:353–358

Peter H, Fain MG (2007) Multilocus perspectives on the monophyly and phylogeny of the order Charadriiformes (Aves). BMC Evol Biol 7:35

Uddin A, Choudhury MN, Chakraborty S (2016) Codon usage bias and phylogenetic analysis of mitochondrial ND1 gene in pisces, aves, and mammals. Mitochondrial DNA Part A 1:1–13

Varani G, McClain WH (2000) The G· U wobble base pair. EMBO Rep 1:18–23

Verkuil YI, Piersma T, Baker AJ (2010) A novel mitochondrial gene order in shorebirds (Scolopacidae, Charadriiformes). Mol Phylogenet Evol 57:411–416

Wolstenholme DR (1992) Animal mitochondrial DNA: structure and evolution. Int Rev Cytol 141:173–216

Yang Z (2007) Paml 4: phylogenetic analysis by maximum likelihood. Mol Biol Evol 24:1586

Yang Z, Nielsen R, Goldman N, Pedersen AMK (2000) Codon-substitution models for heterogeneous selection pressure at amino acid sites. Genetics 155:431–449

Zhang QL, Zhang L, Zhao TX, Wang J, Zhu QH, Chen JY, Yuan ML (2017) Gene sequence variations and expression patterns of mitochondrial genes are associated with the adaptive evolution of two Gynaephora species (Lepidoptera: Lymantriinae) living in different high-elevation environments. Gene 610:148–155

Zou Z, Min Q, Cheng S, Xin T, Xia B (2017) The complete mitochondrial genome of Thitarodes sejilaensis (Lepidoptera: Hepialidae), a host insect of Ophiocordyceps sinensis and its implication in taxonomic revision of Hepialus adopted in China. Gene 601:44–55
Acknowledgements
This research was supported by grants from the Program of National Natural Science Foundation of China (#31071901 and #41271057), Natural Science Research Program of Jiangsu Higher Education Institutions of China (#15KJD180005 and #16KJB180012) and Postgraduate Research & Practice Innovation Program of Jiangsu Province (#KYCX17_1073).
Ethics declarations
Conflict of interest
Wei Liu declares that he has no conflict of interest. Chao–Chao Hu declares that he has no conflict of interest. Wen-Li Xie declares that she has no conflict of interest. Peng Chen declares that he has no conflict of interest. Yi Zhang declares that she has no conflict of interest. Ran Yao declares that she has no conflict of interest. Ke-Xin Li declares that she has no conflict of interest. Qing Chang declares that he has no conflict of interest.
Ethical approval
The animal experiment throughout the study was conducted according to the Chinese Ministry of Science and Technology Guiding Directives for Humane Treatment of Laboratory Animals.
Electronic supplementary material
Below is the link to the electronic supplementary material.
About this article
Cite this article
Liu, W., Hu, C., Xie, W. et al. The mitochondrial genome of red-necked phalarope Phalaropus lobatus (Charadriiformes: Scolopacidae) and phylogeny analysis among Scolopacidae. Genes Genom 40, 455–463 (2018). https://doi.org/10.1007/s13258-017-0632-6
Received:

Accepted:

Published:

Issue Date:

DOI: https://doi.org/10.1007/s13258-017-0632-6
Keywords
Mitogenome

Red-necked phalarope

Evolution

Phylogeny