Zusammenfassung
Das Domain Name Systems (DNS) ist ein Auskunftsdienst, der die leicht zu merkenden Domains in IP-Adressen übersetzt. In diesem Beitrag werden Beobachtungsmöglichkeiten im DNS vorgestellt, welche die Privatsphäre von Internetnutzern bedrohen. Mit den beschriebenen Inferenzangriffen können die Betreiber von Nameservern mehr Informationen über ihre Nutzer gewinnen als bisher gedacht. Insbesondere wird ein Verfahren zum verhaltensbasierten Tracking beschrieben, mit dem die Aktivitäten von Nutzern unbemerkt über längere Zeiträume verfolgt werden können. Darüber hinaus werden Techniken vorgeschlagen, mit denen eine datenschutz- und zugleich benutzerfreundlichere Namensauflösung realisierbar wäre.
This is a preview of subscription content, log in to check access.
Access options
Buy single article
Instant access to the full article PDF.
US$ 39.95
Price includes VAT for USA
Subscribe to journal
Immediate online access to all issues from 2019. Subscription will auto renew annually.
US$ 99
This is the net price. Taxes to be calculated in checkout.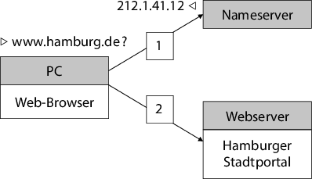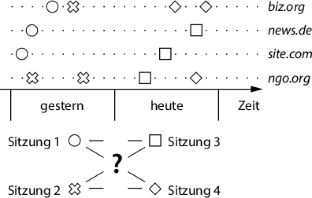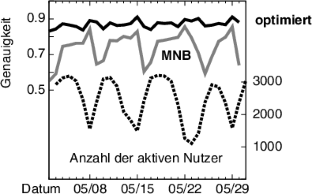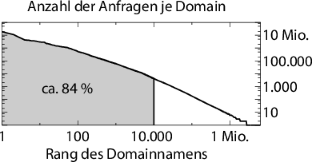 Notes
1.

Die angegebene Genauigkeit wird inzwischen nicht mehr erreicht, da die Wikipedia-Server inzwischen HTTPS verwenden, was bei den meisten Browsern das DNS-Prefetching deaktiviert.
Literatur
1

Acar G, Eubank C, Englehardt S, Juárez M, Narayanan A, Díaz C (2014) The web never forgets: Persistent tracking mechanisms in the wild. In: CCS 2014, ACM, S 674–689

2

Banse C, Herrmann D, Federrath H (2012) Tracking Users on the Internet with Behavioral Patterns: Evaluation of Its Practical Feasibility. In: SEC 2012, Springer, AICT, Bd 376, S 235–248

3

Brandhorst C, Pras A (2006) DNS: A Statistical Analysis of Name Server Traffic at Local Network-to-Internet Connections. IFIP International Workshop on Networked Applications (EUNICE 2005) S 255–270

4

Bundesamt für Sicherheit in der Informationstechnik (2015) Sichere Nutzung von PCs unter Microsoft Windows 7: Empfehlungen für Privatanwender [BSI-E-CS 001]. https://www.bsi-fuer-buerger.de/SharedDocs/Downloads/DE/BSIFB/Publikationen/BSI-E-CS_001.pdf?__blob=publicationFile

5

Callahan T, Allman M, Rabinovich M (2013) On Modern DNS Behavior and Properties. CCR 43(3):7–15

6

Chaum D (1981) Untraceable electronic mail, return addresses, and digital pseudonyms. Commun ACM 24(2)

7

Chen JK (2012) Google Public DNS: 70 billion requests a day and counting. Official Google Blog. http://googleblog.blogspot.de/2012/02/google-public-dns-70-billion-requests.html. Zugegriffen: 01.02.2016

8

Dingledine R, Mathewson N, Syverson PF (2004) Tor: The Second-Generation Onion Router. In: 13th USENIX Security Symposium, USENIX, S 303–320

9

Fabian B, Goertz F, Kunz S, Müller S, Nitzsche M (2010) Privately Waiting — A Usability Analysis of the Tor Anonymity Network. In: AMCIS 2010, SIGeBIZ track, LNIBIP, Bd 58, Springer, S 63–75

10

Federrath H, Fuchs KP, Herrmann D, Piosecny C (2011) Privacy-Preserving DNS: Analysis of Broadcast, Range Queries and Mix-Based Protection Methods. In: ESORICS 2011, Springer, LNCS, Bd 6879, S 665–683

11

Gehlen V, Finamore A, Mellia M, Munafò MM (2012) Uncovering the Big Players of the Web. In: TMA 2012, Springer, LNCS, Bd 7189, S 15–28

12

Han J, Kamber M, Pei J (2011) Data Mining: Concepts and Techniques, 3. Aufl. Morgan Kaufmann

13

Herrmann D (2014) Beobachtungsmöglichkeiten im Domain Name System: Angriffe auf die Privatsphäre und Techniken zum Selbstdatenschutz. Dissertation, Universität Hamburg

14

Herrmann D, Arndt C, Federrath H (2012) IPv6 Prefix Alteration: An Opportunity to Improve Online Privacy. In: 1st Workshop on Privacy and Data Protection Technology, co-located with Amsterdam Privacy Conference, arXiv:1211.4704 [cs.CR]

15

Herrmann D, Banse C, Federrath H (2013) Behavior-based Tracking: Exploiting Characteristic Patterns in DNS Traffic. Comput Secur 39A:17–33

16

Herrmann D, Fuchs K, Federrath H (2014) Fingerprinting Techniques for Target-oriented Investigations in Network Forensics. In: Sicherheit 2014, LNI, Bd 228, S 375–390

17

Herrmann D, Fuchs K, Lindemann J, Federrath H (2014) EncDNS: A Lightweight Privacy-Preserving Name Resolution Service. In: ESORICS 2014, Springer, LNCS, Bd 8712, S 37–55

18

Herrmann D, Maaß M, Federrath H (2014) Evaluating the security of a DNS query obfuscation scheme for private web surfing. In: IFIP SEC 2014, Springer, AICT, Bd 428, S 205–219

19

Archive HTTP (2016) Trends. http://httparchive.org/trends.php

20

Kaltschmidt T (2013) Hotline: Tipps und Tricks – Safari lahmt. c't magazin 2013(10):139

21

Kleindl M, Theobald A (1999) Werbung im Internet. Electronic Commerce. Gabler, S 281–296

22

Kremp M, Paralong F (2009) PublicDNS: Google will das Web beschleunigen. SPIEGEL ONLINE, http://spon.de/acXcO. Zugegriffen: 01.02.2016

23

Manning CD, Raghavan P, Schütze H (2008) Introduction to Information Retrieval. Cambridge University Press, Cambridge

24

Murray D, Durrell K (2000) Inferring Demographic Attributes of Anonymus Internet Users. In: International Workshop on Web Usage Analysis and User Profiling, Springer, WEBKDD '99, S 7–20

25

Thonnard O, Bilge L, O'Gorman G, Kiernan S, Lee M (2012) Industrial Espionage and Targeted Attacks: Understanding the Characteristics of an Escalating Threat. In: RAID 2012, Springer, LNCS, Bd 7462, S 64–85

26

Yan J, Shen D, Mah T, Liu N, Chen Z, Li Y (2011) Behavioral Targeting Online Advertising, IGI Global, Kap 12, S 213–232

27

Yang Y (2010) Web user behavioral profiling for user identification. Decis Support Syst 49:261–271

28

Zhao F, Hori Y, Sakurai K (2007) Analysis of Privacy Disclosure in DNS Query. In: MUE 2007, IEEE, S 952–957
About this article
Cite this article
Herrmann, D. Unerfreulich auskunftsfreudig: Inferenzangriffe auf DNS-Anfragen bedrohen unsere Privatsphäre. Datenbank Spektrum 16, 119–126 (2016). https://doi.org/10.1007/s13222-016-0217-6
Received:

Accepted:

Published:

Issue Date: