Abstract
This paper studies the intergenerational impact of parental job loss on school performance during the Great Recession in Spain. Collecting data through parental surveys in a school in the province of Barcelona, I obtain information about the parental labour market status before and after the Great Recession. I can then link this information to repeated information on their children's school performance, for a sample of over 300 students. Using individual fixed effects, the estimates show a negative and significant decrease on average grades of around 15% of a standard deviation after father's job loss. These results are mainly driven by those students whose fathers suffer long unemployment spells. In contrast, the average impact of mother's job loss on school performance is close to zero and non-significant. The decline in school performance during the Great Recession after father's job loss, particularly among disadvantaged students, could result in detrimental long-term effects that might contribute to increased inequality. This could be an important and underemphasised cost of recessions.
Notes
Data computed from Labour Force Survey registers of total employment (annual averages) published by Eurostat.

This school is an average school in Catalonia, both in terms of the academic performance of their students, and the socio-economic background of the parents. More details about this school are provided in Appendix A.

Unfortunately, the data do not include parental time use questions, to assess its potential importance as a mechanism driving the results.

See Björklund and Salvanes (2011) for a summary and evaluation of empirical research on education and family background.

I offer more details on the characteristics of the school as well as a comparison of the performance in standardised tests in this school with the Catalan average in Appendix A (Sect. A1.1).

In Appendix A, Sect. A.1.2, I provide more details on the characteristics of the sample compared to different population definitions in the Spanish Labour Force Survey.

Due to missing data for some individuals on the exact date of job loss, I had to make reasonable assumptions regarding the dates of job loss. Even if I was able to use the 5 years of information by making these assumptions, they could be introducing some measurement error in the dates regarding changes in employment. Robustness checks are performed using only the three points in time for which data are collected (2008, 2010 and 2012).

There is no scope to analyse whether job loss lead to separation in the sample, or to understand the impact of parental job loss in single parent households: only three mothers stated that they were single in 2008, and there are only eight cases in which the mother reports a separation or divorce after the 2008 academic year.

There is a majority of students that cannot be observed in 2008 because they were too young to be in school in the academic year 2007–2008. These are children that in the academic year 2012 were enrolled in the first grade of primary school or below. See Appendix A, Sect. A1.1 for a description of the Spanish education system. The remaining students that are not observed in academic year 2008 are those that entered the school during secondary school. That is, they graduated from primary school elsewhere and enrolled in the school where I collected the data once they moved to secondary school.

Note that in order to offer descriptive evidence for the maximum number of treated clusters, I use the loose definition of job loss in this section. The evidence is very similar using the strict definition of job loss.

This graph can be made more informative if the treatment group is split into students whose fathers lost their jobs in the first period (2009–2010) and students whose fathers lost their jobs in the second period (2011–2012). Figure 8 in Appendix B shows that compared to the control group, the group treated in the first period suffers a larger decrease in the average grade in the first period than in the second period. The group treated in the second period only experiences a significant decrease in the average grade with respect to the control group in the second period (once they have been treated with father's job loss). These results would be offering suggestive evidence of a causal effect, but given the small sample size further splitting treated students in two groups is very demanding. Therefore, this evidence needs to be taken with caution.

Some of the variables in this table have missing information, so the number of observations available is shown in an additional (third) row. As a way to partially assess whether these missing observations are related to father's job loss, I include a dummy in the table that is equal to 1 if income is missing. As it appears, there are no significant differences in the level of missing income information between treated and control students.

Note that the high-income category variable is derived from the following survey question: NET monthly income in euros (which includes salary, unemployment benefits, pension or other subsidies), with possible answers as follows: (1) less than 999 euros, (2) between 1000 and 1499 euros, (3) between 1500 and 1999 euros and (4) more than 2000 euros. The father is classified in the high-income category in 2008 if he marked options (3) or (4).

High motivation equals 1 if in 2008 the father had a level of motivation at work of 4 or 5 (measured in a Likert scale of 1 to 5, where 1 means 'not motivated' and 5 means very 'motivated').

Average grades are standardised using the mean and standard deviation of the whole sample. Standardisation is not performed at the year level, or at the year and cohort level, because the number of observations available for each group would be small. Instead, I use the average grade standardised based on the mean and standard deviation of all students in the sample, and control for year and stage of education dummies.

This assumption cannot be invoked when analysing the effect of getting back to employment after job loss. Nonetheless, Sect. 5.3 will explore whether the main results change when using alternative treatment definitions (i.e. allowing the treatment variable to switch back to 0 once the worker finds a new job).

However, it is important to note that the individual fixed effect controls for static pre-2008 labour market experience (i.e. number of years in unemployment prior to the Great Recession).

For instance, one might think that students from low socio-economic backgrounds would have experienced a different evolution of grades even in the absence of father's job loss.

Ideally, one could include individual specific trends instead. However, given the sample size and the number of periods available, this option would be too demanding.

Ruiz-Valenzuela (2020) shows that parental job insecurity affects negatively the educational outcomes of their offspring.

Results in this section are very similar to those obtained when using the percentile rank of the students in their cohort as a dependent variable. The percentile rank is not used as the main measure for two reasons. First, I do not have data for the whole population in the school, which would be the ideal scenario. Second, the average grade has been used in other studies in the literature (Rege et al. 2011), and using it here will be useful to compare results.

House not fully paid means that the household either lives in a rented house or has a mortgage. This information is only available for 2012, although ideally we would want this to be measured in 2008 values. However, it seems very unlikely that those families that are renting or paying a mortgage in 2012 would have had a fully paid house in 2008. Changes in housing status during the Great Recession in Spain are more likely to go from paying a mortgage to renting and the other way around. The way the housing variable is defined could be seen as a good proxy for housing status in 2008.

Specifically, 'All FJL' is a dummy variable that equals 1 the year the father loses the job and the years after job loss as long as the father remains unemployed, and it equals 0 when the father is employed. 'FJL leading to long-term unemployment' is a dummy variable that equals 1 the year the father loses the job (as long as he does not find a job the same year), and the years after job loss as long as the father remains unemployed. It equals 0 when the father is employed. The only difference between 'All FJL' and 'FJL leading to long-term unemployment' is that 'All FJL' considers fathers during the year of job loss as treated, whereas 'FJL leading to long-term unemployment' only considers them as treated as long as they do not find a job during the same year.

The loose definition of job loss is used here to maximise the number of treated clusters, given that I am further splitting the treated group in two subgroups in each regression. Results are very similar when using the strict definition of job loss.

People with low levels of education are less likely to find a job, as could be seen by using data from the Spanish Labour Force survey. Even if according to these data low-educated fathers have a higher probability of suffering long unemployment spells after job loss, the results in Sect. 5.3 are not stemming from the same group of students. The correlation between a dummy variable for low-educated fathers and a dummy variable indicating long-term unemployment is not significant and close to zero.

Even if not shown, the impact of FJL seems to be concentrated on poorer households, as given by father's net income in 2008. However, standard errors are very large in this case.

Ideally, all the variables interacted with FJL should be measured in 2008 values. For certain variables, the data were not available and the 2012 has been used as an approximation of the 2008 value in Columns 5 and 6.

However, it is important to note some important differences between both papers. First, students in Rege et al. (2011) are generally older (16 years old). Second, the estimation strategies used by the two papers differ. While Rege et al. (2011) use a pooled cross section of 10th graders and job losses coming from plant closures, this paper uses within-individual variation to analyse job losses that are mostly due to the Great Recession in Spain. Moreover, I cannot rule out the possibility that the larger magnitude of the results is due to particularities of the Spanish economy (different welfare and protection systems after job loss, for instance).

Data on the frequency distribution of other household variables and mother's characteristics can be found in Chapter 1 of Ruiz-Valenzuela (2014).

The reader can find more information in Chapter 1 of Ruiz-Valenzuela (2014).

Source: Datos y Cifras, Curso Escolar 2012–2013, Ministerio de Educación, Cultura y Deporte
References
Angrist JD, Dynarski SM, Kane TJ, Pathak PA, Walters CR (2010) Inputs and impacts in charter schools: Kipp lynn. Am Econ Rev 100(2):239–43

Angrist JD, Pischke J-S (2008) Mostly harmless econometrics: an empiricist's companion. Princeton University Press, Princeton

Arellano M, Zamarro G (2007) The choice between public and private schools with or without subsidies in Spain. Unpublished manuscript

Barling J, Zacharatos A, Hepburn CG et al (1999) Parents' job insecurity affects children's academic performance through cognitive difficulties. J Appl Psychol 84:437–444

Björklund A, Salvanes KG (2011) Education and family background: mechanisms and policies. Handb Econ Educ 3:201–247

Burgess S, Greaves E (2013) Test scores, subjective assessment, and stereotyping of ethnic minorities. J Labor Econ 31(3):535–576

Bursztyn L, Fujiwara T, Pallais A (2017) 'acting wife': marriage market incentives and labor market investments. Am Econ Rev 107(11):3288–3319

Card D, Heining J, Kline P (2013) Workplace heterogeneity and the rise of West German wage inequality. Q J Econ 128(3):967–1015

Charles KK, Stephens M (2004) Job displacement, disability, and divorce. J Labor Econ 22(2):489–522

Coelli MB (2011) Parental job loss and the education enrollment of youth. Labour Econ 18(1):25–35

Couch KA, Placzek DW (2010) Earnings losses of displaced workers revisited. Am Econ Rev 100(1):572–89

Currie J, Duque V, Garfinkel I (2015) The Great Recession and mothers' health. Econ J 125(588):F311–F346

Dobbie W, Fryer RG (2015) The medium-term impacts of high-achieving charter schools. J Polit Econ 123(5):985–1037

Eliason M (2012) Lost jobs, broken marriages. J Popul Econ 25(4):1365–1397

Eliason M, Storrie D (2009a) Does job loss shorten life? J Hum Resour 44(2):277–302

Eliason M, Storrie D (2009) Job loss is bad for your health. Swedish evidence on cause-specific hospitalization following involuntary job loss. Soc Sci Med 68(8):1396–1406

Evans DS, Leighton LS (1995) Retrospective bias in the displaced worker surveys. J Hum Resour 30:386–396

Farber H (2015) Job loss in the Great Recession and its aftermath: US evidence from the displaced workers survey. Technical report, Institute for the Study of Labor (IZA), DP, p 9069

Farber HS (2011) Job loss in the Great Recession: historical perspective from the displaced workers survey, 1984–2010. Technical report, National Bureau of Economic Research Working Paper No. 564

Gibbons S, Chevalier A (2008) Assessment and age 16+ education participation. Res Pap Educ 23(2):113–123

Gregg P, Macmillan L, Nasim B (2012) The impact of fathers' job loss during the recession of the 1980s on their children's educational attainment and labour market outcomes. Fisc Stud 33(2):237–264

Hanna RN, Linden LL (2012) Discrimination in grading. Am Econ J Econ Policy 4(4):146–168

Hanushek EA (2006) School resources. Handb Econ Educ 2:865–908

Hilger NG (2016) Parental job loss and children's long term outcomes: evidence from 7 million father's layoffs. Am Econ J Appl Econ 8(3):247–83

Huttunen K, Møen J, Salvanes KG (2011) How destructive is creative destruction? Effects of job loss on job mobility, withdrawal and income. J Eur Econ Assoc 9(5):840–870

Imbens G W, Angrist J D (1994) Identification and estimation of local average treatment effects. Econom J Econom Soc 62(2):467–475

Jacobson LS, LaLonde RJ, Sullivan DG (1993) Earnings losses of displaced workers. Am Econ Rev 83(4):685–709

Kalil A (2013) Effects of the Great Recession on child development. Ann Am Acad Polit Soc Sci 650(1):232–250

Kalil A, Wightman P (2011) Parental job loss and children's educational attainment in black and white middle-class families. Soc Sci Q 92(1):57–78

Kalil A, Ziol-Guest KM (2008) Parental employment circumstances and children's academic progress. Soc Sci Res 37(2):500–515

Kletzer LG (1998) Job displacement. J Econ Perspect 12(1):115–136

Kuhn A, Lalive R, Zweimüller J (2009) The public health costs of job loss. J Health Econ 28(6):1099–1115

Leombruni R, Razzolini T, Serti F (2013) The pecuniary and non-pecuniary costs of job displacement. The risky job of being back to work. Eur Econ Rev 61:205–216

Lim VK, Sng QS (2006) Does parental job insecurity matter? Money anxiety, money motives, and work motivation. J Appl Psychol 91(5):1078

Pan W, Ost B (2014) The impact of parental layoff on higher education investment. Econ Educ Rev 42:53–63

Rege M, Telle K, Votruba M (2011) Parental job loss and children's school performance. Rev Econ Stud 78(4):1462–1489

Ruiz-Valenzuela J (2014) Job loss at home: children's grades during the Great Recession in Spain. Methods. Essays on parental labor market characteristics and the academic outcomes of their offspring. EUI Ph.D. theses; Department of Economics

Ruiz-Valenzuela J (2020) Intergenerational effects of employment protection reforms. Labour Econ 62:101774

Stevens AH (1997) Persistent effects of job displacement: the importance of multiple job losses. J Labor Econ 15(1):165

Stevens AH, Schaller J (2011) Short-run effects of parental job loss on children's academic achievement. Econ Educ Rev 30(2):289–299

Todd PE, Wolpin KI (2003) On the specification and estimation of the production function for cognitive achievement. Econ J 113(485):F3–F33

Von Wachter T, Song J, Manchester J (2009) Long-term earnings losses due to mass layoffs during the 1982 recession: an analysis using US administrative data from 1974 to, (2004) Columbia University. Department of Economics, Discussion Paper No, pp 0708–16
Ethics declarations
Conflict of interest
The author declares that she has no competing interests. The data used in this article come from surveys and school data where parental consent was explicitly given (i.e. by the participating subjects actively engaging in responding the surveys after being informed through meetings and in writing).
Additional information
Publisher's Note
Springer Nature remains neutral with regard to jurisdictional claims in published maps and institutional affiliations.
I am grateful to Andrea Ichino and Jérôme Adda for their advice, and to Libertad González, Stephen Machin, Sandra McNally and Peter Skogman Thoursie for comments on previous versions of this paper, as well as conference and seminar participants at the European University Institute, London School of Economics, UCL Institute of Education, Università degli Studi di Milano, Universitat Autònoma de Barcelona, Universitat Rovira i Virgili, European Economic Association, European Association of Labour Economists, Spanish Economics Association, Spanish Economics of Education Association and Applied Economics Meetings. Additionally, I thank the Asociación Libre de Economía who awarded me for a previous version of this paper with the 2014 Young Scientist ALdE Prize. I would also like to thank the editor and three anonymous referees for their helpful comments. Finally, a very special thank you to the principal and vice-principal, teachers, students and parents that participated in this study. All remaining errors are my own.
Appendices
Appendix A: More details on the data
A1 Representativeness
1.1

A1.1 The school within the Catalan school system

The school where the data have been collected is a concerted school in the province of Barcelona. A concerted school is a private school, typically owned by the Catholic Church (80% of them are including this particular school), that signs a long-term concert or agreement with the government by which it becomes fully subsidised in exchange for implementing a state school-like admission policy (Arellano and Zamarro 2007). Neither public nor concerted schools, in principle, charge fees because they are both funded by the taxpayers. However, in practice the cost of attending concerted schools may be three times larger than for state schools, but in either case these are much smaller amounts than those faced by the small fraction of parents that send their children to non-concerted fee-paying private schools (Arellano and Zamarro 2007). For this particular school, the fees vary according to parental income, but for kindergarten and compulsory schooling ages, it is below or around 100 euros per month.

Figure 5 provides a description of the position of the school in the Catalan education system in terms of the achievement of its students. The information comes from a test designed and organised by the Education Department of the Catalan Government that all 6th graders (primary school) must take regardless of school type. The first test was administered in the academic year 2008–2009 and evaluated core competencies in Catalan, Spanish and mathematics. From the next academic year, it also tested the English knowledge of 6th graders. The results of these tests are not publicly available, but the schools receive a document with information about how their students performed compared to the average school in Catalonia, and this is what is shown in Fig. 5 for the academic years 2008–2009 and 2011–2012.
The results divide the level of core competencies into three categories: low (0–70), average (70–90) and high (90–100). In 2008–2009, the results for 6th graders in the school where the data have been collected are very close to the average results in Catalonia (for the three tested subjects). The same can be stated about the academic year 2011–2012 on average, although the students in the school analysed here performed slightly worse in English and slightly better in mathematics. The school does not have the data needed to compute whether the differences between the school and the Catalan average results are significantly different from each other. Nevertheless, these results seem to suggest that, in terms of academic results, the school is very close to the average Catalan school.
1.2

A1.2 The characteristics of the sample compared to the population in the Spanish Labour Force Survey

I use the data of the Spanish Labour Force Survey (LFS) to assess how the distribution of some key characteristics of the individuals in the sample compares to the distribution of these same characteristics in the Spanish, Catalan and (province of) Barcelona population.

I use the LFS data produced by the Spanish National Institute of Statistics (INE) corresponding to the 1st quarter of 2012 and extract the subsample of individuals aged 0–20. Since the age data are given in 5 year interval age groups, and given that the individuals in the school have ages ranging from 3 to 18, this is the closest I can get to the ages in the sample. Using the information on family relationships, I have matched these individuals with the information of their parents.

The distribution of father's education, father's labour market status and father's sector of activity are shown in Fig. 2 (in the main text) and in Figs. 6 and 7. In general, there is a higher fraction of fathers in the sample with post-compulsory (non-tertiary) education if compared to any of the three different populations extracted from the LFS, and whether I use all the population (left figure) or I restrict the sample to include only children from Spanish citizens (right figure). Nonetheless, the results of Pearson square tests indicate that the frequency distribution of education levels for fathers in the sample resembles that of fathers in Catalonia and Barcelona when the whole population is considered and that of Catalonia when the sample is restricted to Spanish nationals. Similar figures for the distribution of the labour market status of fathers in the sample and Spain, Catalonia and the province of Barcelona are shown in the main text. For those fathers that are working, the distribution regarding the sector of activity is plotted in Fig. 7. Both for the whole population and for the restricted one, the frequency distribution of the sectors in the sample resembles that of Catalonia.Footnote 32
The descriptive analysis in this section suggests that the sample, even if restricted in terms of size and concentrated in only one school, is sufficiently diverse to reproduce some of the most representative characteristics of the population with children aged 0–20 (as given by the data in the Spanish LFS).
1.3

A1.3 How representative is the sample of the school population?

The school granted access to the data that they had in electronic format for the population of all children enrolled at the school during the academic year 2011–2012. In particular, I got access to data related to the distribution of students by grades, their birth dates and the postcodes associated with the household residence for all students enrolled at the school during the academic year 2011–2012. In general, there are no remarkable differences between the sample and the school population regarding neighbourhood, month of birth and distribution of the students across different grades (cohorts). The results of the Pearson Chi-square tests indicate that there are no significant differences between the frequency distribution in the sample and the school population for any of these variables. I also got access to data on school outcomes for the school population. Unfortunately, these data were not available in electronic format for all the school population, but just for some groups (e.g. for some subjects, grades and classes). Therefore, when assessing representativeness using outcome data, I use the data of those students enrolled in grades for which I also observe the final outcomes of the school population. The data for both the sample and the school population refer to the third term of the academic year 2011–2012. For both mathematics and Catalan, there are not significant differences between the frequency distribution in the sample and the school population for both primary and secondary school students with Spanish-like surnames (if taking into account the whole sample, students in the sample tend to perform better, but this is no longer the case when students without Spanish-like surnames are excluded from both the sample and the population).Footnote 33

Unfortunately, the data available for the whole population of students in the school in 2012 do not allow me to discern respondents from-non respondents. I can therefore not analyse whether some of the available characteristics (postcode, month of birth, etc.) play an important role in the decision to fill out the questionnaire. However, the previous comparison of the available data for the school population with the sample data seems to suggest that the sample is representative of the school population as long as students with an immigrant background are excluded from both the sample and school population.
A2 Survey and item non-response
There were 931 children (distributed over 700 families) enrolled at the school where the data were collected during the academic year 2011–2012. Some children were not present at the school the day the questionnaires were handed out, but we were able to distribute the questionnaires to children in 630 families. A total of 313 families returned the questionnaires. Since there could be more than one child enrolled at the school for each family, these data corresponded to 436 children distributed throughout all the grades. The response rate is, therefore, close to 50% of the questionnaires delivered. After receiving, coding and revising the questionnaires, three typologies of answers emerged. First, a total of 242 families returned the questionnaires completed (there were some minor cases of item non-response, but in general the answers were complete and consistent). Second, some inconsistency was found for the answers of either the father or the mother in 58 families. In order to correct these inconsistencies, the school allowed me to contact those 58 families again. Twenty-one of those families returned the questionnaire corrected. Finally, out of the 313 returned questionnaires, 13 of them presented a substantial number of questions unanswered. These 13 families have been disregarded from the analysis. Additionally, 8 families did not provide the name of the children in the returned questionnaires, and therefore, it was impossible to match the parental data provided with their children's grades. Taking this into account, the final sample consists of 408 students in 292 families (358 of them were enrolled in compulsory education grades in 2012). Item non-response is very low for almost all questions in the household and individual questionnaires. Importantly, there is almost no missing data regarding the labour market status of the father or the mother after following up with respondents to correct mistakes.
A3 The data on school outcomes
The different stages in the Spanish education system are as follows. Kindergarten is divided into a first stage (children from ages 0–3) and a second stage (children from 3 to 6 years of age). Even if kindergarten is not compulsory, 98% of 3-year-olds were enrolled in the second stage of kindergarten in the academic year 2008.Footnote 34 Compulsory education in Spain begins the year the child turns six until the year the child turns sixteen, and is divided into two stages: primary school, with a total of six grades (until the year the child turns twelve) and secondary school, comprising four additional grades. After completing compulsory education successfully, students can choose to enrol in high school for two additional years or in vocational training.
Grades' formats differ across stages of education. In the school where the data come from, grades in secondary school have a number format ranging from 1 to 10, with 10 being the best possible grade and the passing grade being bigger or equal to 5. In primary school, grades can take on five different values: (1) fail, (2) pass, (3) good, (4) very good and (5) excellent. Secondary school grades can be translated into this five value scale following the traditional convention in the school: grades 1 to 4 in secondary school were assigned a grade of fail (1). A grade of 5 or 6 in secondary school corresponds to pass (2) or good (3), respectively. Grades 7 or 8 correspond to very good (4). Finally, grades 9 or 10 are translated into a grade of excellent (5). In the school analysed, the student in primary, secondary or high school receives a report with her grades three times during each academic year. In the second stage of kindergarten, parents receive a report twice a year where different areas (mathematics, language, arts and musical education) are evaluated with short sentences. These short sentences can be clearly positive (ex: the child can count from one to five, the child can write her name, etc.), clearly negative (ex: the child cannot count from one to five, the child cannot write her name, etc.), or improving type of sentences (child's counting has improved, etc.). In order to translate these sentences into a numeric grade, a value of 1 is assigned to positive and improving sentences, and a value of 0 to negative sentences. After doing this, I computed a simple average of the points obtained in each subject in order to obtain a numeric grade ranging between 0 and 1. Multiplying by 10, this 0–1 grade was converted into a 0–10 grade, and it was translated afterwards into the five scale values with the same criteria outlined for secondary school grades. Based on this information, I constructed a summary measure of each student's performance during the academic year. The main measure used throughout the analysis is the average grade obtained each academic year by each student. This measure is obtained by averaging the student's grades in all subjects and terms in a given academic year.
Appendix B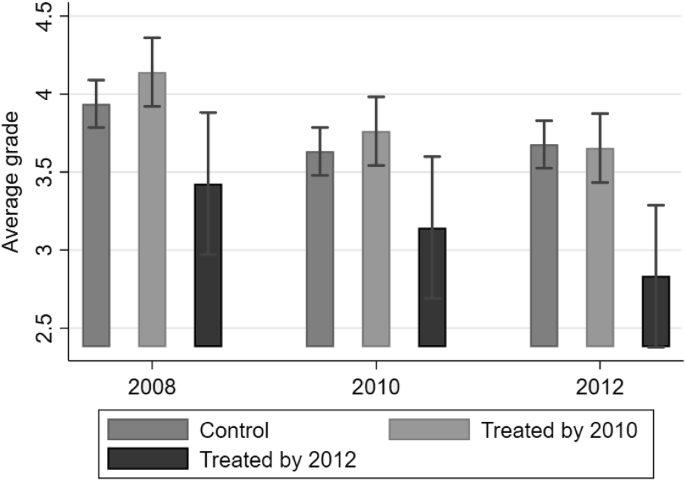 Rights and permissions
Open Access This article is licensed under a Creative Commons Attribution 4.0 International License, which permits use, sharing, adaptation, distribution and reproduction in any medium or format, as long as you give appropriate credit to the original author(s) and the source, provide a link to the Creative Commons licence, and indicate if changes were made. The images or other third party material in this article are included in the article's Creative Commons licence, unless indicated otherwise in a credit line to the material. If material is not included in the article's Creative Commons licence and your intended use is not permitted by statutory regulation or exceeds the permitted use, you will need to obtain permission directly from the copyright holder. To view a copy of this licence, visit http://creativecommons.org/licenses/by/4.0/.
About this article
Cite this article
Ruiz-Valenzuela, J. Job loss at home: children's school performance during the Great Recession. SERIEs 11, 243–286 (2020). https://doi.org/10.1007/s13209-020-00217-1
Received:

Accepted:

Published:

Issue Date:

DOI: https://doi.org/10.1007/s13209-020-00217-1
Keywords
JEL Classification