Abstract
Gluten-free muffins are generally made from purified flours and starches (from non-gluten sources) which are deficient in dietary fibre and have poor quality attributes. In this regard, the present work was undertaken to explore application of black carrot pomace dietary fibre concentrate (BCF) and xanthan gum (XG) in gluten-free rice muffins. Physicochemical properties of BCF and rice flour were studied. BCF was incorporated at three levels (3, 6 and 9 %) in rice flour, while XG was added at 0.5 % level to study their effect on muffin batters and physicochemical properties of muffins. BCF showed higher water absorption and oil absorption capacities than rice flour. Incorporation of BCF and XG increased flour paste viscosities and batter viscoelasticity. Incorporation of BCF increased total dietary fibre content (TDF) and decreased the L* and b* values, water activity (aw), specific volume and firmness. On the other hand, XG improved appearance and specific volume of the rice muffins prepared with and without BCF. Muffins prepared with 6 % BCF incorporation and XG were the most acceptable. This study demonstrated that BCF and XG can be used as viable functional ingredients in the preparation of gluten-free muffins.
Access options
Buy single article
Instant access to the full article PDF.
US$ 39.95
Tax calculation will be finalised during checkout.
Subscribe to journal
Immediate online access to all issues from 2019. Subscription will auto renew annually.
US$ 79
Tax calculation will be finalised during checkout.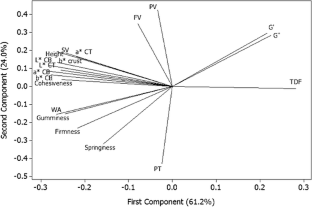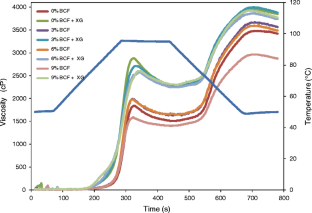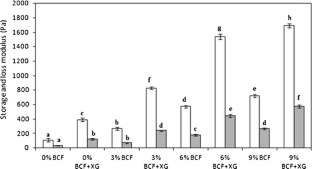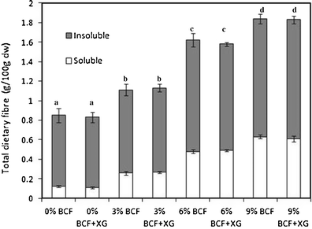 References
AOAC (2000) Official methods of analysis of AOAC international, 17th edn. AOAC International, Gaithersburg, MD, USA

Arozarena I, Bertholo H, Empis J, Bunger SI (2001) Study of the total replacement of egg by white lupine protein, emulsifiers xanthan gum in yellow cakes. Eur Food Res Technol 213:312–316

Ayadi MA, Abdelmaksoud W, Ennouri M, Hamadi A (2009) Cladodes from opuntica ficus indica as a source of dietary fiber: effect on dough characteristics and cake making. Ind Crop Prod 30:40–47

Ayala-Zavala JF, Vega-Vega V, Rosas-Domínguez C, Palafox-Carlos H, Villa-Rodriguez JA, Siddiqui MW, González-Aguilar GA (2011) Agro-industrial potential of exotic fruit byproducts as a source of food additives. Food Res Int 44:1866–1874

Bourne MC (1978) Texture profile analysis. Food Technol 32:62–66

Chantaro P, Devahastin S, Chiewchan N (2008) Production of antioxidant high dietary fiber powder from carrot peels. LWT-Food Sci Technol 41:1987–1994

Chau CF, Wang YT, Wen YL (2007) Different micronization methods significantly improve the functionality of carrot insoluble fibre. Food Chem 100:1402–1408

Durrani A, Srivastava P, Verma S (2011) Development and quality evaluation of honey based carrot candy. J Food Sci Technol 48:502–505

Figuerola F, Hurtado ML, Estévez AM, Chiffelle I, Asenjo F (2005) Fibre concentrates from apple pomace and citrus peel as potential fibre sources for food enrichment. Food Chem 91:395–401

Gomez M, Ronda F, Caballero PA, Blanco CA, Rosell CM (2007) Functionality of different hydrocolloids on the quality and shelf-life of yellow layer cakes. Food Hydrocoll 21:167–173

Grigelmo-Miguel M, Gorinstein S, Martin-Belloso O (1999) Characterization of peach dietary fibre concentrate as a food ingredient. Food Chem 5:175–181

Hong Y, Wu Y, Liu G, Gu Z (2015) Effect of amylose on pasting and rheological properties of corn starch/xanthan blends. Starch-Starke 67:98–106

Jyotsna R, Prabhasankar P, Indrani D, Rao GV (2004) Improvement of rheological and baking properties of cake batters with emulsifier gels. J Food Sci 69:SNQ16–SNQ16

Kaur A, Shevkani K, Singh N, Sharma P, Kaur S (2015) Effect of guar gum and xanthan gum on pasting and noodle-making properties of potato, corn and mung bean starches. J Food Sci Technol:. doi:10.1007/s13197-015-1954-5

Kethireddipalli P, Hung YC, Phillips RD, McWatters KH (2002) Evaluating the role of cell wall material and soluble protein in the functionality of cowpea (Vigna unguiculata) pastes. J Food Sci 67:53–59

Kim CS, Walker CE (1992) Interactions between starches, sugars, and emulsifiers in high-ration cake model systems. Cereal Chem 69:206–212

Lu TM, Lee CC, Maud JL, Lin SD (2010) Quality and antioxidant property of green tea sponge cake. Food Chem 119:1090–1095

Matos ME, Sanz T, Rosell CM (2014) Establishing the function of proteins on the rheological and quality properties of rice-based gluten-free muffins. Food Hydrocoll 35:150–158

Nachay K (2010) Gluten-free offerings increase. Food Technol 64:13–14

Nanditha B, Prabhasankar P (2008) Antioxidants in bakery products: a review. Crit Rev Food Sci 49:1–27

Preichardt LD, Vendruscolo CT, Gularte MA, Moreira ADS (2011) The role of xanthan gum in the quality of gluten free cakes: improved bakery products for coeliac patients. Int J Food Sci Technol 46:2591–2597

Rahmati NF, Tehrani MM (2014) Influence of different emulsifiers on characteristics of eggless cake containing soy milk: modeling of physical and sensory properties by mixture experimental design. J Food Sci Technol 51:1697–1710

Rai S, Kaur A, Singh B (2014) Quality characteristics of gluten free cookies prepared from different flour combinations. J Food Sci Technol 51:785–789

Ronda F, Oliete B, Gómez M, Caballero PA, Pando V (2011) Rheological study of layer cake batters made with soybean protein isolate and different starch sources. J Food Eng 102:272–277

Ronda F, Perez-Quirce S, Lazaridou A, Biliaderis CG (2015) Effect of barley and oat β-glucan concentrates on gluten-free rice-based doughs and bread characteristics. Food Hydrocoll 48:197–207

Rupasinghe HPV, Wang L, Huber G, Pitts N (2008) Effect of baking on dietary fibre and phenolics of muffins incorporated with apple skin powder. Food Chem 107:1217–1224

Sae-Eaw A, Chompreeda P, Prinyawiwatkul W, Haruthaithanasan V, Suwonsichon T, Saidu JE, Xu Z (2007) Acceptance and purchase intent of US consumers for nonwheat rice butter cakes. J Food Sci 72:S92–S97

Sakac M, Torbica A, Sedej I, Hadnadev M (2011) Influence of bread making on antioxidant capacity of gluten free breads based on rice and buckwheat flours. Food Res Int 44:2806–2813

Shevkani K, Singh N (2014) Influence of kidney bean, field pea and amaranth protein isolates on the characteristics of starch-based gluten-free muffins. Int J Food Sci Technol 49:2237–2244

Shevkani K, Kaur A, Kumar S, Singh N (2015) Cowpea protein isolates: functional properties and application in gluten-free rice muffins. LWT-Food Sci Technol 63:927–933

Singh JP, Kaur A, Shevkani K, Singh N (2015) Influence of jambolan (Syzygium cumini) and xanthan gum incorporation on the physicochemical, antioxidant and sensory properties of gluten-free eggless rice muffins. Int J Food Sci Technol 50:1190–1197

Suzme S, Boyacioglu D, Toydemir G, Capanoglu E (2014) Effect of industrial juice concentrate processing on phenolic profile and antioxidant capacity of black carrots. Int J Food Sci Technol 49:819–829

Türkyılmaz M, Yemiş O, Özkan M (2012) Clarification and pasteurisation effects on monomeric anthocyanins and percent polymeric colour of black carrot (daucus carota L.) juice. Food Chem 134:1052–1058

Walker R, Tseng A, Cavender G, Ross A, Zhao Y (2014) Physicochemical, nutritional, and sensory qualities of wine grape pomace fortified baked goods. J Food Sci 79:S1811–S1822

Xu L, Diosady LL (2000) Interactions between canola proteins and phenolic compounds in aqueous media. Food Res Int 33:725–731
Acknowledgments
Authors acknowledge financial support from UGC (UPE), New Delhi and MOFPI (SERB/MOFPI/0043/2013), New Delhi. JPS also wishes to thank Dr. Khetan Shevkani for his useful suggestions.
Additional information
Highlights: Black carrot pomace dietary fibre concentrate was incorporated in rice flour and was evaluated for pasting, rheological and muffin making properties. Xanthan gum was used to improve the quality characteristics of the gluten-free muffins. Black carrot fibre concentrate increased dietary fibre content, while xanthan gum increased specific volume of the muffins.
About this article
Cite this article
Singh, J.P., Kaur, A. & Singh, N. Development of eggless gluten-free rice muffins utilizing black carrot dietary fibre concentrate and xanthan gum. J Food Sci Technol 53, 1269–1278 (2016). https://doi.org/10.1007/s13197-015-2103-x
Revised:

Accepted:

Published:

Issue Date:
Keywords
Dietary fibre

Gluten-free muffins

Pasting

Rheology

Texture

Black carrot

Xanthan gum