Abstract
We compared morphometric and physico-chemical characteristics of farm ponds and natural wetlands in Andalusia (southern Spain) to determine whether artificial waterbodies might act as alternative and/or complementary habitats for aquatic biodiversity. Farm ponds were much smaller than natural wetlands, making them unsuitable for species requiring large waterbodies. However, we observed high farm pond density in areas lacking natural wetlands, which suggests a prime role for the conservation of species with low dispersal capacities. Natural-substrate ponds were abundant in traditional extensive farming systems and showed shoreline complexity as high as the most complex natural wetlands. Areas with more intensive agriculture were dominated by artificial-substrate ponds and wetlands, with low physical complexity in both. The high copper load in sediments, due to the use of copper sulphate as biocide, differentiated the artificial-substrate ponds from natural-looking ponds and all natural wetland types. Aqueous mineral levels in farm ponds were much lower than in natural wetlands. We can conclude that farm ponds might play a principal role in region-wide habitat complementarity, by providing a relatively high density of small, permanent, oligohaline waterbodies that is not matched by natural wetland. To enhance this role, measures regulating both pond construction and management are needed, particularly for artificial-substrate ponds.
Access options
Buy single article
Instant access to the full article PDF.
USD 39.95
Price excludes VAT (USA)
Tax calculation will be finalised during checkout.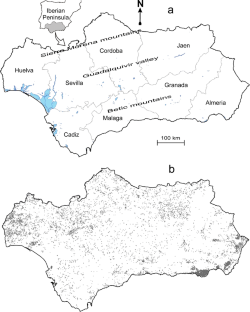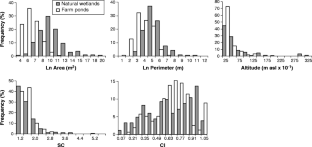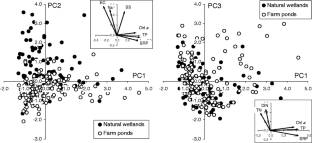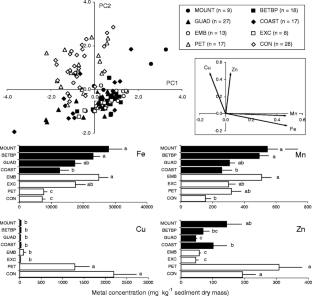 References
Abellán P, Sanchéz-Fernández D, Millán A, Botella F, Sánchez-Zapata JA, Giménez A (2006) Irrigation pools as macroinvertebrate habitat in a semi-arid agricultural landscape (SE Spain). Journal of Arid Environments 67:255–269

Babbitt KJ (2005) The relative importance of wetland size and hydroperiod for amphibians in southern New Hampshire, USA. Wetlands Ecology and Management 13:269–279

Beja P, Alcazar R (2003) Conservation of Mediterranean temporary ponds under agricultural intensification: an evaluation using amphibians. Biological Conservation 114:317–326

Benton TG, Vickery JA, Wilson JD (2003) Farmland biodiversity: is habitat heterogeneity the key? Trends in Ecology & Evolution 18:182–188

Boix D, Sala J, Gascon S, Martinoy M, Gifre J, Brucet S, Badosa A, López-Flores A, Quintana X (2007) Comparative biodiversity of crustaceans and aquatic insects from various water body types in coastal Mediterranean wetlands. Hydrobiologia 584:347–359

Brainwood M, Burgin S (2006) An exploration of the relationships between macroinvertebrate community composition and physical and chemical habitat characteristics in farm dams. Environmental Monitoring and Assessment 119:459–480

Bunn SE, Arthington AH (2002) Basic principles and ecological consequences of altered flow regimes for aquatic biodiversity. Environmental Management 30:492–507

Butler RG, DeMaynadier PG (2008) The significance of littoral and shoreline habitat integrity to the conservation of lacustrine damselflies (Odonata). Journal of Insect Conservation 12:23–36

Casado S, Montes C (1995) Guía de los lagos y humedales de España. Reyero JM, Madrid

Casas JJ, Calvache F, Delgado S, García-Mayoral J, Vivas S, Bayo MM, López D, Ortega M (2003) Inventario abierto de los humedales de la región semiárida almeriense: consideraciones sobre su tipificación. In: Paracuellos M (ed) Ecología, Manejo y Conservación de Humedales. Instituto de Estudios Almerienses, Diputación de Almería, Almería, pp 171–186

Casas JJ, Sánchez-Oliver JS, Sanz A, Furné M, Trenzado C, Juan M, Paracuellos M, Suárez MD, Fuentes-Rodríguez F, Gallego I, Gil C, Ramos-Miras JJ (2011a) The paradox of the conservation of an endangered fish species in a Mediterranean region under agricultural intensification. Biological Conservation 144:253–262

Casas JJ, Toja J, Bonachela S, Fuentes F, Gallego I, Juan M, León D, Peñalver P, Pérez C, Sánchez P (2011b) Artificial ponds in a Mediterranean region (Andalusia, Southern Spain): agricultural and environmental issues. Water and Environment Journal 25:308–317

Céréghino R, Ruggiero A, Marty P, Angélibert S (2008) Biodiversity and distribution patterns of freshwater invertebrates in farm ponds of a south-western French agricultural landscape. Hydrobiologia 597:43–51

Consejería de Medio Ambiente (2005) Caracterización ambiental de humedales en Andalucía. Consejería de Medio Ambiente, Junta de Andalucía, Sevilla

Downing JA, Prairie YT, Cole JJ, Duarte CM, Tranvik L, Striegl R, McDowell WH, Kortelainen P, Caraco N, Melack JM, Middelburg J (2006) The global abundance and size distribution of lakes, ponds, and impoundments. Limnology and Oceanography 51:2388–2397

Froneman A, Mangnall MJ, Little RM, Crowe TM (2001) Waterbird assemblages and associated habitat characteristics of farm ponds in the Western Cape, South Africa. Biodiversity and Conservation 10:251–270

Gibbs JP (1993) Importance of small wetlands for the persistence of local populations of wetland-associated animals. Wetlands 13:25–31

Gibbs JP (1998a) Amphibian movements in response to forest edges, roads, and streambeds in southern New England. Journal of Wildlife Management 62:584–589

Gibbs JP (1998b) Distribution of woodland amphibians along a forest fragmentation gradient. Landscape Ecology 13:263–268

Gibbs JP (2000) Wetland loss and biodiversity conservation. Conservation Biology 14:314–317

Hansson LA, Bronmark C, Nilsson PA, Abjornsson K (2005) Conflicting demands on wetland ecosystem services: nutrient retention, biodiversity or both? Freshwater Biology 50:705–714

Hazell D, Hero J, Lindenmayer D, Cunningham R (2004) A comparison of constructed and natural habitat for frog conservation in an Australian agricultural landscape. Biological Conservation 119:61–71

Inventario de Humedales de Andalucía (2005) http://www.juntadeandalucia.es/medioambiente I.H.A. Accessed 1 Jul 2010

Kats LB, Ferrer RP (2003) Alien predators and amphibian declines: review of two decades of science and the transition to conservation. Diversity and Distributions 9:99–110

Legendre P, Legendre L (1998) Numerical ecology. Elsevier, Amsterdam

León D, Peñalver P, Casas JJ, Juan M, Fuentes F, Gallego I, Toja J (2010) Zooplankton richness in farm ponds of Andalusia (southern Spain). A comparison with natural wetlands. Limnetica 29:153–162

Lutton S, Sheldon F, Bunn SE (2010) Morphological characteristics of on-farm water storages and their similarity to natural water bodies in the Border Rivers Catchment, Australia. Aquatic Conservation: Marine and Freshwater Ecosystems 20:47–57

Markwell KA, Fellows C (2008) Habitat and biodiversity of on-farm water storages: a case study in southeast Queensland, Australia. Environmental Management 41:234–249

Morales-Baquero R, Carrillo P, Reche I, Sánchez-Castillo P (1999) Nitrogen-phosphorus relationship in high mountain lakes: effects of the size of catchment basins. Canadian Journal of Fisheries and Aquatic Sciences 56:1809–1817

National Research Council (1995) Wetlands: characteristics and boundaries. National Academy, Washington

OECD (1996) Guidelines for aid agencies for improved conservation and sustainable use of tropical and sub-tropical wetlands. Organisation for Economic Co-operation and Development, Paris

Oertli B, Joye AD, Castella E, Juge R, Cambin D, Lachavanne JB (2002) Does size matter? The relationship between pond area and biodiversity. Biological Conservation 104:59–70

Ortega F, Parra G, Guerrero F (2003) Los humedales del Alto Guadalquivir: inventario, tipologías y estado de conservación. In: Paracuellos M (ed) Ecología, manejo y conservación de los humedales. Instituto de Estudios Almerienses, Almería, pp 113–123

Paracuellos M, Telleria JL (2004) Factors affecting the distribution of a waterbird community: the role of habitat configuration and bird abundance. Waterbirds 27:446–453

Peñalver P, León D, Juan M, Gallego I, Fuentes F, Prieto E, Casas JJ, Toja J (2010) ¿Son las balsas de riego una alternativa para los anfibios? Quercus 291:32–39

Reques R (2006) Conservación de la biodiversidad en los humedales de Andalucía. Consejería de Medio Ambiente, Junta de Andalucía, Sevilla

Richter-Boix A, Llorente GA, Montori A (2006) A comparative analysis of adaptive developmental plasticity hypothesis in six Mediterranean anuran species along a pond permanency gradient. Evolutionary Ecology Research 8:1139–1154

Richter-Boix A, Llorente GA, Montori A (2007) Structure and dynamics of an amphibian metacommunity in two regions. Journal of Animal Ecology 76:607–618

Rodríguez-Rodríguez M, Benavente J, Cruz-San Julián JJ, Moral-Martos F (2006) Estimation of ground-water exchange with semi-arid playa lakes (Antequera region, southern Spain). Journal of Arid Environments 66:272–289

Sánchez-Zapata JA, Anadón JD, Carrete M, Giménez A, Navarro J, Villacorta C, Botella F (2005) Breeding waterbirds in relation to artificial pond attributes: implications for the design of irrigation facilities. Biodiversity and Conservation 14:1627–1639

Schmude KL, Jennings MJ, Otis KJ, Piette RR (1998) Effects of habitat complexity on macroinvertebrate colonization of artificial substrates in north temperate lakes. Journal of the North American Benthological Society 17:73–80

Serrano L, Fahd K (2005) Zooplankton communities across a hydroperiod gradient of temporary ponds in the Donana National Park (SW Spain). Wetlands 25:101–111

Serrano L, Serrano L (1996) Influence of groundwater exploitation for urban water supply on temporary ponds from the Doñana National Park (SW Spain). Journal of Environmental Management 46:229–238

SIGPAC (2004) Sistema de Infomación Geográfica de Parcelas Agrícolas. http://www.mapa.es/es/sig/pags/sigpac/intro.htm. Accessed 1–30 Jul 2009

Smith VH (2003) Eutrophication of freshwater and coastal marine ecosystems–a global problem. Environmental Science and Pollution Research 10:126–139

Smith GR, Rettig JE, Mittelbach G, Valiulis JL, Schaack RR (1999) The effects of fish on assemblages of amphibians in ponds: a field experiment. Freshwater Biology 41:829–837

Sousa A, Andrade F, Félix A, Jurado V, León-Botubol A, García-Murillo P, García-Barrón L, Morales J (2009) Historical importance of wetlands in malaria transmission in southwest of Spain. Limnetica 28:283–300

StatSoft (2005) STATISTICA (data analysis software system) version 7.1

Strayer DL, Findlay SEG (2010) Ecology of freshwater shore zones. Aquatic Sciences 72:127–163

Tarr TL, Baber MJ, Babbitt KJ (2005) Macroinvertebrate community structure across a wetland hydroperiod gradient in southern New Hampshire, USA. Wetlands Ecology and Management 13:321–334

Thiere G, Milenkovski S, Lindgren PE, Sahlén G, Berglund O, Weisner SEB (2009) Wetland creation in agricultural landscapes: biodiversity benefits on local and regional scales. Biological Conservation 142:964–973

Waterkeyn A, Grillas P, Vanschoenwinkel B, Brendonck L (2008) Invertebrate community patterns in Mediterranean temporary wetlands along hydroperiod and salinity gradients. Freshwater Biology 53:1808–1822

Williams P, Whitfield M, Biggs J, Bray S, Fox G, Nicolet P, Sear D (2004) Comparative biodiversity of rivers, streams, ditches and ponds in an agricultural landscape in southern England. Biological Conservation 115:329–341

Zar JH (2010) Biostatistical Analysis, 5th edn. Pearson, Upper Saddle River
Acknowledgments
This study was funded by the Consejería de Medio Ambiente (Junta de Andalucía), under the contract: Consultoría y Asistencia Técnica para el Plan Andaluz de Balsas de Riego, and by the CICE, Junta de Andalucía, project: P06-RNM01709. We are indebted to all pond owners providing access to their properties, and the editors and two anonymous reviewers for valuable comments and suggestions.
About this article
Cite this article
Casas, J.J., Toja, J., Peñalver, P. et al. Farm Ponds as Potential Complementary Habitats to Natural Wetlands in a Mediterranean Region. Wetlands 32, 161–174 (2012). https://doi.org/10.1007/s13157-011-0265-5
Received:

Accepted:

Published:

Issue Date:

DOI: https://doi.org/10.1007/s13157-011-0265-5
Keywords
Biodiversity conservation

Constructed wetlands

Habitat quality

Wetland creation