Abstract
On the Mediterranean coast, submarine karst springs are common. Most of them are brackish and various unsuccessful attempts in France, Greece, and Italy indicate that it is impossible to diminish the salinity at the spring. Based on studies on the shores of south-eastern France and in Kefalonia (Greece), we propose a working model that explains the mechanism of salt contamination. During the Messinian Deep Stage (−5.9 to 5.3 Ma), a substantial sea-level lowering in the Mediterranean allowed the existence of cave networks extending several hundreds of meters below the present sea level. Seawater is now sucked into the system through these caves. This mechanism is supported by a study of the Port Miou underground river (Cassis, France). In the Port Miou cave system, which extends to 250 m below sea level, titanium and heavy metals are present in the sediment. They are similar to those found in the Cassidaigne submarine canyon, which reinforces the hypothesis of a connection between the cave and the canyon. Recent geological studies prove a Messinian origin for the canyon and support the deep contamination model. The model is also supported by examples on Kefalonia Island (Greece) and in the Toix–Moraig system (Spain) where salt-water intrusions are observed in coastal sinkholes and sea caves. This model explains why various attempts to diminish the salinity of these brackish springs, through the construction of dams to increase head, have failed.
Access options
Buy single article
Instant access to the full article PDF.
US$ 39.95
Tax calculation will be finalised during checkout.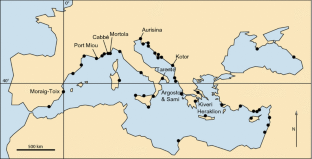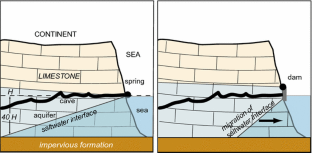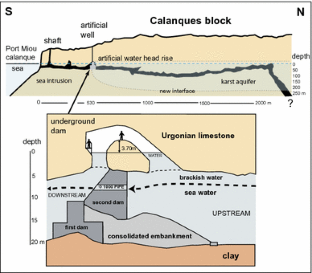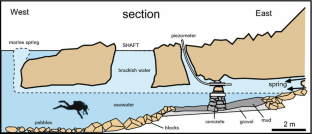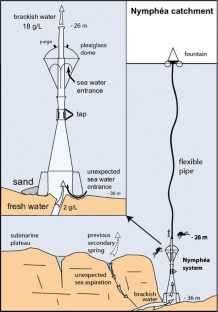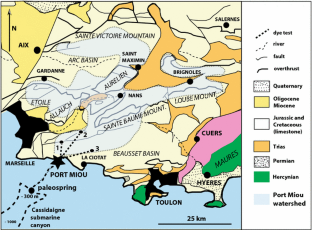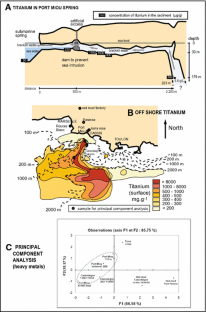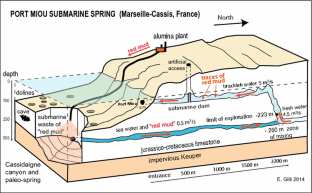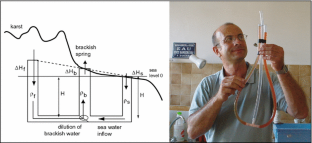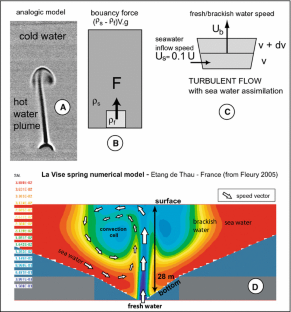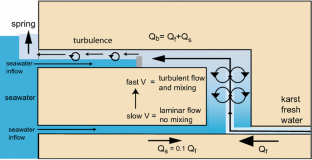 References
Arfib B (2001) Etude des circulation d'eaux souterraines en aquifère karstique côtier: observations et modélisation de la source saumâtre Almyros d'Héraklion, Crète (Grèce). Thesis geol univ Paris VI, p 337

Arfib B, Cavalera T, Gilli E (2006) Influence de l'hydrodynamique sur l'intrusion saline en aquifère karstique côtier. CR Geosci 338:757–767

Argyriadis I (2003) Une réalisation industrielle d'exploitation de résurgences sous-marines d'eau douce. Géologues 136:42–46

Arnoux A, Stora G (2003) Analyses granulométriques et chimiques de 5 carottes de sédiments prélevés dans la zone de rejet des boues résiduaires de l'industrie de l'aluminium (Campagne ALPECAST 2, sept–oct 2002). Rapp. int. Péchiney, Gardanne, p 42

Audra P, Mocochain L, Camus H, Gilli E, Clauzon G (2004) The effect of the Messinian deep stage on karst development around the Mediterranean Sea. Examples from Southern France. Geodinamica Acta 17(6):27–38

Auriol J, Bonnet M (1972) La source sous-marine karstique de Port Miou—Bilan des études au 31/12/71—Examen des problèmes de captage. Rapp. int. 72 SGN 028 AME, BRGM, Orléans, p 19

Berné S, Satra C, Aloïsi JC, Baztan J, Dennielou B, Droz L, Dos Reis A, Lofi J, Méar Y and Rabineau M (2002) Carte morpho-bathymétrique du Golfe du Lion, IFREMER, Brest

Bini A (1994) Rapports entre la karstification péri méditerranéenne et la crise de salinité messinienne, l'exemple du karst lombard (Italie). Karstologia 23:33–53

Blavoux B, Gilli E, Rousset C (2004) Alimentation et origine de la salinité de la source sous-marine de Port Miou (Marseille-Cassis). Principale émergence d'un réseau karstique hérité du Messinien. CR Geosci 336(6):523–533

Bourcier M, Zibrowius H (1972) Les "Boues Rouges" déversées dans le canyon de la Cassidaigne (région de Marseille). Observations en soucoupe plongeante SP 350 (juin 1971) et résultats de dragages. Téthys 4(4):811–842

Breznik M (1998) Storage Reservoir and Deep Wells in Karst Regions. In: Balkema AA (ed), Rotterdam/Brookfield, p 251

Calvino F, Stefanon A (1963) Osservazioni Geologiche sulla Polla Rovereto e le altre sorgenti sottomarine della Mortola (Riviera di Ponente), Atti dell'instituto di geologia della Universita di Genova 1(1):205–239

Calvino F, Stefanon A (1969) The submarine springs of fresh water and the problems of their capture. Rap Commun Int Mer Médit 19(4):609–610

Caors C (1984) Pollution minérale des sédiments entre le site de Cortiou et la Ciotat. Thesis pharm univ Marseille, p 67

Cavalera T (2007) Etude du fonctionnement et du bassin d'alimentation de la source sous-marine de Port Miou (Cassis). Approche multicritère. Thesis geol univ Provence, Marseille, p 397

Cavalera Th, Gilli E, Mamindy-Pajany Y, Marmier N (2010) Mechanism of salt contamination of karstic springs related to the Messinian deep stage. The speleological model of Port Miou (France). EGU General Assembly 2009, Vienna, spec. issue. Geodin Acta 23(1–3):15–28

Cita MB, Ryan WBF (1973) The Pliocene record in deep-sea Mediterranean sediments. Time scale and general synthesis. Initial Rep Deep Sea Drill Proj 13(2):1405–1415

Cita MB, Ryan WBF (1978) Messinian erosional surfaces in the Mediterranean. Marine Geology 27(3–4):193–366

Collina-Girard J (1995) Analyse multiscalaire et multisource des directions structurales du Massif des calanques et de leur expression morphologique: application au Cap Morgiou et à la grotte Cosquer (Marseille. France). Géomorphologie: relief, processus, environnement 2:67–84

Collina-Girard J (1996) Préhistoire et karst littoral: la grotte Cosquer et les calanques marseillaises. Karstologia 27:27–40

Collina-Girard J (1999) Réseaux de vallées et prospection sismique: relations et implications structurales sur le plateau continental (Marseille. Bouches-du-Rhône. France) Submarine valley network and seismic surveying: relationship and structural implications on the continental shelf (Marseille. France). CR Geosci 329(5):357–362

Corroy G, Gouvernet C, Chouteau J, Sivirine A, Gilet R, Picard J (1958) Les résurgences sous-marines de la région de Cassis—La fontaine de Vaucluse—Résultats scientifiques des explorations de 1955 et 1956. Bull Institut Océano Monaco 1131:1–35

Cortes JM, Antoranz A, Menvielle S, Ratsimandresy A, Cisneros J, Ramos S, Cabrera, Serrano V, Mateu J (2003) La intrusión marina en el sistema de cuevas Moraig-Toix. Un estudio para la recuperación del acuífero de la depresión de Benissa (Marina Alta–Alicante) Boletín nº4 Sedeck/Año 2003/Sociedad Española De Espeleología Y Ciencias Del Karst 4:66–69

Douchet M (1993) Port Miou—Le Bestouan. Spelunca 49:5–6

Drogue C (1989) Continuous inflow of seawater and outflow of brackish water in the substratum of the karstic island of Cephalonia, Greece. J Hydrol 106:147–153

Drogue C (1993) Absorption massive d'eau de mer par des aquifères karstiques côtiers. Hydrogeological Processes in Karst Terranes, Proceedings of the Antalya Symposium and Field Seminar, October 1990, IAHS Publ. p 207

Emily A, Fiquet M, Gilli E, Mangan C, Tennevin G (2011) Fonctionnement hydrogéologique d'un karst littoral dans les Alpes-Maritimes (France)—Approche méthodologique. 9th Conference on Limestone Hydrogeology, Besançon, 153–156

Fleury P (2005) Sources sous-marines et aquifères karstiques côtiers méditerranéens. Fonctionnement et caractérisation. Thesis geol univ Paris VI, p 286

Froget C (1974) Essai sur la géologie du précontinent de la Provence occidentale, Thesis geol univ Aix-Marseille II, p 219

Gautier F, Clauzon G, Suc J-P, Cravatte J, Violanti O (1994) Âge et durée de la crise de salinité messinienne (Age and duration of the Messinian salinity crisis). CR Geosci 318:1103–1109

Gilli E (1997) Etude des sources sous-marines et littorales des Alpes Maritimes entre Antibes et Cannes. Rapp. int. Dir. Rég. Environ. Ministère de l'Environnement, Aix, p 115

Gilli E (1999a) Détection de sources sous-marines et précision de l'impluvium par mesure des variations de salinité. L'exemple de la source de Cabbé-Massolins (Roquebrune-Cap-Martin, France). CR Geosci 329:09–116

Gilli E (1999b) Eaux et rivières souterraines, Coll Que-Sais-Je ? PUF Edit., Paris, p 128

Gilli E (2001) Compilation d'anciennes mesures de débit à Port Miou. Apport à l'hydrogéologie de la Basse Provence, Actes 7ème Colloque d'hydrologie en pays calcaire et en milieu fissuré, Besançon, 157–160

Gilli E (2002) Etude préalable sur le drainage des karsts littoraux, Agence de l'Eau RMC, p 85

Gilli E (2003) Les karsts littoraux des Alpes Maritimes : inventaire des émergences sous-marines et captage expérimental de Cabbé. Karstologia n°40—FFS, AFK, p 1–12

Hsü KJ, Cita MB, Ryan WBF (1973) The origin of the Mediterranean evaporites. In: Ryan WBF, Hsü KJ et al. (eds.) Initial reports of the deep sea drilling project 13 (1–2), US Government Printing Office, Washington DC, 1203–1231

Leenhardt O, Pierrot S, Rebuffatti A, Sabatier R (1969) Etude sismique de la zone de Planier (Bouches-du-Rhône). Revue de l'Institut Français du Pétrole 24(11):1261–1287

Mangan Ch, Gilli E, Tennevin G, Emily A (2007). Syndicat Intercommunal des Eaux des Corniches et du Littoral. Recherche de ressources d'eau nouvelles sur le territoire du Syndicat (Alpes Maritimes). Dossier de synthèse. Rapp Int Cabinet Mangan, p 49

Marsigli Comte de (1725), Histoire physique de la mer, In-folio. Amsterdam, p 13

Maurin V, Zötl J (1965) Salt water encroachment in the low altitude karst water horizons of the island of Kephallinia (Ionian Islands), AIHS, Dubrovnik. Hydrologie des roches fissurées 2:423–438

Meniscus X (2012) Résurgence de Port Miou, –223 m, le 7 mai 2012. CNPS Plongée souterraine. http://cnps.plongeesouterraine.org/uploads/FICHIERS/CR%20EXPES/Port_Miou_223m.pdf. Accessed July 2014

Morton BR, Taylor G, Turner JS (1956) Turbulent Gravitational Convection from Maintained and Instantaneous Sources. Proceedings of the Royal Society of London. Series A Math Phys Sci 234–1196: 1–23

Olive (2007) Les Panaches Hydrothermaux: Dynamique et Modèles. Mémoire L3 Sc. de la Terre. ENS Paris, p 21

Potié L (1974) Captage des résurgences sous-marines d'eau douce—Observations sur les effets du barrage expérimental de Port Miou, Rapport interne SRPM, Sté Eaux de Marseille, (SEM_74-RT-1001-PM), p 31

Potié L, Ricour J (1971) Résurgences sous-marines de Port Miou—Cassis (Bouches-du-Rhône). Rapport SRPM, Marseille

Prud'homme R (1972) Analyse morpho-structurale appliquée à l'Aquitaine occidentale et au Golfe de Gascogne. Définition d'une méthodologie cartographique interprétative. Université Bordeaux I, p 365

Ricour J (1981) Construction d'un barrage d'essais souterrain à Port Miou (commune de Marseille) Bouches-du-Rhône. Décision d'aide n° 76-7-1340. BRGM

Rousset C (1968) Contribution à l'étude des karsts du Sud-Est de la France : Altérations morphologiques et minérales. Thesis geol univ Provence, Marseille, p 523

Tassy A (2012) Karsts côtiers et canyons sous-marins de la marge provençale au Cénozoïque : Contrôle géodynamique, eustatique, hydrologique et structural. Thesis geol univ Provence, Marseille, p 416

Taylor (1945) Dynamics of a mass of hot gas rising in the air. US Atomic Energy Comm. Report LADC-276, Los Alamos Scientific laboratory, p 19

Vernet M, Vernet B (1974) Essai de discrimination par méthode isotopique de l'origine des eaux des systèmes karstiques—Application aux karsts continentaux et littoraux de la Basse Provence. Thesis geol univ Provence, Marseille, p 208
About this article
Cite this article
Gilli, E. Deep speleological salt contamination in Mediterranean karst aquifers: perspectives for water supply. Environ Earth Sci 74, 101–113 (2015). https://doi.org/10.1007/s12665-015-4042-2
Received:

Accepted:

Published:

Issue Date:
Keywords
Karst

Spring

Submarine canyon

Salinity

Titanium

Water supply