Abstract
Using a portable gas analyzer system, the geogenic gas regime below and around an ancient gate to hell at Hierapolis/Phrygia was characterized. The site was first described by Strabo and Plinius as a gate to the underworld. During centuries, it attracted even ancient tourists. In a grotto below the temple of Pluto, CO2 was found to be at deadly concentrations of up to 91%. Astonishingly, these vapors are still emitted in concentrations that nowadays kill insects, birds, and mammals. The concentrations of CO2 escaping from the mouth of the grotto to the outside atmosphere are still in the range of 4–53% CO2 depending on the height above ground level. They reach concentrations during the night that would easily kill even a human being within a minute. These emissions are thought to reflect the Hadean breath and/or the breath of the hellhound Kerberos guarding the entrance to hell. The origin of the geogenic CO2 is the still active seismic structure that crosses the old town of ancient Hierapolis as part of the Babadag fracture zone. Our measurements confirm the presence of geogenic CO2 in concentrations that explain ancient stories of killed bulls, rams, and songbirds during religious ceremonies. They also strongly corroborate that at least in the case of Hierapolis, ancient writers like Strabo or Plinius described a mystic phenomenon very exactly without much exaggeration. Two thousand years ago, only supernatural forces could explain these phenomena from Hadean depths whereas nowadays, modern techniques hint to the well-known phenomenon of geogenic CO2 degassing having mantle components with relatively higher helium and radon concentrations.
Access options
Buy single article
Instant access to the full article PDF.
US$ 39.95
Tax calculation will be finalised during checkout.
Subscribe to journal
Immediate online access to all issues from 2019. Subscription will auto renew annually.
US$ 79
Tax calculation will be finalised during checkout.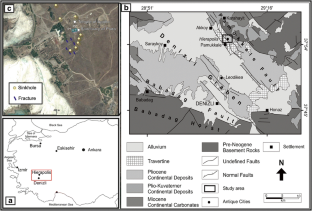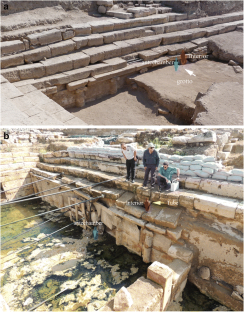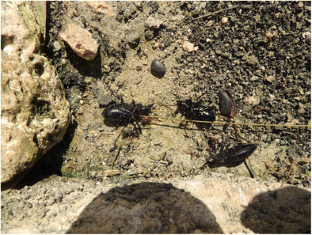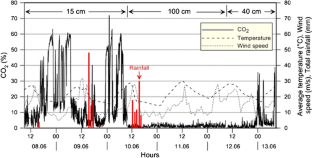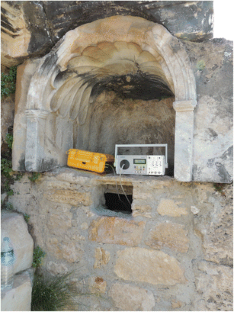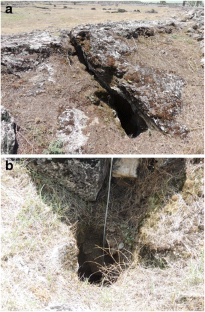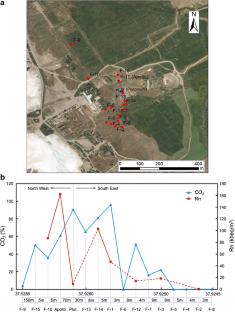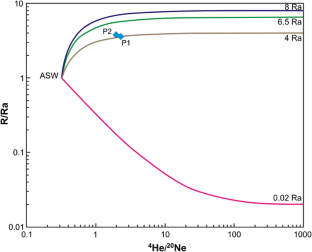 References
Altunel E, Barka A (1996) Hierapolis'teki arkeosismik hasarların değerlendirilmesi (evaluation of archaeoseismic damages at Hierapolis). Türkiye Jeoloji Bülteni (Geol Bull Turk) 39(2):56–74 (in Turkish with English Abstract)

Altunel E, Karabacak V (2005) Determination of horizontal extension from fissure-ridge travertines: a case study from the Denizli Basin, southwestern Turkey. Geodin Acta 18(3-4):333–342. https://doi.org/10.3166/ga.18.333-342

Bejor G (1984) Lo Hades Sarapis dal teatro di Hierapolis di Frigia. In Ann Sc Norm Pisa III, XIV and I, pp 59 ss

Bettarini B, Grifoni D, Miglietta F, Raschi A (1999) Local greenhouse effect in a CO2 spring in Central Italy. In: Ecosystems response to CO2. The Maple Project results, European Commission, Luxembourg, p 13–23

Bloomfield M (1904) Cerberus, the dog of Hades. Monist 14, Chicago, Open Court:523–540

Bozkurt E (2003) Origin of NE-trending basins in western Turkey. Geodin Acta 16(2-6):61–81. https://doi.org/10.1016/S0985-3111(03)00002-0

Cohen GM (2006) The Hellenistic settlements in Syria, the Red Sea basin, islands, and North Africa. University of California Press, Berkeley, p 479

D'Alessandro W (2006) Gas hazard: an often neglected natural risk in volcanic areas. In: Martin-Duque JF, Brebbia CA, Emmanouloudis DE, Mander U (eds) Geo-Environment & Landscape Evolution II. WITPress, Southampton, pp 369–378

D'Andria F (2003) Hierapolis of Phrygia (Pamukkale). An Archaelogical Guide, Pamukkale

D'Andria F (2013) Il Ploutonion a Hierapolis di Frigia. Istanbuler Mitteilungen 63:157–217

De Boer JZ, Hale JR, Chanton J (2001) New evidence for the geological origins of the ancient Delphic oracle (Greece). Geology 29:707–710. https://doi.org/10.1130/0091-7613(2001)029<0707:NEFTGO>2.0.CO;2

De Filippis L, Faccenna C, Billi A, Anzalone E, Brilli M, Ozkul M, Soligo M, Tuccimei P, Villa IM (2012) Growth of fissure ridge travertines from geothermal springs of Denizli Basin, western Turkey. Geol Soc Am Bull 124(9-10):1629–1645. https://doi.org/10.1130/B30606.1

Dunai TJ, Baur H (1995) Helium, neon and argon systematics of the European subcontinental mantle: implications for its geochemical evolution. Geochim Cosmochim Acta 59(13):2767–2783. https://doi.org/10.1016/0016-7037(95)00172-V

Ercan T, Matsuda JI, Nagao K, Kita I (1995) Noble gas isotopic compositions in gas and water samples from Anatolia. In: Erler A, Ercan T, Bingol E, Orcen S (eds) Geology of the Black Sea Region: Proc. Int. Symp. on the Geology of the Black Sea Region, Ankara, Turkey. General Directorate of Mineral Research and Exploration and the Chambers of Geological Engineers of Turkey, Ankara, pp 197–206

Etiope G (2015) Seeps in the ancient world: myths, religions, and social development. In: Etiope G (ed) Natural gas seepage—the Earth's hydrocarbon degassing. Springer Verlag, Heidelberg, pp 183–193

Etiope G, Guerra M, Raschi A (2005) Carbon dioxide and radon geohazards over a gas-bearing fault in the Siena graben (Central Italy). Terr Atmos Ocean Sci 16(4):885–896. https://doi.org/10.3319/TAO.2005.16.4.885(GIG)

Etiope G, Papatheodorou G, Christodoulou D, Geraga M, Favali P (2006) The geological links of the ancient Delphic Oracle (Greece): a reappraisal of natural gas occurrence and origin. Geology 34(10):821–824. https://doi.org/10.1130/G22824.1

Foster J, Lehoux D (2007) The Delphic oracle and the ethylene-intoxication hypothesis. Clin Toxicol 45(1):85–89. https://doi.org/10.1080/15563650601120800

Gerster G (2005) The past from above: aerial photographs of archaelogical sites, the book was edited by Charlotte Trümpler, Getty Publications, p 417. ISBN 978-0-89236-817-4

Gulec N, Hilton DR, Mutlu H (2002) Helium isotope variations in Turkey: relationship to tectonics, volcanism and recent seismic activities. Chem Geol 187(1-2):129–142. https://doi.org/10.1016/S0009-2541(02)00015-3

Hancer M (2013) Study of the structural evolution of the Babadağ-Honaz and Pamukkale fault zones and the related earthquake risk potential of the Buldan region in SW Anatolia, east of the Mediterranean. J Earth Sci 24(3):397–409. https://doi.org/10.1007/s12583-013-0333-2

Hancock PL, Altunel E (1997) Faulted archaeological relics at Hierapolis, Turkey. J Geodyn 24(1-4):21–36. https://doi.org/10.1016/S0264-3707(97)00003-3

Hilton DR, Gronvold K, Sveinbjornsdottir AE, Hammerschmidt K (1998) Helium isotope evidence for offaxis degassing of the Icelandic hot spot. Chem Geol 149(3-4):173–187. https://doi.org/10.1016/S0009-2541(98)00044-8

Hosgormez H, Etiope G, Yalcin MN (2008) New evidence for a mixed inorganic and organic origin of the Olympic Chimaera fire (Turkey): a large onshore seepage of abiogenic gas. Geofluids 8(4):263–273. https://doi.org/10.1111/j.1468-8123.2008.00226.x

Italiano F (2009) Hydrothermal fluids vented at shallow depths at the Aeolian Islands: relationships with volcanic and geothermal systems. FOG - Freiberg Online Geosci 22:55–60

Italiano F, Sasmaz A, Yuce G, Okan O (2013) Thermal fluids along the East Anatolian Fault Zone (EAFZ): geochemical features and relationships with the tectonic setting. Chem Geol 339:103–114. https://doi.org/10.1016/j.chemgeo.2012.07.027

IVHHN (2013) International Volcanic Health Hazard Network. www.ivhhn.org/gas/guidelines.html

Kaymakci N (2006) Kinematic development and paleostress analysis of the Denizli Basin (Western Turkey): implications of spatial variation of relative paleostress magnitudes and orientations. J Asian Earth Sci 27(2):207–222. https://doi.org/10.1016/j.jseaes.2005.03.003

Kele S, Ozkul M, Forizs I, Gokgoz A, Baykara MO, Alcicek MC, Nemeth T (2011) Stable isotope geochemical study of Pamukkale travertines: new evidences of low-temperature non-equilibrium calcite-water fractionation. Sediment Geol 238(1-2):191–212. https://doi.org/10.1016/j.sedgeo.2011.04.015

Kies A, Hengesch O, Tosheva Z, Raschi A, Pfanz H (2015) Diurnal CO2-cycles and temperature regimes in a natural CO2 gas lake. Int J Greenhouse Gas Control 37:142–145. https://doi.org/10.1016/j.ijggc.2015.03.012

Kumsar H, Aydan Ö, Simsek C, D'Andria F (2016) Historical earthquakes that damaged Hierapolis and Laodikeia antique cities and their implications for earthquake potential of Denizli basin in western Turkey. Bull Eng Geol Environ 75(2):519–536. https://doi.org/10.1007/s10064-015-0791-0

Mariolakos I, Nikolpoulos V, Bantekas I, Palyvos N (2010) Oracles on faults: a probable location of a "lost" oracle of Apollo near Oroviai (northern Euboea Island, Greece) viewed in its geological and geomorphological context Bulletin of the Geological Society of Greece. Proc 12th. Int Congr., Patras

Nyquist A (2014) The solitary obelisk: the significance of cult in Hierapolis of Phrygia, Universitetet i Oslo, Master Thesis, pp. 88

Özdemir EB (2002) Structural evolution of the Babadag fault zone in Denizli graben, southwestern Turkey, (dissertation), Ankara University

Pfanz H (2008) Mofetten – kalter Atem schlafender Vulkane. RVDL-Verlag, Köln

Pfanz H, Vodnik D, Wittmann C, Aschan G, Raschi A (2004) Plants and geothermal CO2 exhalations—survival in and adaptation to a high CO2 environment. In: Esser K, Lüttge U, Kadereit JW, Beyschlag W (eds) Progress in botany, vol 65. Springer Verlag, Berlin, Heidelberg, pp 499–538. https://doi.org/10.1007/978-3-642-18819-0_20

Pfanz H, Yüce G, D'Andria F, D'Alessandro W, Pfanz B, Manetas Y, Papatheodorou G (2014) The Ancient gates to hell and their relevance to geogenic CO2. In: Wexler P (ed) History of toxicology and environmental health. Toxicology in Antiquity (Vol. I). Academic Press, Amsterdam, pp 92–117

Piccardi L (2000) Active faulting at Delphi: seismotectonic remarks and a hypothesis for the geological environment of a myth. Geology 28:651–654. https://doi.org/10.1130/0091-7613(2000)28<651:AFADGS>2.0.CO;2

Piccardi L (2007) The AD 60 Denizli basin earthquake and the apparition of Archangel Michael at Colossae (Aegean Turkey). In: Piccardi L, Masse WB (eds) Myth and Geology, vol 273. Geological Society, Special Publications, London, pp 95–105. https://doi.org/10.1144/GSL.SP.2007.273.01.08

Piccardi L, Monti C, Vaselli O, Tassi F, Gaki-Papanastassiou K, Papanastassiou D (2008) Scent of a myth: tectonics, geochemistry, and geomythology at Delphi (Greece). J Geol Soc 165(1):5–18. https://doi.org/10.1144/0016-76492007-055

Porter SE (2016) William B (ed) The apostle Paul: his life, thought, and letters. Eerdmans Publishing Company, Grand Rapids. pp 473, ISBN: 978802841148

Rigsby KJ (1996) Asylia: Territorial inviolability in Hellenistic world. University of California Press

Ring T, Salkın RM, La Boda S (1995) International dictionary of historic places: southern Europe, vol 3. Fitzroy Dearborn Publishers, Chicago, p 826

Russell D, Schulz HJ, Hohberg K, Pfanz H (2011) Occurrence of collembolan fauna in mofette fields (natural carbon-dioxide springs) of the Czech Republic. Soil Organ 83:489–505

Sano Y, Marty B (1995) Origin of carbon in fumarolic gas from island arcs. Chem Geol 119:265–274. https://doi.org/10.1016/0009-2541(94)00097-R

Seyitoglu G, Scott BC (1996) The cause of N–S extensional tectonics in western Turkey: tectonic escape vs back-arc spreading vs. orogenic collapse. J Geodyn 22(1-2):145–153. https://doi.org/10.1016/0264-3707(96)00004-X

Şimşek C, D'Andrea F (2017) Landscape and history in the Lykos Valley: Laodikeia and Hierapolis in Phrygia Cambridge Scholar Publishing, ISBN (13): 978-1-4438-9859-1, ss. 217

Uysal T, Feng Y, Zhao J, Altunel E, Weatherley D, Karabacak V, Cengiz O, Golding SD, Lawrence MG, Collerson KD (2007) U-series dating and geochemical tracing of late quaternary travertines in co-seismic fissures. Earth Planet Sci Lett 257(3-4):450–462. https://doi.org/10.1016/j.epsl.2007.03.004

Uysal T, Feng Y, Zhao J, Isik V, Nuriel P, Golding SD (2009) Hydrothermal CO2 degassing in seismically active zones during the late quaternary. Chem Geol 265(3-4):442–454. https://doi.org/10.1016/j.chemgeo.2009.05.011

Von Diest W, von Coler H, Graefinghof K, von Gaertingen H, Prongsheim H, Regling K (1913) Nysa ad maeandrum. Jahrbuch des Kaiserlich Deutschen Archäologischen Instituts

Von Uxkull W (1957) Die eleusinischen Mysterien. Versuch einer Rekonstruktion. Avalun Verlag, Büdingen-Gettenbach

Zwingmann N (2012) Antiker Tourismus in Kleinasien und auf den vorgelagerten Inseln. Rudolf Habelt Verlag, Bonn
Acknowledgements
We want to thank the governorship of Denizli City for their kind help. We are indebted to Omer Faruk Gunay, vice governor of Eskisehir City, and Ismail Soykan, vice governor of Denizli City. The great help of the director of Hierapolis/Pamukkale is greatly acknowledged. The authors wish to extend their sincere thanks to the provincial culture and tourism directorate of Ankara and Denizli. Dr. Francesco Italiano kindly provided data about gas analysis from the grottos. Special thanks to Dr. Christiane Wittmann and Volker Wittmann for their excellent work in building a robust, continuously recording CO2 monitor. The authors are also grateful to Selami Yildirim and Mehmet Ergun from the Turkish State Meteorological Service. The authors are extremely thankful to Prof. Dr. Francesco D'Andria, who detected and excavated the new Plutonium at Hierapolis for his kind help providing a permission to work on the site, to his intelligent advices and to his permanent interest in the progress of our study.
About this article
Cite this article
Pfanz, H., Yüce, G., Gulbay, A.H. et al. Deadly CO2 gases in the Plutonium of Hierapolis (Denizli, Turkey). Archaeol Anthropol Sci 11, 1359–1371 (2019). https://doi.org/10.1007/s12520-018-0599-5
Received:

Accepted:

Published:

Issue Date:
Keywords
Carbon dioxide

Helium

Radon

Charonion

Gate to hell

Geogenic gases

Hades

Mephitic exhalations

Mofette