An Update on Triptorelin: Current Thinking on Androgen Deprivation Therapy for Prostate Cancer
Abstract
Androgen deprivation therapy (ADT) is the mainstay palliative treatment for men with locally advanced and metastatic prostate cancer, and aims to reduce testosterone to levels obtained by surgical castration. Use of gonadotropin-releasing hormone (GnRH) agonists predominates among the ADT options. The GnRH agonist, triptorelin is a first-line hormonal therapy that has demonstrated efficacy and safety in clinical trials of patients with locally advanced non-metastatic or metastatic disease. Sustained-release 1-, 3- and 6-month formulations of triptorelin, administered intramuscularly or subcutaneously, have been developed to provide improved flexibility and convenience for the patient. Head-to-head studies of GnRH agonists are lacking in the field of prostate cancer. Despite the inevitable progression to castration-resistant prostate cancer (CRPC) in most patients receiving ADT, monitoring of testosterone levels needs to improve in routine practice and physicians should not overlook the benefits of continued ADT in their patients when introducing one of the various new treatment options for CRPC. For improved survival outcomes, there remains a need to tailor ADT treatment regimens, novel hormonal agents and chemotherapy according to the individual patient with advanced prostate cancer.
Keywords
Androgen deprivation therapy 
Oncology 
Prostate cancer 
Sustained-release formulations 
Triptorelin 
Introduction
Prostate cancer is the most frequently occurring cancer among European men, with an estimated incidence of 416,700 (varying from 25 to 193 per 100,000 populations in different European countries) and an estimated 92,200 deaths in 2012 [1]. In the USA, incidence of prostate cancer is within this European range at 138 per 100,000 populations according to the Surveillance, Epidemiology, and End Result program [2]. Hereditary factors are important for determining the risk of developing prostate cancer and exogenous factors may have an impact on the risk of progression. However, in general, the risk factors for prostate cancer are poorly understood and consequent advice on prevention is not possible [3]. Therefore, the management of prostate cancer focuses on treating the disease, and the hormone dependence of prostate cancer has been recognized for decades [4]. As a consequence, testosterone suppression has been the standard palliative treatment in men with advanced prostate cancer for many years. Orchiectomy is a simple, low-cost surgical procedure that effectively and quickly achieves castration, but because it is irreversible and does not allow intermittent treatment, it has become less popular than hormonal therapies among patients.
The selection of appropriate treatment is mainly dependent on the stage of disease and the risk of progression. Prostate cancer is generally described as localized, locally advanced (when the tumor has extended beyond the capsule of the prostate) and metastatic disease, and is classified using the Tumor-lymph Nodes-Metastasis (TNM) system [5]. Patients are also categorized into low, high, or intermediate risk of progression according to clinical stage, Gleason score, and prostate-specific antigen (PSA) level [6], and this will continue with the adoption of the recent International Society of Urological Pathology (ISUP) modified Gleason grading patterns [7]. However, a recent assessment of a large cohort found that while high levels of PSA (>100 ng/ml) at diagnosis were associated with a reduction in survival after 5 and 10 years, within this high-risk group PSA level was not associated with prostate cancer-specific mortality [8]. Gleason score and the presence of metastasis were the strongest predictors of prostate cancer-specific mortality in this group with high PSA at presentation [8]. What is clear is that patients classified as having low or intermediate risk prostate cancer (Gleason score <8 and PSA <20 ng/ml) may have a 10-year prostate cancer-specific mortality of <5% [9, 10], and avoiding unnecessary treatment is a challenge in these patients [11, 12]. Patients with high-risk prostate cancer make up a considerable proportion of newly diagnosed patients and have much higher mortality rates, and therefore, the challenge in these men is to increase overall survival while reducing any adverse effects of treatment. However, this high-risk population is heterogeneous and more information is needed on the validity of suggested prognostic indicators, such as the number and location of bone metastases, visceral metastases, Gleason score, and the initial PSA level [3, 13].
This article reviews the current and ongoing role of androgen deprivation therapy (ADT) in the management of prostate cancer, with a particular focus on clinical trial and real-world evidence supporting the use of the gonadotropin-releasing hormone (GnRH) agonist triptorelin in men with locally advanced or metastatic prostate cancer. As such, this article is based on previously conducted studies, and does not involve any new studies of human or animal subjects performed by any of the authors.
The Role of ADT in Prostate Cancer Management
ADT aims to reduce testosterone levels to the levels achieved with surgical castration [defined as <50 ng/dl (<1.7 nmol/l) by regulatory authorities and used in clinical trials, but <20 ng/dl may be a more clinically meaningful definition of castration] [3].
ADT is recommended for patients with locally advanced prostate cancer and metastatic prostate cancer [3]. In the case of locally advanced prostate cancer, ADT is recommended only when patients are unwilling or unable to receive any form of local treatment and who are symptomatic or asymptomatic with a PSA doubling time (PSA-DT) <12 months and a poorly differentiated tumor. ADT is also recommended for lymph node positive (N1) prostate cancer whether newly diagnosed or after extended lymph node dissection. In both situations, additional radiation therapy may have a role. ADT using GnRH agonists should be combined at treatment initiation with the short-term administration of anti-androgens to prevent flare-up of symptoms due to the initial pituitary stimulation and increase in testosterone levels [3].
Androgen deprivation can be achieved with a number of different types of ADT, including GnRH agonists, GnRH antagonists, and oestrogens. Anti-androgens are also sometimes used to inhibit the action of androgens. GnRH agonists, of which the most widely used include triptorelin, goserelin, and leuprolide, stimulate gonadotropins from the anterior pituitary gland and the production of testosterone in men, but continued administration leads to the downregulation of pituitary GnRH receptors, which quickly results in the suppression of gonadotropins [luteinising hormone (LH) and follicle stimulating hormone (FSH)] followed by a decrease in testosterone levels [14, 15]. GnRH antagonists (e.g., degarelix) competitively bind to the pituitary GnRH receptors and directly inhibit the release of gonadotropins and lead to reduced testosterone levels [16]. Oestrogens induce pituitary suppression of gonadotropin secretion and inhibit the production of androgens in the testicles but are rarely used due to their side effect profile [17]. Anti-androgens, which bind to androgen receptors and thereby block the effect of endogenous androgens, are used in combination with GnRH agonists to achieve complete androgen blockade (CAB) [18]. In the short term, the concomitant use of anti-androgens prevents the flare-up that can occur when initiating GnRH agonist therapy [18]. Anti-androgens include bicalutamide, flutamide, and the more recently developed enzalutamide [19]. Moreover, abiraterone is a novel androgen synthesis inhibitor that has been shown to block androgen synthesis in adrenal glands and prostate cancer cells. Both abiraterone and enzalutamide are generally indicated for second-line treatment when castration resistance develops with ADT [20, 21, 22].
While ADT is effective for reducing testosterone and PSA levels, almost all men treated in the long term develop castrate-resistant prostate cancer (CRPC) [23, 24], with more than 80% exhibiting bone metastases upon diagnosis of CRPC.
Triptorelin as ADT
The most widely used ADT in clinical practice is GnRH agonist therapy, and one frequently prescribed agent is triptorelin (Decapeptyl®, Pamorelin®, Diphereline®, Arvekap®, Ipsen, Paris, France). In line with European Association of Urology (EAU) guidelines [3], triptorelin is indicated as the first-line hormonal therapy in patients with locally advanced non-metastatic or metastatic disease as an alternative to surgical castration; and as add-on to external-beam radiation therapy.
Triptorelin is administered to patients in the form of acetate or pamoate (also known as embonate) salts, and in response to the need for ADT regimens that improve convenience and treatment adherence, sustained-release 1-month (3 or 3.75 mg), 3-month (11.25 mg), and 6-month (22.5 mg) formulations of triptorelin have been developed (Fig. 
1
) [
25
,
26
,
27
]. Sustained-release formulations of triptorelin comprise microparticles of the decapeptide incorporated within a biocompatible and biodegradable copolymer (polylactide-co-glycolide) [
28
].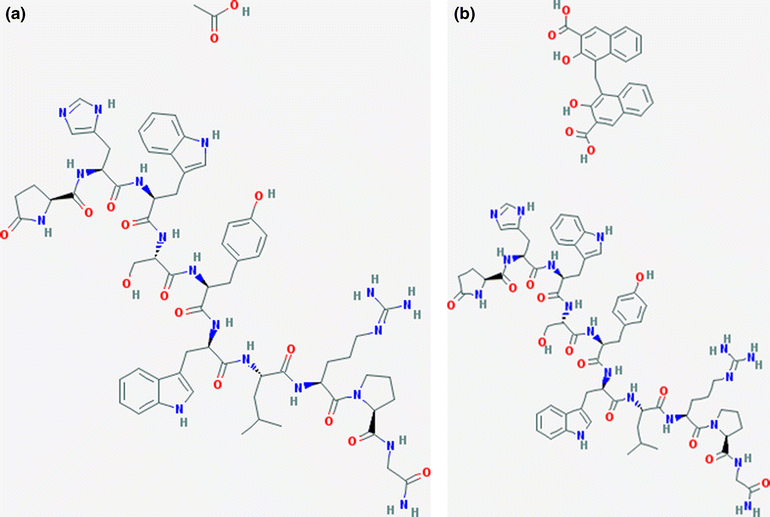 Are All ADTS the Same?
Several head-to-head trials have been conducted of sustained-release 1-month triptorelin acetate or pamoate versus leuprolide acetate [39, 40, 41]. In the most recent study, 284 men with advanced prostate cancer were randomly assigned to receive triptorelin pamoate 3.75 mg or leuprolide 7.5 mg every 28 days for 9 months (252 days). Triptorelin and leuprolide demonstrated clinical equivalence in the proportion of men maintaining castrate serum testosterone levels, defined as ≤50 ng/dl, between 2 and 9 months after starting treatment (mean levels maintained below castration limit in 98.8% vs 97.3% of the patients; cumulative maintenance castration rates of 96.2% vs 91.2%, respectively). Changes in the secondary endpoints of LH levels, bone pain, PSA levels, and quality of life were also not significantly different between treatment groups. However, triptorelin was associated with a significantly higher 9-month survival rate than leuprolide (97.0% vs 90.5%; P = 0.033) [40].
However, in general, there is a lack of head-to-head evaluations of GnRH agonists in advanced prostate cancer, and the aforementioned studies all used a 1-month formulation of triptorelin. In the absence of head-to-head data, cross-study comparisons suggest similar efficacy of the sustained-release 6-month formulations of the GnRH agonists triptorelin pamoate and leuprolide acetate, with medical castration rates (serum testosterone ≤50 ng/dl) of 97.5% and 97.0% at 29 days and 98.3% and 99.0% at 12 months, respectively [60].
A technology appraisal commissioned by the National Institute for Health Care and Excellence (NICE) in the UK reviewed the evidence supporting the use of the GnRH antagonist degarelix for the treatment of advanced prostate cancer and selected leuprolide, goserelin, and triptorelin as comparators [61]. A mixed treatment comparison meta-analysis of a total of six studies of the selected agents revealed that leuprolide and goserelin were associated with increased mortality compared with degarelix (odds ratio [OR] 1.8 and 1.9, respectively). In contrast, mortality with triptorelin was lower than with degarelix (OR 0.5), leading the NICE Evidence Review Group to consider that the treatment effect of triptorelin on overall survival may differ from that of leuprolide and goserelin [61]. While this analysis is intriguing, more large-scale head-to-head comparisons would be needed to draw firm conclusions on the effects of different ADTs on survival.
The Ongoing Place of ADT in Prostate Cancer Management
Two important topics on the role of ADT in prostate cancer management continue to be debated. First, whether tolerance and side effects of ADT can be diminished by altering the regimens used, for example, with intermittent ADT. Second, with the introduction of newer treatment options, mainly indicated for metastatic CRPC, there is a concern among clinical experts that some physicians may disregard the need for continued ADT (i.e., 'backbone ADT') [62].
The feasibility of intermittent ADT, as an alternative to continuous androgen deprivation for improving quality of life while maintaining disease control, was examined in 2013 in 1535 men with newly diagnosed metastatic hormone-sensitive prostate cancer, and was found to be inferior to continuous ADT on survival outcomes [63]. However, intermittent ADT may still have a role when patients are not metastatic, the patient profile fits the choice of strategy, or because of the strong belief that toxicity is reduced. This was tested in a secondary analysis of the trial mentioned above, with regard to toxicity. The analysis of intermittent versus continuous ADT suggested that the 10-year cumulative incidence of ischaemic and thrombotic events was significantly higher with intermittent ADT (33%) versus continuous ADT (24%, P = 0.02). In conclusion, older men with metastatic prostate cancer who received intermittent ADT had no reduction in bone, endocrine or cognitive events, but ischemic and thrombotic events were more frequent compared with continuous ADT [64].
However, the results from these studies should be interpreted with caution, and there is a trend for improved HRQoL with intermittent versus continuous ADT and intermittent treatment may have reduced treatment costs [65]. These uncertainties have led the EAU to suggest that intermittent ADT may be an option in patients with metastatic disease after a standardized induction period [3].
Another strategy for the management of asymptomatic disease is to defer ADT until the development of symptoms. A Cochrane review of studies from the pre-PSA era suggested that early ADT in a metastatic population significantly reduced disease progression and associated complications [66]. However, the EAU guidelines highlight the difficulties in making any recommendations due to the lack of quality data [3].
On the issue of backbone ADT, the need to eliminate or suppress as many parts of the androgen receptor signaling pathway as possible provides a rationale for continuing androgen deprivation while inhibiting androgen biosynthesis with abiraterone [62]. Data suggest that the combination of abiraterone and ADT provides more sustained suppression of testosterone than abiraterone monotherapy [67, 68, 69]. Specifically, the use of abiraterone alone is not able to maintain decreased levels of testosterone in men who have not achieved castration, whereas the addition of abiraterone to backbone ADT results in sustained suppression of testosterone to low levels [67, 68, 69]. Likewise, the continuation of ADT when initiating enzalutamide therapy may help achieve greater CAB.
The rationale for continuing ADT when starting chemotherapy in metastatic CRPC (mCRPC) is that cessation of ADT may cause renewed testosterone release and stimulation of the remaining androgen-sensitive elements of the tumor [62]. Although survival benefits of lowered testosterone in the setting of metastatic prostate cancer have not been conclusively demonstrated, improved overall survival by 13.6 months was shown with the inclusion of ADT during chemotherapy initiation compared with ADT alone in men with metastatic prostate cancer naïve to hormonal therapy from the CHAARTED (ChemoHormonal therapy versus Androgen Ablation Randomized Trial for Extensive Disease in prostate cancer) study (ClinicalTrials.gov identifier, NCT00309985) [70]. This study also showed an 8.5 month increase in median time to biochemical, symptomatic or radiographic progression with the addition of chemotherapy. In addition, the addition of chemotherapy to the first-line hormonal therapy for high-risk, locally advanced, metastatic or recurrent prostate cancer was shown to increase median overall survival by 10 months in the STAMPEDE trial (ClinicalTrials.gov identifier, NCT00268476) [71]. However, the incidence of Grade 3–5 AEs was considerably higher in the group receiving chemotherapy than in the group not receiving chemotherapy [71]. Thus, it seems the combination of ADT and chemotherapy should be initiated earlier in the treatment algorithm for high-risk disease. In patients who have already initiated ADT, it may be less clear if potential survival advantages exist by continuing ADT when chemotherapy is initiated, but it seems logical to follow expert guidance that advocates maintaining ADT when initiating chemotherapy for metastatic prostate cancer [62].
Irrespective of the above arguments in favor of maintaining backbone ADT, continuation of ADT, and maintenance of testosterone levels <50 ng/dl were stipulated as inclusion criteria for entry into all randomized controlled trials of newer agents (e.g., abiraterone and enzalutamide) [20, 21, 72, 73], and therefore, there is no evidence to support stopping ADT when initiating these other agents. An important question that requires more data is whether certain sequences of these treatments or combinations of ADT and abiraterone and enzalutamide may benefit some patients. Several studies have assessed the optimal sequencing of treatments in different patient groups [74, 75, 76, 77], but firm guidance is not currently possible.
As well as these issues surrounding ADT, the use of adjuvant ADT after radical prostatectomy when nodal involvement is detected continues to have an important role [3]. Similarly, adjuvant or neo-adjuvant ADT plus radiotherapy is established as standard practice for locally advance prostate cancer, especially when disease is classified as high risk [3, 78, 79, 80, 81].
Conclusion
ADT remains the mainstay of treatment for advanced prostate cancer, with GnRH agonists predominating as a hormonal therapy of choice. Triptorelin is a GnRH agonist that is indicated as the first-line hormonal therapy in patients with locally advanced non-metastatic or metastatic disease. The availability of sustained-release 1-, 3- and 6-month formulations of triptorelin delivered via IM or SC routes offers the potential for improved flexibility and convenience for the patient with advanced prostate cancer. Moreover, sustained-release triptorelin treatment has a proven efficacy and safety profile in clinical trials, with observations from routine practice indicating patient satisfaction lending credence to clinical trial data. It is imperative that the emergence of new treatment options for castration-resistant prostate cancer does not lead physicians to overlook the benefits of continuing ADT in their patients. However, it is also clear that optimum treatment sequencing of ADT, novel hormonal agents, and chemotherapy needs to be defined and individualized for men with advanced prostate cancer.
Notes
Acknowledgments
No funding or sponsorship was received for this study or publication of this article. Medical writing assistance for this study was provided by Martin Gilmour of ESP Bioscience, Crowthorne, UK and funded by Ipsen. During the peer review process, the manufacturer of the agent under review was offered an opportunity to comment on the article. Changes resulting from comments received were made by the author based on their scientific and editorial merit. All named authors meet the International Committee of Medical Journal Editors (ICMJE) criteria for authorship for this manuscript, take responsibility for the integrity of the work as a whole, and have given final approval for the version to be published.
Disclosures
Axel S. Merseburger and Marie C. Hupe have nothing to disclose.
Compliance with Ethics Guidelines
This article is based on previously conducted studies and does not involve any new studies of human or animal subjects performed by any of the authors.
Open Access
This article is distributed under the terms of the Creative Commons Attribution-NonCommercial 4.0 International License (http://creativecommons.org/licenses/by-nc/4.0/), which permits any noncommercial use, distribution, and reproduction in any medium, provided you give appropriate credit to the original author(s) and the source, provide a link to the Creative Commons license, and indicate if changes were made.