Zusammenfassung
Parteiendifferenzen stellen bei bundesländervergleichenden Politikfeldanalysen eine der zentralen Erklärungen dar. Erfasst wird der Effekt, der von unterschiedlichen Positionen auf Politikergebnisse ausgeht, meist über die Regierungsbeteiligung bestimmter Parteien oder über deren Sitzanteil. Aus unserer Sicht ist diese Strategie (zunehmend) ungeeignet, da sich die Landesverbände deutscher Parteien bisweilen stark unterscheiden und die gebildeten Koalitionen zunehmend komplex und atypisch sind. Wir sehen in neueren Verfahren der quantitativen Textanalyse eine alternative Möglichkeit der Datenerhebung und zeigen anhand der Agrarpolitik der Bundesländer auf, wie diese für die Politikfeldanalyse nutzbar gemacht werden können.
Abstract
Partisan theory is one of the major explanations in policy analysis. In this setting, how policy positions affect policy outcomes has usually been captured by individual parties' government participation or by their seat share. From our perspective, this approach is (increasingly) inadequate because the German parties' regional branches are very heterogeneous and because coalitions are increasingly complex and atypical. We argue that new methods for text analysis can provide an alternative strategy for data collection and show—using agricultural policy in the German states as an example—how they can be utilized by policy analysis.
This is a preview of subscription content, log in to check access.
Access options
Buy single article
Instant access to the full article PDF.
US$ 39.95
Price includes VAT for USA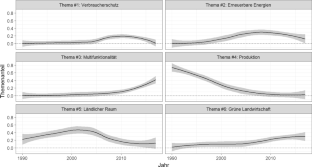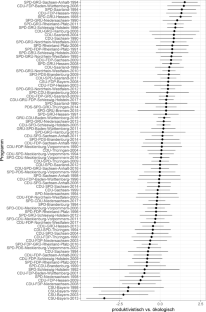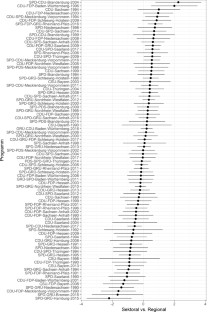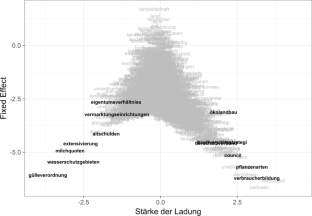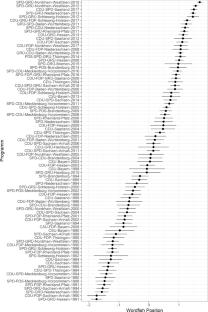 Notes
1.

Umstritten ist, welcher Faktor den entscheidenden Reformdruck auslöste und ob eher die inneren Problemlagen oder die WTO-Verhandlungen Grund für die GAP-Reformen waren. Einen Überblick hierzu geben Swinbank und Daugbjerg (2006).

2.

Die Programme der Bundesländer für den ländlichen Raum weisen für den Zeitraum 2014–2020 ein Budget von 16,9 Mrd. € auf, 9,4 Mrd. € werden dabei über den ELER bereitgestellt (BMEL 2015). Eine Ko-Finanzierung erfolgt aus der Gemeinschaftsaufgabe "Verbesserung der Agrarstruktur und des Küstenschutzes" (GAK) und aus Landesmitteln.

3.

Wenngleich inzwischen die (teil-)automatisierte Textanalyse – insbesondere Wordfish und Wordscores – als etabliertes methodologisches Verfahren gilt, soll an dieser Stelle kurz auf potentielle Limitierungen hingewiesen werden (siehe bspw. Grimmer und Stewart 2013). Hierzu zählt insbesondere, dass die von den Methoden getroffenen Annahmen über die Struktur von Sprache falsch sind. Die Verfahren betrachten in der Regel nur Worthäufigkeiten und nicht, in welchen Wortkombinationen bzw. Kontexten die Wörter auftauchen. Diese Probleme werden auch durch neue Methoden der Textskalierung, wie bspw. das Class Affinity Model (Perry und Benoit 2017), nicht gelöst.

4.

5.

R ist der Standard zur Analyse von Text, quanteda steht für Quantitative Analysis of Textual Data. Für Einsteiger in der quantitativen Textanalyse bietet sich die TADA – Text as Data App – von Jankowski und Müller (2017) an. Diese basiert auf quanteda, bietet eine graphische Nutzeroberfläche und benötigt keinerlei Kenntnisse von R.

6.

Eine Übersicht über die ausgewählten Dokumente und Passagen findet sich im Appendix.

7.

Erhebliche Unterschiede in der Politik der Bundesländer sind aufgrund unterschiedlicher ideologischer Positionierungen auch in anderen Bereichen wie etwa der Tierschutzpolitik zu erwarten. Wir nutzen jedoch die relative finanzielle Ausstattung einzelner Bereiche des EPLR als Indikator, da sich hier die in Abschn. 2. skizzierte Ausweitung der Spielräume der Länder am besten abbildet und diese Art von Budgetverteilungsfragen gut die innerhalb einer Koalition gefundenen Kompromisse abbilden können.

8.

9.

Den Programmen wird jeweils die Landesregierung zugeordnet, die während der Erstellung im Amt war.

10.

Dies gilt auch, wenn als unabhängige Variable die Parteizugehörigkeit des Landwirtschaftsministers überprüft wird.
Literatur
Benoit, Kenneth, und Paul Nulty. 2018. Quanteda: quantitative analysis of textual data. R package version 0.99.22. http://quanteda.io. Zugegriffen: 8. Febr. 2018.

Benoit, Kenneth, Thomas Bräuninger, und Marc Debus. 2009. Challenges for estimating policy preferences: announcing an open access archive of political documents. German Politics 18:440–453.

Blei, David. 2012. Probabilistic topic models. Communications of the ACM 55:77–84.

BMEL Bundesministerium für Ernährung und Landwirtschaft. 2015. Entwicklung des ländlichen Raums 2014–2020. http://www.bmel.de/DE/Laendliche-Raeume/03_Foerderung/Europa/_texte/Foerderung2014-2020.html?docId=5493798. Zugegriffen: 7. Sept. 2017.

Bräuninger, Thomas, und Marc Debus. 2012. Parteienwettbewerb in den deutschen Bundesländern. Wiesbaden: VS.

Coleman, William D., Grace D. Skogstad, und Michael M. Atkinson. 1996. Paradigm shifts and policy networks: cumulative change in agriculture. Journal of Public Policy 16:273–302.

Daugbjerg, Carsten, und Peter H. Feindt. 2017. Post-exceptionalism in public policy: transforming food and agricultural policy. Journal of European Public Policy 24:1565–1584.

Durand, Guy, und Guido van Huylenbroeck. 2003. Multifuncionality and rural development: a general framework. In Multifunctional agriculture: a new paradigm for European agriculture and rural development, Hrsg. Guy Durand, Guido van Huylenbroeck, 1–16. Aldershot: Ashgate.

DVS Deutsche Vernetzungsstelle Ländliche Räume. 2010. Förderperiode 2007–2013: ELER in den Ländern. http://www.netzwerk-laendlicher-raum.de/themen/eler-2007-2013/eler-in-den-laendern/. Zugegriffen: 13. Aug. 2015.

DVS Deutsche Vernetzungsstelle Ländliche Räume. 2015. ELER in Deutschland. Übersicht über die Nationale Rahmenregelung und die Programme der Länder. Programmübersicht 2014–2020. https://www.netzwerk-laendlicher-raum.de/fileadmin/sites/ELER/Dateien/01_Hintergrund/ELER/Länderprogrammübersicht_kurz_005.pdf. Zugegriffen: 10. Juni 2017.

Ewert, Stefan. 2016. Landwirtschaftspolitik und die Entwicklung des ländlichen Raums – neue Felder der Politik der Bundesländer. In Politik in den Bundesländern: Zwischen Föderalismusreform und Schuldenbremse, Hrsg. Achim Hildebrandt, Frieder Wolf, 233–257. Wiesbaden: Springer.

Fearne, Andrew. 1997. The history and development of the CAP, 1945–1990. In The common agricultural policy, Hrsg. Christopher Ritson, David Harvey, 11–56. Wallingfort: CAB International.

Feindt, Peter H. 2009. Interessenvermittlung in der deutschen und europäischen Agrarpolitik im Wandel. In Interessenvermittlung in Politikfeldern, Hrsg. Britta Rehder, Ulrich Willems, und Thomas Winter, 68–89. Wiesbaden: VS.

Feindt, Peter H. 2018. EU agricultural policy. In Handbook of European policies. Interpretive approaches to the EU, Hrsg. Hubert Heinelt, Sybille Münch, 115–133. Cheltenham: Edward Elgar.

Garzon, Isabelle. 2006. Reforming the common agricultural policy. History of a paradigm change. Basingstoke: Palgrave Macmillan.

Grajewski, Regina, und Peter Mehl. 2008. Variable Politik trotz wachsender Verflechtung. Netzwerkgovernance am Beispiel der Politik zur Entwicklung Ländlicher Räume. In Föderale Politikgestaltung im deutschen Bundesstaat, Hrsg. Henrik Scheller, Josef Schmidt, 284–310. Baden-Baden: Nomos.

Grimmer, Justin, und Brandon M. Stewart. 2013. Text as data: the promise and pitfalls of automatic content analysis methods for political texts. Political Analysis 21:267–297.

Gross, Martin, und Marc Debus. 2017. Does EU regional policy increase parties' support for European integration? West European Politics 41:594–614.

Hall, Peter A. 1993. Policy paradigms, social learning, and the state: the case of economic policymaking in Britain. Comparative politics 25:275–296.

Henrichsmeyer, Wilhelm, und Peter Witzke. 1991. Agrarökonomische Grundlagen. Agrarpolitik, Bd. 1. Stuttgart: Ulmer.

Jankowski, Michael, und Stefan Müller. 2017. TADA: the text-as-data-app. Version 0.1. https://github.com/stefan-mueller/tada. Zugegriffen: 6. Febr. 2018.

Laver, Michael, Kenneth Benoit, und John Garry. 2003. Extracting policy positions from political texts using words as data. American Political Science Review 97:311–331.

Muirhead, Bruce, und Reidar Almås. 2012. The evolution of western agricultural policy since 1945. In Rethinking agricultural policy regimes: food security, climate change and the future resilience of global agriculture, Hrsg. Reidar Almås, Hugh Campbell, 23–49. Bingley: Emerald.

OECD Organization for Economic Co-operation and Development. 2001. Multifunctionality. Towards an analytical framework. Paris: OECD.

Perry, Patrick O., und Kenneth Benoit. 2017. Scaling text with the class affinity model. arXiv: 1710.08963.

Rieger, Elmar. 2007. Bauernverbände. Agrarische Interessenpolitik, institutionelle Ordnung und politischer Wettbewerb. In Interessenverbände in Deutschland, Hrsg. Ulrich Willem, Thomas von Winter, 294–315. Wiesbaden: VS.

Roberts, Margaret E., Brandon Stewart, Dustin Tingley, Chris Lucas, Jetson Leder-Luis, Bethany Albertson, Shana Gadarian, und David Rand. 2014. Structural topic models for open-ended survey responses with applications to experiments. American Journal of Political Science 58:1064–1082.

Skogstad, Grace. 1998. Ideas, paradigms and institutions: agricultural exceptionalism in the European Union and the United States. Governance 11:463–490.

Slapin, Jonathan B., und Sven-Oliver Proksch. 2008. A scaling model for estimating time-series party positions from texts. American Journal of Political Science 52:705–722.

Swinbank, Alan, und Carsten Daugbjerg. 2006. The 2003 CAP reform: accommodating WTO pressures. Comparative European Politics 4:47–64.

Tietz, Andreas. 2007. Ländliche Entwicklungsprogramme 2007 bis 2013 in Deutschland im Vergleich: Finanzen, Schwerpunkte, Maßnahmen. Völkenrode/Braunschweig: Thünen.

Tosun, Jale. 2017. Party support for post-exceptionalism in agri-food politics and policy: Germany and the United Kingdom compared. Journal of European Public Policy 24:1623–1640.

Wenzelburger, Georg. 2015. Parteien. In Handbuch Policy-Forschung, Hrsg. Georg Wenzelburger, Reimut Zohlnhöfer, 81–112. Wiesbaden: Springer VS.

Wolf, Frieder, und Achim Hildebrandt. 2008. Sechzehn Länder, sechzehn Felder: Erträge des Vergleichs. In Die Politik der Bundesländer, Hrsg. Achim Hildebrandt, Frieder Wolf, 363–370. Wiesbaden: VS.
About this article
Cite this article
Ewert, S., Jankowski, M. & Müller, J. Politikpositionen von Regierungen im Ländervergleich. Z Vgl Polit Wiss 12, 683–702 (2018). https://doi.org/10.1007/s12286-018-0405-x
Schlüsselwörter
Agrarpolitik

Quantitative Textanalyse

Bundesländer

Parteiendifferenz
Keywords
Agricultural policy

quantitative text analysis

German Länder

partisan theory