Abstract
With ride quality being one of the most sought-after characteristics of a road bicycle by customers as well as by bicycle manufacturers, the vibrational behaviour of the bicycle/cyclist system has grown into an active field in sport engineering research in recent years. When assessing bicycle transmissibility and ride comfort, it is important to control test conditions to obtain repeatable load and acceleration measurements at the cyclist's contact points with the bicycle. Surprisingly, however, this consideration has not yet been specifically addressed in the literature. The aim of this paper is a first effort to investigate the effect of a selected set of test conditions on the measurement of vibration induced to the cyclist by a road bicycle. Our results showed that all the test conditions selected had a significant effect on the level of vibration induced to the cyclist.
Access options
Buy single article
Instant access to the full article PDF.
USD 39.95
Price includes VAT (USA)
Tax calculation will be finalised during checkout.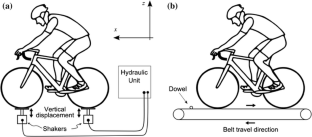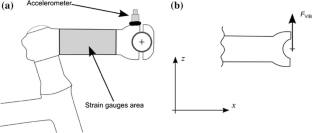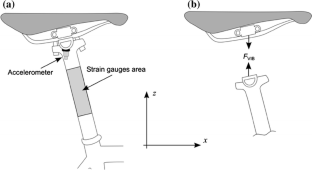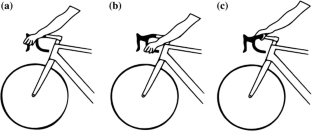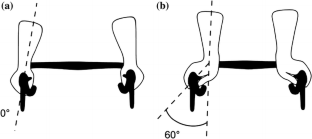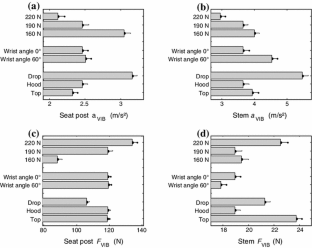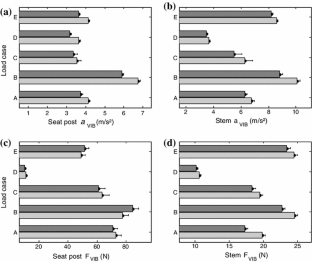 References
1.

ISO 5349-1 (2001) Mechanical vibration—measurement and evaluation of human exposure to hand-transmitted vibration—Part 1: General requirements

2.

ISO 2631-1 (1997) Mechanical vibration and shock—evaluation of human exposure to whole-body vibration—Part 1: General requirements

3.

Hunt L, Garcia I (2012) Implementation of a vibration absorber for composite hockey goalie sticks. Procedia Eng 34:349–354

4.

Russell DA (2006) Bending modes, damping, and the sensation of sting in baseball bats. In: Moritz E, Haake S (eds) The engineering of sport 6. Springer, New York, pp 11–16

5.

Roberts JR, Jones R, Mansfield NJ, Rothberg SJ (2005) Evaluation of vibrotactile sensations in the 'feel' of a golf shot. J Sound Vib 285:303–319

6.

Cavacece M, Smarrini F, Valentini PP, Vita L (2005) Kinematic and dynamic analysis of a sit-ski to improve vibrational comfort. Sports Eng 8:13–25

7.

Alvarez G, Vinyolas J (1996) A new bicycle pedal design for on-road measurements of cycling forces. J Appl Biomech 12:130–142

8.

Rowe T, Hull M, Wang E (1998) A pedal dynamometer for off-road bicycling. Am Soc Mech Eng J Biomed Eng 120:160–164

9.

Reiser RF, Peterson ML, Broker JP (2003) Instrumented bicycle pedals for dynamic measurement of propulsive cycling loads. Sport Eng 6:41–48

10.

Drouet J, Champoux Y, Dorel S (2008) Development of multi-platform instrumented force pedals for track cycling (P49). In: The engineering of sport 7. Springer, Paris, pp 263–271

11.

Bolourchi F, Hull M (1985) Measurement of rider induced loads during simulated bicycling. Int J Sport Biomech 1:178–198

12.

De Lorenzo DS, Hull ML (1999) A hub dynamometer for measurement of wheel forces in off-road bicycling. J Biomech Eng 121:132–137

13.

Drouet J, Champoux Y (2010) A novel dynamometric hubset design to measure wheel loads in road cycling. Procedia Eng 2:2925–2930

14.

Drouet J, Champoux Y (2012) Development of a three-load component instrumented stem for road cycling. Procedia Eng 34:502–507

15.

Caya A, Champoux Y, Drouet J (2012) Dynamic behaviour and measurement accuracy of a bicycle brake hood force transducer. Procedia Eng 34:526–531

16.

Champoux Y, Vittecoq P, Maltais P, Auger E, Gauthier B (2004) Measuring the dynamic structural load of an off-road bicycle frame. Exp Tech 28:33–36

17.

Arpinar-Avsar P, Birlik G, Sezgin ÖC, Soylu AR (2013) The effects of surface-induced loads on forearm muscle activity during steering a bicycle. J Sports Sci Med 12:512–520

18.

Chiementin X, Rigaut M, Crequy S, Bolaers F, Bertucci W (2012) Hand-arm vibration in cycling. J Vib Control. doi:10.1177/1077546312461024

19.

Lepine J, Champoux Y, Drouet J (2011) Excitation techniques for testing bike vibration transmission in the laboratory. Conf Proc Soc Exp Mech Ser 6:35–43

20.

Petrone N, Giubilato F (2011) Comparative analysis of wheels vibration transmissibility after full bicycle laboratory tests. In: AIAS conference, 147

21.

Olieman M, Marin-Perianu R, Marin-Perianu M (2012) Measurement of dynamic comfort in cycling using wireless acceleration sensors. Procedia Eng 34:568–573

22.

Giubilato F, Petrone N (2012) A method for evaluating the vibrational response of racing bicycles wheels under road roughness excitation. Procedia Eng 34:409–414

23.

Lepine J, Champoux Y, Drouet J (2012) Technique to measure the dynamic behavior of road bike wheels. Conf Proc Soc Exp Mech Ser 6:465–470

24.

Thite AN, Gerguri S, Coleman F, Doody M, Fisher N (2013) Development of an experimental methodology to evaluate the influence of a bamboo frame on the bicycle ride comfort. Veh Syst Dyn 51:1287–1304

25.

Levy M, Smith G (2005) Effectiveness of vibration damping with bicycle suspension systems. Sports Eng 8:99–106

26.

Perrier S, Champoux Y, Drouet J (2012) Using substructuring to predict the human hand influence on a mechanical structure. Conf Proc Soc Exp Mech Ser 2:33–44

27.

Perrier S, Champoux Y, Drouet J (2011) Coupling a compliant structure with a hand–arm system using FBS. Conf Proc Soc Exp Mech Ser 3:65–78

28.

Lepine J, Champoux Y, Drouet J (2013) Influence of test conditions on comfort ranking of road bicycle wheels. Conf Proc Soc Exp Mech Ser 6:77–82

29.

Champoux Y, Richard S, Drouet JM (2007) Bicycle structural dynamics. Sound Vib 41:16–24
Acknowledgments
The authors gratefully acknowledge financial support from the National Science and Engineering Council of Canada (NSERC) and the participation of Cervélo and Vroomen-White Design.
About this article
Cite this article
Lépine, J., Champoux, Y. & Drouet, JM. Road bike comfort: on the measurement of vibrations induced to cyclist. Sports Eng 17, 113–122 (2014). https://doi.org/10.1007/s12283-013-0145-8
Keywords
Bicycle dynamic comfort

Bicycle testing

Vibrations transmission

Vibration measurement

Excitation techniques