Abstract
Background
We analysed factors that might influence patients' and physicians' decisions against the initiation of guideline adherent adjuvant endocrine therapy (ET).
Methods
In a prospective multi-centre study, including four certified breast cancer centres in Germany, patients with primary breast cancer were included from 2009 to 2012. Patients completed a questionnaire prior to surgery, adjuvant therapy, and 6 months after adjuvant therapy. This questionnaire assessed health-related quality of life (QoL), psychiatric co-morbidity, demographic characteristics, and the intensity of fear for ET. Guideline adherence was classified based on an algorithm derived from international guidelines. The tumour board's (TB) decisions against or for ET was documented. The TB was blinded regarding the guideline results.
Results
In 666 patients, adjuvant ET was indicated according to the guideline recommendations. The TB decided in 92.3 % (n = 615) of those that adjuvant ET was indicated. TB's decision against ET was associated with the younger age of patients (OR = 0.5; 95 % CI 0.3–0.9) and poor QoL (OR = 1.7; 95 % CI 1.0–2.8). In 93 patients, ET was not indicated according to the guidelines, and the TB decided in 84 of those not to prescribe ET. The TB decided in 93.4 % of the cases according to the guidelines. Of the patients, where the TB prescribed ET, 5 % (n = 31) decided against ET. This decision was associated with fear of ET (OR = 2.2; 95 % CI 1.0–5.2) and higher age (OR 9; 95 % CI 1.0–48.1). Psychiatric co-morbidity (OR = 1.8; 95 % CI 0.7–4.2), poor QoL (OR = 0.4; 95 % CI 0.2–1.2), and education (OR = 1.2; 95 % CI 0.5–2.6) were not associated with the decision.
Discussion
Guideline adherent implementation of adjuvant ET is high. Physicians' decision against ET is mainly associated with patients' younger age and poor quality of life, whereas patients' decision, once the TB decided to initiate ET and if ET is indicated by guidelines, is associated with higher age and fear of ET.
This is a preview of subscription content, log in to check access.
Access options
Buy single article
Instant access to the full article PDF.
US$ 39.95
Price includes VAT for USA
Subscribe to journal
Immediate online access to all issues from 2019. Subscription will auto renew annually.
US$ 99
This is the net price. Taxes to be calculated in checkout.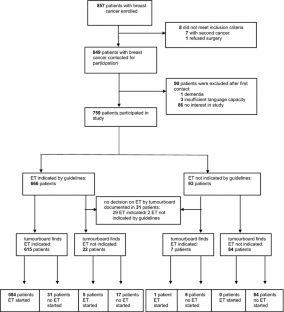 References
1.

RKI, Breast cancer incidence, Germany. 2014, Robert-Koch-Institute, Tumor Registry.

2.

Fracheboud J, et al. Decreased rates of advanced breast cancer due to mammography screening in The Netherlands. Br J Cancer. 2004;91(5):861–7.

3.

Hanrahan EO, et al. Overall survival and cause-specific mortality of patients with stage T1a, bN0M0 breast carcinoma. J Clin Oncol. 2007;25(31):4952–60.

4.

Kowalski C, et al. Quality of care in breast cancer centers: results of benchmarking by the German Cancer Society and German Society for Breast Diseases. Breast. 2015;24(2):118–23.

5.

Hebert-Croteau N, et al. Compliance with consensus recommendations for systemic therapy is associated with improved survival of women with node-negative breast cancer. J Clin Oncol. 2004;22(18):3685–93.

6.

Schwentner L, Van Ewijk R, Kühn T, Flock F, Felberbaum R, Blettner M, Kreienberg R, Janni W, Wöckel A, Singer S. Exploring patient- and physician-related factors preventing breast cancer patients from guideline-adherent adjuvant chemotherapy-results from the prospective multi-center study BRENDA II. Support Care Cancer. 2016;24(6):2759–66. doi:10.1007/s00520-016-3088-3.

7.

D'Hoore W, Sicotte C, Tilquin C. Risk adjustment in outcome assessment: the Charlson comorbidity index. Methods Inf Med. 1993;32(5):382–7.

8.

Löwe BSR, Zipfel S, Herzog W. PHQ-D Gesundheitsfragebogen für Patienten. Manual. Karlsruhe: Pfizer; 2002.

9.

Kroenke K, Spitzer RL, Williams JB. The PHQ-15: validity of a new measure for evaluating the severity of somatic symptoms. Psychosom Med. 2002;64(2):258–66.

10.

Wockel A, et al. The impact of adjuvant radiotherapy on the survival of primary breast cancer patients: a retrospective multicenter cohort study of 8935 subjects. Ann Oncol. 2014;25(3):628–32.

11.

Schwarz R, Hinz A. Reference data for the quality of life questionnaire EORTC QLQ-C30 in the general German population. Eur J Cancer. 2001;37(11):1345–51.

12.

Wolters R, et al. A comparison of international breast cancer guidelines—do the national guidelines differ in treatment recommendations? Eur J Cancer. 2012;48(1):1–11.

13.

Kreienberg R, Kopp I, Albert U. Interdisciplinary S3 guideline for diagnosis and therapy of breast cancer in women. German cancer society, 2008.

14.

Goldhirsch A, et al. Progress and promise: highlights of the international expert consensus on the primary therapy of early breast cancer 2007. Ann Oncol. 2007;18(7):1133–44.

15.

Schwentner L, et al. Triple-negative breast cancer: the impact of guideline-adherent adjuvant treatment on survival–a retrospective multi-centre cohort study. Breast Cancer Res Treat. 2012;132(3):1073–80.

16.

Wolters R, et al. Comparing the outcome between multicentric and multifocal breast cancer: what is the impact on survival, and is there a role for guideline-adherent adjuvant therapy? A retrospective multicenter cohort study of 8,935 patients. Breast Cancer Res Treat. 2013;142(3):579–90.

17.

Schwentner L, et al. Survival of patients with bilateral versus unilateral breast cancer and impact of guideline adherent adjuvant treatment: a multi-centre cohort study of 5292 patients. Breast. 2012;21(2):171–7.

18.

Harbeck N, Thomssen C, Gnant M. St. Gallen 2013: brief preliminary summary of the consensus discussion. Breast Care (Basel). 2013;8(2):102–9.

19.

Untch M, et al. 13th st. Gallen international breast cancer conference 2013: primary therapy of early breast cancer evidence, controversies, consensus—opinion of a german team of experts (zurich 2013). Breast Care (Basel). 2013;8(3):221–9.

20.

Curigliano G, et al. Highlights from the 13th St Gallen International Breast Cancer Conference 2013. Access to innovation for patients with breast cancer: how to speed it up? Ecancermedicalscience. 2013;7:299.

21.

Gray R. aTTom: Long-term effects of continuing adjuvant tamoxifen to 10 years versus stopping at 5 years in 6,953 women with early breast cancer. J Clin Oncol. 2013; 31(suppl; abstract 5).

22.

Davies C, et al. Long-term effects of continuing adjuvant tamoxifen to 10 years versus stopping at 5 years after diagnosis of oestrogen receptor-positive breast cancer: ATLAS, a randomised trial. Lancet. 2013;381(9869):805–16.

23.

Fasching PA, et al. Evaluation of therapy management and patient compliance in postmenopausal patients with hormone receptor-positive breast cancer receiving letrozole treatment: the evaluateTM study. Geburtshilfe Frauenheilkd. 2014;74(12):1137–43.

24.

Wuensch P, et al. Discontinuation and non-adherence to endocrine therapy in breast cancer patients: is lack of communication the decisive factor? J Cancer Res Clin Oncol. 2015;141(1):55–60.

25.

Fisher B, et al. Tamoxifen, radiation therapy, or both for prevention of ipsilateral breast tumor recurrence after lumpectomy in women with invasive breast cancers of one centimeter or less. J Clin Oncol. 2002;20(20):4141–9.

26.

Hadji P, et al. The Patient's Anastrozole Compliance to Therapy (PACT) Program: a randomized, in-practice study on the impact of a standardized information program on persistence and compliance to adjuvant endocrine therapy in postmenopausal women with early breast cancer. Ann Oncol. 2013;24(6):1505–12.

27.

Ziller V, et al. Adherence to adjuvant endocrine therapy in postmenopausal women with breast cancer. Ann Oncol. 2009;20(3):431–6.

28.

Neven P, et al. The impact of educational materials on compliance and persistence rates with adjuvant aromatase inhibitor treatment: first-year results from the compliance of aromatase inhibitors assessment in daily practice through educational approach (CARIATIDE) study. Breast. 2014;23(4):393–9.
Ethics declarations
Conflict of interest
All authors declare that there are no potential conflicts of interest, including financial, personal, or relationship with other people or organizations that could inappropriately influence this work.
Funding source
Parts of this work were supported by the German Federal Ministry of Education and Research (BMBF-Grant-01ZP0505).
Ethical approval
This study and the BRENDA project have been approved by the ethics committee of the University of Ulm.
Additional information
For the BRENDA study group.
About this article
Cite this article
Stüber, T., van Ewijk, R., Diessner, J. et al. Which patient- and physician-related factors are associated with guideline adherent initiation of adjuvant endocrine therapy? Results of the prospective multi-centre cohort study BRENDA II. Breast Cancer 24, 281–287 (2017). https://doi.org/10.1007/s12282-016-0701-8
Received:

Accepted:

Published:

Issue Date:
Keywords
Breast cancer

Guideline

Endocrine therapy