Analysis of structural distortion in Eshelby twisted InP nanowires by scanning precession electron diffraction
Abstract
Transmission electron microscopes (TEM) are widely used in nanotechnology research. However, it is still challenging to characterize nanoscale objects; their small size coupled with dynamical diffraction makes interpreting real- or reciprocal-space data difficult. Scanning precession electron diffraction ((S)PED) represents an invaluable contribution, reducing the dynamical contributions to the diffraction pattern at high spatial resolution. Here a detailed analysis of wurtzite InP nanowires (30–40 nm in diameter) containing a screw dislocation and an associated wire lattice torsion is presented. It has been possible to characterize the dislocation with great detail (Burgers and line vector, handedness). Through careful measurement of the strain field and comparison with dynamical electron diffraction simulations, this was found to be compatible with a Burgers vector modulus equal to one hexagonal lattice cell parameter despite the observed crystal rotation rate being larger (ca. 20%) than that predicted by classical elastic theory for the nominal wire diameter. These findings corroborate the importance of the (S)PED technique for characterizing nanoscale materials.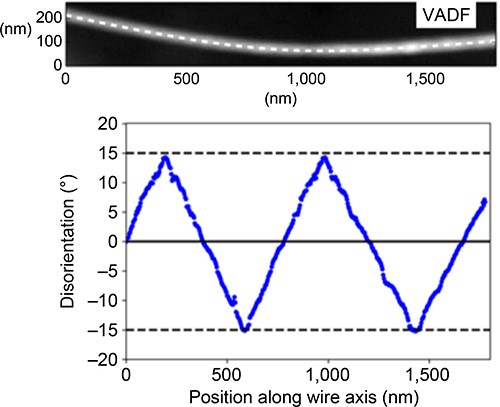 Keywords
electron microscopy 
scanning precession electron diffraction 
Eshelby twist 
screw dislocation 
nanowire 
indium phosphide 
Notes
Acknowledgements
We thank Dr Z. Saghi for taking the ADF-STEM images of the twisted wires. D. U. acknowledges financial support from the Brazilian Agencies FAPESP (No. 2014/01045-0) and CNPq (No. 302767/2012-6). A. E. acknowledges funding from the Royal Society. P. A. M. acknowledges financial support from European Research Council through grant 291522-3DIMAGE and the EPSRC grant number EP/R025517/1. M. A. C. acknowledges financial support from FAPESP (Nos. 2013/02300-1 and 2013/10957-0) and CNPq (No. 479486/ 2012-3). L. H. G. T. and P. A. M. acknowledge funding from the European Union Seventh Framework Programme (FP7/2007-2013) under Grant Agreement No. 312483 (ESTEEM2).
Copyright information
© The Author(s) 2019
Open Access This article is licensed under a Creative Commons Attribution 4.0 International License, which permits use, sharing, adaptation, distribution and reproduction in any medium or format, as long as you give appropriate credit to the original author(s) and the source, provide a link to the Creative Commons licence, and indicate if changes were made.
The images or other third party material in this article are included in the article's Creative Commons licence, unless indicated otherwise in a credit line to the material. If material is not included in the article's Creative Commons licence and your intended use is not permitted by statutory regulation or exceeds the permitted use, you will need to obtain permission directly from the copyright holder.
To view a copy of this licence, visit https://doi.org/creativecommons.org/licenses/by/4.0/.