In-situ liquid-cell TEM study of radial flow-guided motion of octahedral Au nanoparticles and nanoparticle clusters
Abstract
The dynamic behavior of octahedral gold nanoparticles (NPs) and nanoparticle clusters (NPCs) in aqueous solution is studied by in-situ liquid-cell transmission electron microscopy (TEM). The octahedral Au NPs/NPCs show preferential orientations in the liquid cell, due to the interaction with the SiNx window. The Au NPs show long-range reversible hopping and three-dimensional (3D) rotational motions in the liquid environment. At the same time, the Au NPCs and NPs perform slow stick-slip and stick-roll motions, respectively, with a centripetal trend. The centripetal motions were explained by a liquid evaporation-induced radial flow model, in which the NPCs/NPs trajectories are controlled by Stokes forces and surface friction by the silicon nitride window. The calculated radius-dependent force (Fc) on the NPCs/NPs shows a semi-linear correlation with the distance r between the NPCs/NPs and the center of mass, accompanied with stochastic fluctuations, in agreement with the model predictions. This work thus demonstrates the effectiveness of in situ liquid-cell TEM for the in-depth understanding of complicated liquid flow and force interactions in nanomaterials.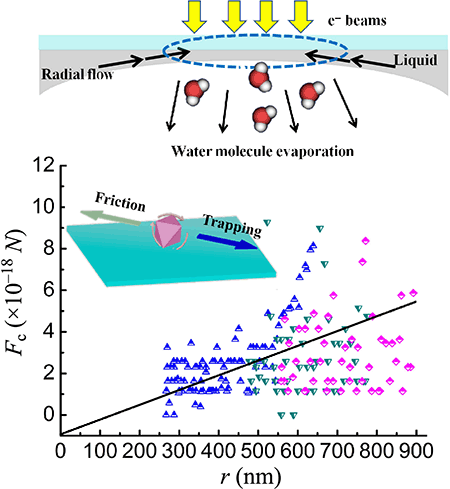 Keywords
in situ transmission electron microscopy (TEM) 
nanoparticles 
nanoassembling 
nanoscale fluids 
trapping force 
Notes
Acknowledgements
We gratefully acknowledge the support of Shanghai Leading Academic Discipline Project (No. B502), Shanghai Key Laboratory Project (No. 08DZ2230500), and the State Key Laboratory of Functional Materials for Informatics Open Project (No. SKL201306).
Copyright information
© Tsinghua University Press and Springer-Verlag GmbH Germany, part of Springer Nature 2018